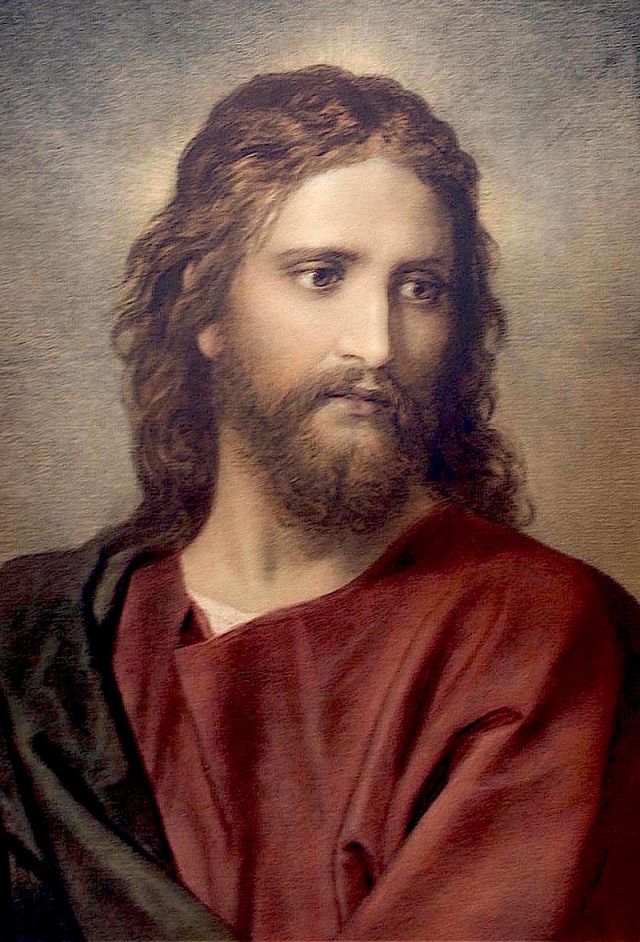 From Christ and the Rich Young Ruler, Heinrich Hofmann, 1889
https://en.wikipedia.org/wiki/Jesus_(name)#/media/File:Christ,_by_Heinrich_Hofmann.jpg
Jesus Christ of Nazareth – Yeshua HaMashiach – is alive, physically and spiritually, in Heaven from whence He shall return.
It is considered radical to say and believe that. Some will even say it is utterly ridiculous. But His healed humanity also points to our redemption, our resurrection, in Him. This means that anyone who unites themselves to Him through repentance will share in His life and resurrection.
When Yeshua appeared to His disciples after His resurrection from the dead, in the very room they were staying, He simply appeared right before their very eyes and said, "Peace be unto you" (Luke 24:36). But, oh, they were scared! Then He said:
"Why are ye troubled, and why do thoughts arise in your hearts? Behold My hands and My feet, that it is I Myself. Handle Me and see, for a spirit hath not flesh and bones, as ye see Me to have." And when He had thus spoken, He showed them His hands and His feet (Luke 24:37-40).
"…a spirit hath not flesh and bones, as ye see Me to have."
Even though He had appeared right before their very eyes, His humanity was intact. He had flesh and blood and skin and bones. In His transformed and glorified humanity, brick and stone were no barriers to Him…
Albert Einstein said, "Matter is energy. Energy is Light. We are all Light beings."
The matter that everything consists of was not a physical barrier to the One Who destroyed death by His death, Who "trampled down death by death" (Paschal Hymn; John Chrysostom).
Luke's narrative continues:
And while they yet believed not for joy, and wondered, He said unto them, "Have ye here any meat?" And they gave Him a piece of a broiled fish and of a honeycomb. And He took it and ate before them (Luke 24:41-43).
And He said unto them, "These are the words which I spoke unto you while I was yet with you, that all things must be fulfilled which were written in the Law of Moses and in the Prophets and in the Psalms concerning Me. Then opened He their understanding, that they might understand the Scriptures, and said unto them, "Thus it is written, and thus it behooved Christ to suffer and to rise from the dead the third day, and that repentance and remission of sins should be preached in His name among all nations, beginning at Jerusalem. And ye are witnesses of these things." (Luke 24:38-48).
"…in His name…"
The divine Son of God is still the divine Son of Man. He is both God and Man. He is both divine and human. Still. He is immortal and ageless. His humanity was raised from death, never to die again. His humanity is immortal and ageless.
He appeared to John on Patmos and said:
"Fear not; I am the First and the Last. I am He that liveth, and was dead; and behold, I am alive for evermore, Amen, and have the keys of hell and of death (Revelation 1:17-18).
He told Martha:
"I am the Resurrection and the Life; and (he) who believeth in me, although he will die, shall live. And every one who liveth and believeth in me, for ever shall not die…" (John 11:25-26; Etheridge Translation).
The Apostle Peter said:
"…David, foreseeing this, spoke concerning the resurrection of Christ that 'His soul was not left in hell, neither did His flesh see corruption.' This Jesus hath God raised up, of which we are all witnesses" (Acts 2:31-32).
"…neither did His flesh see corruption…"
Anyone who teaches that Jesus Christ – Yeshua the Messiah – merged with someone here on Earth and "became" the returned Christ, the returned Messiah, is distorting the identity of Christ, distorting the truth of His Incarnation and Resurrection, distorting Scripture. They are bearing grave false witness.
The Bible clearly shows Christ as the only Begotten Son, the Word of God become flesh through Mary, and that He is our Messiah Who died on the cross; Who rose again from the dead, and Who will return again in glory. Christ never taught there would be another whom we should heed as the Messiah. Even the Holy Spirit glorifies Jesus Christ and was sent to bear witness of Him! (John 14:16-17; 16:14). Not another.
You don't need Bible codes for all of this. It's all "open book" in the Gospels. It is clear as day Who Yeshua is. And isn't.
It is also clear in the Old Testament, where the Hebrew name of the Messiah –Yeshua (Jesus) – imbues it. It's in the Prophets and in the Psalms and even in the Torah. The Apostles and the early Church didn't need Bible codes to understand Jesus Christ as the Messiah foretold in Scripture. They had the Risen Messiah in their midst! He was physically present with them. And he taught that Scripture points to Him (Luke 24:44-48; John 5:39; Matthew 5:17-18).
"…Behold, He cometh with clouds, and every eye shall see Him, and they also who pierced Him; and all kindreds of the earth shall wail because of Him. Even so. Amen…"Revelation 1:7).
"…every eye shall see Him"…and recognize Him as the King of kings and Lord of lords because Heaven and Earth shall be filled with the knowledge and glory of the Lord (Habakkuk 2:14).
On the night He was betrayed, and before He was arrested, tried, and crucified, Jesus Christ began a most awesome prayer with this:
These words spoke Jesus and lifted up His eyes to Heaven and said, "Father, the hour is come. Glorify Thy Son, that Thy Son also may glorify Thee, as Thou hast given Him power over all flesh, that He should give eternal life to as many as Thou hast given Him. And this is life eternal: that they might know Thee, the only true God, and Jesus Christ whom Thou hast sent…" (John 17:1-3).
It was Jesus – Yeshua – Who agonized in the Garden of Gethsemane for mankind. Who suffered the unspeakable horror and humiliation of the Crucifixtion for all of humanity. And He was raised in glory, to immortal life for you. No one else can claim His glory as their own.
But He warned there would be those who would distort Scripture to suit their own "version" of Christ (Matthew 24:4-5, 22-27).
When Yeshua ascended to His Father and "a cloud received Him out of their sight," men in white raiment stood by them and said:
"Ye men of Galilee, why stand ye gazing up into Heaven? This same Jesus, who is taken up from you into Heaven, shall so come in like manner as ye have seen Him go into Heaven" (Acts 1:9-11).
"This same Jesus…" This same Yeshua…
He will physically descend, in the same body, in all His physical immortality, as the same Person, the same Christ, the same Messiah.
If you still don't believe it and believe that someone else, for example, is the "reincarnated" Christ, or that Christ "merged" His identity with someone else to become the "returned" Christ, you must ask yourself this question: How can you preach that they will reign forever as the "returned Christ" when you preach that the physical resurrection of Christ was just temporary?
Be not deceived. Yeshua will return. And He will return as Himself. No one else, but Himself.
"David…spoke concerning the resurrection of Christ that 'His soul was not left in hell, neither did His flesh see corruption.'.." (Acts 2:31).
Before His crucifixtion, Yeshua said to the high priest of the Sanhedrin: "…hereafter shall ye see the Son of Man sitting at the right hand of Power, and coming in the clouds of Heaven" (Matthew 26:64).
Stephen, moments before his martyrdom, saw Yeshua in Heaven- not merely in "spirit" otherwise he would not have referred to Yeshua as the "Son of Man." Stephen said:
"Behold, I see the Heavens opened up and the Son of Man standing at the right hand of God" (Acts 7:55-56)
Yeshua conquered death by His own death. He wasn't raised to mortal life again, but to immortality. That should mean something to us- to every one. If we belong to Him, we will be with Him in glory: "Father, I will that they also, whom Thou hast given Me, be with Me where I am, that they may behold My glory which Thou hast given Me; for Thou loved Me before the foundation of the world" (John 17:24). What a promise! We will be with Him- this very same Yeshua, Who was born of Mary, a virgin, and God's own begotten, Who suffered and died for us and was raised to life again- never to die again: "I was dead, and now look, I am alive for ever and ever." He is alive, in Heaven, from whence He will return. He "merges" with no one else; no one else can claim for their own self anything that belongs to Christ; not His title, not His glory, not His ability to give eternal life, not His identity, not His authority from the Father.
The Apostle Peter said "This Jesus hath God raised up, of which we are all witnesses" (Acts 2:32)… "Neither is there salvation in any other, for there is no other name under Heaven given among men whereby we must be saved" (Acts 4:12).
No "salvation in any other"… "no other name"…
May the Lord God Who is over all, bless, protect, and preserve His people forever. Amen.
Unless otherwise indicated, Scripture quotations taken from the 21st Century King James Version®, copyright © 1994. Used by permission of Deuel Enterprises, Inc., Gary, SD 57237. All rights reserved.