According to Jesus, things are going to get unbelievably bad before his Second Coming in the clouds. Next, Mary's Third Secret of Fatima; then, two prophecies for the United States, followed by two recent Dreams, one received in the United States and one in England, specifically for England and for the United States.
Jesus
Thursday, February 20th, 2014 @ 18:39
"My dearly beloved daughter, when the time comes for Me to make Myself known, at My Second Coming, you will not recognise the world, for it will have changed so much.
The speed at which humanity will fall into the depths of sin will shock you. Every ugly sin of the flesh will be visible and many will have to watch these sins committed in public places. Very little shame will be shown by the culprits who, like lions in a feeding frenzy, will sink to the lowest depths of depravity, not seen since the days of Sodom and Gomorrah. Such will the infestation of humanity be, brought about by the evil one, that murders will be committed everywhere and suicide will be rampant. As Satan devours souls, he will ensure that every Law laid down by My Father will be broken. Cold hearts, barren souls and obsession with false gods and evil spirits, will replace the love, which still exists at this time in the world.
My Name will be used to mouth obscenities and they will curse one another in their hearts. My daughter, the Truth can be unbearable at times, but justice will be handed down, by My Father, upon those lands which desecrate His Word. All the punishments handed down by My Father will take place before My Second Coming. Cities will disappear, countries will be awash with the tides of My Father's Anger and earthquakes will be of such magnitude, that they will be felt across multiple countries, at the same time…
https://fatherofloveandmercy.wordpress.com/2014/02/20/earthquakes-will-be-of-such-magnitude-that-they-will-be-felt-across-multiple-countries-at-the-same-time/
The Third Secret of Fatima
What awaits us???
Everywhere there will be "Peace Talks", but punishment will come…
A VERY IMPORTANT POSITION WILL BE ASSASSINATED AND THIS WILL PROVOKE THE WAR.
A POWERFUL ARMY WILL DOMINATE ALL THROUGH EUROPE AND THE NUCLEAR WAR WILL COMMENCE.
This war will destroy everything, darkness will fall over us for 72 hours (3 days) and the one third of humanity that survives this obscurity and sacrifice will commence to live in a New Era, they will be good people.
In a very cold night, 10 minutes before midnight, a Great Quake will shake the earth for 8 hours. This will be the third signal that God is who governs the earth. The righteous and those who propagate the faith and the message of the Lady of Fatima is one "SHOULD NOT FEAR, DO NOT BE AFRAID."
https://happinessisprayer.blogspot.com/2011/03/lucia-reveals-third-secret-of-fatima.html
Bucky from Venus
"In 1955 Bucky made this warning on tape about the Future of Mankind, because they had seen so many other civilazations destroy themselves with Atomic Weapons "The world must give up ATOMIC WEAPONS and WARFARE. The next war, if fought, will be on American soil. America will be destroyed, then civilazation all over the world will be destroyed."
Buck Nelson was also given the knowledge that our scientist should not look for a new powersource in the subatomic world when experimenting in huge tunnels underground (eg. CERN). the Faith will be similair to the Atalants who made their continent to blow up while experimenting with the new Power, that is more powerful than Atomic Power (This is NOT Fusion Power as they are built above ground.) The Spacepeople use only power from the Sun and lines of energy from planets."
http://gratisenergi.se/buck.htm
A Texas Schoolboy
'…the boy approached his teacher on the afternoon of Sept. 10 and casually told her:
"Tomorrow, World War III will begin. It will begin in the United States, and the United States will lose."'
http://www.chron.com/news/article/Boy-in-Dallas-suburb-predicts-start-of-WW-III-day-2069635.php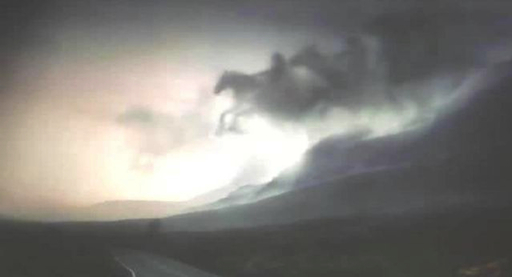 Two Dreams:
The first seen in the United States; the second in England.
https://www.youtube.com/watch?v=uCA3tDKOw4Q
Jan. 31st 2018
"I wanted to tell people about a dream that I had. I've seen planets going through the sky– Um, I'll tell you about several dreams: I went to Heaven: I saw the nuclear war that's coming. The whole Earth is going to be destroyed. Fire. Jesus IS coming back. And, the only hope that we have is to depend on our Salvation today.
I've been having END TIME dreams for several years now. And, I don't need to go into any of the detail; I just want to say what happened to me, several different times, too. But I could go on about it for hours. The point is, is that, it's important to have that testimony, and we NEED IT right now. Because it's coming very very soon.
Get right.
Time is over, up."
https://www.youtube.com/watch?v=GLKCGcNGbhA
Jul. 7th 2016
Hi, everyone. Um, I want to share a dream I had the other day, which is, uh, amazing because, uh.. I've never read the chapter Isaiah– sorry, the Book of Isaiah. And, uh, I was reading around Chapter 23 before I slept, and so I'd never read Chapter 24. So I must have gone and fell asleep while reading Chapter 23, or Chapter 22.. No it must have been Chapter 23, because as soon as I woke up, the first thing I saw was the scripture:
"Behold, the Lord maketh the Earth empty, and maketh it waste, and turneth it upside down, and scattereth abroad the inhabitants thereof. And it shall be, as with the people, so with the priest; as with the servant, so with his master; as with the maid, so with her mistress; as with the buyer, so with the seller; as with the lender… The land shall be utterly emptied, and utterly spoiled. The LORD has spoken this word." (Isaiah 24:1-3)
I've never ever read this scripture in my life, I promise you that.
I had a dream before I read this scripture, and as soon as I woke up I read the scripture. I had a dream where I was going along this road, and I heard a Trumpet in the heavens, a very very loud Trumpet. It lasted for about five seconds, and when I got to this bridge, I heard like a bomb sound. It was like bombs were being dropped from the sky– so it was like these bombs were being dropped from the sky, and I heard a white noise, you know like when you get something really loud happens, and you're ringing in your ear, you have like a ringing noise. I went deaf for about two to three seconds. And then, the WHOLE EARTH TURNED UPSIDE DOWN. It was like I was laying– it was a weird one, because it was as if I was laying on my back with the whole earth turned upside down, and I was seeing everything upside down.
And then, I saw, like, this massive tower, it looked like Big Ben, and half of it was chopped off. And then I felt it signified some sort of attack coming to London or Bath. And straight after this, I was in my house, and, uh, I was naked, and people were looking at me, and I was covering my genitals. I believe this signified a Revelation (16:15) where, this script: "Lest He Comes and finds you naked, walking in shame", because I don't feel like I've been doing enough for God. I feel that He's blessed me with a wealth of information, and I've not given it to enough people; I've not shown myself to be as worthy.
And, straight after that I saw flames of fire in my back garden, and I said to myself, "Why didn't I tell them?" I knew– I knew what was coming, but I didn't tell anyone, I didn't tell anyone.
So, I woke up from that dream, and the first scripture I read was Isaiah Chapter 24 – Chapter 24 I was reading? I think it was Chapter 24, like the Lord turns the earth upside down. And, you know, I had that dream about four days ago.. five days ago, around that. So I just wanted to share you with that, because I know a lot of you… ("Share you with that?" Share that with you.) I know a lot of you have received End Times dreams and have received visions, and know these sort of revelations from God, especially in these days, here, because I believe that Christ's Return is imminent.
I'll be uploading more videos about End Times dreams because I receive a lot of dreams, and I know what ones are from God, and I know what ones are from the enemy. Because sometimes I have dreams of a beautiful woman, and I can tell, you know, they are trying to infiltrate the mind – demons and whatnot. But, I'm trying to drown myself in God's Word, and please, I've made a vow, though, to completely dedicate my life to the 'Word' and the 'Most High', and Christ. So that's what I am going to do, and, uh, I know that Blessings will flow from that.
So I thank you for watching, guys. Share this if you want. Live in Light. Do what you will. Even– I hope that a lot of you who have seen this, will make your own Youtube channels, please. The word needs to get out there, and if people, that you are receiving dreams and visions, God wants you to shout it from the rooftops. It is written in the Scriptures, 'What I tell you in your ear, go and tell everyone else' (Matthew 10:27). So I feel that we need to be doing more, as followers of Christ, that we claim to be, then we need to be doing more in Warning people what's coming, what is coming to pass.
Prophecies: we need to be warning them, um… A lot more than what we are, because everything is fine preaching a view of the Gospel, and someone who has got an ear to hear will hear it. But, I believe that we're in such a time now where it's so urgent, that we need to be going into detailed prophecy. We need to be telling people that, you know, I believe that Saddam Hussein's name in the Bible – you can check that video out on my channel, then you can do your research from there. Chernobyl one and two, and the imminent World War III, which I believe is coming; God showed me a dream of hundreds of military aircraft in the air, all going in one direction. Um, then He showed me a train and asked if I'd see about going to London and warning people, which I have done yesterday with a Brother in Christ, which I met recently.. because I prayed: I needed someone to go with me, so I could have the confidence to preach.
And, He gave me that, there, and I walked passed the train, and I heard him say one word, which is "Evangelism", and the Holy Spirit said, "Go up to the train and talk to this guy." So we exchanged numbers. Two days later we were at London, talking to people, talking in prophecy, talking about Christ. So we need to be, you know, doing much more than what we're doing.
Um, I know that Scripture has to be fulfilled and not everyone will make it to the Kingdom. But, even just praying for mercy, asking God, "Please just forgive those who have been deceived by this world." I know none of us want anyone to perish, even the wicked people there, you know, the top of the top in witchcraft and whatnot. I still have love in my heart for them, and I don't want them to, um, go to Hell or be, you know, go to the realm of the dead. But if someone hears the Christ's Words and knows the truth of the Spiritual World, and chooses to go in darkness, then only God knows the Heart. I'm not the Judge. So, I can't judge, but I trust that He will judge righteously everyone. And He knows the heart of men.
So, I thank you for watching this, guys.
We encourage you to Share our Reports, Analyses, Breaking News and Videos. Simply Click your Favorite Social Media Button and Share.