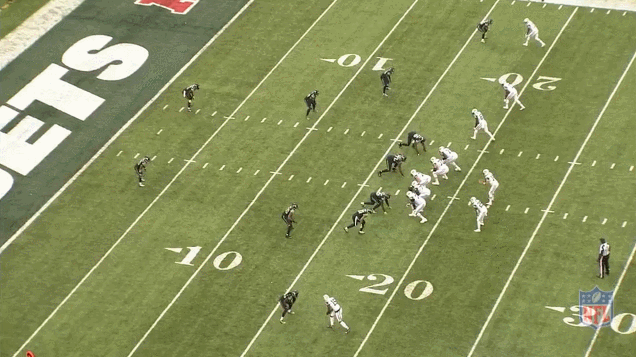 The Jets came away with another loss, this time to Russel Wilson and the Seattle Seahawks, 27-17, in a game that wasn't even as close as the score indicates. Ryan Fitzpatrick struggled again with turn-overs, much to the dismay of faithful fans at Metlife Stadium. We are again breaking down our series of posts into four different articles, with each article scheduled to be posted half an hour after the previous one. Please check out all four of our film breakdowns. Without further ado, let's see how Fitzpatrick did against the Seahawks:
Fitzmagic:
1)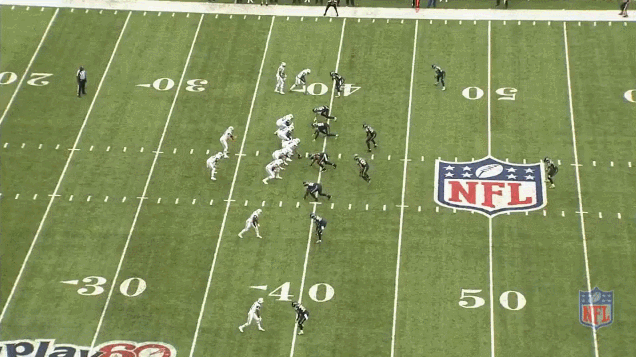 On this play, the Jets come out with four wide receivers and a running back on a 3rd down and 6 play. Seattle counters with a single high safety (you will see this a lot, not just in this game, but in every game started by Fitzpatrick) and man coverage across the board. They bring a blitz up the C gap, followed by another guy on the outside, but the Jets do a great job of picking it up. Fitzpatrick does a good job of staying in the pocket and not panicking, and makes a good throw to Enunwa on this play. Notice, how Fitzpatrick throws the ball before Enunwa actually makes his break, showing a level of chemistry and trust between the QB and the WR. It would have been a great play, had the ball been placed towards the outside, alas it goes down as a good throw. However, it's great anticipation by Fitzpatrick, timing the throw almost perfectly to the movement of Enunwa. The only downside of this play is that he's locked into Enunwa from start to finish, which is concerning in other situations where results weren't quite as successful. Overall, a very successful play because of good blocking, great timing, and a good throw.
2)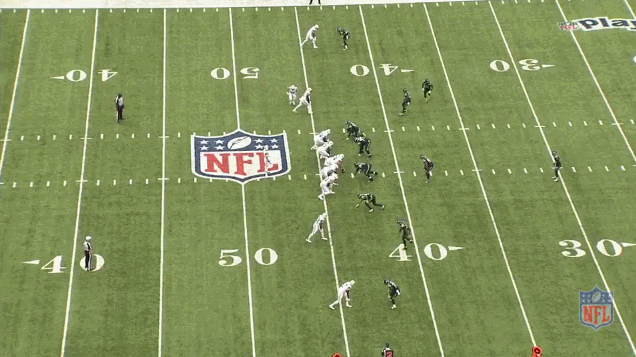 This play happens on 2nd and 7 in Seattle territory, and the Jets go 5 wide on this play. Seattle responds with a single high safety again, and as you can see with the pre-snap movement, indicate man coverage on this play. On this one, Matt Forte makes a great move that is somewhat subtle, which helps him become wide open. On the outset, he is running a simple crossing route, but he notices there is a LB in the middle of the field waiting to transition on him from his defender. However, he makes a subtle step up field which freezes the LB just enough that he can run by him and become open for the pass. Fitzpatrick does a good job of hitting him in stride, and he runs up field. Unfortunately, Fitzpatrick is staring down Forte the entire way on this pass as well, which is a terrible habit for a QB. While he's not involved in the pass, notice Robby Anderson on this play lined up to the outside left of this play. He is facing Richard Sherman in man coverage, and look at the route he runs on this play. If this play is focused on him, it's an easy reception because he runs a great curl route, getting outside and having Sherman turn his hips before turning around. The Pro-Bowl CB gives up about two to three yards of separation on that move, which highlights Anderson's route running ability in this instance. However, Anderson doesn't do a good job at blocking Sherman on this play, partially because he had created too much separation from him. Overall, a good play from the Jets offense, as they get a first down with a good throw, a great move by Forte, and a good catch and run.
3)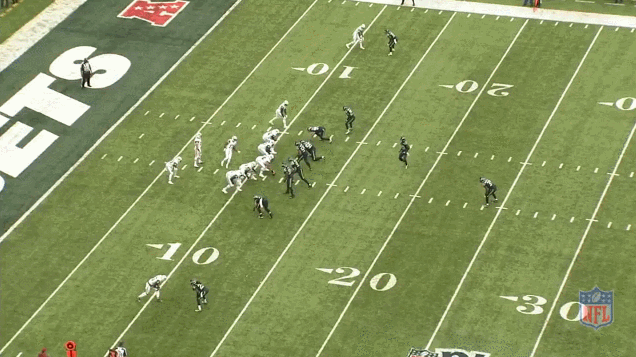 This is a play on 3rd and 9 deep in the Jets' territory, and they come out with 4 receivers and a RB. The defense is again playing single high safety once more and by playing man coverage. Brandon Marshall is lined up to the right of the formation, matched up with Richard Sherman. Marshall runs a wonderful double move route in this case, albeit the adjustment wasn't drastic. He runs at Sherman, making contact, and running outside, and then taking the inside route up field, which throws Sherman completely off. He has gone by Sherman, so Fitzpatrick makes a great throw to hit him in stride and Marshall races down the field. Marshall runs down the field and the safety is equal with him, but he tries to cut back inside and gets tackled. In retrospect, it looks like it should have been better to keep running straight, but it was a great play regardless. One has to wonder if his leg injury factored in the decision to run inside here because he was lined up to get hit in the left leg if he kept running, and he wanted to avoid that by trying to go across the field. Either way, this is a great throw and catch from Fitzpatrick and Marshall. Once again, Fitzpatrick is only making one read here as he looks to Marshall first, albeit this time he at least looked at the safety in the middle first. On this play, notice Charone Peake, as he's the man going in motion and defense indicates single high safety. He doesn't run a great route, nor is he open, but look at the opportunity provided by the Seahawks on this play. Peake could run right by his defender because the defense is playing intermediate passes because they aren't afraid of Fitzpatrick's abilities to throw the ball deep. The Jets have to take shots down the field, like they did on this play, to get the defense to back off.
4)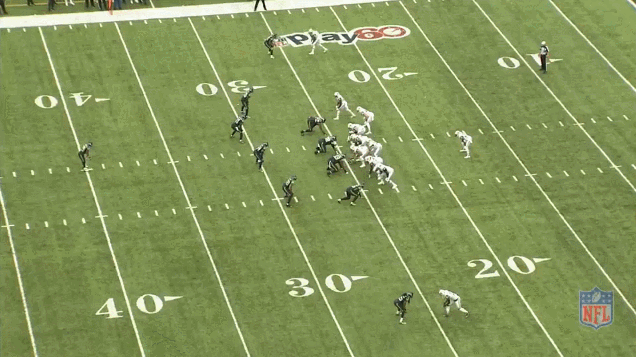 This is a first down play in the second quarter, and the Jets come out with three receivers and a running back in the backfield. The Seahawks counter with a single high safety and man coverage on the outside, but zone in the middle of the field as all of the LBs fall back. Brandon Marshall is again facing Richard Sherman and runs a great route here. The whole concept on this play is a back shoulder throw, and notice the positioning of Sherman on this play. He's running step for step with Marshall, which is a good time to throw a back shoulder pass because by the time he adjusts, there is enough time for a completion. Remember this positioning, because it will come up later in the game. Marshall makes a great stop on this play, and comes back to the ball. Fitzpatrick makes a great throw, and notice that Fitzpatrick is throwing the ball right before Marshall makes the cut. While he's much maligned for his turnovers, he shows very good timing with Marshall on this play. This is a very good defensive formation by the Seahawks, but Marshall just beats Sherman to make this play. Great route and throw on this play.
5)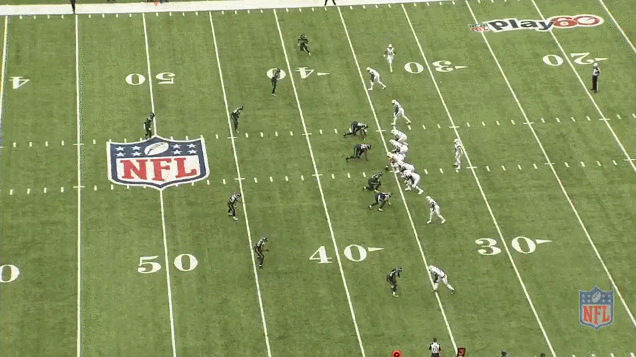 This is a play on 3rd and 13 which the defense plays it perfectly, as they are in deep zone coverage. From the pre-snap movement, you know they are in man coverage and Seattle is just trying to contain this play and funnel it down into a check down. They pride themselves in open field tackles, and on this play, there are no real options. The only player that is open is Robby Anderson on a shallow cross (almost by design by the defense) and it almost ends in disaster for the Jets as Fitzpatrick is about to get sacked. The read on this play is Marshall and then Enunwa, but they are both covered. Fitzpatrick does a great job to avoid the sack and complete a five yard pass to Anderson, although it wouldn't have been nearly enough for a first down. However, Fitzpatrick drew a penalty on this play which gave the Jets a first down. It's here mostly for the will of Fitzpatrick as he turned a sack into a positive play. The unfortunate part of this play is that the Seahawks really only rushed three players on this play, and they still got good pressure on the QB.
6)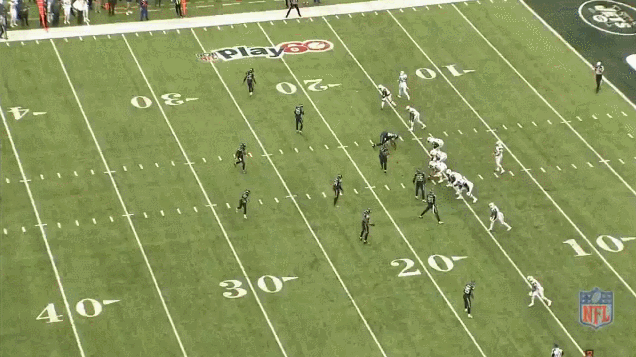 This is a second and eighteen play deep inside the Jets' territory, so we spread them out with five receivers. The defense doesn't counter with single high safety or man coverage, because it's too many yards to a first down and instead play the same game of funneling the pass to a check down option. They bring two safeties deep and have all of their LBs drop back while only rushing three players. Fitzpatrick does a good job of stepping up in the pocket and throwing a great pass to Charone Peake. Fitzpatrick goes through his progressions here which are Peake, then Marshall, and then back to Peake. This is just a great throw on the run into a tight window, and a very good catch by the rookie. Notice the safeties in the middle of the field, they didn't flinch about dropping backwards for a deep pass as they concentrated on the intermediate routes.
7)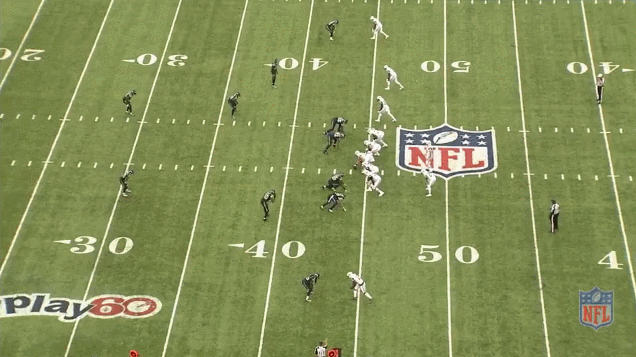 This is a first down play near midfield with about a minute to go in the half. Seattle again is playing zone coverage, trying to get them to check-down into passes and limit the yards given up. They come out with two safeties over the top, and drop back their linebackers into coverage. Fitzpatrick does a good job of recognizing the space given to these receivers and throws a quick pass to Enunwa to gain another first down. The throw and catch is pretty simple, but it's a good example of a QB recognizing coverage schemes and exploiting the weakness in the heat of the moment.
8)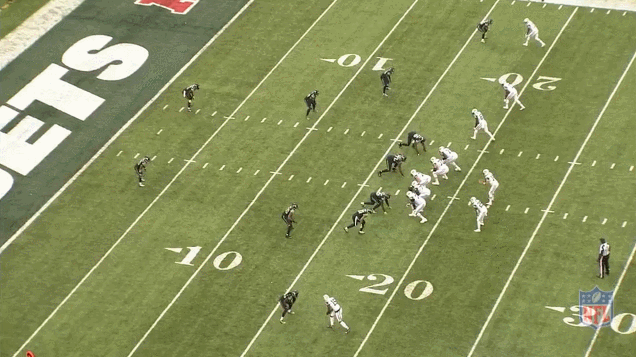 This is the lone TD pass from Fitzpatrick in this game, and it's a beauty. It is a perfectly placed pass to Brandon Marshall for the touchdown. Seattle remained in the zone coverage for this play, but Marshall just beats Sherman on this play. However, he almost ran by him too much for a back shoulder pass because if Sherman turns around, he has a direct shot at the ball. However, Fitzpatrick places this ball perfectly, reminiscent of the throws from the Bills game and puts points on the board. This is just a great throw and catch by the QB and WR, and gave fans much hope going into halftime. The only downside again, Fitzpatrick seems to be locked in on Marshall on this play from the start.
9)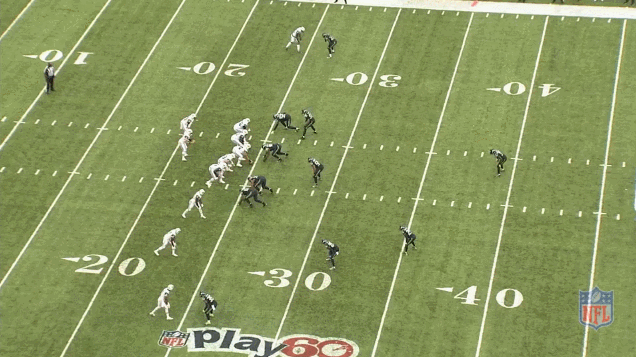 This is a first down play, late in the fourth quarter, with the Jets trying to mount a come-back. The defense comes out in a single high safety again, but this time they bring a blitz. Fitzpatrick does a good job of recognizing the blitz and throwing it to Enunwa. The main aspect of Chan Gailey's system involves checking match-ups at the line of scrimmage and exploiting weaknesses shown by the defense. In this case, the defender on Enunwa is giving up too much space, alas the read on this play is the defender on Peake. If this corner comes towards Enunwa in a zone coverage, then Peake is open for a quick pass, and if he passes, then Enunwa is open for the pass. Fitzpatrick makes a good read here and gets the ball out. While it's not a big gain, nor is it glamorous, this is an excellent job by the QB.
10)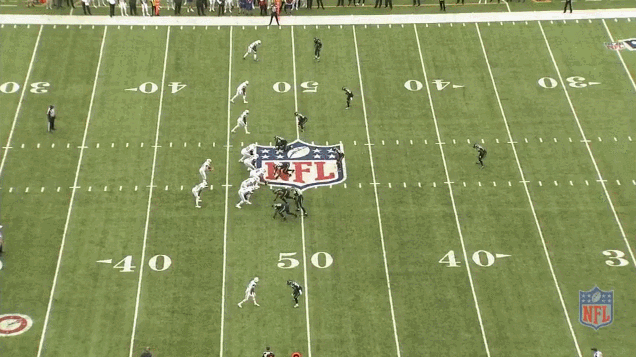 This is a 4th and 1 play late in the fourth quarter, and Seattle again comes out with a single high safety. They play man coverage across the board, and Ryan Fitzpatrick made a good throw and it's a good catch by the rookie Anderson. While Anderson definitely had a tough day in terms of catching passes, he shows off his speed and quickness on this play in getting the inside position here after a stop and go. The ball is also placed perfectly for Anderson to catch and the Jets get a conversion.
Conclusion:
Ryan Fitzpatrick did not have a good game, and most people would agree with it. However, he did make some good throws in this game along with some good reads. The Seattle defense is tough to pass on generally, but even harder to pass on if the QB can not throw deep. They did not respect Fitzpatrick's deep passing ability, which forced a lot of intermediate and check-down throws, limiting the offense. As you can see, there were some bright spots in the game.
Please read the next article in line for this series, Assistant's Failures, which will be posted in half an hour.
Forum Questions:
A. Just focusing in on the positives (there will be another article on the failures), what did you like about Fitzpatrick during this game?
B. What solution do you have in correcting these flaws when facing tough defenses?
You can discuss this with other NY Jets fans on the Jet Nation message board. Or visit of on Facebook.
Source:
http://www.jetnation.com/2016/10/04/jets-passing-offense-film-review-week-4-seahawks-fitzmagic/
We encourage you to Share our Reports, Analyses, Breaking News and Videos. Simply Click your Favorite Social Media Button and Share.