The Oakland loss last week stung, but ultimately, the Ravens managed to at least put up a fight and put points on the board.
This week's loss to the Skins? PAINFUL.
Although it's worth arguing that the loss was really to the Ravens. After all, they beat themselves with miserable play calling on offense, senseless penalties, and miserable special teams play. All the Skins had to do was show up and not lose. The rest took care of itself.
Let's take a sleep-deprived, nightmare-fueled journey through this loss, as we try to look beyond Week 5 with any semblance of rose-tinted glasses and a cup-half-full mentality (although, with this team, it's likely that half full cup needs to have a hiiiiiigh ABV to sustain our sanity).
---
DENIAL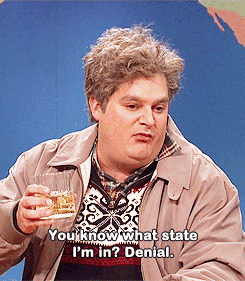 Two weeks in a row? There's no way we lost AT HOME two weeks in a row. This organization prides itself on home field advantage, we simply don't lose at home two weeks in a row. I also refuse to believe the Ravens were held to 10 points against a porous Skins defense. The Skins defense makes Swiss Pees look… Goud…a? (rim shot!) The Ravens have far too many weapons to NOT score on Washington. The game plan was to run the ball right? Against a team that is 28th against the run? Marc Trestman just needed to run the ball, and he'd help this team secure a victory, so there's NO way he'd abandon the run AGAIN, risk a sure victory, and risk his job.
That didn't happen. It was just a nightmare. An awful, recurring nightmare.
---
ANGER
WHAT THE FLACCO, TRESTMAN?????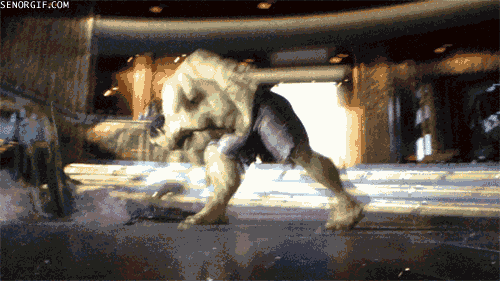 This offensive game plan was served up to you on a platter! You know the Simpsons opening credits? The part where Bart is writing on the chalkboard in repetition?
DO THAT!!!
How in God's name can you not see what thousands and thousands of fans see? What the players see! What every announcer and broadcast crew sees! What every local sportscaster- both radio and television- sees! I left the game, ran into Stevie Wonder, and even he can see it! Cam Cameron, although unemployed, was laughing hysterically at the inability to call a run! Because hey- AT LEAST CAM CAMERON RAN ON 1st AND 2nd DOWN!!!
While the onus falls on Trestman, let's not forget his superior – John Harbaugh, who should be taking a few moments today to patent 'Johnny No Points.' After all, John would rather forgo easy points and go for the trick plays, or foolish plays.
Extra point in the 3rd period? Nah! Go for TWO!
Field goal in Tucker's range, even closer than the extra point he just drilled? Nah! Fake it and have Tucker pass to Gillmore!
And what's worse than those plays, is defending them in the post-game conference! Here's a tip John- SHOULDER THE BLAME! Don't try to defend something that doesn't work, and don't try to tell us that you'd do it again, especially when we can pop back with:
'uh, John… if you took the 3 there, it's a field goal game at the end. The Ravens could have tied it and went to OT with momentum.'
COMMON SENSE! ALWAYS TAKE THE SURE POINTS!
But common sense apparently doesn't run deep with this coaching staff, now does it?
---
BARGAINING
So many 'if only's in this game…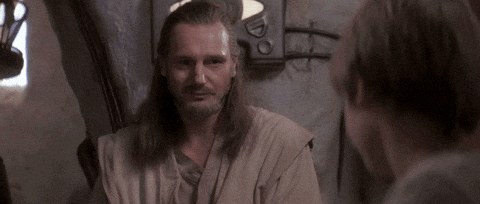 If only John Harbaugh wouldn't have called for a fake field goal, the Ravens would have kicked the FG, then trailed by only three in the 2-minute drill and could have easily tied the game to force overtime. Then again, if Crockett Gillmore wouldn't have slipped and stumbled off the line, he would have been wide open for a score…
Or C.J. Mosley! What if he would have simply gone down and NOT stretched for the score, leading to a fumble?? A first and goal at the 1 is a sure TD for Terrance West (assuming they actually run the ball), but Mosley cost his team seven. Had he scored, the Ravens have complete control of the game…
And can you imagine what could have been if Marc Trestman would have actually continued to run the ball after the 1st quarter when West went 60 yards on five carries? He likely would have hit 150 yards on the game with score, and a sure victory to boot!
Then again, we can take this all one step further: WHAT IF THE TEAM NEVER HIRED TRESTMAN AS THE OFFENSIVE COORDINATOR?
I know, I know… I am the king of wishful thinking…
---
DEPRESSION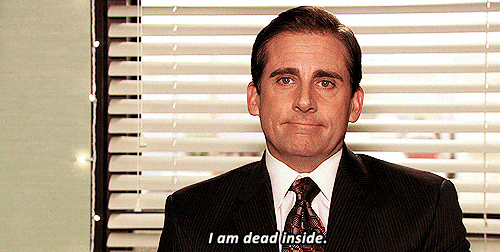 One loss at home?
Hurts.
TWO L's IN A ROW AT HOME?
Call it a wrap on the season folks! Mosley? HURT. Steve Smith Sr? HURT. Rick Wagner? HURT. Ronnie Stanley? STILL HURT. My pride? HURT.
The only thing not hurting is the liquor store cash flow around Baltimore.
It's starting to look like 2015 all over again out there, and with high school-caliber depth at key positions (cough cough, O-Line) there's no way this team will survive the second half of their schedule.
Yanno, when they play actual NFL teams, not teams that Rutgers could take to the woodshed.
Fast forward to the latter part of the schedule and we'll see stadiums that could be easily misconstrued for Jacksonville or Miami with all of the empty seats and opposing fans after Ravens PSL holders decide to wave the white flag, stay home, and watch from their couches.
Or even worse- not watch at all.
Or even worse than that – go to Ugly Christmas Sweater parties.
---
ACCEPTANCE
Deep breath… and let's find this silver lining…
OH WAIT! MARC TRESTMAN WAS LET GO! WE CAN RUN THE BALL AGAIN PEOPLE! REJOICE!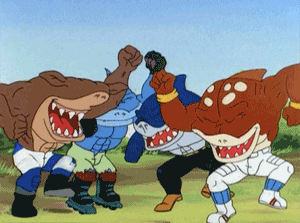 As of this morning, Marc Trestman is out and QB Coach Marty Mornhinweg is in as Ravens Offensive Coordinator.
Is this a fix-all for this offense?
Not at all.
The line needs to get healthy again, Steve Smith is dealing with an injury, Flacco needs to check back in, step into throws and quit being so tentative… but Trestman's ousting is a MAJOR step in the right direction.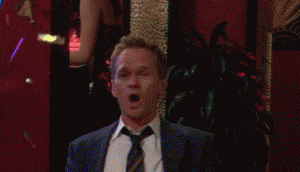 And who knows- when the franchise eventually booted Cam Cameron, he was replaced by recent head coach-failure turned QB coach Jim Caldwell.
Do you remember what happened next? The historic Super Bowl run for Joe Flacco and the Ravens?
And what's that they say about history tends to repeat itself?
No pressure Marty…
The post Losing to Yourself appeared first on Russell Street Report | Baltimore Ravens News.
Source:
http://russellstreetreport.com/2016/10/10/5-stages-of-grief/losing-to-yourself/
We encourage you to Share our Reports, Analyses, Breaking News and Videos. Simply Click your Favorite Social Media Button and Share.