For more on Ravens-Jets, check out our other preview columns:
Battle Plans – The X's and O's of Beating the Jets
Ravens Will Get Back in the Win Column
Bold Predictions – Ravens at Jets
Tale of the Tape – Geno Smith Presents Perfect Opportunity
For this week's stats, quotes, notes and more, let's get into our weekly CRAB BAG!
KNOW THY ENEMY
SERIES HISTORY
QUOTES OF THE WEEK
QB Joe Flacco on the Ravens battling forward:
"We've been here before. It's a tough league. There are a lot of tough games and a long road ahead. We've got to stay as confident as we can, and we've got to move forward and just keep our head down. Our division is still up for grabs, and a lot of things are, so we've got to keep fighting and do our best to win games."
QB Joe Flacco on offensive coordinator Marty Mornhinweg:
"Marty is an exciting guy. He is confident, and he brings a lot of confidence to the room. He is very sure in what he is doing and what we are doing. I think he gets everybody going and gives everybody a good outlook on the game plan."
WR Mike Wallace on eliminating penalties:
"If we eliminate those penalties, we're like 6-0. We do these [mistakes] every single game. We all have a hand in our offense. It just has to get better. If we take that away, we're in it every single game. We just have to get better, myself included. I had a penalty [Sunday vs. NYG]. That's just our season, honestly. If we clean that up, we're a much, much better football team, and we don't have to sit in here and worry about any bad questions. It will be all good questions. We all have a hand in it, and we have to eliminate those penalties."
Giants head coach Ben McAdoo on the Ravens' defensive front:
"I see a very physical, heavy-handed unit up front. It all starts with that front. They have a lot of pass rushers you have to account for. [Timmy] Jernigan is playing at a high level. They're doing a nice job, schematically, getting after you."
DT Timmy Jernigan on defensive line coach Joe Cullen's energy:
"I love it. He is high-energy. It is easy to come out and get going, just being around him. There isn't any such thing as half-days or taking plays off or anything like that. He is always in your ear. It doesn't matter who it is, whether it is me, whether it is '55' [Terrell Suggs] or anybody. He is going coach you until you can't be coached anymore."
GETTING TO KNOW YOU ~ Q&A with Brandon Williams
Despite having D-I scholarship offers to play guard, you chose to play D-II so you could play DT. Why?
"I wanted to hit people instead of get hit. (laughter) On offense, you have to protect someone behind you who makes a hell of a lot more money than you. If anything goes wrong, and someone gets by you, it is your fault. On defense, I can mess up and go in the wrong gap, but if I fight hard enough, I can still make a play. It is kind of one of those, 'Aww, you shouldn't have done that. But, good play!'"
Pete Prisco from CBS Sports named you the NFL's most underrated player. Is there a specific accolade you want?
"The best accolades I can receive are being a great father, a great fiancé, and a great future husband. Football is fun, but it isn't forever. Those types of things are." Can you have a dominant game without recording stats? "Absolutely. All my linebackers – from Daryl Smith to C.J. Mosley – have made plays. If I am taking up double-teams, and my linebackers can get 10 tackles a game, then I'm doing a great job. It is my role to get people off of my linebackers. Now, they still have to make those plays, but I don't have to make every stat to have a great game. You can make a play without actually making 'the play.' If I take up two or three blockers, and a linebacker blitzes and gets a sack, that is a play I made."
Do you collect anything?
"It is one of those weird things, but I collect ragdolls. My fiancé's father calls sacks, 'ragdolls,' because you grab the quarterback and you shake them like a ragdoll. After every sack I get, her stepmom sews me a rag doll of the quarterback. She sends me a ragdoll with the quarterback's jersey and their helmet. Every quarterback I have sacked, I have a ragdoll of them on my mantle."
In what ways do you spend time outdoors?
"I hunt and I fish. It was one of those things I had to get used to, because in football, my game is all about attacking. But in hunting and fishing, you have to be patient and let things come to you. The biggest thing is it gets your mind off what you are thinking about. You feel like you are one with nature."
Being from St. Louis, did you know anything about the Ravens when you got drafted?
"The main thing people know about is their defense. Getting picked to come on one of the most ferocious defenses in the league made me ecstatic. I was like, 'I'm a defensive player, and they are picking me to add to that defense?' You start thinking about how you can make the team better. I loved every moment about it."
What players did you look up to growing up?
"Warren Sapp, for sure. When I first started playing football in eighth grade, he was the reason I wore 99. I also loved Jerome Bettis growing up, because I was the fat kid who wanted to run the ball."
HEY, YOU LOOK FAMILIAR! ~ Key Connections
Jets assistant head coach/inside LBs coach Mike Caldwell spent one season of his playing career as a linebacker with the Ravens (1996).
Jets WR Jeremy Butler entered the NFL as a 2014 rookie free agent with Baltimore. In 2015, he saw action in eight games, posting 31 catches for 363 yards. Butler was released from the team following the 2016 training camp.
Ravens special teams coordinator/associate head coach Jerry Rosburg was the Browns' special teams coordinator (2001-06), while Jets head coach Todd Bowles served as defensive nickel package coach (2001-03) and secondary coach (2004) in Cleveland. Jets assistant CBs coach Daylon McCutcheon (1999-2006) ended his playing career in 2006 after eight seasons at cornerback for the Browns.
Jets offensive coordinator Chan Gailey was the Bills' head coach for three seasons (2010-12), during which time Ravens WR Kamar Aiken signed as a rookie free agent and played two seasons (2011-12).
Jets defensive line coach Pepper Johnson served in several roles for the Patriots, including assistant LBs coach (2000), inside linebackers coach (2001-03), D-line coach (2004-11) and LBs coach (2012-13), while Ravens defensive coordinator Dean Pees served as the LBs coach (2004-05) and defensive coordinator (2006-09) in New England.
Ravens WR/RS Devin Hester Sr. was originally selected by Chicago in the second round (57th overall) of the 2006 NFL Draft and spent eight seasons (2006-13) with the Bears. During that time, Jets RB Matt Forte (2008-15) and WR Brandon Marshall (2012-14) were also on the Bears' roster before joining the Jets.
LAUGH OF THE WEEK AT EXPENSE OF RAVENS' OPPONENT
ButtFumble fo lyfe!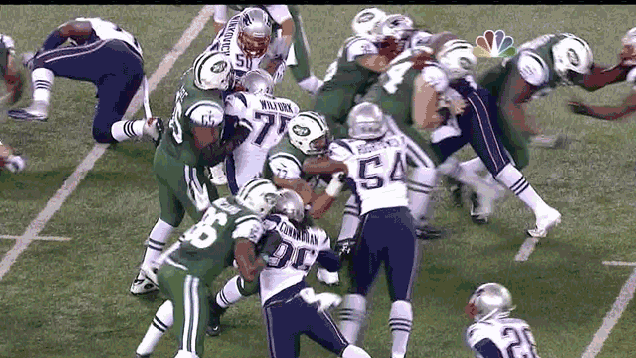 The post Same Stadium, Different Opponent appeared first on Russell Street Report | Baltimore Ravens News.
Source:
http://russellstreetreport.com/2016/10/22/crab-bag/ravens-jets-stats-quotes-notes/
We encourage you to Share our Reports, Analyses, Breaking News and Videos. Simply Click your Favorite Social Media Button and Share.