Here's Your Top 5 Reasons Why
Being a Baltimore Ravens fan in 2016 has been… trying (I would have also accepted infuriating, heart attack inducing, or flat out depressing).
But it's not all bad Ravens Nation! In fact, we have plenty to be thankful for!
In fact, we're giving you the Top-5 Reasons Ravens fans should be thankful, and we're gonna do it in list form.
Mostly because it satiates my OCD.
---
JUSTIN 'MOTHER' TUCKER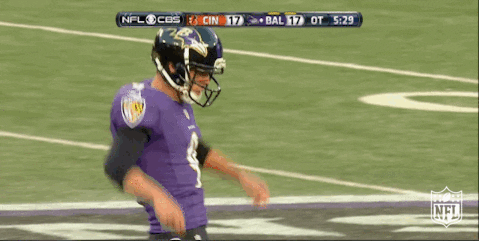 How thankful are we for the golden boot of Justin Tucker to be part of the Ravens organization? He's one of the most accurate kickers in NFL history and sits at a perfect 23/23 on field goals in 2016, and 14/14 on extra points. Actually, Tucker hasn't missed an extra point EVER.
Considering there were 11 missed extra points around the NFL last week? Having J-Tuck's leg around through 2019 is truly a blessing.
And then there are those great Royal Farms commercials.
From Justin "Mother" Tucker to Justin "Mother" Clucker.
But I digress…
---
2 SUPER BOWL CHAMPIONSHIPS IN 20 YEARS
Initial disclaimer for the random Steelers troll perusing this site: Hey Pittsburgh- we average a Super Bowl win once per decade (that's 10 years ya Yinzer). Yea you have 6 rings, but it took your Steelers 82 years to get them. So if you do this thing called 'math' your beloved dish towel wavers average a championship once every 13.7 years.
Back to that math thing? 10 (Ravens) is less than 13.7 (Steelers). Had the Ravens been around as long? We'd be looking down on you.
Now that we've gotten that out of the way- having a Super Bowl victory in our back pocket but a few short years ago is always a great thing, but having your Super Bowl MVP QB Joe Flacco tie Joe Montana's record for most postseason touchdown passes (11) without an interception?
That's flat out phenomenal.
Take it back to 2000 when the Ravens demolished the Giants 34-7 in Super Bowl XXXV, thanks in large part to one of if not THE most dominant defense in NFL history, and you have yourself yet another historic run for this Ravens team.
That right there folks? That's something we can be proud of and thankful for, regardless of the state of this team in 2016.
---
RESURRECTION OF DRAFT PICKS
Things haven't exactly been coming up roses for Ozzie Newsome & Company in regards to the NFL draft since the front end of the 2008 Draft that netted Baltimore Joe Flacco and Ray Rice. Having busts more than slam dunks has really hurt the image of this team that was once regarded as one of the best in the business when it came to assessing talent out of the college ranks. But despite the whiffs on guys like Sergio Kindle, Terrence Cody and Arthur Brown, the past few seasons are starting to show results for the latest crop of draft picks in Baltimore.
The top 2 picks in the 2014 draft- CJ Mosley and Timmy Jernigan– have become mainstays on the defensive side of the ball for Baltimore, while 2015 1st round pick Breshad Perriman has made his way onto the NFL field a year later and is steadily working his way into the Ravens offense. 6th round pick Darren Waller from the same '15 class has stepped up of late and shown promise in the offensive game as well, while 5th rounder Nick Boyle awaits the end of his suspension to get back to his hurdling ways.
The most recent 2016 class has been the most impressive of late however, particularly the 4th & 5th round. CB Tavon Young has worked his way into the starting lineup, as has LG Alex Lewis. Meanwhile fellow 4th rounders Kenneth Dixon and Chris Moore continue to have a role carved out on the offense, and 5th round pick Matt Judon has shown a knack for getting into the opposing backfield.
Just imagine how good that draft class could be once 1st rounder LT Ronnie Stanley keeps his penalties down, 2nd round pick LB Kamalei Correa figures out the NFL speed, and the trio of DE Bronson Kafusi, DT Willie Henry & CB Maurice Canady all return from injuries next season.
---
STEVE SMITH SR
The Ravens have added proven veteran talent over the years, but no veteran will ever hold a candle to what Steve Smith Sr. has brought to the Ravens.
The future NFL Hall of Famer is less than a week removed from recording his 1,000th career reception, and still looks the part of a young Smitty back in his Panthers days. Since day one in Baltimore, he's been a favorite target of Joe Flacco's and a fan favorite among the masses.
Why is Smitty so beloved?
For me, it's the fire he brings. It's that 'Ice Up Son!' mentality. That 'My Shovel is Bigger!' chip on his shoulder he brings with him every single week, and how he leaves it all on the field, regardless of how the game plays out. Smith Sr has blessed Ravens fans with some phenomenal highlight reel work, with 2 of the biggest in my mind coming via stiff arm on Bengals Pacman Jones: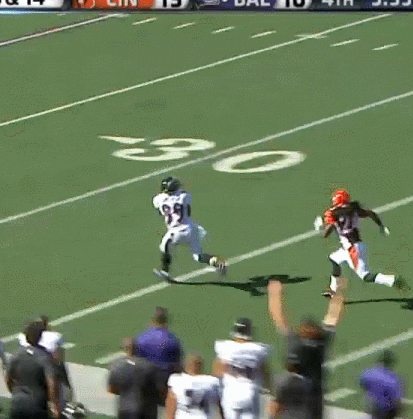 And his tip ball drill against his former team, the Panthers: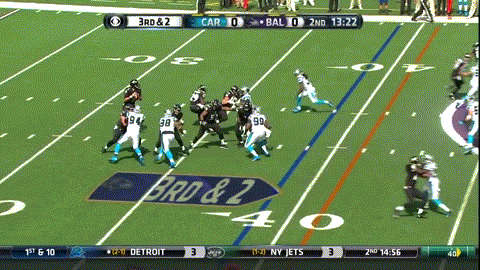 Let's not take this man for granted. For he is easily one of the best receivers to every play the game.
---
We're Not Browns Fans
Photo Credit: Associated Press
NO MATTER WHAT HAPPENS THIS SEASON RAVENS FANS, JUST REMEMBER: WE COULD BE BROWNS FANS.
Losing records in 8 straight and 17 of the last 20 seasons, inexcusably awful drafting, a list of failed quarterbacks longer than, well…
Can't keep a coach, every free agent they add manages to fizzle, crash and burn, any talent they actually find in the draft gets popped for drugs (pretty much Josh Gordon and that's it)…
…you get the gist of it. They're awful. And no matter how bleak this season feels for Ravens fans?
Be thankful that it's not THIS level of failure.
---
Go forth into your holiday weekend, eat your turkey, act like tryptophan makes you tired as an excuse to watch football on your lazy ass all day, but above all else, be thankful for the Baltimore Ravens.
And maybe just forget about the really crappy losses from this season…
The post Ravens Fans Should be Thankful appeared first on Russell Street Report | Baltimore Ravens News.
Source:
http://russellstreetreport.com/2016/11/23/street-talk/ravens-fans-should-be-thankful/
We encourage you to Share our Reports, Analyses, Breaking News and Videos. Simply Click your Favorite Social Media Button and Share.