The post-Super Bowl lull in the NFL is always the worst, especially after having to watching our nemeses Tom Brady & Bill Belichick hoist the Lombardi Trophy.
Again.
Alas, we must all move forward in anticipation of a triumphant return to the playoffs in the upcoming 2017 season, and what better way to look ahead to a (hopefully) brighter future for the Ravens than to throw a few darts at the board for the team's new 2017 slogan?
Indeed, nearly every year during the John Harbaugh regime, the Baltimore Ravens have selected a new slogan for the team (sans a repeat of the 'Play Like A Raven' mantra & the 20th anniversary season). And why should the upcoming 2017 season be any different?
Here's a quick look at the history of Ravens slogans under Harbs.
2008- 'What's Our Name?'
2009- 'Play Like A Raven'
2010- 'W.I.N' (What's Important Now)

2011-'Relentless'
2012- 'TEAM'
2013- 'Here We Are'
2014- 'Play Like A Raven'
2015- 20th Season Anniversary
2016-#RavensFlock
Which brings us to the current 2017 offseason.
While there's been no shortage of debate on how the Ravens can improve in 2017, I'd say the masses will look back at the 2016 season with a sour taste in their mouths after a lackluster 8-8 season that ended too soon, saw Steve Smith Sr. ride off in the sunset on a three-legged burro (am I insinuating the team played like ass in his final game? Yes, I am!), and has left the team with more holes and question marks moving forward then we'd care to admit.
So taking the lackluster 2016 season into consideration, how do we pick a Ravens team slogan exactly?
It's simple. We take a look at the areas of concern from the 2016 season that need addressed, coupled with the high points of last season, then add in some semblance of an optimistic note, and… then… we sort of…
Nah. We just wing it.
---
GET UP
I like this for the fact that it works on multiple levels. At initial read, you think 'oh okay, like Get Up! Get jacked! Get pumped!' but really, it's like 'Joe just got sacked… GET UP!' or 'Jimmy Smith broke that pass up but he's down holding his calf… GET UP!'
Indeed, the Ravens have dealt with their share of major injuries in the past few years, be it Flacco's ACL, Suggs, Dumervil, Steve Smith Sr, Justin Forsett, Jimmy Smith, Dennis Pitta, Marshall Yanda, Ronnie Stanley, Alex Lewis, Breshad Perriman… yeah, conditioning is NOT the Ravens strong suit apparently (either that or it's really, really dumb luck).
Regardless, fans attending games at M&T Bank Stadium and on those couch coaches at home have become conditioned to see a key player go down, usually at big moments in the game. And more likely than not, you've already found yourself uttering this potential new slogan:
'Get Up.'
Perfection in two simple words.
---
RUN THE BALL
This is a no-brainer, and was probably the most used phrase in all of Baltimore from September through December 2016.
Whether it was Marc Trestman, Marty Mornihnweg, or the common denominator in John Harbaugh, the Ravens lack of run game for the better part of the season was nothing shy of appalling, and quite honestly, a slap in the face to fans who were told time after time that the run game would resurface….only for it to stay submerged.
At the State of the Ravens press conference last month, owner Steve Bisciotti made it very clear that this team MUST return to the run game. And if the owner's word doesn't remind Harbaugh & Mornihnweg what they're supposed to do? Perhaps this new Ravens slogan will spell it out for them (and if that still doesn't work, Greg Roman waiting in the wings might light that fire!).
---
COME BACK
You guys… we need another inside linebacker now that Zach Orr suddenly retired. And some serious help in the pass rush. And we need help on the defensive line. And a possession wide receiver. And a center. And a safety to pair with Eric Weddle.
Oh, and we also need to do it all with minimal cap space, a shallow free agent pool, and without our usual plethora of draft picks this season.
Not so simple.
So essentially, the only realistic option here is to convince Ray Lewis to come out of retirement, Haloti Ngata to return to Baltimore with Anquan Boldin on veteran minimum deals, then Matt Birk to bulk back up and return to the NFL to anchor the O-Line, while Ed Reed and Steve Smith Sr. come back for one last rodeo as well and look to go out on a high note.
Or not.
You have any better ideas on how to fill all of those voids??
---
OVERCOME
Again, this mantra fits on multiple levels. At first blush, this will likely be perceived as it should be: the team needs to overcome everything and anything thrown their way.
Overcome injuries.
Overcome a deficit in a game.
Overcome calls that may not go their way.
Overcome the odds stacked up against them, and succeed despite it all. After all, the 'us against the world' mentality is what Baltimore is all about, isn't it?
But for me, there's so much more to overcome.
Overcome bringing back Offensive Coordinator Marty Mornihnweg & his one-dimensional offense.
Overcome burning timeouts early in each half.
Overcome questionable challenges/burning more timeouts.
Overcome a lack of talent on the roster.
Overcome a lack of cap space to fill the voids.
Overcome mediocrity spewing from more than half of the draft selections over the past decade.
If the Ravens can manage to overcome ALL OF THESE THINGS?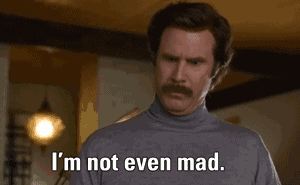 ---
Do any of these slogans fit the bill for you? Is there another you think fits better?
Or are you just hoping the team doesn't regurgitate "Play Like A Raven" for a 3rd time in a decade?
What should the 2017 slogan be?
The post Potential '17 Ravens Slogans appeared first on Russell Street Report | Baltimore Ravens News.
Source:
http://russellstreetreport.com/2017/02/13/fanimal-crackers/potential-17-ravens-slogan/
We encourage you to Share our Reports, Analyses, Breaking News and Videos. Simply Click your Favorite Social Media Button and Share.