Source: MLB.com
The open sign on your favorite store, restaurant or amusement park is an invitation in to something wonderful. My son and I call it simply, "Step into fun!" And this Tuesday is the day at George Steinbrenner Field. February 14th is when the Yankees officially open for business this spring.
Source: Cliff McBride/Getty Images North America
As the NY Post wrote this weekend, "When it comes to the Yankees' spring training camp, which opens Tuesday, when manager Joe Girardi meets the media for the 10th year, it will be impossible to ignore how young players, who are being counted on to contribute, perform." What happens in February and March with regards to our roster may or may not translate into what happens in August and September. And rightfully so- these guys, although being counted on as the Post says, need to fight for a spot to compete.
Source: Rich Schultz/Getty Images North America
"Games under the palm trees mean very little to teams and veteran players getting ready for the six-month grind of a regular season. That belief doesn't apply to young players, and so much of what the 2017 Yankees season and beyond is attached to what many inside the industry believe to be some of the brightest lights in baseball," reports the Post.
Guys like Aaron Judge and Gary Sanchez need to step up and win. We can't have swing and misses from Judge and we need Sanchez to keep the same heat he had in September at the batter's box in April. We can't afford less than that…there is just too much at stake. And we can't undervalue the role team chemistry will play as young and old take the field together for the first time this spring.
As the YES Network reports this week, "The culture in the clubhouse may be different from 2016, but the championship expectations of years past have never changed. The "Chase for 28″ continues in earnest on Opening Day 2017." YES uses the word "storylines" when it comes to the dramatic beginning of the New York Yankee Spring Training. In fact they say that there are 10 storylines to watch as the spring unveils itself in 2017:
1. The two final spots in the starting rotation
2. The starting job at first base
3. The starting job in right field
4. The role CC Sabathia will have
5. How will Aroldis Chapman impact the team for the second time?
6. What can we expect from veteran Matt Holliday as a first time Yankee?
7. As we reported last week, how will Didi Gregorius improve to All Star status?
8. How effective will Masahiro Tanaka be this year?
9. Which Baby Bombers will climb to the big leagues this year?
10. What can Gary Sanchez do as part of the Yankees' roster for a full year?
These storylines will find their way into our coverage of the 2017 Yankees this year on #BYB. But for now, let's just be satisfied that the open sign is getting ready to fire up and baseball season is finally here.

–Suzie Pinstripe
BYB Managing Editor
Twitter: @suzieprof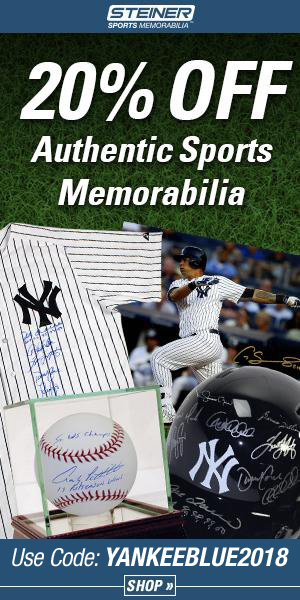 Source:
http://bleedingyankeeblue.blogspot.com/2017/02/yankees-open-for-business-on-tuesday.html
We encourage you to Share our Reports, Analyses, Breaking News and Videos. Simply Click your Favorite Social Media Button and Share.