Samples of popular pain relief gel to be distributed to runners at finish line of race

HUNTINGTON BEACH, Calif. (Feb. 27, 2017) – After running a 10K, 10-miler or half marathon in a beautiful area of Huntington Beach, participants in the Ocean Breeze race might have some sore muscles. Zim's Max-Freeze will be there to help.
Zim's Max-Freeze is a sponsor of the race, which will take place on Saturday, March 4, in Huntington Beach, California.
Designed for athletes, active lifestyles and weekend warriors, Zim's Max-Freeze provides a fast-acting, cooling effect that is soothing when applied to sore, aching muscles and joints. It offers temporary pain relief when it is needed most, especially after running long distances. As a sponsor of the race, brand ambassadors for Zim's Max-Freeze will hand out samples of the topical pain relief gel to runners as they complete the course.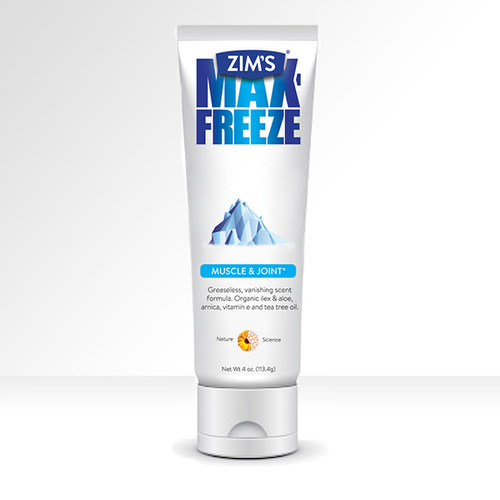 "The Ocean Breeze race is a great opportunity for runners of all experience levels," said Mark Smith, Perfecta Products' director of marketing and sales. "With three different distances to choose from, runners can focus on having fun while achieving their own personal goals. We're excited to be part of it and to hand out samples of Zim's Max-Freeze to participants."
Zim's Max-Freeze contains the organic ingredients aloe vera, arnica and ilex along with vitamin E and tea tree oil. It does not contain parabens, sulfates or coloring, and is not tested on animals.
Zim's Max-Freeze is sold at major food, drug and mass retailers nationwide. It is a popular choice among runners to battle muscle aches and pains in the hamstrings, quads, knees, calves, feet, joints and lower back – areas that can be strained when racing long distances.
Zim's Max offers a line of over-the-counter products that combine the best of nature with science. From temporary pain relief to skin care, the Zim's Max line aims to expand consumers' options for quality topical products.
To learn more about the Zim's Max brand visit www.zimsusa.com.
About Zim's® Max
Based in North Lima, Ohio, Zim's Max is a dynamic line of naturally-based consumer products distributed by Perfecta Products, Inc. The Zim's Max product line features different over-the-counter solutions, formulated with naturally-based herbal ingredients for pain relief, skin care, diabetics and first aid. Zim's Max was founded over 60 years ago to help cement workers with their dry, cracked hands and feet with its flagship product, Zim's Max Crack Creme. Today, Zim's Max products can be found in nearly every major retailer in North America. For more information, visit www.zimsusa.com or call 800-319-2225.
About the Ocean Breeze race
The Ocean Breeze race allows runners to choose from a 10K, 10-mile or half marathon course. The race takes place along the Bolsa Chica beach path, so runners can experience beautiful scenery while racing toward the finish line. It is a small, informal event with about 100 to 150 participants each year. For more information, visit http://www.abetterworldrunning.com/ocean-breeze-3417-hb.
-RL-
We encourage you to Share our Reports, Analyses, Breaking News and Videos. Simply Click your Favorite Social Media Button and Share.