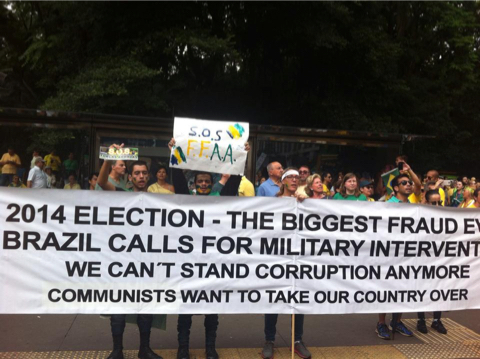 Think we have problems? Brazil is beset
by a corrupt Communist
government that it can't shake.
Marcos, our Sao Paul correspondent reports.
by Marcos
(henrymakow.com)
Three and a half million Brazilians took to the streets last Sunday to protest against corruption and demand the impeachment of President Dilma and prison for former president Lula. São Paulo alone saw 1.5 million people in Avenue Paulista, the heart of the city, while Rio gathered one million in Copacabana. Families, children, all together in a spontaneous and peaceful protest. Unfortunately, the government has responded by spitting in their faces and declaring war on its citizens.
Brazil has been destroyed by the Marxist Workers' Party (PT). An ally of Cuba and part of the Latin American leftist front Forum of São Paulo which controls most of the continent, they came to power in 2003 when criminal union leader Lula became president. He soon became the darling of the globalist left: Obama called him "the man", while Bono said Lula was a "treasure of the world". The Duke of Kent, Masonry's head honcho, also gave him awards. His power as a demagogue and the Venezuelan election fraud software Smartmatic enabled him to hand pick his successor, Dilma Rousseff, a former Marxist terrorist and bank robber, elected in 2011 and 2015.
SCORCHED EARTH
Brazil is facing a recession worst than the one in the 1930s. GNP fell 3,8% in 2015, the second worse result in the world, second only to another Marxist hell, Venezuela.
Industry fell 6.2%; 95,000 retail stores shut down and there is widespread unemployment. Extreme poverty index climbed from 13% to 20%. This is a direct result of huge corruption, incompetence and mismanagement of the economy. More than 200,000 high paying positions in the federal government were created and filled by faithful Party comrades. Public debt skyrocketed to the advantage of the bankers who saw their profits break records year after year. Business compadres of the Party could get billions in cheap subsidized loans.
The straw that broke the camel's back was the exposure of a huge corruption scheme involving state companies, especially oil company Petrobras. The scheme stole R$ 50 Billion (US$ 15 BI) in kickbacks for the Workers' Party and the politicians. Suppliers could only sell to Petrobras if they gave 3% of the amount in bribes. Dilma's election campaign was financed with this money. Petrobras went from being the 12th largest company in the world to number 120.
In the last three years, millions of Brazilians took to the streets, signed petitions and protested in several ways. People absolutely hate the Party, and both Dilma and Lula. This is by no means an "orange revolution" sponsored by Soros or by the CIA, but a grassroots spontaneous movement.
THE CRUSADER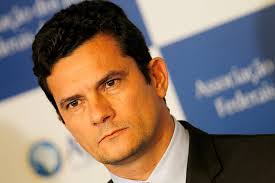 Behind the exposure of these crimes is Judge Sergio Moro, left, a low key devout Christian who became a hero for the common Brazilian who watched as the Federal Police exposed a new scandal every week. As investigations of Operation Lava-Jato (Carwash) proceeded, it became clear that Lula was the behind the kickback scheme. Several Petrobras directors and owners of large companies, including the billionaire heir of one of the largest businesses in Brazil, Odebrecht, were arrested for corruption and accepted plea bargain deals. Like a Matryoshka set of dolls, one arrest led to another larger scandal.
It is believed that Lula, who claims to be a champion for the poor, has stolen more than US$ 50 MM in money in offshore accounts, disguised as "lecture money", has received a triplex apartment facing the beach, a ranch, and even stole precious objects such as sculptures and gold silverware from the Brazilian White House. His son, a former zookeeper, became a millionaire with shady deals based on corruption.
THE TIME LINE
Lula was taken to the Federal Police HQ last week right before the protests began. At the same time, prosecutors from São Paulo asked for his arrest.
Sunday: (March 13th): 3,5 million people in the streets demand Lula's arrest and Dilma's impeachment.
Monday: Rumors of Dilma's intention of making Lula a super minister, in order to escape prison and help her stay afloat. (in fact, Lula's arrest had been decided, but spies inside the Police warned Dilma.) Meeting of the government to discuss actions.
Tuesday: Dilma decides to make Lula minister. The country is shocked and horrified. Now Lula can only be judged by the Supreme Court, as he gains special privileges, and we know many of the judges there owe their positions to the Party.
Wednesday: Judge Moro in a master coup releases audio from the investigation of Dilma talking to Lula at the phone, telling him she is sending the document of his instatement, so he can show the police if need be. This is a crime of obstruction of justice. Also audio of Lula requesting help from Supreme Court and Minister of Justice (another crime). Audio of Lula calling the Supreme Court and the Congressmen "useless" and "cowards" (he now will lose all support he desperately needs).
Checkmate!
The result: Congressmen shouting "Dilma renounce, renounce!". Avenue Paulista filled by huge crowds again. Thousands gather in front of Dilma's palace. The Supreme Court has been put against the wall and must decide against Lula.
Craziest day in Brazil in 50 years. We will probably see instability, a war of lawsuits, and general turmoil in the coming days. Violence is already starting in the streets. Will the Army interfere? Will Lula's army of terrorists from the Landless Peasants movement attack as he threatened some weeks ago? Even Marxist buffoons Evo Morales from Bolivia and Maduro from Venezuela have threatened war with Brazil if Dilma falls.
CONCLUSION
Marxism's role is the destruction of individual freedom and traditional values. It will never work as an economic system, and the elite knows it. It is enough that it creates a dependent generation that praises high taxes, public debt, a huge monster State that controls everything and a culture based on Satanic values of immorality and disregard for human life and dignity.
The Worker's Party was given the country on a tray by President Cardoso, a personal friend of George Soros and leader of PSDB, the Fabian Socialist party which never acted as a real opposition to Lula and Dilma. Now it has done its job, and like the proverbial goat in the room, people will accept any solution to be rid of it. Good cop must follow bad cop, new world order out of chaos.
The only thing that is forbidden is the rise of some real conservative presidential candidate, a possibility now after many people realized the scheme. That's why PSDB has prepared another coup d'état in the form of a Parliamentarian bill presented this week. Like all countries in the world, Brazil must have a new world order government.
Source:
http://henrymakow.com/2016/03/preident-dilma-declares-war-ag.html
We encourage you to Share our Reports, Analyses, Breaking News and Videos. Simply Click your Favorite Social Media Button and Share.