The central bankers could control everybody by simply eliminating
cash and shutting off their credit cards. This is exactly what they
are planning.
How To Resist Conditioning For The Cashless Society
(Abridged by henrymakow.com)
Within the next few decades, it is likely that there will be no more hard cash (coins/notes) left. By this point, the notion of using physical money will be a distant memory tinged with disbelief. "How did we ever manage something so clumsy and backward?" many will say. An increasing number of people are already saying similar things.
In January, 2016, John Cryan, Chief Executive of Deutsche Bank predicted that: "Cash, I think, in ten years time probably won't (exist). There is no need for it, it is terribly inefficient and expensive."
Most of the arguments for a cashless society sound sensible and logical on first glance. People who argue against the 'progress' and 'sense' of this development have been accused of being backward, suspicious, or worse. In light of this, it is going to take considerable courage and character to refuse to conform to the inevitable process unfolding before our eyes.
This article explores five ways in which people are being heavily conditioned to accept the cashless society, and it concludes with what we need to do in order to take a stand against this.
(1) Rhetoric – The use of violent and aggressive language consistently gives the impression that Cash is something we need to treat as an enemy, and thus make war against.
The headline to one article reads: "One Swede Will Kill Cash Forever–Unless His Foe Saves It From Extinction."[1] The article features the story of Abba front man, Bjorn Ulvaeus, who became a spokesperson for the cashless society after his son was robbed. Ulvaeus postulated that the chance of this happening would have been greatly reduced if paper money (exchanged for stolen items) did not exist. …
2) 'Reason' –Here is a line from one Fox News report: "There is no credible cause for concern about implanting these tiny microchips under your skin."[8] As Ellen Brown wrote in her article "The War on Savings: The Panama Papers, Bail-Ins, and the Push to Go Cashless": "It's all about knowing where the money is and who owns it, in order to tax it, regulate it, "sanction" it, or confiscate it."[19]
Contrary to what the public is being led to believe, the real "winners" of the war on cash are not the vast majority of the public. The winners are those individuals who stand to significantly profit from it – mainly the banking cartels and those who support their policies.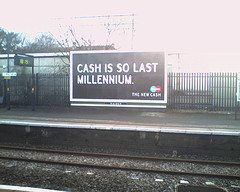 (3) Ridicule – Mastercard, one of the main financial institutions propelling the cashless society, commissioned a billboard advertising their lead debit brand, Maestro, emblazoned with the slogan: "Cash is so last millennium!" Between the lines, users of cash were being labelled as archaic and behind the times.
To many, the colossal elephant in the room which is being missed is the prophecy in Revelation 13:16-18 and Revelation 14:9-11.[21] The Bible warns of a future scenario where people are forced to make a choice about their relationship to the monetary system. In the prophecy, a final world leader makes it compulsory for everyone to have some kind of mark in their right hand or in their forehead, without which they can neither buy nor sell. The Bible warns that God's wrath will be poured out "without measure" on anyone who takes that mark. There really is no banking answer to this prophetic passage, apart from rejecting God and the Bible.
(4) Repetition – Advertising experts know that if you repeat a message over and over, it becomes embedded in peoples' consciousness. Banks, retailers, politicians, and other agencies who will benefit from the cashless society, have the funds and motivation to use media outlets and public spaces to sell their products and proclaim their views. This is where the rhetoric and reasoning for the cashless society is likely to be repetitively preached, wearing people down in a war of attrition.
Billions of dollars worth of advertising is focusing only on the benefits, which are further enhanced through glossy looks, sex appeal, and other positive images. Consequently, people's reality can become sufficiently blurred for us to all cave in. Repetitive advertising can easily deceive and condition people to buy something, or believe something, that they may otherwise not have.
(5) Reality – Spin created to exaggerate the weaknesses of cash, while exaggerating the benefits of cashless alternatives, is conditioning people to think differently in order to get them to act differently. But we are being conditioned to accept the cashless society even more deeply through circumstances themselves: The element of choice is quickly being eroded away.
In countries like Denmark thousands of ATM machines have been physically removed in recent years, making it more difficult for people to obtain cash there.[29]
In Ireland – a nation among the biggest users of cash and cheques in Europe – a charge on all ATM transactions has been introduced in an attempt to encourage people to go cashless.[30]
Even 10 years ago it would have been almost unheard of for cash payment of goods and services to be declined. However, these days, in various sectors of retail and commerce (especially the Internet), the use of cash is becoming increasingly more difficult, if not impossible.[31]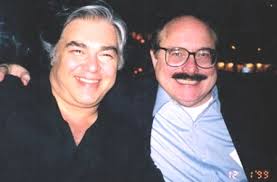 (left, Nicholas Rockefeller told Aaron Russo they plan to "chip" everybody.)
In a growing number of cities it is no longer possible to pay for certain forms of public transport using cash. Stockholm, for example, has outlawed cash for travel on its Metro, and in Central London customers are no longer permitted to pay bus drivers using cash. Alternative means of payment (e.g. contactless payment) are required for public transport in many major cities. In some cases where different payment options are still available, cashless options (e.g. London's "Oystercard" or Sydney's "Opal card") are incentivised by making them considerably cheaper.[32]
It follows that the harder and more expensive it gets to use paper money and coins – as more tax is put on it, as fewer outlets allow it, and as retailers and authorities become more suspicious of it – the more people will be forced to use alternative forms of digital payment, if they wish to continue with their lifestyle.
In light of this, when we are told (for the umpteenth time) that "more and more people are choosing to go cashless?" we need to seriously question how honest a picture this is. For many people, the "choice" to go cashless is being dictated by circumstances that they have little or no control over.
CONCLUSION
We have explored five ways in which the banks and their allies have been conditioning the world to accept the cashless society as the next, inevitable step toward the Mark of the Beast. They have used rhetoric to play on our fears and emotions; some impressive reasons to prove they have considered and dealt with all potential problems; ridicule to discredit opponents; and then they have brainwashed us by repeating these strategies over and over ad infinitum. The end result has been an over-powering reality which is going to force everyone to give in and do it their way in the end.
Footnotes are with the original version.
Source:
http://henrymakow.com/2016/08/Soicety-is-Being-Weaned-off-Cash.html
We encourage you to Share our Reports, Analyses, Breaking News and Videos. Simply Click your Favorite Social Media Button and Share.