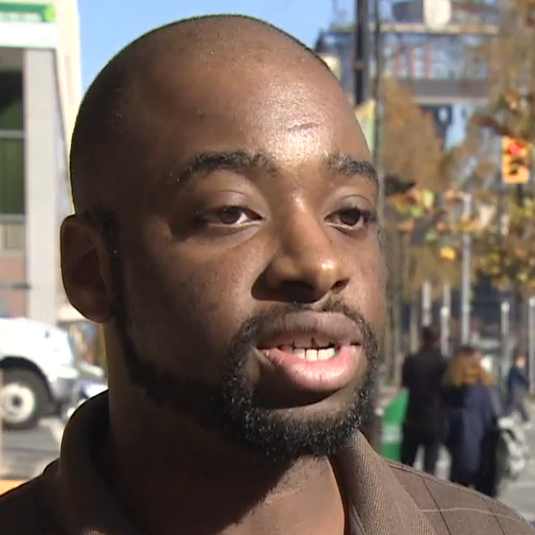 (left, not Alex)
There is nothing wrong with a country maintaining its racial identity and cohesion.
What's wrong is imputing negative characteristics to all members of another race
and persecuting them. We are individuals and have a right to be judged on our individual merits.
Despite being born in Ottawa, Alex Chilcott and his family have been persecuted
by police all his life. It has reached the point where he leaves home with trepidation.
Despite its espousal of "diversity," parts of Canada are hell for people of colour.
Disclaimer: I am also against further diluting the ethnic and racial character of Western countries while Israel remains race-pure. But this is not a Black Lives Matter psy op courtesy of George Soros. The official persecution of minorities who are here legitimately is disgraceful.
by Alex Chilcott
(henrymakow.com)
My mother is a doctor and my father an engineer. They came to Canada from Haiti. Because we live in an upper middle class neighbourhood, my family was under constant harassment by the police. My mother had to go to court and get a restraining order on one officer because he would follow my mom home from work, or sit outside our house for hours, and issue her tickets.
My father received 3-4 tickets in a month sometimes more. He stuck out because he drove a luxury car. He was once even arrested for trespassing at his own work place. When he tried to explain, the officer struck him and arrested him (little did the officer know my father was an accomplished decorated martial artist.) After being brought to a holding cell, he got into a fight with two men because they wanted his clothes. He ended up beating them up. The police came in beat him up again and put him in a single cell holding cell.
His boss picked him up and brought him home, and when they gave him his wallet back there was two hundred dollars cash missing from it that they denied taking. After getting a lawyer, nothing came of it. As always, the officers were given slaps on the wrist.
I have been constantly harassed by police officers. Coming in and leaving my home, I have been pressed up against my car and interrogated six times I can remember, for suspicions of robbing my own house or looking like a wanted person (or so they say, a common excuse to bring black people to spend the night in jail.)
I've had them search my wallet, car, even enter my home or property all without my permission. I've even been arrested for what they believed was attempting to break into my own house. It's not until they pull out my license that they see I am who I said I was and I do live here.
One day, my family had left to Montreal and we had traded cars because mine had more cargo room however. I didn't realize the set of keys given to me had no house key on it till much later in the day. So I went to the bank made a big withdrawal for a purchase I was planning on making that day and went to pick up my girlfriend from work, came home, realized my problem. Spent an hour in front of my house trying to get in, then gave up.
As I was pulling out of the driveway, a police officer pulls up, blocks off my car, blares his lights, demands I step out of the car. As soon as I stepped out, he proceeded to twist my right arm up my back till it wouldn't rotate any longer but he continued and it was going to break. My girlfriend was screaming; I'm screaming in pain; he's yelling that I'm resisting arrest.
After scrambling to resist arrest he handcuffs me and puts me into the cruise, my pregnant neighbour comes to my rescue but by then it's too late. So I spend a night in a holding cell; a drunk guy pick a fight with me; I defend myself, get beat up by officers thrown into a single cell. In the morning my uncle comes to get me, my belongings are returned to me and the big withdrawal I made ($800), gone….sound familiar?
This time we didn't even pursuit legal action as we knew that we would be spending a couple grand to hear "sorry." That was by far my worst experience with the Ottawa police.
Another incident, I was still in high school, and had decided to go to a BBQ with two other friends. We had a lot of fun, eating, socializing and playing games. We decided to take a walk around the park on the side walk, less than 5 minute into our walk a police cruiser down the street blares his light while sound his sirens bolts towards us as if he was going to run us over.
His car slides up right behind us, tires screeching, tells us to put our hands on the hood of his car and not to move. As we do as we were instructed, he begins patting us down, interrogating us, his main question being what are you doing here.
I tried explaining that I live in the neighbourhood and even pointed at my house which was across the street, but he didn't believe me. As he's patting me down, he pulled out my wallet and begins taking it apart, finds my I.D., realizes I was tell the truth. At that moment adults from the bbq approached the officer telling him to leave us alone and that we are children of this community.
The officer in irritation tells us to go home or he will arrest us if he's sees us again. Later, that night my mother called the city to make a complaint but nothing ever comes from it. I've also been stopped multiple times walking my dog in the morning and evening to be interrogated, then told to go home or be arrested.
I as well get harassed non stop with tickets and I learnt my lesson quickly to just take it even if you didn't do it, as I've almost been in a physical confrontation with an officer for telling him he was wrong. When I saw that he tried to open my locked door I rolled up my window just enough so I could still hear him.
He then stated for the third time I sped through a stop sign as if he were a Jedi trying to get me to agree with him but he was getting ready to punch my window with his arm cocked. I stared at him and said nothing preparing for the worst. Then he walked back to his car and gave me the ticket, and left.
From what I had been told after this incident is to never make eye contact with a passing officer or he will harass you, which is what I did when I came to a complete stop looked right then left and noticed him sitting in his cruiser while making direct eye contact, as I began to drive he blared his light to pull me over. Ten minutes later, I'm driving by the same area and he pulled over another teenage Black.
—
Source:
http://henrymakow.com/2016/09/Blacks Face-Constant-Police-Harassment.html
We encourage you to Share our Reports, Analyses, Breaking News and Videos. Simply Click your Favorite Social Media Button and Share.