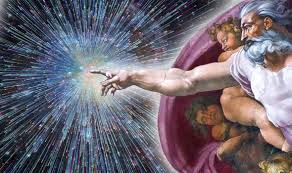 We are all motivated by
a love of Perfection.
Perfection = God
by Henry Makow Ph.D.
My religion won't attract many followers and make me rich. This is because it can be outlined in less than 100 words.
On the other hand, I don't have to bury my head in books, study abstruse theology or listen to gurus. I don't have to worship art or sift through the utterances of man-made gods ("the wisdom of the ages") looking for usable information. I can shut the TV or put down the book.
By sharing it here, I means no disrespect to other religions. I am in favor of all religions that espouse a Moral Order based on the Divine Spirit in man. I tip my hat to all of you who find inspiration and direction in your religion, and beg your indulgence for my taking the simple, no frills route.
Essentially, I believe that God is Reality, and He is spiritual in nature. God is synonymous with all spiritual ideals: Truth, Beauty, Goodness, Love, Peace, Justice, Harmony. God is a state of consciousness in which these ideals are self evident. I've had glimpses of this. The Truth is out there!
So instead of going to church or reading scripture, I just try to
Be Real.
God is Reality. Spiritual absolute
s
are real; indeed, the only reality.
My religion is my day. What I do, not what I say.
I don't pretend to be a very good acolyte. I have not done a great job of incorporating these spiritual
ideals into my life, but I have made some progress.
I'm proud of my website because it is a witness to Truth. As a child, I was puzzled by all the war and suffering in the world. If adults were so great, why had they messed things up? I made it my mission to discover what had gone wrong.
I have always been infused by this ridiculous idealism which I equate with love of God. I am not unique. We're all motivated by a love of Perfection. It's what defines us as human. It's why we are so easily deceived by false gods.
I don't care about being right. I just want the truth. Bearing witness is my religion.
I have been less successful at being good. I am sometimes dismissive of panhandlers and the unfortunate. At my age, I'm not beautiful but I love beauty. Beauty is everywhere.
Harmony? Peace? My wife is a Zionist, but I try to remember that Love conquers all.
So there it is. My generic religion. Trying to be Real in terms of spiritual ideals. Bearing witness.
Can you put yours in less than 100 words?
Source:
http://henrymakow.com/2016/10/be-real-my-religion.html
We encourage you to Share our Reports, Analyses, Breaking News and Videos. Simply Click your Favorite Social Media Button and Share.