"New polling data shows that it would be virtually impossible for Hillary Clinton to win the general election if the Republican nominee were able to frame the immigration issue in populist terms that emphasize reducing the overall amount of immigration into the country and protecting jobs, incomes, and benefits for the domestic population."
The poll surveyed a random selection of 2,010 registered voters throughout the nation.
"The poll shows that instead of dividing Americans, immigration is an issue where Americans have reached the consensus that it is a problem, maybe the problem," said pollster Doug Kaplan.
"The polling data suggests that the Republican Party could see overwhelming electoral success if it were able to portray Clinton's immigration policy as a corporatist attempt to flood the labor supply with foreign workers in order to drive down wages and incomes for American workers.
"As the polling data confirms, the most potent framing of the immigration issue is to focus on the numbers and scale of total immigration into the country, and to present the American people with the choice between more immigration and less immigration.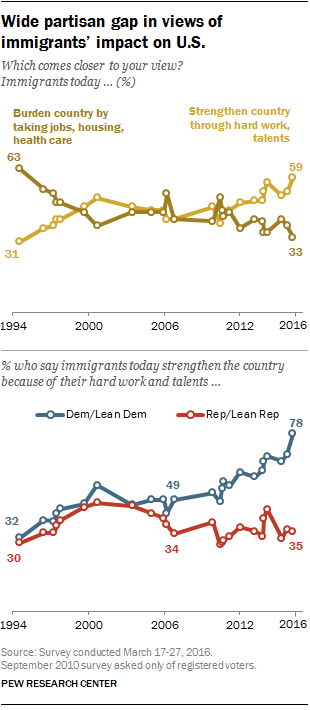 …"The media and Democrat politicians uses the term "pro-immigrant" in a completely alien way- i.e. in a way which focuses on trying to help foreign nationals who do not live in America. The new polling information underscores the importance for Republicans to reclaim the historically correct understanding of "pro-immigrant"- as meaning defending U.S. residents who have already immigrated to the country against competition for jobs and resources from foreign nationals residing outside of the country.
"Below are some of the poll's findings:
- By a nearly 6 to 1 margin, U.S. voters believe immigration should be decreased rather than increased.
"Every three years, the U.S. admits a population of new immigrants the size of Los Angeles. Sixty three percent of voters said that this figure is too high, whereas only a minuscule 11 percent of voters said that number is not high enough. Only 13 percent of Democrats and Independents– and only 7 percent of Republicans– said immigration should be increased.
- "By a 25-to-1 margin, voters believe that unemployed American workers should get preference for a U.S. job rather than a foreign worker brought in from another country.
"Seventy five percent of voters believe American workers should get U.S. jobs, whereas only 3 percent of voters believe foreign workers should be imported to fill U.S. jobs.
"Democrats agreed with this sentiment by a margin of roughly 30-to-1 (69.8 percent who think jobs should go to unemployed Americans whereas only 2.3 percent think foreign labor should be imported). African Americans agree with this sentiment by a margin of 65-to-1 (78.5 percent who think unemployed Americans should get the jobs versus 1.2 percent who think foreign workers should be brought in). Hispanics agree with this sentiment by a margin of 30-to-1 (59.1 percent versus 2.0 percent).
"There are roughly 94 million Americans operating outside the labor market today. Yet every year the U.S. admits one million plus foreign nationals on green cards, one million guest workers, dependents, and refugees, and half a million foreign students.
"Sixty one percent of voters believe that any politician, "who would rather import foreign workers to take jobs rather than give them to current U.S. residents, is unfit to hold office."
STEVE BANNON WAS LISTENING
Steve Bannon recognized that white working class frustration held the key to victory, and even permanent political domination.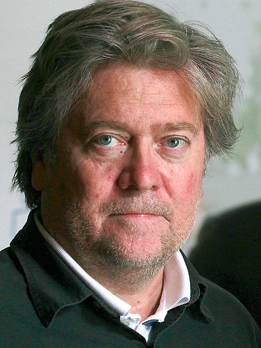 'I'm not a white nationalist. I'm a nationalist. I'm an economic nationalist,'
Bannon told The Hollywood Reporter.
'The globalists gutted the American working class and created a middle class in Asia. The issue now is about Americans looking to not get f***ed over.'
Bannon believed that the Democratic Party ditched Trump's potent voter pool after Bill Clinton, who won his presidential election in 1992 whispering to the working man.
The Republican Party gained and lost that same group under Reagan.
Now, Bannon suggested, parties were catering to the 'donor class,' while everyday Americans were left out.
'If we deliver,' he said, with the 'we' likely meaning the Trump administration, 'we'll get 60 percent of the white vote, and 40 percent of the black and Hispanic vote and we'll govern for 50 years.'
'That's what Democrats missed, they were talking to these people with companies with a $9 billion market cap employing nine people. It's not reality. They lost sight of what the world is about,' Bannon said.
'The media bubble is the ultimate symbol of what's wrong with this country,' Bannon said. 'It's a closed circle of information from which Hillary Clinton got all her information – and her confidence.'