Setting a new standard for all other fixed-pin sights to follow.
Custom Bow Equipment (CBE)
Clay City KY: (www.ammoland.com) Hardcore bowhunters demand three things from their bowsights: bright pins, durability, and easy adjustments. Custom Bow Equipment (CBE) again delivers with the introduction of the new CBE SL4 bowsight.
"The first thing bowhunters will notice about the SL4 is its ultra-light synthetic Multi-Pin Aperture. The sight features a unique blend of strong and durable composite materials. The SL4 protects your pins and holds up to the demands of both treestand users and backcountry bowhunters alike," said Eric Griggs, president of CBE. "This sight brings new opportunities and value to archers across the board."
ArmedGuard™ Fiber Management System provides bowhunters better protection and more light. The integrated .019″ Rhino pins include 12″ of light-gathering fiber-optic material. CBE's tradition of including frustration-free adjustments continues in the SL4. The SL4 includes laser-marked hashes for a quick visual aid during pin adjustments.
The sighting-in process becomes simple with the dovetail elevation gang adjustment, including laser-engraved markings. The QuickSlide™ windage unit includes an indicator window and reference marks for quick and easy adjustment. CBE has developed a new mounting bar for the SL4. CBE's SmartMount™ mounting holes allows users to find the perfect spot for their sight and allows users to find the right balance of arrow clearance and a perfect sight window. Stainless-steel bolts mean there's never any worry of rust on this value-packed sight.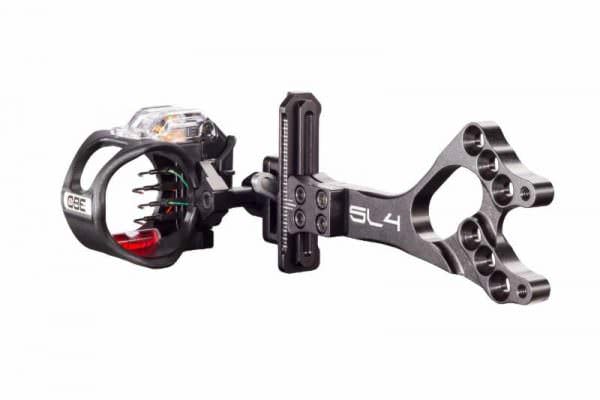 SL4 Bowsight.
Made in the USA, the CBE SL4 is available with a standard 4-pin housing. As always, CBE stands behind its products with the Tough as Nails Guarantee. If for any reason your CBE bowsight requires repair, we will repair or replace it, no questions asked.
MSRP: $149.99
For more information on the SL4 bowsight or the entire line of CBE products please visit
www.custombowequipment.com or www.facebook.com/CustomBowEquipment.
About THE Outdoor Group
Custom Bow Equipment (CBE) Is part of The Outdoor Group family of brands. Established in 2012 and headquartered in Henrietta, New York, The Outdoor Group is parent company to the premier brands of Elite Archery, Duel Game Calls, CAMX Crossbows, Scott Archery, Custom Bow Equipment, Winner's Choice Custom Bowstrings, Lynch Mob Calls, Slick Trick Broadheads and Solid Broadheads.
This post The New-for-2017 SL4 Bowsight By CBE appeared first on AmmoLand.com Shooting Sports News .
Source:
http://www.ammoland.com/2016/10/the-new-for-2017-sl4-bowsight-by-cbe/
We encourage you to Share our Reports, Analyses, Breaking News and Videos. Simply Click your Favorite Social Media Button and Share.