By Norman Gray
HK only makes a limited amount of the Heckler & Koch Mark 23 Pistol each year, that's because "No Compromise" means something at Heckler & Koch.
Heckler & Koch Mark 23 Pistol
Unleaded Ink By Norman Gray
USA – -(Ammoland.com)- In 1949, three ex-Mauser employees, Edmund Heckler, Theodore Koch and Alex Siedel, "who was later dropped from the incorporation papers for no known reason," founded Heckler & Koch (The English pronunciation is pronounced, "COKE.").
After World War Two the Germans were forbidden to manufacture weapons, a restriction placed on them by the Allies in 1945.
To comply with the restrictions, they manufactured machine tools, but their passion has always remained in the manufacture of firearms.

In 1955 the ban was lifted and H&K became part of the defense of the German Federal Republic of West Germany.

Heckler & Koch Mark 23 Pistol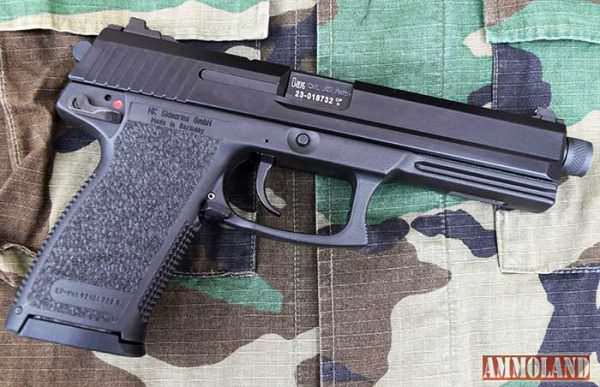 Heckler & Koch Mark 23 Pistol Right : When you invest in an HK Mark 23, you are purchasing one of the finest handguns ever manufactured and you have Heckler & Koch no compromise lifetime warranty to back you up.
Heckler & Koch GmbH or "HK" for short is located in Oberndorf in the state of Baden-Württemberg Germany, with subsidiaries in the United Kingdom, France and the United States. In the years to come, after the ban was lifted, HK began manufacturing firearms, introducing the world to the G3 battle rifle, HK21 machine gun and legendary MP5 submachine gun. They eventually expanded their line to include pistols, their first was the HK4, later the P9, P7 and USP series were added. In 1991, HK developed one of most successful and iconic handguns on the market today, the HK MK23 Model.0. would be eventually be adopted by U.S. Special Operations Command or USSOCOM.
In February of 1990, HK submitted an 89-page proposal for the HK MK23 Mod.0. as part of the U.S. Militaries (OHWS) "Offensive Handgun Weapon System" (The complete system would eventually be composed of the MK23 Model.0., Laser Aiming Model (LAM) developed by Insight Technology and the suppressor manufactured by Knight's Armament Company.) The Heckler & Koch Mark 23 Pistol was in direct competition with Colt's OHWS entry, and in 1991 both Colt and HK were granted a 1.4-million-dollar contract to develop their respective pistols. In 1992, HK submitted its required 30 pistol samples to the U.S. Navy Surface Warfare Center in Crane, Indiana.
Both the Heckler & Koch Mark 23 Pistol and Colt would face some of the most grueling torture tests a pistol could endure which included:
30,000 round endurance firing test with + P ammunition
Extreme temperatures +73°C/-54°C (+ 160/-60 F)
96 hours saline mist test
Sand, dust and sludge tests
96 hours of surf simulation
Harshest drop tests
Accuracy and the highest precision
The MK23 proved tremendously reliable in environmental testing in which an unlubricated pistol was exposed to two hours of seawater at 66 feet. In firing testing, all 30 pistols averaged 6,000 rounds between stoppages and in more than 450 accuracy test firings from a precision firing fixture, the MK23 pistols far exceeded the requirement, averaging under 1.4" / 37mm.
In the end, the MK23 moved on to further testing with the only failure being HK's suppressor. The suppressor was re-engineered to make it work with John Browning's short recoil, tilting barrel design by Knights Armament Company of Vero Beach, Florida. On June 29, 1995 HK was awarded the production contract worth $4.5 million for delivery of 1,950 Heckler & Koch Mark 23 Pistol Model.0. handguns and 10,140 magazines with delivery beginning on May 1st 1996. More orders would eventually come, increasing the total contract price to $12 million and satisfying demand by the units under USSOCOM such as the U.S. Navy Seals, U.S. Army Rangers, Special Forces, Special Operations Aviation and the Special Operations Wing of the U.S. Air Force.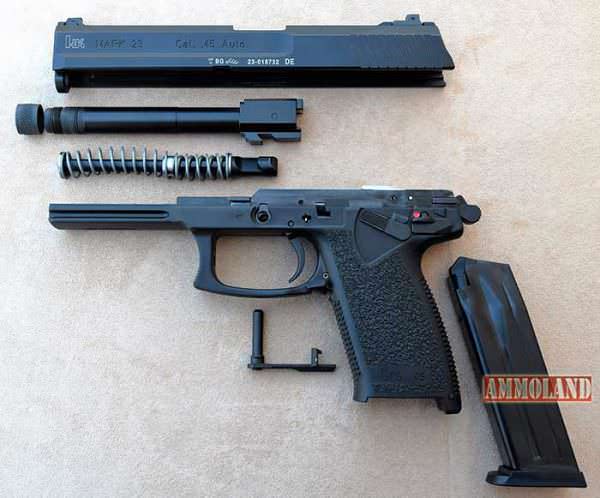 Heckler & Koch Mark 23 Pistol Breakdown : Disassemble is straight forward and is similar to the 1911 because it closely resembles John Browning's design. Pay close attention to the captured recoil/buffer spring assembly, it acts like a piston and this is where the magic happens.
In the shooting world, great news travels fast and it wasn't long before HK released the MK23 to the public in 1996. About mid-year 1996, the roll mark "MK23 USSOCOM" was replaced with Mark 23. The differences between the MK23 and Mark 23 are subtle, the Mark 23 is basically the same except for some production variances like a matte finish and tan frames. The Mark 23 barrel also conformed to SAAMI headspace specifications, since the MK23 military barrels were made to allow ball ammunition to work more dependably.
In 1996, the Federal Assault Weapons Ban, signed into law by President Bill Clinton, was in full swing and the Mark 23 was shipped with two 10 round magazine for compliance with the law. After the ban had Sun Set (expired), they were once again shipped with 12 round magazines. To comply with their 1995 Firearms Act, Canadian Mark 23's were distributed with two 10 round magazines. Extra OEM (Original Equipment Manufactured) 10 and 12 round magazines are available from HK for $69.00 each. Aftermarket and OEM parts are sold by both brick and mortar and online stores. Although, you should check with HK before using some parts, as they may void your lifetime warranty.
Where The Rubber O-Ring Meets The Slide
Heckler & Koch Mark 23 Pistol 12 round magazine : If you can't fix your problem with two 12 round magazines of .45 ACP, stay home. : https://goo.gl/nHIlPP
My sample HK Mark 23 arrived in a black padded case with two 12 round magazines, instruction manual, pad lock, lockout key and extra O-rings. I usually start by scanning the instruction manual, especially if the firearm has a unique feature or two, then begin with disassemble, inspection, lube and reassemble to get a feel for the firearm. Something I didn't expect, was finding the instruction manual to be such a good read, it is chocked full of things that you should know first before taking the Heckler & Koch Mark 23 Pistol to the range. It explains what makes this pistol so exceptional, like its operating system.
It uses a modified, linkless Browning style short recoil system to lock and unlock the breech.
Heckler & Koch Mark 23 Recoil Spring Guide Rod : https://goo.gl/tS9aff
After a round is fired, pressures from the propellant gases drive back the slide and barrel to the rear. About 3mm into the rearward movement, the locking block stops the barrel and pivots it downward. This is due to the engagement of the angled surfaces of the locking block with those located in the recoil spring guide rod.
The locking block will disengage from the slide and the slide will continue reward. The extractor in the slide will extract the fired case using the ejector on the left side of the slide to kick it outwards. The slide continues rearward and cocks the hammer and compresses the recoil spring. At the end of the rearward cycle, the slide moves forward stripping another cartridge from the magazine and locking the barrel breech once again.
The captured recoil/buffer spring assembly has a very unique feature I have not found in any other pistol. According to HK, the buffer assembly reduces felt recoil of the fired cartridge by up to 40%, making recovery from the shot faster and enables you to get back on target much quicker to fire successive shots. HK also promises a match grade experience without custom made or fitted parts and one way they do this is by machining the parts to tight tolerances and hand fitting them. .75" (19.05mm) from the tip of the muzzle is an O-ring in its own milled grove, the purpose of this O-ring is to tighten the barrel's fit inside the frame once the lock process is completed. With a new purchase you are supplied with 4 replacements, but the Mark 23 O-Rings are easily ordered through HK parts or aftermarket sources.
Heckler & Koch Mark 23 Pistol : Broke In From The First Round
Something else I didn't see coming, the Heckler & Koch Mark 23 Pistol feels broke in from the first round. Everything is smooth and flawless, "I'm sure your thinking, it better be for $2,299.00." This is also a first for me, most of the time controls are stiff on a new build; not the case here and it was a joy. So let me give you a closer look at why this iconic pistol is still in such high demand.
Heckler & Koch Mark 23 Pistol Trigger Guard and Magazine Release
The Magazine release is an ambidextrous paddle type located where the trigger guard and grip meet. Glove use is a non-issue and possess no problems dropping either loaded or empty magazines. Magazines are a steel, staggered box type with counting holes on the rear of the magazine and the follower and floor plate are polymer. A unique feature added to all Mark 23's after 1999, is a lockout device at the rear of the magazine well replacing the lanyard loop. Inserting the enclosed key and turning it right will lock out the trigger, hammer and slide, turning it back returns everything to normal operation.
Heckler & Koch Mark 23 Pistol Built In Lock-Out Device : HK's built in lock-out device was introduced on all models produced after 1999 and replaces the lanyard loop. After the key is turned clockwise, it blocks any movement of the trigger, hammer and slide.
The polymer frame is loaded with features, starting with light stipple textured side panels and diamond texture on the front and rear back straps, making it easy to hold in all conditions without being overly aggressive to the bare hand. The trigger guard is beefy, wide and large, I'm able to place two X-large fingers inside very easily. The front of the trigger guard is lined for easy use of a long finger during firing and the hole was used to secure the LAM I mentioned earlier. The AMG (Accessory Mounting Groove) was for use with the LAM and will not work with today's accessories, but an aftermarket Picatinny rail device can be purchased. The trigger is large and wide, lined for secure finger placement, it was a joy to pull 210 times as I tested the pistol.
Heckler & Koch Mark 23 Pistol Picatinny Rail : You can purchase an aftermarket Picatinny rail that fits the Accessory Mounting Grove and the threads on the barrel are right handed, a left handed thread adapter or replacement barrel will alleviate that problem.
Controls are accessed with what I call, "the pistol cant," as you don't want to access them under pressure while firing and engage the wrong thing at the wrong time. Canting the Heckler & Koch Mark 23 Pistol in your shooting hand up and right will allow your thumb to access the manual safety, decocking lever, slide catch release and magazine release. All of which are easy to use with moderate pressure and dexterity.
One thing to note on the manual safety lever, which is ambidextrous, in the fire position a red dot is visible, on safe you will see a white dot denotating safe, both dots are large for low light use, a very nice feature for quick low light checks.
The hammer is a simple round spur type, but with everything else it's beefy as well and easy to cock by hand.
The slide is steel and like all European firearms manufactures, is marked with hieroglyphics that only they interpret. The slide holds a fixed front and adjustable rear sight, the rear is adjustable for windage and elevation. Both sights are elevated for use with a suppressor and marked with three highly visible white dots. At the back of the slide, grip serrations will aid you in charging the pistol with the slide closed. The barrel is threaded for use with a suppressor and HK provides a thread protector for situations when no suppressor is used.
Please note, on all other HK pistols, the threads are counter clockwise (LH) on the Mark 23 they are clockwise (RH). You will have to buy an adaptor or replacement barrel with left hand threads to use a modern suppressor. Also keep in mind, HK supports only certain approved suppressors for warranty purposes.
Heckler & Koch Mark 23 Pistol: Sending Rounds Down Range
Shooting the Mark 23 is a joy, even for its size, I have X-large hands and it fits me like a glove. Those with a smaller hand size still enjoyed shooting it and that, I feel is in large part due to the Mark 23's buffer system, (Most people believed they were shooting a 9mm or .40 S&W). The manual clearly states that the Mark 23 was designed to shoot 230 gr. Ball (FMJ) and 185 +P JHP ammunition. The manual also states no reloads are to be used as do all other firearms manufacturers, so does this mean you can't use anything else? Well no, but bear in mind it could void your warranty, so be advised, then again it's your money. Firing the three types of FMJ I did notice some recoil reduction (buffering), but not as much as when I fired the 185 gr. JHP ammo. I could easily feel the reduction in recoil even with ammo over 1000 ft. per second. I'm not sure if there is a break in needed on the buffer, only time will tell, but I've liked what I felt so far.
Heckler & Koch Mark 23 Pistol with No Stoppages : After firing over 210 rounds from a brand-new gun, not one stoppage experienced, I don't think the Mark 23 even noticed.
Heckler & Koch Mark 23 Pistol Group : The Mark 23 is capable of groups averaging 1.4", so it shoots better than my 2.3" group with HPR's Hyper Clean 230 gr. TMJ at 25 yards.
The accuracy is easily achievable with the 5-pound trigger; my best group was 2.3 inches at 25 yards with HPR's TMJ (Total Metal Jacket) and I was simply using a Caldwell Matrix rest and stable table. The U.S. Navy Surface Warfare Center stated that during 450 accuracy test firings from a precision firing fixture, the MK23 pistols far exceeded the requirement, averaging under 1.4" / 37mm.
I can see this being a simple fact because almost all modern firearms can shoot better than their user. Oh did I mention; I didn't encounter one failure or stoppage of any kind? It was like shooting with an old friend that has been with me for years.
After picking up all 210 cases, I field stripped the Mark 23, here's how it's done. Drop the magazine, unload and chamber check the pistol, then release the slide forward. Move the slide rearward until the front end of the slide release is centered on the recess visible on the left of slide. From the right side push in and from the left, lift out the slide release. Remove the slide, with the barrel and captured recoil/buffer spring assembly off of the frame by sliding it forward.
Remove the captured recoil/buffer spring assembly from the barrel and slide by lifting up on the rear of the guide rod and lift out. Lift the rear of the barrel by the locking block and remove it from the slide, the O-ring will make it feel sluggish on removal or installation.
Heckler & Koch Mark 23 45 Acp Chronograph & Accuracy Results
Notes: Accuracy results are averages of 5 five-shot groups from a Caldwell Matrix rest at 25 yards. Velocity figures are from a ten shot average recorded on a Caldwell Ballistic Precision Chronograph placed 12 feet from the muzzle.
Heckler & Koch Mark 23 Pistol Parting Shot
So why would you lay down $2,299 on a new HK Mark 23 designed over 24 years ago? The same reason you would spend $1,499.00 on a new Colt Single Action Army, $2,167.00 on a new 24 Karat Gold Desert Eagle, or $1,169.00 on a new S&W Model 29 Classic Blued 6.5″ revolver, nostalgic icons you want to own or just simply must have, that's why. Want the latest tech? Try the USP line of HK's handguns, they are the most current manufacture and are descendants of the Mark 23 and the R&D (Research & Development) used to design it.
Personally, I didn't find any issues with the Mark 23, from fit and finish, to the engineering that makes it work. Want accessories? www.hkparts.net has you covered on all things HK including the Mark 23.
HK only makes a limited amount each year, that's because "No Compromise" means something at Heckler & Koch.
HECKLER & KOCH | MARK 23 PISTOL
TYPE: MODIFIED BROWNING TYPE LINKLESS / SINGLE AND DOUBLE ACTION
OPERATING PRINCIPLE: SHORT RECOIL SEMI-AUTOMATIC
SAFETY: DOUBLE ACTION MODE WITH HAMMER INTERCEPT NOTCH, FIRING PIN BLOCK, DISCONNECTOR.
CALIBER: .45 ACP
CAPACITY: TWO FACTORY 12+1 OR TWO 10+1 AVAILABLE
BARREL: 5.87" / 149 MM THREADED O-RING BARREL WITH POLYGONAL BORE PROFILE
BARREL TWIST: 14.88" / 378MM
OVERALL WEIGHT: 39.36 OZ / 1120 G
OVERALL LENGTH: 9.65" / 245 MM
OVERALL HEIGHT: 5.90" / 150 MM
WIDTH: 1.53" / 39MM
SLIDE: ONE PIECE MACHINED STEEL SLIDE
FRAME: CORROSION PROOF FIBER-REINFORCED POLYMER FRAME WITH EQUIPMENT RAIL
FINISH: CORROSION RESISTANT BLUE FINISH
SIGHTS: FRONT – FIXED PARTRIDGE STYLE / STANDARD 3 DOT ADJ. FOR WINDAGE AND ELEVATION
SIGHT RADIUS: 7.76" / 195 MM
TRIGGER: MATCH GRADE
TRIGGER PULL: SINGLE ACTION 4.8LBS. / 2.20 KG / DOUBLE ACTION 16 LBS.
SINGLE ACTION (SA) TRIGGER PULL: 5.17 LBS / 2.34 KG
DOUBLE ACTION (DA) TRIGGER PULL: 11.47 LBS / 5.2 KG
EXTRA FEATURES: AMBIDEXTROUS MAGAZINE RELEASE, EXTENDED SLIDE RELEASE, MARITINE COATING ON
THE SLIDE, FRAME MOUNTED DECOCKING LEVER AND SEPARATE AMBIDEXTROUS SAFTY LEVER
WARRANTY: LIFETIME TO THE ORIGINAL OWNER
PRICE: MSRP: $2,299.00
MANUFACTURER: HECKLER & KOCH: 5675 Transport Boulevard Columbus, Georgia 31907 USA
Tel: (706) 568-1906 / Fax: (706) 568-9151 / E-mail: cs@heckler-koch-us.com
Article Contributors:
Heckler & Koch Mark 23 Handgun
About Norman Gray:
Norman Gray has been involved in the shooting sports for well over 30 years. He has served in both active duty and reserve component of the United States Army as an Infantryman and was honorably discharged at the end of his service. Moving to Arizona, he began assisting his long time friend and mentor Bob Shell, an accomplished writer and author in his own right. Norman is freelance contributor with Handguns Magazine, Canadian Firearms Journal and Manzano Valley Outdoors. He is also a member of (POMA) The Professional Outdoor Media Association, the (NSSF) National Shooting Sports Foundation and a Life Member of the (NRA) National Rifle Association. Visit:http://www.unleaded-ink.blogspot.com/
This post Heckler & Koch Mark 23 Pistol – "Keine Kompromisse" (No Compromise) appeared first on AmmoLand.com Shooting Sports News .
Source:
http://www.ammoland.com/2016/11/heckler-koch-mark-23-pistol/
We encourage you to Share our Reports, Analyses, Breaking News and Videos. Simply Click your Favorite Social Media Button and Share.