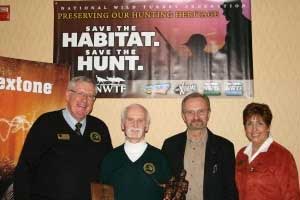 Michigan DNR's Tom Cooley given Conservationist of the Year Award by National Wild Turkey Federation
Michigan Department of Natural Resources
USA -(Ammoland.com)- The Michigan State Chapter of the National Wild Turkey Federation has named Tom Cooley, a 40-year veteran employee with the Michigan Department of Natural Resources Wildlife Division, as Outstanding Conservationist of the Year for 2016.
Cooley is a wildlife pathologist at the DNR Wildlife Disease Laboratory, housed at the Diagnostic Center for Population and Animal Health at Michigan State University.
The DNR Wildlife Disease Laboratory is responsible for monitoring the health and well-being of wildlife in Michigan.
"Tom is a key employee who is very effective at his job," said Russ Mason, chief of the DNR's Wildlife Division. "We rely heavily on his knowledge and his insights about wildlife disease and parasitology."
Cooley was cited for his "behind-the-scenes" activities associated with the successful restoration of wild turkeys in Michigan.
He also was recognized for his continued efforts to monitor wild turkeys for diseases and other issues that could affect the health of Michigan's wild turkey population.
Al Stewart, upland game bird specialist for the DNR, had high praises for Cooley: "When we were actively involved in our wild turkey restoration efforts, all wild birds that came from out of state or that we provided to other states and Canada had to be tested for disease. Tom was part of the team that helped test each bird. Many times wild-captured birds would arrive at the lab in the evening, get tested during the night and be prepared for release the following morning at a new site. Tom was one of the first people to assist and one of the last biologists to leave during these all-night procedures."
Turkey Treatment
DNR staff members treat a wild turkey in preparation for restoration release "This is a testament to his dedication," Stewart said.
"We believe that Tom Cooley is committed to making a difference. His knowledge about wild turkey diseases has helped guide wild turkey management in this state," said Art Pelon, president of the Michigan State Chapter of the National Wild Turkey Federation. The national organization is involved in such recognitions of notable wildlife professionals in natural resources agencies and is devoted to the conservation of wild turkeys and the preservation of hunting heritage.
"This is an especially important tribute to bestow upon a wildlife professional because recipients are chosen for this award by NWTF members based on recommendations from their wildlife employee peers," Pelon said. "We feel privileged to be able to partner with Michigan's internationally recognized biologists and wildlife management leaders on conservation programs in this state."
"We are honored to have one of our employees recognized for his contributions by a major conservation group such as the National Wild Turkey Federation," Mason said. "This award reflects positively on the employee and it confirms that key organizations appreciate quality employees like Tom Cooley who work for the Michigan Department of Natural Resources."
The award was presented to Cooley at the National Wild Turkey Federation Michigan State Chapter Convention meeting in Big Rapids on Jan. 21.
This post Michigan DNR's Tom Cooley Given Conservationist of the Year Award appeared first on AmmoLand.com Shooting Sports News .
Source:
http://www.ammoland.com/2017/02/michigan-dnrs-tom-cooley-given-conservationist-year-award/
We encourage you to Share our Reports, Analyses, Breaking News and Videos. Simply Click your Favorite Social Media Button and Share.