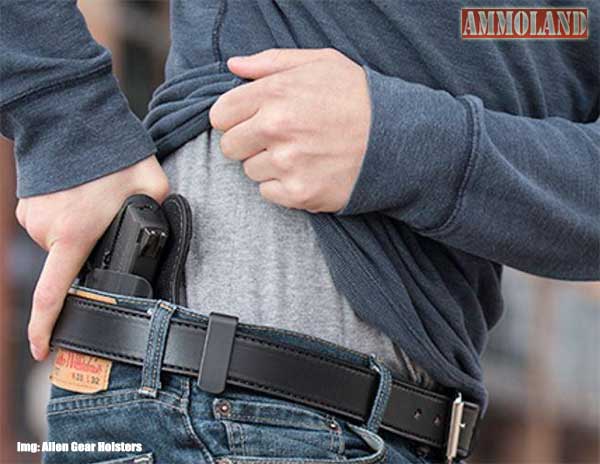 HB 262. Vetoed by Governor. Permitless carry. To allow concealed carry without permit inside the limits of a city or town if the person is eligible to possess a handgun. Sponsor: Rep. Bill Harris
Montana Shooting Sports Association
Montana –-(Ammoland.com)- There will be a public hearing for Senate Joint Resolution 11 before the House Judiciary Committee on Thursday, March 9th, beginning at 8AM. SJ 11 is to establish the first-ever authoritative definition of the critical phrase in the Montana Constitution, "shall not be called in question."
SJ 11 is intended to provide an authoritative definition of what a critical phrase used in Article II, Section 12 of the Montana Constitution means. That phrase declares that the right to keep or bear arms "shall not be called in question." It may seem obvious to the reader what this important phrase means, but in the official world, it may not be so obvious. My research reveals no Montana case law authoritatively defining this phrase (more about this later in this document). Information from the 1884, 1889, and 1972 constitutional conventions shed just a bit light on this, but not much and not enough for a thorough understanding or a fullsome definition.
Apparently, this phrase was first used in business charters in the 1700s. It appears to have been used to prohibit judicial scrutiny of internal company policies and actions. The phrase "shall not be called in question" is, of course, similar to the "shall not be infringed" as used in the U.S. Constitution. (See attached Appendix C for the constitutional provisions of most U.S. states.) Both the U.S. and Montana constitutions, it would seem, are very strong prohibitions against curtailment of the reserved right by public policy or government actors. The essential question is, how strong?"
Having found no relevant judicial definition of this unique Montana phrase, I decided to inquire among citizens what they believe the phrase "shall not be called in question" means.. By email, I asked about 1,000 gun owners to tell me what they thought "shall not be called in question", as used in the Montana Constitution, means to them. Many responded. For the most part, their answers centered around "Beyond discussion."
Finding these comments interesting, but not as helpful as I needed in terms of a legal definition, I consulted attorneys. I had phone or email discussions with some serious and respected legal scholars, attorneys in small practice, local and distant, and others.
Since "shall not be called in question" originated in Montana in the 1884 territorial constitutional convention, I consulted the Webster Unabridged Dictionary of 1884 for period correct definitions.
Based on all of these discussions, and upon my experience studying the law and crafting public policy, I wrote SJ 11.
Please contact House Judiciary Committee members and ask for their support for SJ 11, or show up to speak in favor of it. If you have any questions about SJ 11, please see:
http://progunleaders.org/Question/
Here is the current status of all the bills that have been introduced at MSSA request, or that MSSA is supporting:
Bills MSSA has had introduced this session are:
HB 494. Passed House; pending in Senate. Restaurant Carry. To allow those with concealed weapon permits to use their permits in restaurants where food is the chief item for sale. Sponsor, Rep. Seth Berglee
SB 99. Passed Senate; pending in House. No local enforcement of new federal gun laws. To prohibit state and local employees from enforcing any new federal gun laws or regulations. Sponsor, Sen. Cary Smith
HB 385. Failed on House Second Reading. School safety. To allow full-time public school employees to exercise a concealed weapon permit at school as long as the employee's firearm is genuinely concealed and the employee responsible for the security of the firearm. Sponsor, Rep. Seth Berglee
SJ 11. House Judiciary Committee public hearing 3/9, 8AM. Defining "shall not be called in question." To provide a legislative definition for this never-before-defined phrase used in the Montana Constitution to secure the RKBA. Sponsor Sen. Keith Regier
HB 262. Vetoed by Governor. Permitless carry. To allow concealed carry without permit inside the limits of a city or town if the person is eligible to possess a handgun. Sponsor: Rep. Bill Harris
HB 151. In HFG Committee. Secure shooting range funding. To prevent FWP from misusing funds appropriated by the Legislature for the SRDP. Sponsor: Rep. Nancy Ballance
Bills MSSA is supporting
HB 246. Vetoed by Governor. Post Office Carry. Sponsor: Rep. Randy Brohdel
HB 273. Passed House; pending in Senate. Immigrant CWP. Sponsor: Rep. Barry Usher
HB 251. Passed House; pending in Senate. CWP weapons cleanup. Rep. Kirk Wagoner
SB 236. Pending in SFG Committee. Right to hunt update. Sen. Jennifer Fielder
LC2322. Exempt shooting ranges from property tax. Rep. Adam Hertz
This post Montana: Hearing Set for Senate Joint Resolution 11, Status Report on All Bills appeared first on AmmoLand.com Shooting Sports News .
Source:
http://www.ammoland.com/2017/03/montana-hearing-set-senate-joint-resolution-11-status-report-bills/
We encourage you to Share our Reports, Analyses, Breaking News and Videos. Simply Click your Favorite Social Media Button and Share.