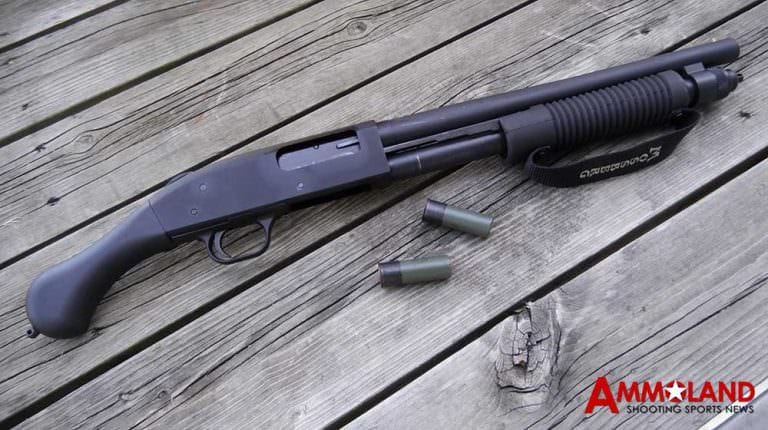 Mossberg Wins Multiple Awards Presented at 2017 NASGW Expo
NORTH HAVEN, Conn. -(Ammoland.com)- For the third time since the inception of the NASGW (National Association of Sporting Goods Wholesalers) Leadership Awards, O.F. Mossberg & Sons, was presented with the "Innovator of the Year" Award and the inaugural NASGW-POMA (Professional Outdoor Media Association) Caliber Award for the "Best New Overall Product" for the 590 Shockwave.
Mossberg was recognized with these honors at the recent NASGW Expo in San Antonio, Texas.
During the annual Awards Reception and Dinner, NASGW recognizes those manufacturers who contribute significantly to the successful business climate of its wholesale members with its Leadership Awards. Joining forces with POMA for the newly-minted Caliber Awards, NASGW acknowledged the best new products in six categories as well as top honors for the overall best new product.
To qualify for these awards, manufacturers must be a NASGW member, the product must have been introduced within the last year and the product must be submitted for consideration through the NASGW Expo website.
Accepting both awards on behalf of Mossberg was John MacLellan, Vice President of Sales and Marketing.
"It's a tremendous honor to be recognized by our customers and the media in such a competitive environment. We are humbled at being honored for the third time as the recipient of the Innovator award and gratified that the 590 Shockwave was acknowledged for its success in the marketplace," commented MacLellan. "Mossberg continues to remain focused on bringing the highest quality, industry-leading firearms to wholesalers and our end consumer."
Introduced in January 2017, the 590 Shockwave overshadowed the competition with its originative design and mass appeal, since purchase does not require additional paperwork or the payment of a tax stamp for transfers. Based on the proven 590 pump-action design, the 590 Shockwave features 14-inch barrel, "birds head" pistol grip and an overall length of 26 inches.
Only Mossberg, a leader in the firearms industry and the world's largest pump-action shotgun manufacturer, can offer a MilSpec 3443-approved pump-action platform (the only shotgun manufacturer to pass these endurance, accuracy and quality tests) in a 14-inch barreled non-NFA firearm. The 590 Shockwave is now available in 12 and 20 gauges.
The NASGW Expo & Annual Meeting provides educational, marketing and communications opportunities for hunting, sporting goods and shooting sports wholesalers and manufacturers. This year's Expo was held at the Henry B. Gonvalez Convention Center in San Antonio from October 18 – October 20, 2017.
Shockwave is a registered trademark of Shockwave Technologies/Ewer Enterprises LLC.
About O.F. Mossberg & Sons, Inc.:
Founded in 1919, O.F. Mossberg & Sons, Inc. is the oldest family-owned and operated firearms manufacturer in America, and is the largest pump-action shotgun manufacturer in the world. Leading the way with over 100 design and utility patents to its credit, and standing as the first ISO 9001 Certified long-gun manufacturer, Mossberg is considered to be one of the most innovative firearms manufacturers in U.S. History. For more information on commercial, special purpose, law enforcement and military shotguns, rifles and accessories, please visit their website at www.mossberg.com.
About NASGW:
The National Association of Sporting Goods Wholesalers is comprised of wholesalers, manufacturers, independent sales reps, media and service providers – both national and international – all of whom are primarily focused on shooting sports equipment and accessories. As a trade association representing the business interests of its members, NASGW's mission is to bring shooting sports buyers and sellers together. For more information about the NASGW, visit the association's website at www.nasgw.org.
This post Mossberg Wins Multiple Awards Presented at 2017 NASGW Expo appeared first on AmmoLand.com Shooting Sports News .
Source:
https://www.ammoland.com/2017/10/mossberg-wins-multiple-awards-presented-2017-nasgw-expo/
We encourage you to Share our Reports, Analyses, Breaking News and Videos. Simply Click your Favorite Social Media Button and Share.