On the first day of 2008, the Greek stock index opened the new year at 1,036 points.
In early 2016, it bottomed out – at 15. (Yes, 15!)
It's true… The MSCI Greece Index fell by more than 1,000 points (in U.S.-dollar terms).
Ultimately, it was a 98.5 percent fall, peak to trough. Take a look…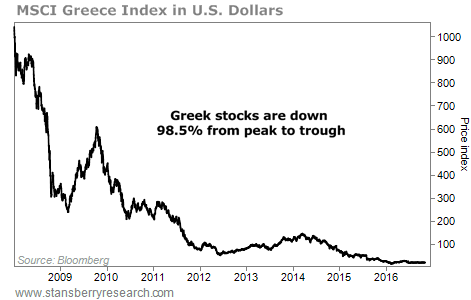 So let me ask you a simple math question here…
If something falls by 95 percent and then rises by 100 percent, how much are you up (or down)?
Is it back where it started? Let's think about this…
Let's say a stock falls 95 percent, from $100 a share to $5. Then it rises 100 percent, making it $10 a share. What has happened?
The stock has gone up by 100 percent… But ultimately, it's still down 90 percent from where it started.
This is what we're seeing with Greece… But it's even more extreme…
The fall has been so incredible that even a massive move in stock prices will still be almost insignificant. If a stock falls from $100 to $1… and then it goes up 100 percent to $2… it's still down 98 percent.
I bring this up today because Greece is still down – a lot. The MSCI Greece Index has moved from its all-time low of around 15 to around 20 today. (Remember, this index was above 1,000 in 2008.)
"Greece is the cheapest emerging market we track," we said in our latest True Wealth Market Intelligence Emerging Markets Monitor.
Nobody is talking about it, either. I like that it's cheap and ignored.
The only thing missing from my investing criteria is a solid uptrend.
If you are bold, you can still set up a trade here with very limited downside risk and triple-digit upside potential… If you are more conservative, you can wait for the uptrend.
In my True Wealth newsletter, we own the main Greece exchange-traded fund (ETF), which is called the Global X MSCI Greece Fund (GREK).
We have limited our downside risk with a "hard" stop loss at its all-time low of $5.67. If GREK closes below $5.67, we will sell the next day.
As I write, GREK trades around $7.27. So if you enter this trade, your downside risk is roughly 21 percent. Meanwhile, your upside potential is a triple-digit-percentage profit. Even after a triple-digit-percentage profit, Greece would still be down massively from its highs.
Triple-digit upside and 21 percent downside – that's a reward-to-risk ratio of 5-to-1. I like that kind of setup.
As you know, I have been to dozens of countries while checking out investment opportunities during my career. I wish I could tell you that I had some special insight into the Greek stock market… But I don't. All I know right now is that this is likely a "Biggest Loser" moment for Greece – and I know what's possible after Biggest Loser moments…
Triple-digit gains are possible. And hundreds-of-percent gains are not out of the question, based on the history of busts as extreme as Greece's.
Check out GREK today… If you're bold, join me in the trade. (Otherwise, watch this one… and wait for the uptrend to get in.)
The post This 'Biggest Loser' Trade Has Five Times More Upside Than Downside appeared first on Liberty Investor™.
Source:
http://freedombunker.com/2016/11/07/this-biggest-loser-trade-has-five-times-more-upside-than-downside/
We encourage you to Share our Reports, Analyses, Breaking News and Videos. Simply Click your Favorite Social Media Button and Share.