Causalities continue to mount after a twin set of terrorist bombings killed at least 12 people dead, including an 8-year-old child and over 100 injured at the 2013 Boston Marathon hours ago.
President Obama is set to address the nation live at 6:10 pm eastern on the situation. This is a developing story, updates will posted at the bottom at the story.
The first bomb, caught live on camera in the video below, went off around 2:10 pm EST near the finish line hours after the first runners completed the marathon.
Highlights
At least 12 are reported dead and over 100 hundred are reported to be injured according to the latest reports.
The twin terrorist bombings happened at approximately 2:50 PM with police reporting two more undetonated devices have been discovered that are being dismantled.
The NY Post also confirms that 12 people are dead adding that police are guarding a suspect who is a Saudi national and is covered in shrapnel wounds, apparently having injured himself during the course of detonating the bombs.
Boston.com describes a horrific scene, reporting there is "blood everywhere" with first responderers attending to people missing limbs.
Two sites have been set up by the Red Cross and Google to help find people in the area, including the 27,000 runners at the event.
Authorities have a identified a suspect, a Saudi national, who is currently being guarded in a Boston hospital with shrapnel wounds.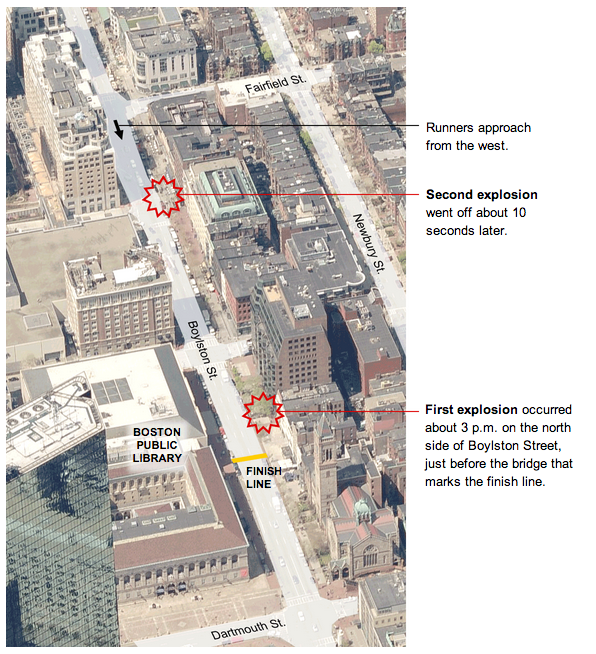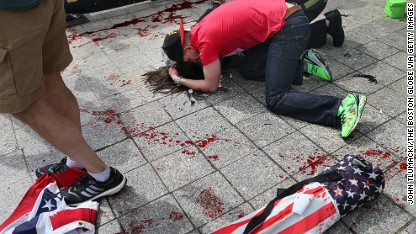 ******************************************
Updates:
The TYT report DHS officials are saying the attacks where coordinated.
Peirs Morgan from CNN now is reporting at least 110 injured including 8 children and an 8-year-old among the dead.
From The Atlantic Wire:
Adding further heartbreak to utter tragedy, the last mile of Monday's Boston Marathon, which was rocked by at least two explosions resulting in an unknown number of injuries and casualties Monday afternoon, was dedicated to the victims of the Sandy Hook Elementary shooting massacre. Boston Athletic Association president Joanne Flaminio said before the race that had a "special significance" because it was 26.2 miles long and there was 26 victims in the Newtown attack. There was also a group of Newtown parents running as part of a group called Team Newtown Strong who were raising money for local charities. A banner honoring the victims, hung at the end of the 26th mile, can be seen in the photo above.
WCVB reports:
The Federal Aviation Administration is warning pilots that it has created a no-fly zone over the site of two explosions at the annual Boston marathon.

The agency said in a notice issued Monday about an hour after the explosions that a no-fly zone with a 3.5-mile radius has been created over 811 Boylston St.
There are multiple sources reporting that a bomb drill was being conducted:
An eyewitness to the two explosions at the Boston Marathon today said that a "drill" was repeatedly announced before the bombs exploded and that he "thought it was odd" bomb sniffing dogs were in place before the blast.

University of Mobile's Cross Country Coach Ali Stevenson told Local 15 News, "They kept making announcements on the loud speaker that it was just a drill and there was nothing to worry about. "It seemed like there was some sort of threat, but they kept telling us it was just a drill."

The news station also reports that Stevenson "thought it was odd there were bomb sniffing dogs at the start and finish lines."
And this:
What's not yet being reported by the mainstream media is that a "controlled explosion" was under way on the same day as the marathon explosion.

As the Boston Globe tweeted today, "Officials: There will be a controlled explosion opposite the library within one minute as part of bomb squad activities."

Some people believe this explosion might have been part of the demolition of another bomb. It seems unlikely, however, that a bomb at the library, one mile away, could be so quickly located and rigged to be exploded by the bomb squad in less than one hour following the initial explosions at the marathon.
More updates shortly:
******************************************
Connect with me and stay up to date on the latest news.
Twitter: https://twitter.com/#!/kr3at
Facebook: http://facebook.com/alexhiggins732
Facebook Page: http://facebook.com/AlexanderHigginsBlog
Google Plus: Google Plus: https://plus.google.com/u/0/109380553668797565914
We encourage you to Share our Reports, Analyses, Breaking News and Videos. Simply Click your Favorite Social Media Button and Share.