There are more great motorcycle rides in the Blue Ridge & Smoky Mountains than anywhere else – discover them at http://smokymountainrider.com and find out how easy making the ride of your life can be!
Classic Motorcycle Roads Closed – a blessing?
Extreme rain causes flooding and washes out many favorite motorcycle rides – here's an update and what it means for your motorcycle tour plans;
Note: we are hardly out of the woods – all this moisture in the soil could lead to more slides over time, and now with some hard freezes coming in, the freeze/thaw cycles could contribute to more problems as more rock is cracked, split, and loosened.
US 441 – Newfound Gap Road, Great Smoky Mountains National Park
Seems this road is always under construction, over the past year or two, to repair a slide near the top on the Tennessee side of the border. As the only road which crosses the park, right through the heart of it, it carries heavy traffic loads. Now, a large section has washed out about 9 miles north of Cherokee, and it will require a substantial and costly repair.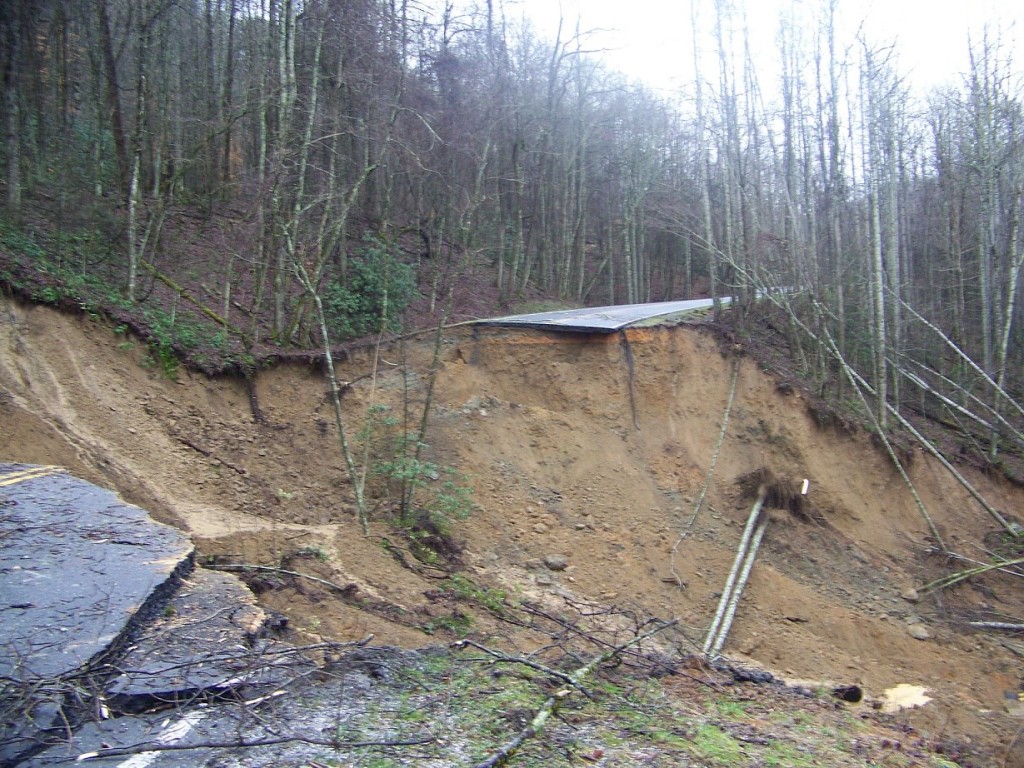 photo source: Great Smoky Mountains National Park – Newfound Road US 441 hit by slide, park closes
Of all the damage from the recent weather, this is the most significant. While I do show this as a great motorcycle ride on my America Rides motorcycle pocket maps, it's one of those "if you haven't done it, you should ride it", but it's not one of my favorites due to the traffic, and I typically avoid it.
If you are planning to base a motorcycle vacation out of Gatlinburg / Pigeon Forge, you will now be forced to ride completely around the park to reach many of the best motorcycle rides. While there are some great motorcycle rides on the north side of Great Smoky Mountains National Park, you will also be dealing the the tourist traffic that floods into this area. I suggest you look at options on the south side of the park instead. Map #8 details the best motorcycle rides free of traffic on the north side of GSMNP, but there are so many more on the south side you will get in more riding by basing your motorcycle trip on the quiet side of the park.
The Cherohala Skyway – NC 143/ TN 165
A significant slide on the North Carolina side of the border, about 1 mile from the state line has taken out one lane of the road and it has been closed. This is one of the nicest rides in the area, and the only road that crosses through this remote area of high mountains, a favorite scenic motorcycle ride often done as a loop ride with the infamous Dragon at Deals Gap.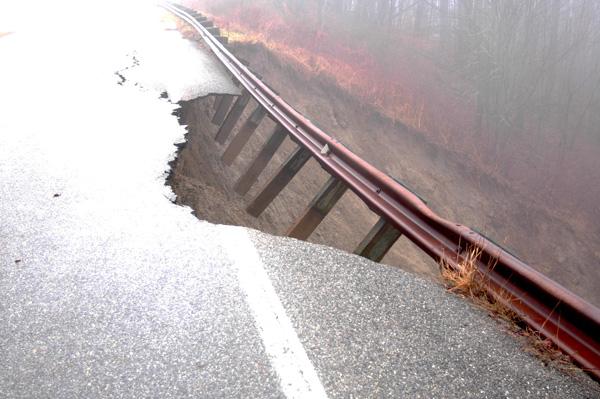 Photo Source – Graham Star – Slide on Cherohala Skyway takes out 1 lane
This is a "wait and watch" situation right now to determine how stable the slope is over time. The good news is there is likely enough room for a temporary detour, though the work required to fix the problem will be extensive. I am hopeful, it will reopen before the riding season cranks up.
This road is featured on Map #7, Map #8, and 12 Classic Deals Gap motorcycle rides.
US 19 – Near Burnsville
This is not a large slide in scope, but the issue is a "house sized boulder" which now sits blocking the road. Complicating the cleanup is a nearby house which is too close to permit blasting of the rock. Plan is to drill in to it and use expanding materials to break it up. I expect this problem will be cleared up relatively quickly.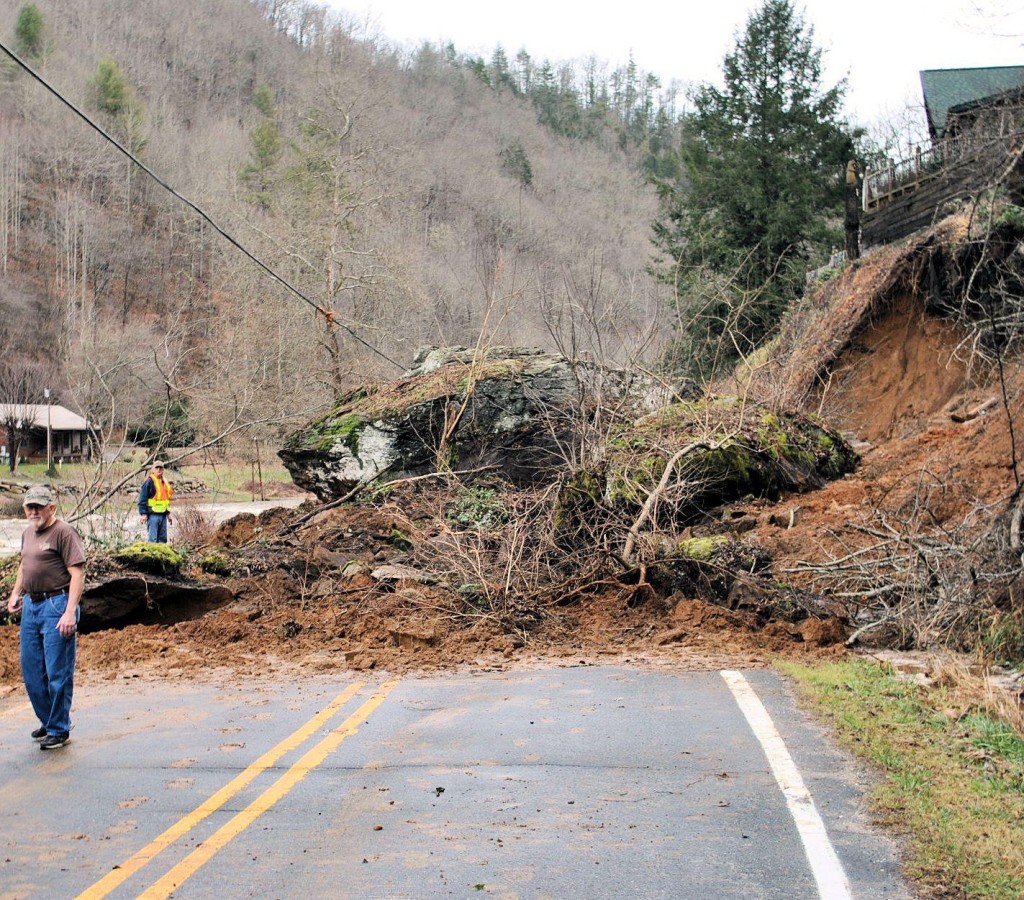 Photo source – Yancey County News – Large boulder blocking road
Detours use Jack's Creek Road and Coxes Creek roads, this area is detailed on Map #5
Blue Ridge Parkway (near MP 455) Soco Gap area, near Maggie Valley
Reports of a small slide in this area seem to be over-hyped. I have hiked to it for inspection, and found a few rocks in the road which I could have cleared with one hand. No worries here.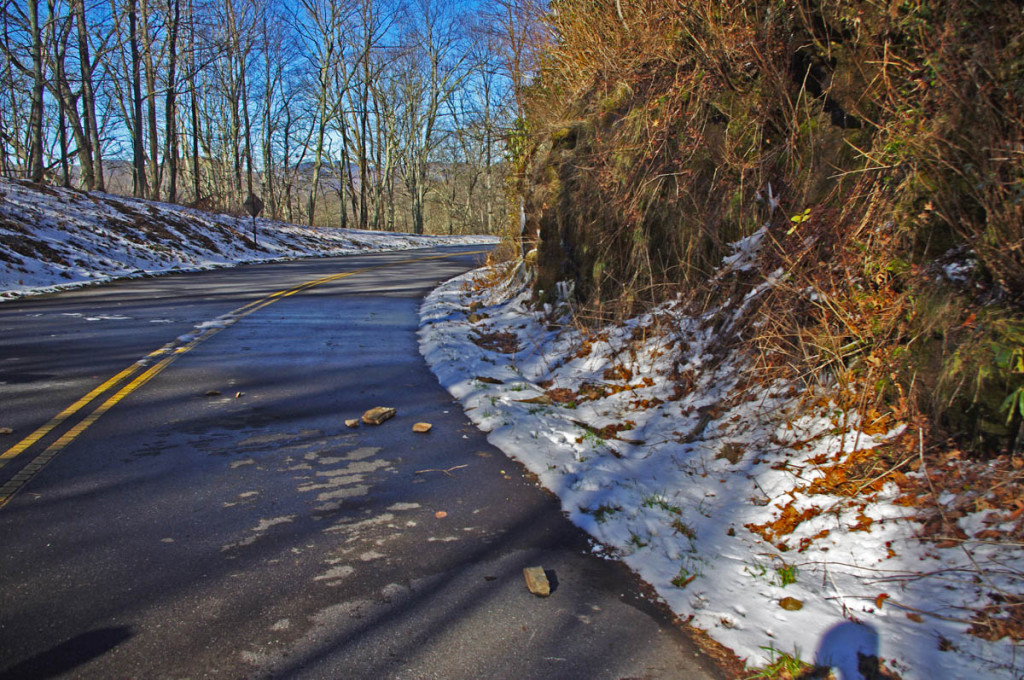 The rock slide reported near MP 455 is nothing to worry about. I could have taken care of it myself.
The most significant Blue Ridge Parkway closure in North Carolina is for slope stabilization near Mt. Mitchell. The road is closed here at least through April. You can download a free printable map of my suggested detours for motorcycles that give you other options here - http://smokymountainrider.com/Downloads/parkway-closure-2013.pdf
NC 63 – Leicester Road
I have not had personally investigated this slide, it is reported one lane has been affected. This is a popular motorcycle ride connecting to NC 209 (The Rattler), often used to make loop rides or access Asheville. The slide occurred in the best section of the road, the steep switchbacks that climb over the mountain. No further info on this one right now.
Great Motorcycle Rides in North Carolina – These riders are looping back to NC 209 on NC 63.
Fortunately, there are many other options to make loop rides through this area, you'll find them them extensively detailed on Map #6
So where are the blessings in all this bad news?
Most of the mess will be tended to by the time the real motorcycle riding season gets going. While 5 important roads are closed, some of them consistently on the "top 10 motorcycle rides" lists, it is only 5. I show nearly 200 other great motorcycle rides in this area, the blessing is you now have the opportunity to get away from the tourist traffic that flocks to these biker roads and discover some of little know and best scenic motorcycle rides detailed on my maps.
____________________________________________________________________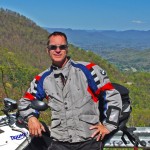 Wayne Busch
- Wayne Busch lives in Waynesville, NC, where he produces the most detailed and comprehensive and up-to-date motorcycle pocket maps of the Blue Ridge and Smoky Mountains to help you get the most of your vacation experience. See them here - AmericaRidesMaps.com

Learn Total Control
Wayne is an advanced motorcycle instructor for Total Rider Tech teaching Lee Parks Total Control Advanced Rider Courses. Isn't it time you looked into advanced rider training to ride more confidently and safely? It can transform your mountain riding experience. Total Rider Tech
____________________________________________________________________
Source:
We encourage you to Share our Reports, Analyses, Breaking News and Videos. Simply Click your Favorite Social Media Button and Share.