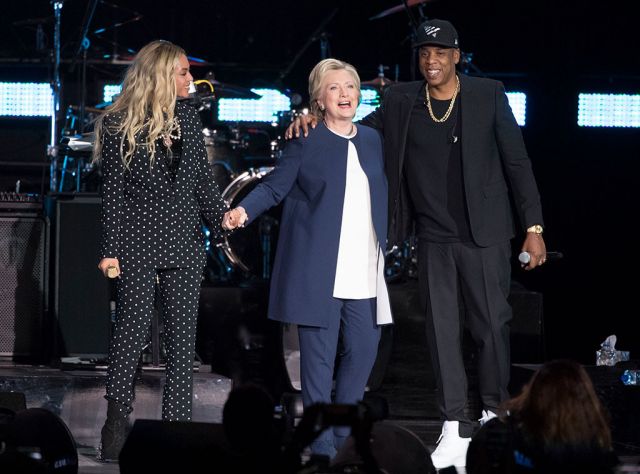 By Caleb Stephen, Editor in Chief of The Caleb Report
Presidential hopeful, Hillary Clinton has definitely brought some serious celebrity power to her campaign in a bid to win the hearts and minds of pop-idol worshipping millennials.
Jennifer Lopez and Marc Anthony held a concert in her honour (with Clinton in attendance) just last week in Florida.
Miley Cyrus attended a rally in late October for Clinton in Virginia and even went door-to-door at the George Mason University dorms to encourage the college students to cast their votes.
And then, of course, there's Katy Perry, who's made it her mission to spread the word about Clinton and this year's election in general.
Popular YouTuber Casey Neistat who's best know for his ridiculous Nike infomercials has come out in support of Hillary in a pathetic video he released on YouTube last month.
And as if all of that wasn't enough, now Beyoncé has stepped onto the stage to sing the praises of Hillary.
According to the Huffington Post…
Beyoncé performed at a Friday rally in Cleveland for Democratic presidential nominee Hillary Clinton, urging the audience to vote to "create more change."
After performing "Formation," Beyoncé took a minute to speak about Clinton's historic candidacy, referencing a time when "if you were a woman, it did not matter."
"Look how far we've come from having no voice, to being on the brink of making history again by electing the first woman president," Beyoncé said.
"I want my daughter to grow up seeing a woman lead our country," she added.
And of course all her mentally-enslaved, celebrity-obsessed followers, who worship her like she's divine, just sat there like obedient dogs lappin' it all up.
Whether she likes it or not and whether she believes it or not, Beyoncé is advocating the presidency of a horrible demonic monster, Hideous Hillary.
Hillary is a lying, murdering, thieving, extortionistic, blackmailing, hateful and downright disgusting witch. What else can I say…
And this is the criminal Beyoncé wants running the United States… the woman she wants as the role model for her daughter? A woman who can barely walk two steps without almost fainting or falling down… a woman who always appears to be high on something… a woman who attends "witches' church" every month… a woman who created ISIS which is responsible for the unfathomable loss of innocent life and the indescribable suffering of many more.
And the only change that Beyoncé is going to see if Hillary becomes president is more people killed by her failed policies and corruption, more lies, more deceit, more hatred against the lower class and black people… just more pure evil.
Despite all of the well documented, indictable, publicly-accessible information about Hideous Hillary, the only pathetic excuse that Beyoncé can come up with to support Hillary is that she's a woman. And in the name of 'progressiveness' and 'women's rights,' she's advocating Hillary's entrance into the Oval Office as the first woman President of the United States.
YouTuber "Placeboing's" video really takes the cake on this…
We encourage you to Share our Reports, Analyses, Breaking News and Videos. Simply Click your Favorite Social Media Button and Share.