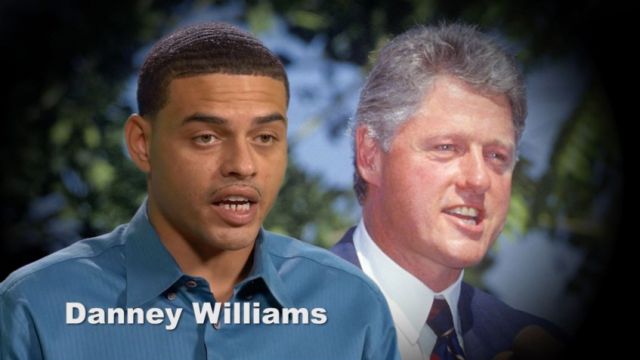 By Caleb Stephen, Editor in Chief of The Caleb Report
(CALEBREPORT.COM) — The illegitimate black son of former President Bill Clinton, Danney Lee Williams, has brought his appeal to Obama in an impassioned video released on his Facebook page, Saturday evening.
"My name is Danney Williams," the 30-year-old Arkansas resident says, addressing President Barack Obama.
"I am the son of former president Bill Clinton. I'm reaching out to you today because I know you can understand me. You also grew up without a father."
He continues, "You are our first black President. You have supported Black Lives Matter and My Brother's Keeper, so I know you believe my life matters."
Williams goes on to describe his efforts – which go as far back as the 1990′s to reach out to his father in order to receive the love and acceptance he deserved – but sadly to no avail.
Williams mentions his publishing of a video detailing his case that has been viewed by over 30 million people since its release on Oct. 11.
He also referenced last week's press conference he held at the National Press Club in Washington, in which he appealed to Monica Lewinsky to let him conduct DNA testing on the stain on her 'famous blue dress' which she testified came from a sex act performed on Clinton at the White House on Feb. 28, 1997.
FBI documents confirmed the DNA on the address matched that of Bill Clinton's.
"President Obama, I have to know who I am. I have to know that my father and stepmother will accept me, their black son," Williams pleads in the video clip.
"My step mother Hillary, she has the power to convince my father to provide a DNA sample. President Obama, I know you are endorsing my stepmom for President."
"Please ask her to step up to prove that my life does matter, that my kids and I have a place in her village too," Williams concludes.
According to WND, no definitive DNA test was ever conducted on the 'Clinton Son' despite reports by tabloid Star Magazine to the contrary when Williams' story first surfaced.
We encourage you to Share our Reports, Analyses, Breaking News and Videos. Simply Click your Favorite Social Media Button and Share.