Story Views

Now:
Last Hour:
Last 24 Hours:
Total:
Why Are Foreign Troops Flocking Into Texas?
Thursday, April 28, 2016 11:20
% of readers think this story is Fact. Add your two cents.


WHY ARE FOREIGN TROOPS FLOCKING INTO TEXAS? THEY ARE HERE TO ENFORCE THE UN TAKEOVER OF THE COUNTRY FOLLOWING A CYBER ATTACK UPON THE GRID?
UN Multinational Force Observer In Pennsylvania
Why is this UN Multinational Force Observer in Pennsylvania getting gas? For what possible reason would the UN be operating inside the United States? I have been sent this video a half a dozen times in the past 24 hours. Many Americans see this for exactly what it is.
Take a look at this video as a very aware and alert citizen confronts and United Nations Multinational Force Observer.

My Intelligence Source States That We Are About to Be Invaded Unless the US Military Steps Up
Tthis was from Decemmber of 2015). I took this sighting of the UN Multinational Force Observer in Pennsylvania to my best sources. They were of the presence of this organization operating within the United States. They told me that this UN personnel are here to "observe" during an United Nations "Police Action" on American soil. The purpose will be solely to impose undeclared martial law and to confiscate American guns.
I have reported, for years, that foreign troops were operating on US soil. Now, we are getting operational specifics.
Foreign occupation forces are training and will be training to overrun this country in a martial law scenario. Why foreign troops? Because American troops might not be able to be counted upon to carry out the orders of subjugation that will come down from this globalist inspired banker-hijacked administration
This past October over 36,000 troops from more than 30 countries participated what NATO calls its largest exercise in over a decade and the exercise is called "TRIDENT JUNCTURE".
Trident Juncture came in under the cover of darkness and was obscured by Jade Helm 15. The following video emerged last summer.
Why Is This Becoming a Common Sight On US Soil?
The United Nations has no business being rural Pennsylvania or downtown Dallas. We are not under martial law. We have not suffered an invasion or a civil war. Or, are we about to experience one or more of these things. Is the the chest pain before the heart attack?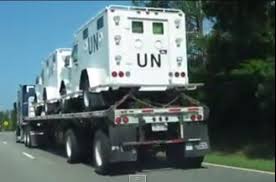 DOT CONNECTION: Secretary of State, John Kerry, Signs the UN Small Arms Treaty In Violation of the US Constitution