The report is the missile flew for 50 minutes. That's a long time. We have a huge amount of military hardware in the area, and they would want to take out any potential threat immediatey.
Pilots reported seeing a flash at the time the missile went down.
A Korean Air official said Wednesday that the planes were headed for South Korea's Incheon Airport after departing from San Francisco and Los Angeles.
He didn't want to be named, citing office rules.
He said the captain of the first plane reported seeing a flash to Japanese ground control about an hour after North Korea fired what it said was a new intercontinental ballistic missile.
Japan's defence minister said the missile landed in the Sea of Japan (East Sea) about that time.
The airline official said the captain of the second plane made a similar report four minutes later as his plane passed along the same route.
http://www.scmp.com/news/asia/east-asia/article/2122147/airline-pilots-saw-flash-believed-be-north-korean-missile-over
Now many are saying that North Korea is a CIA controlled assett.
Many are saying, because North Korea is a CIA controlled asset, we don't need to concern them. Well, if they are a CIA asset, and Trump is taking down the CIA, I'm sure the CIA would have no problem launching missiles at the US just to cause chaos. I mean, these are not toys.
And do you remember the Atlanta Red Mercury scare?
The same day the bridge caught on fire and collapsed, effectively cutting off downtown? Could this have been a real threat, that was averted. The bridge was taken out, with nobody injured, to trap conspirators and keep rest of public out.
Red Mercury is Lithium6. Lithium6 is used in the process of making mini Nukes (suitcase bombs). It's a smaller explosion that kills everything living and leaves the structures largely intact.
APR 3, 2017 @ 12:30 PM
The New York Times is running with a story about how someone identified as a North Korean diplomat was advertising the availability of 20 lbs a month of lithium 6.
We are told that North Korea has a Lithium 6 production facility. Now this is not impossible, but to get Lithium 6 into Tritium which is need to produce a mini nuke, you need a linear collider to produce Tritium. This was discussed in 1995.
https://file.wikileaks.org/file/crs/97-945.txt

 A neutron generator
injects neutrons into the compressed pit, initiating a nuclear fission explosion.
Hydrogen isotopes (deuterium and tritium) are inside the pit. The heat of the fission
reaction makes them undergo fusion, releasing more neutrons that enhance the fission
reaction and "boost" explosive yield sharply. The "secondary" stage, containing
lithium-6 deuteride and uranium, adds most of the yield.20 X-rays from the primary
explosion flow inside the volume enclosed by the radiation case to the secondary.
They transfer energy to compress and ignite the secondary, causing fusion of tritium
(generated from lithium-6) and deuterium. Fusion releases energy and produces high
energy neutrons that fission more uranium.


The other four sites focus on production. The Kansas City Plant (KCP), in
Missouri, fabricates or contracts for nonnuclear components. The Y-12 Plant, in
Tennessee, manufactures lithium, uranium, and other nuclear components. Savannah
River Site (SRS), in South Carolina, used to produce plutonium and tritium; now, its
main defense work is purifying tritium.22 Should the United States build a new linear
accelerator to produce tritium, it would be located at SRS.

So, seeing how Lithium and Uranium are important factors in making mini nukes, then this chart from the company owned by Frank Giustra of Uranium One, and also major Clinton Foundation donor, should be interesting to investigators looking into this. Giustra is out of Vancouver, Canada
Frank Giustra with Bill Clinton in Haiti. Yes, he was part of that too.
Frank Giustra is also owner of Pure Energy, which has a large stake in the Clayton Valley Lithium mine supplying Elon Musk's battery plant.
http://blog.ceo.ca/2015/10/06/fuelling-tesla-millennial-mining-legend-join-forces-in-nevada-lithium-rush/
And why is Elon Musk so rich he can do weird stuff like this?
Don't get me wrong, I'm a huge fan of the Tesla car. But in the last week, I've had to rethink my position on Musk because of QAnon crumbs. What is he up to?
Are they working on armies of robots that will not only replace workers in industry and retail, drive cars and planes, but also destroy anyone who complains?
Is the Chemtrail program being controlled by AI (skynet type supercomputers flying drones)?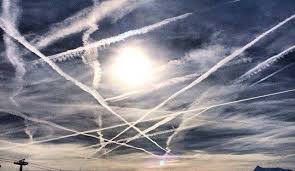 We encourage you to Share our Reports, Analyses, Breaking News and Videos. Simply Click your Favorite Social Media Button and Share.