Dr.Vernon Coleman: "Here's How They'll Bankrupt You" Your Property and Money Will Not Survive the Intentional Economic Collapse. 5 Way Attack to Steal All Money and Property
Friday, September 9, 2022 10:59
% of readers think this story is Fact. Add your two cents.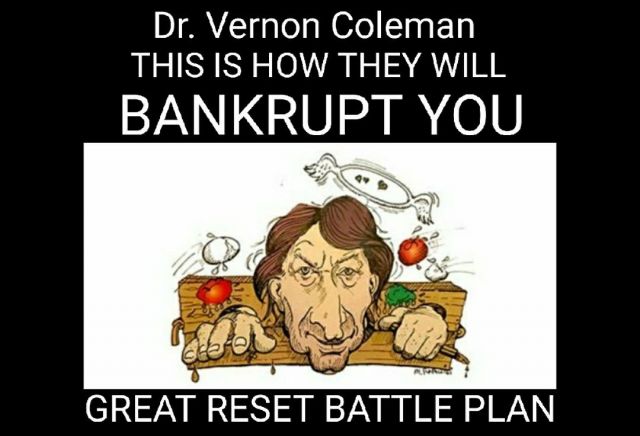 Dr.Vernon Coleman: "Here's How They'll Bankrupt You"
Your Property and Money Will Not Survive the Intentional Economic Collapse
5 Way Attack to Steal All Money and Property
YOU WILL OWN NOTHING AND WE WILL BE HAPPY
SCREW YOU, WE WANT YOU TO DIE
THIS IS HOW THEY PLAN TO FORCE THE GREAT RESET:
The Great Supply Chain Collapse
The Great Financial Collapse
The Great Unemployment
The Great Bankruptcy
The Great Vax Die Off
The Great Starvation
The Great Energy Crunch
The Great Freeze
The Great Heatwave
The Great Drought
The Great Social Upheaval
The Great Uprising?
The Great Civil War?
The Great Incarceration FEMA Camp Imprisonment?
WE HAVE ALL SEEN THE VIDEOS
WE HAVE ALL HEARD THE WARNINGS
BUT NOW YOU MUST UNDERSTAND
WORLD GOVERNMENTS HAVE DECLARED WAR AGAINST THEIR OWN PEOPLE
EVERY SEGMENT OF SOCIETY IS UNDER ATTACK
IF YOU DO NOT STOP THEM BEFORE IT ALL HAPPENS-
IT WILL BE TOO LATE
THE MULTI-CRISIS COLLAPSE WILL BRING ABOUT THE GREAT RESET AND THE ENSLAVEMENT OF HUMANITY
@OratorBlog 9-9-2022
Dr. Vernon Coleman How They Plan to Bankrupt Us All
International best-selling author, Dr Vernon Coleman MB ChB DSc FRSA, explains precisely how governments are deliberately and cold-bloodedly planning to bankrupt their citizens. And why they are doing this. It's all part of the Agenda 21 plan for a Global Reset. (You will, of course, be exempt from these plans if you're a billionaire or a member of the British royal family).
For more unbiased information, please visit http://www.vernoncoleman.com
Dr Vernon Coleman warned about soaring Inflation and Interest Rates in 2020. So, what's next? August 6th, 2022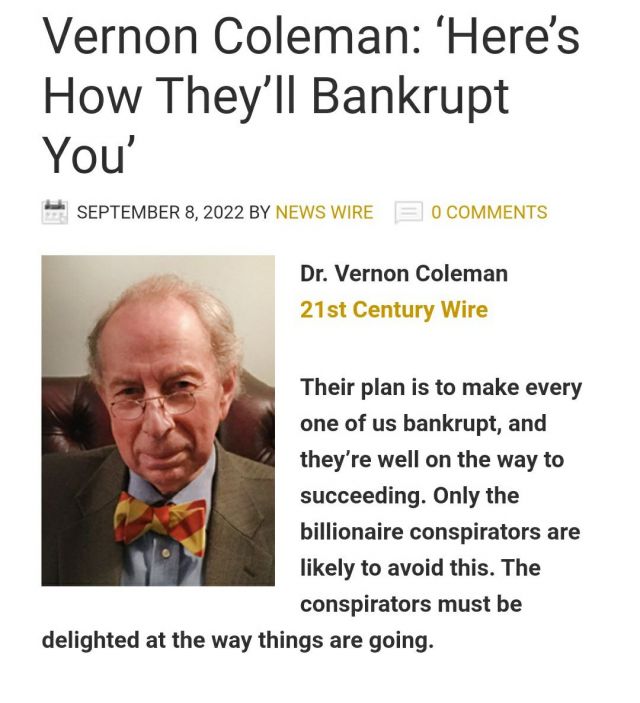 How they Plan to bankrupt us all
Dr Vernon Coleman
https://www.vernoncoleman.com/bankrupt1.htm
It all begins, of course, with the Global Reset, which doesn't include any provision for private property – unless you're already a billionaire or a member of the British royal family. They don't want us to own anything because people who own a home or a pension or who have a few quid in the bank have an unacceptable tendency to assume that they are free citizens. They want to remove every last vestige of our independence and they'll be ruthless.
(If you don't believe me check out the Agenda 21 promotional guff, as published by the United Nations. And take a look at Pope Francis's words on private property.)
So, how are they planning to take away our private property?
First, of course, crashing the global economy has damaged the value of any investments you may have. Unless you work for the State and have one of their protected pensions your retirement fund will have been savagely damaged. Wrecking the economy was deliberate; it is part of the Agenda 21 plan. Billionaires such as Gates and Musk did amazingly well during 2020 – their wealth grew massively. Remember the Rothschilds at the end of the Battle of Waterloo? They tricked all the other traders into thinking that Napoleon had won and then cleaned up and made a huge fortune.
Second, they have reduced interest rates to a level never seen before. If you have a million pounds sitting in your Government savings account, the annual interest will just about buy you a tankful of petrol. (As long as you only have a small car).
Third, the crashing economy will destroy millions of jobs. The United Nations said in 2020 that 50% of all jobs are going to disappear, and we can trust them because it's their game, their ball and their packet of sandwiches. Those without jobs will have to rely on government handouts – renamed the universal basic income.
Fourth, if you own your own home, or think you do, or you own part of it, then you're in trouble. Interest rates are going to remain the lowest in history for a while – to make sure that those with savings see their savings slowly disappear. And then interest rates will go up. Not a bit. But a lot. And when interest rates are up to 8, 9 or 10 per cent – or even higher – imagine what mortgage payments will reach. They'll be even higher. And most people won't be able to afford to keep their homes. That will be the end of private home ownership and another step towards the Great Reset.
Fifth, why are interest rates going to soar? Well, because inflation is high and interest rates will rise to try to bring inflation down. (Remember too, that high rates of inflation also destroy any savings that people have hung onto.)
Oh, and there is a sixth trick up their sleeve: taxes.
Governments everywhere have been throwing money around with great joy. Ten billion here, a hundred billion there. They'll need to replenish the coffers and pay off the debts. And so taxes are going to rise. They'll invent new taxes you've never dreamt of – and the main aim will not just be to raise money but to impoverish everyone.
They don't want us to own anything. It's the plan.
And when we're all impoverished, they will generously pay us all a universal basic income and we will then be entirely dependent on Bill Gates, Klaus Schwab and co for our daily bread. If we misbehave or criticise our masters then our payment won't come through and our digital bank account will remain empty. That's where the social credit system comes in.
Remember: the people controlling the system are not inept or incompetent. They are deceitful, devious and far more wicked than anything most of us have ever come across.
When I was a GP, I worked as a police surgeon for some years. I have met, examined and interviewed a number of murderers. I never met any as evil as the deceitful and devious politicians, scientists and doctors now determined to destroy everything we value – for power and money. Make no mistake about it, the end of civilisation is coming towards us at the speed of light.
Taken from `Social Credit: Nightmare on Your Street' by Vernon Coleman – available now as a paperback.
Copyright Vernon Coleman July 2022

SEPTEMBER 8, 2022 BY NEWS WIRE
https://21stcenturywire.com/2022/09/08/vernon-coleman-heres-how-theyll-bankrupt-you/
Their plan is to make every one of us bankrupt, and they're well on the way to succeeding. Only the billionaire conspirators are likely to avoid this. The conspirators must be delighted at the way things are going.
To start with, of course, the rising cost of food and energy will eat into our savings. Those without savings won't be able to put anything aside. Every penny will go into paying for basic essentials.
In the UK, inflation will be well over 20% shortly after Christmas 2022. Other countries will see a similar rise in inflation figures.
Company earnings will be devastated by poor production figures (exacerbated by strikes, working from home and the bizarre new fashion, popular with the young, for doing as little work as possible) and so investments and pensions will go into a long, slow dive. The coming recession will quickly turn into a depression.
And, remember, nothing is happening by accident.
Interest rates will continue to rise and millions who have mortgages will find that they can no longer afford to pay for their homes.
The result will be a fall in house values.
And as values fall so those mortgage problems will get worse. It won't be long before millions have a bigger mortgage debt than their house is worth. Their homes will be re-possessed, and they will be left with huge debts. Alternatively, the Government may say: 'We'll take over your mortgage and you can stay in your house…but you will no longer own it'. I suspect that many bankruptcies will be inevitable.
Remember, none of this is happening by accident. It has all been orchestrated.
And those with savings won't survive either.
​​​​
Before It's News®
is a community of individuals who report on what's going on around them, from all around the world.
Anyone can
join
.
Anyone can contribute.
Anyone can become informed about their world.
"United We Stand" Click Here To Create Your Personal Citizen Journalist Account Today, Be Sure To Invite Your Friends.