8 Ways to Tell if Eggs are Fake/Synthetic. Fake Eggs Reported for Over 13 Years
Tuesday, January 31, 2023 8:31
% of readers think this story is Fact. Add your two cents.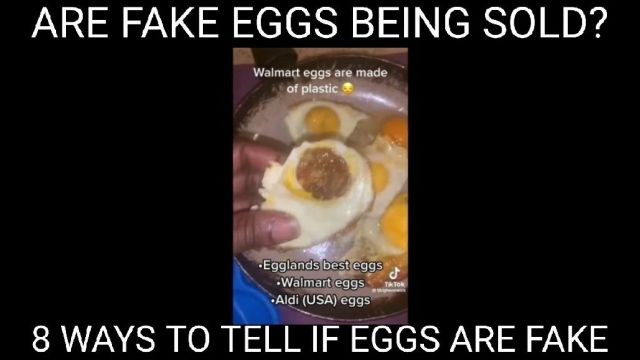 8 Ways to Tell if Eggs Are Fake/Synthetic
ARE FAKE EGGS BEING SOLD IN U.S. GROCERY STORES?
—
OK. A TikTok video is going around showing Fake / Synthetic / Plastic Eggs.
—
This may be true. It may not. Or it may be very old video footage. Similar accounts have been being reported for over 11 years.
—
This is the problem with matures that have No Idea how to properly Document or Report something.
—
HELLO. WHAT IS THE FRICKING DATE THE VIDEO WAS MADE?
—
If this is now really happening in the real world, you would be seeing Far More Similar Reports.
—
By all means, be careful and keep your eyes open.
—
But also, BE CAREFUL WHAT YOU BELIEVE OR SHARE
—
DEMAND PROOF AND PROPER DOCUMENTATION
—
Brand's Implicated:
—
England's Best eggs
—
Walmart eggs
—
Aldi (USA) eggs
—
See my next video post above from 2017:
—
How To Identify Fake Eggs – Simple tips to spot fake eggs. Jul 8, 2017
How To Identify Fake Eggs – Simple tips to spot fake eggs. Jul 8, 2017
—
How To Identify Fake Eggs – Simple tips to spot fake eggs Processed foods have enough of artificial ingredients and chemicals to spoil your health. Added to that if you fall prey to synthetic foods like plastic rice and fake sugar, your health goes for a toss.
—
If reports are to be believed, after plastic rice and sugar, there are fake eggs in the market! What are these fake eggs?
—
Some reports say that they are made of chemicals. Gypsum powder, paraffin wax and calcium carbonate are being used to make the egg shells. What about the egg white and the yolk? Well, they are said to be made of benzoic acid, calcium chloride, gelatin, alum, sodium alginate and certain other compounds!
—
Such chemicals could cause liver issues, nerve cell damage and metabolism disorders.
—
Well, whether the reports are true or not, it is better to be careful when you buy eggs.
—
Here are some ways to check whether the eggs you bought are fake or real.
—
# 1 Real egg shells are not so shiny. If the eggs shells are bright and shiny, they could be fake ones!
—
# 2 Using your finger, touch the shell. The surface will be smooth if the eggs are real. Fake egg shells have a rough surface.
—
# 3 When you shake a real egg, you probably won't be able to hear anything but fake eggs contain fluids that could make a noise.
—
# 4 When you crack the egg, real eggs show the yolk separately whereas in fake eggs, both the yolk and the egg white fluid tend to mix.
—
# 5 Well, these are just a few tips. Actually, it isn't so easy to identify fake eggs. So, be careful and buy eggs from a trusted source.
—
A shopkeeper in Kolkata was arrested on Friday (Mar 31) for allegedly selling fake eggs. According to Kolkata Police's Enforcement Branch, Md. Shamim Ansari was arrested from Park Circus Market for selling alleged artificial eggs to Anita Kumar, who lodged a complaint at Karaya police station on Thursday (Mar 30) after she discovered that the eggs she bought was "fake" and "felt like plastic" when spread out on the pan.
—
The Kolkata Municipal Corporation (KMC) said it has ordered an investigation into the matter.
—
Pertinently, fake chicken eggs from China have reportedly flooded Indian, Bangladeshi, Pakistani and Thai markets.
—
According to reports, fake egg shells are being made with calcium carbonate, paraffin wax and gypsum powder, while egg yolk and egg white are being made of sodium alginate, alum, gelatin, edible calcium chloride, benzoic acid, water and food colouring.
—
The chemicals are said to trigger severe health problems including metabolism disorder, brain and nerve cell damage, liver diseases and affect blood production.
—
While it is very difficult to differentiate between fake and real chicken eggs, here are a few tips to do a fast check:
—
1. To start with, the shell of fake eggs are shinier than real ones.
—
2. Feel the outer shell. Fake eggs will be rougher than real eggs.
—
3. Shake the egg before breaking it. If you hear some noises inside the shell (water overflowing), then it is a fake one.
—
4. Tap the egg lightly enough not to break it. The sound will be more crisp if the egg is real.
—
5. If the egg is fake, unlike real ones, the egg yolk and white will mix together as soon as you break it and pour on a pan as both are made of the same substance.
—
6. Real eggs have a raw smell while fake eggs are odourless.
—
7. Know that you are frying a fake egg if the yolk spreads without you touching it.
—
8. Put the shell in fire. If the egg is fake, the shell will catch fire or start melting with a plastic-like odour coming out of it.
—
FAIR USE FOR EDUCATIONAL PURPOSES
—
Mirrored From:
https://www.youtube.com/@superfoodsyouneed8948

China's Fake Eggs Made of Plastic – Facts Analysis
by Siddhartha Vookoti10 years ago5 years ago
Analysis: The messages warn that fake eggs are being sold in China, and are made from harmful, waste plastic material that can damage the health of the consumers. Yes, it is a fact. These fake eggs are being sold in China markets since many years, and they are made of chemicals and food additives. It was recently reported that the fake eggs …
http://www.hoaxorfact.com/Health/china-s-fake-eggs-made-of-plastic-facts-analysis.html
China Manufacturing Fake Eggs Made Of Plastic & Sold As Real Ones.
Other Versions
1. Fake, Toxic Eggs and Grapes are Made and Sold in China.
2. Subject: Fake Eggs from China! (Shocking – must read)
Beware u guys and gals!
During a recent raid on a wholesale centre in Guangzhou city, the capital of China 's Guangdong
province, a large quantity of fake eggs was seized.
Their wholesale price is 0.15 yuan (S$0.03) each – half the price of a real egg
Inside a Walmart Supplier's Egg Farm: A PETA Undercover Investigation
—
WARNING. GRAPHIC AND EXTREME ANIMAL CRUELTY
—
Age Restricted. Must Watch on YouTube
https://youtu.be/D0b74bnaXgU
—
PETA (People for the Ethical Treatment of Animals)
Before It's News®
is a community of individuals who report on what's going on around them, from all around the world.
Anyone can
join
.
Anyone can contribute.
Anyone can become informed about their world.
"United We Stand" Click Here To Create Your Personal Citizen Journalist Account Today, Be Sure To Invite Your Friends.