Slave Wages In USA- How This Effects All Of This.
Sunday, March 26, 2023 15:42
% of readers think this story is Fact. Add your two cents.

Slave Wages In USA
In a place people go to every day, to be served; that very person you see before you, is working for less than 4.$ per hour.
We all get hungry in our busy lives, and some of us only have 30 minutes to break away from our work, that we also need to survive. We leave our job to grab a bite to eat, so we can make it through our day and we head over to the nearest diner, shaving off minutes of drive time, so we have a few extra minutes to eat. This might not be where we wanted to go, but it was convenient- so we go.
We get to the diner, it is packed, so we choose to eat something that won't take long to cook. We see there is only one server and begin to stare at the clock and now every second suddenly becomes important to us. As we wait to be served, 10 minuets have gone by, and never even got a glass of water. By now, we feel anxious, more hungry than before and there is no time to go anywhere else, and so we wait.
Now we see the server and begin to feel like it might all work out, and can eat soon, get back through the traffic and keep our good name at work thus we strive to always be on time.
The server walks passed you and dropped a menu on your table as she/he rushed by. You see that she just went to a table with 7 people before you. Ten more people just walked in and now you feel doomed as you look around and see that everyone has no food yet. You contemplate your position and try to decide if you should just go to the gas station and grab some food and head back to work. By now, you are extremely agitated.
The server comes back and takes your order and promises to bring it straight away and offers you a to go box in advance. As your server pours your water, feeling pressed for your time, and wanting to help you reach your goal, she/he spills the water and gets your jacket wet. You yell at your servant and scorn your servant and demand to see the manager.
By now, you have failed at your attempt to get food, so you can finish your job and make a good wage to live on. You have to go now, or you will not make it back to clock in precisely at the required time. You tell the manager that the servant never served you and that you only have a wet jacket to show for your time there. You demand the servant be fired! You leave. You decided to never go back so the next day you go to another place instead. The same things happened.
Later on, you talked with your manager you were hoping to impress. This person wanted to speak with you concerning your wage. You begin to discuss why your deserve a raise. During the conversation you point out how you are prompt and never miss a day nor do you walk in late or leave early, that you are trustworthy, integral and reliable. Your manager then asked you to give an example of a time you were rushed and almost late and how you overcame the experience. You proceed to tell the story of yesterday at the diner.
You tell your manager that you suffered to eat so you cold keep your prompt status at work. Your manager smiles and tell you that you shouldn't go without food and that the server you got fired was his
niece that only made less than four dollars an hour and never made any tips during lunch hour, because everyone came in hoping to get fast food service during rush hour and not one was happy when they left. All of them complained and no one left the servers wage on the table.
You found out that the servant you got fired, was more concerned with your order, so you could reach your goals, asked the cook to put your order first and so the cook did. When the plate came back full and you were gone, the servant brought it back to the kitchen and the owner saw her throw it away and scolded her for wasting his/her profits. He fired her for his losses, and said she had no integrity by asking the cook to bring her order to the top, only so she could throw it away. He told her he would pay her the wages he owed her, only if she finished out the shift and cleaned up the now empty tables, before she left, but that tomorrow she would not be on the schedule going forward.
This servant left her job, crying and could not pay for her childcare bill now which she needed only 100 more dollars to pay what was due. Several weeks before this happened, she was reported by a friend & her children were taken into custody because she had no more than a week's worth of food in her small apartment to give to her kids. This is when she took a second job at the diner, to supplement her wages (to get her kids back home) where they gave her a full schedule everyday, working rush hour. All of the other servants either left due to the stress or was fired. That very same day (yesterday) the girl lost her job, the social worker had a scheduled meeting with her, immediately after her shift would end; to discuss her progress with the new job, which was required by them for her to keep her kids.
His niece worked in the mail room of the company building and was also hoping to expand and grow with the same hope for a new and better position by advancing to the position you now have, with a wage increase. Then he asked the man, if you was the manager, would you give yourself a raise?
The moral of the story:
Each and every day, in the USA, a Servant gives you all they have, and because your coat got wet, their lives got destroyed, all for 3.65 cents an hour and no tip from a person who could not manage his/her time well, and took it all out on the servant.
Next time you go to the diner, please understand, these people serve us, and thus we should be humble like them, and try to serve them back.
God Bless all of you today. I Pray you are doing well during this dark time we live in. We must be content with our wages but not the wages of sin.
Please come take a look at how the Lord is helping me get through this holocaust. He shows me many miracles and I give my testimonies of that.
Agape' & Peace,
Your Loving sister in Christ,
Hillela
Rumble.com/user/2Thed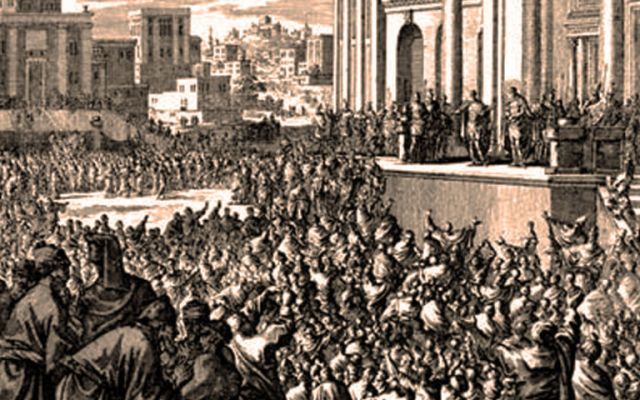 Before It's News®
is a community of individuals who report on what's going on around them, from all around the world.
Anyone can
join
.
Anyone can contribute.
Anyone can become informed about their world.
"United We Stand" Click Here To Create Your Personal Citizen Journalist Account Today, Be Sure To Invite Your Friends.