New Separatist Movements Rising in Western Canadian Provinces
Tuesday, April 6, 2021 7:28
% of readers think this story is Fact. Add your two cents.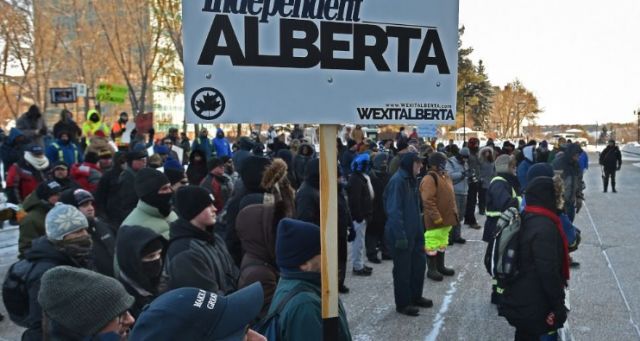 New Separatist Movements Rising in Western Canadian Provinces
Tuesday, April 6, 2021
Lucas Leiroz, research fellow in international law at the Federal University of Rio de Janeiro.
---
Separatist movements are growing in Canada. The North American country is witnessing a growing wave of popular dissatisfaction with the social crisis and unemployment, which, in regions historically marked by separatist desires, such as Alberta and Saskatchewan, is spurring the progress of secessionist parties.
Canada has always been a multifaceted political arena, with several separatist movements in different regions of the country. Historically, the one with the greatest political strength is the Quebec secessionist movement, however, recently an increase in pro-secession trends in the western provinces of Alberta and Saskatchewan has been evident. Originally, in the province of Alberta, the only separatist movement at work was the Independence Party of Alberta, which has been changing due to the emergence of several other organizations supporting the separatist cause. However, some separatist leaders view the multiplicity of movements with suspicion and believe that agents in favor of the central government are infiltrating separatist organizations in order to divide them into different groups.
The view that there is a collective infiltration of government agents into secessionist movements is shared by Peter Downing, one of the greatest pro-separation activists and Public Safety Critic for the Independence Party of Alberta. Downing defends the separation by legal and absolutely institutional means. The Independence Party of Alberta is a party eligible for provincial elections. The central objective of the party is to reach the provincial government through elections and then call a referendum on separation, where it would be possible to demand secession in a legal, peaceful, non-violent manner. However, some more recent movements have adopted different, sometimes more radical, and authoritarian stances, which Downing believes is detrimental to Alberta's separatist cause.
These new movements, such as the Maverick Party, the Wildrose Independence Party of Alberta, the Buffalo Party in Saskatchewan and Alberta, among others, have been characterized by a segregating stance, undermining possibilities of mutual support for a single representative of separatism in the electoral processes and launching several candidates with sectarian positions rivaling each other – something that Downing classifies as "kamikaze" – in the sense of representing a suicide for the secessionist movement.
However, while Downing's accusations make sense, it remains to be seen whether his words do not sound like just another party sectarianism. One of the points that Downing's party is often criticized for is simply wanting emancipation from Ottawa, but allowing activists in favor of union with the US – something that some more radical separatists in their nationalism regard as a real offense. The Independence Party of Alberta's agenda, after coming to the provincial government, provides for a referendum for emancipation from Ottawa and then a new vote to decide whether to become the 51st American state or an independent country. The presence of both anti-Ottawa and pro-Washington activists appears to be irritating to many Alberta nationalists.
The reasons for this are simple: Ottawa is Washington's historical ally and if there are problems with the Canadian administration, it will continue in an eventual union or alliance with the US after the separation. Canada is currently experiencing a deep and particularly serious social crisis. More than 2 million Canadians are unemployed and another 4 million are underemployed, with long working hours and low wages. There is even greater concern about the future of social stability because of the recent decision by the American government to transfer illegal immigrants from the southern border to the northern border. Canadian authorities believe that there may be a massive influx of immigrants into Canada, which will further damage the employment situation of Canadian people, considering that such immigrants will take up jobs for lower wages, leading native citizens to be dismissed.
Certainly, social instability is leading Canadian citizens to more radical positions in relation to their government, including support for separatism in some regions. However, this attitude towards Ottawa also exists against Washington, whose policies always reflect on the population of the neighboring country. Therefore, the trend is that anti-Americanism will rise more and more in Canada, in parallel with separatism. In the same vein, activists' positions tend to be radicalized and it is possible that soon parties will begin to resort to less legalistic and more aggressive rhetoric. In this scenario, the party that is more lenient to American interests and less willing to radicalization, tends to lose space – and this seems to be the case with the Independence Party of Alberta. This does not mean that Downing is not right when he warns about the infiltration of government agents: this may indeed be a reality, but it does not change the fact that there is a general process of political radicalization with popular motivations.
Above all, despite points of disagreement between separatists, mutual accusations, and possible government sabotage, one fact is undeniable: the growth of separatism in Canada and the emergence of more radical movements than the Independence Party of Alberta are indicative of failure in Canadian traditional politics, which has always been focused on meeting the interests of its neighboring country.
The Canadian population cries out to be served and respected before the American government. More than that, in regions with specific cultural backgrounds, different from the rest of the country, the central government must show more support, respect and encouragement for the perpetuation of local cultures – otherwise, culturally motivated separatism will grow. In the end, the more Ottawa refuses to help its own people with measures to combat unemployment, close borders, and release credit in times of crisis, the more people tend to seek radical alternatives to the country's problems.
Source: InfoBrics
Before It's News®
is a community of individuals who report on what's going on around them, from all around the world.
Anyone can
join
.
Anyone can contribute.
Anyone can become informed about their world.
"United We Stand" Click Here To Create Your Personal Citizen Journalist Account Today, Be Sure To Invite Your Friends.