Day Of Harvest! High Watch Day... Urgent Warning (Video) Trumps Transition of Power Was To The People! This IS Truly Biblical!
Sunday, September 11, 2022 15:56
% of readers think this story is Fact. Add your two cents.

Day Of Harvest! High Watch Day… Urgent Warning (Video)
Trumps Transition of Power Was To The People! This IS Truly Biblical!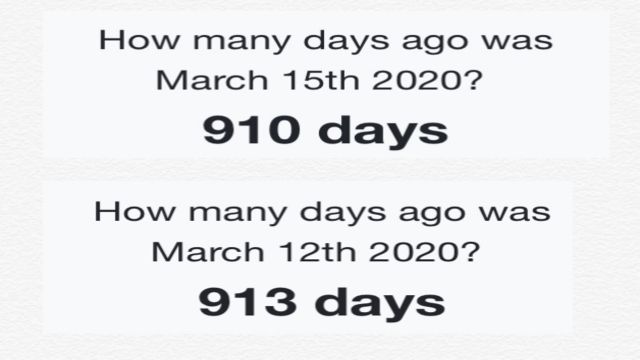 Tap Picture to GO To Video (Rumble)
From Sept 01/2017- March 15, 2020 was 927 days.
This was a Nat Sunday day of prayer law Trump confirmed for one week.
If March 12, was lockdown- continual burnt offering to cease, we have arrived (Sept, 11/2022) at DAY 913 of Daniels Prophesied 1290 days.
If March 15, was the day the covenant was confirmed -was the accurate day to begin counting to 1290, or is the correct date to start, we are at day 910.
All dates the Holy Spirit revealed to me go with the date, March 12, 2020, Day 913.
We started counting the Omer that year and when we arrived at day 50- it was the difference between Dec, 8, 2020- the day Margaret Keenan took the first shot in the UK, and May 16, 2021; which is (7) months, being the Scientific gestation period of a pregnancy. The sign of the Son of Man. Not the Son of God who was already delivered and is alive. Only a wicked and adulterous generation seeks after a sign.
If we count what the Lord showed me, then on day August 23,2023 we will arrive at day 1260. But we are reminded by Scripture, which is the Word of the Lord, that "for the sake of the elect, that time shall be shortened".
3/12/2020- 9/22/2023 is day 1290 and 45 days later we come to the "1335" which when translated into english grammar equals, Holy Spirit of Pentecost.
Assuming this "time" is cut short- for the sake of the Elect"… And a "time"= 1 year, we can look at this date a year early.
If we look at Dan 9:27 and use it as a day, we come to day 927 which lands on Sep, 25 2022, but if we use the date of 3/15/2020 rather than 3/12/2020 we get to Sept 28, 2022 being a Wed. "A" Wed was the actual day of crucifixion.
Iron Giants:
High Watch Day! Harvest! Matthew 21
Matthew 21:33-44 KJV
[33] Hear another parable: There was a certain householder, which planted a vineyard, and hedged it round about, and digged a winepress in it, and built a tower, and let it out to husbandmen, and went into a far country: [34] And when the time of the fruit drew near, he sent his servants to the husbandmen, that they might receive the fruits of it. [35] And the husbandmen took his servants, and beat one, and killed another, and stoned another. [36] Again, he sent other servants more than the first: and they did unto them likewise. [37] But last of all he sent unto them his son, saying, They will reverence my son. [38] But when the husbandmen saw the son, they said among themselves, This is the heir; come, let us kill him, and let us seize on his inheritance. [39] And they caught him, and cast him out of the vineyard, and slew him. [40] When the lord therefore of the vineyard cometh, what will he do unto those husbandmen? [41] They say unto him, He will miserably destroy those wicked men, and will let out his vineyard unto other husbandmen, which shall render him the fruits in their seasons. [42] Jesus saith unto them, Did ye never read in the scriptures, The stone which the builders rejected, the same is become the head of the corner: this is the Lord's doing, and it is marvellous in our eyes? [43] Therefore say I unto you, The kingdom of God shall be taken from you, and given to a nation bringing forth the fruits thereof. [44] And whosoever shall fall on this stone shall be broken: but on whomsoever it shall fall, it will grind him to powder.
Agape' & Peace
ETW7- Hillela
https://rumble.com/v1jodft-the-sign-of-the-son-of-man-revealed.html
---
NOTICE: this information was given by the gift of the Holy Spirit, and is protected by God Almighty according to His laws. Anyone who attempts to hide this material or destroy it, we'll have to answer to our father in Heaven.
---
Before It's News®
is a community of individuals who report on what's going on around them, from all around the world.
Anyone can
join
.
Anyone can contribute.
Anyone can become informed about their world.
"United We Stand" Click Here To Create Your Personal Citizen Journalist Account Today, Be Sure To Invite Your Friends.