Putin-Biden Summit: The One Where the Western Media Was Sent Packing
Friday, June 18, 2021 16:41
% of readers think this story is Fact. Add your two cents.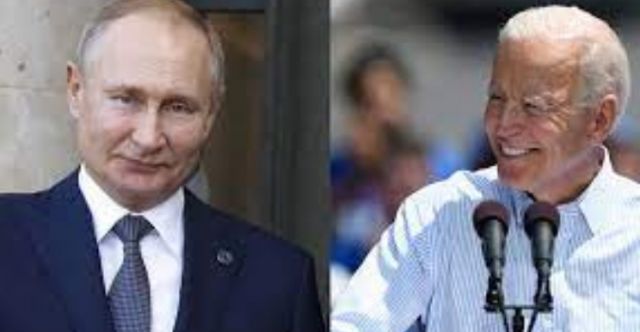 Putin-Biden Summit: The One Where the Western Media Was Sent PackingFriday, June 18, 2021
Johanna Ross is a journalist based in Edinburgh.
---
It was the summit which so nearly didn't happen. But it was vital for world peace that it did. Just two months ago, tensions between Russia and the West had reached a height not seen since the Cold War. US President Joe Biden had agreed that the Russian President was a 'killer'; western-backed Ukrainian forces were gathering in Eastern Ukraine, violating the Minsk peace agreement; and hundreds of thousands of Russian forces had accumulated on Russia's side of the Ukraine border in response to what was a growing threat. Suddenly the prospect of war was real and something drastic had to be done to de-escalate.
This 'something' was initiated by Joe Biden, who clearly didn't want World War Three to begin on his watch, and picked up the phone to President Putin. It was the right move from Biden, as it was the US President who had obviously played a personal role in ramping up tensions with the 'Putin killer' comment. The summit itself was also a proposal by the US President, who emphasised during the meeting in Geneva on Wednesday that there was no substitute for an old-fashioned, 'face-to-face' discussion.
The bar was set low for expectations from the summit, but clearly the upbeat rhetoric flowing from the rendezvous exceeded the hopes of many analysts. Putin said the talks were 'constructive', with Biden concurring, describing the tone as 'good' and 'positive'. Incredibly – considering the confrontational rhetoric of 2 months ago – some areas of cooperation were agreed upon, including the Arctic, Afghanistan, and strategic stability and arms control. Importantly, a bilateral strategic stability dialogue is now to be launched between the two countries. This move is significant, for as long as communication channels are open, diplomacy can take place, and the chances of conflict are reduced.
Of the two leaders, Biden is by far in the more difficult position. Putin is a popular president, with the vast majority of his country behind him. The US President on the other hand leads a divided nation, polarised between the Capitol-storming, Fox-news watching Trump supporters, and the CNN-worshipping Democrats, who lapped up every word of the Russiagate saga, and believe Russia is the source of all their woes. As such, there is huge pressure on Biden from his support base to be 'tough' on Russia and issue Putin with ultimatums and threats.
But just as Biden stated his intention to unify America after his election to office, his rhetoric since the summit has been positive and as Putin said, constructive. As a result, we have seen something extraordinary in the press conferences post-summit: Biden and Putin were pretty much singing from the same hymn sheet, and rejected the narrative of confrontation and discord being imposed on them by the western media.
While Putin found himself time and time again defending himself against accusations of being a killer, of not having a soul, of being authoritarian; Biden went even further to reject the nature of the questions being asked. He said that to date, there was too much of a 'hyperbolic atmosphere' created around the discourse regarding Russia, implying the responsibility the media held for this. Then, in response to a last question shouted out by a reporter as he left the presser – 'How can you be so confident that Putin can change?' – Biden completely lost his rag and replied 'What do you do all day?', before dismissing her comments – 'If you don't understand you're in the wrong business'.
He later apologised for getting rattled, but the interaction could be interpreted as a reflection of the extent to which the US President has lost patience with the western media's tendency to misrepresent the facts and twist them to suit the dominant anti-Russian narrative. Both Biden and Putin were attempting to deflect the negativity being flung their way at the press conferences and set a new, positive tone, on which relations could be improved.
Biden is, as Putin referred to him, an 'experienced' politician and 'statesman'. He has lived through the Cold War, and admitted he's 'read almost everything' Putin has ever written. It is evident that, in this summit, Biden made an effort to understand the Russian position and explain that of his own country: 'we're all about human rights, we're the product of an idea – although we haven't lived up to it completely', he said. Such a rare admission from a US President will also be appreciated by the Russian side who are used to hearing that America can do no wrong. Biden's honesty won't be overlooked.
Significantly, Biden is the first US president to mirror the rhetoric normally used by the Russian side in describing Russian foreign policy principles. He said US-Russian relations were not about trust but 'self-interest and 'verification of self-interest'. Biden said 'this is about practical, straightforward, no-nonsense decisions'. This pragmatic approach is the one adopted by Russia in its foreign policy decision-making, and finally, it seems, Putin has a US President, with whom it may be able to do business. Most importantly, there were no ultimatums issued or threats hurled, not over Ukraine or anything else. Biden had done his homework.
Time will tell if US-Russian relations will indeed be 'reset'. But they have got off to a good start with the Geneva summit. As Biden wisely said, foreign policy is an extension of human relationships. If Putin and Biden can maintain a respectful, working partnership, then that may just be enough to preserve world peace in the near future. Whether the western corporate media will be with them on this journey however, is another question.
You can follow the author on Twitter.
Source: InfoBrics
Before It's News®
is a community of individuals who report on what's going on around them, from all around the world.
Anyone can
join
.
Anyone can contribute.
Anyone can become informed about their world.
"United We Stand" Click Here To Create Your Personal Citizen Journalist Account Today, Be Sure To Invite Your Friends.