Examining media coverage of revolutionary issues in Canada: Links 1 for September 30th, 2023
Saturday, September 30, 2023 15:09
% of readers think this story is Fact. Add your two cents.

1. WHO global power grab moves another step closer to implementation
Here is our interview with Dr. Kat Lindley on this exact treaty from 4 months ago:
2. For those interested in the formal study of logic, a discipline which is being negated daily and replaced by Marxist dialectics, here is a fascinating example of the logical fallacy of the appeal to authority. The Pope on Vaccines:
One answer the director of the U.S. National Institute of Allergy and Infectious Diseases said he did have was that the key to overcoming current vaccine hesitancy is pairing the right medical message with the right messenger.

"You have someone who's a deeply religious person who will listen to their clergy. That's different than me with a suit going into an area telling people to do something," he said.

Fauci was referring to the religiously inspired resistance to taking COVID-19 vaccines that were indirectly developed using lines of cells derived from aborted fetuses. The Vatican has declared that all COVID-19 vaccines are not only morally licit, but that people have a moral responsibility to get the jabs to protect others.

The multidisciplinary conference was originally scheduled to take place at the Vatican in May 2020 but was postponed a year and eventually put online due to the pandemic.
3. An excellent example of CBC dialectics. The issue is a return to mask mandates. Back in the day of a free press, they would press the government as to why this restriction was necessary and then bring on authoritative experts with real science to show why this could be government overreach. Now however, and for the past several years, CBC creates the illusion of opposition to government diktats and overreach by challenging the government to go farther. That the government is remiss in its responsibility to take more liberties and should be doing harsher measures, and typically finds TV medical experts who often have very socialist beliefs and attitudes (Caplan-Mirth) to make the case that the state is not going far enough. This is a key CBC semantic weapon and needs to be in one's mind whenever watching a policy 'news' item from that network.
Vaxx for kids, and the same device being used on masks starting at around 2:20. The CBC Anchor actually asks the question: "Should this go further?" But does not ask the question, by what right does the state implement these measures, or even, is this really needed or does this really work? At 5:15 they discuss how to negate the arguments of the recalcitrant. The final argument by the TV doctor is a classic dialectic. "We need to agree on what we all value". and then she tells us what that is. "…which is keeping loved ones and vulnerable people safe". Anyone else notice the repugnant phone greeting which has become common? Instead of take care, or even have a nice day, often people say, "Stay safe". My response is always, "stay free". The TV doctor in this clip at the end really does use deceptive means to replace liberty with state diktats in the name of public health.
CTV on the return of mask mandates: (Fairly matter of fact)
4. The Canadian province of Saskatchewan is trying to resist one of the more pernicious aspects of the Marxist revolution, the control of language and forced use of language to defy objective reality. I am referring of course, to pronouns declaring the self or others to be something other than they clearly are.
Premier Moe says Saskatchewan to use notwithstanding clause over school pronoun policy
REGINA – The Saskatchewan government will use the notwithstanding clause of the Constitution and pass legislation this fall to ensure the province's pronoun policy remains in place, Premier Scott Moe said Thursday.

Moe made the comment shortly after a judge granted an injunction to pause the policy that requires parental consent when children under 16 want to go by different names and pronouns at school.

Moe said in a statement he's extremely dismayed by the injunction, calling it judicial overreach.

He said the policy has strong support from the majority of Saskatchewan residents and parents.

"The default position should never be to keep a child's information from their parents," Moe said.
Let's see how the MSM treats this. Global is the surprise. They seem to just report the facts. CBC uses a series of dialectical devices. In the second CTV clip, they apply the term, "controversial" to not allowing a child to use pronouns that break from biological reality and hide that from parents. Whereas the idea that a boy can call himself a girl and be treated as such and encouraged to seek mutilating and sterilizing procedures, surgeries and drugs is by contrast, not controversial. This is also a trick CBC uses frequently to move the revolution forwards.
Global News:
CTV:
CTV:
CBC: CBC is rather unsubtle in their revolutionary reportage of this issue.
CBC:
CTV Twitter poll on use of the Not Withstanding clause:
Saskatchewan's premier will use the notwithstanding clause to ensure the province's pronoun policy remains in place.

The clause allows provinces or Parliament to override certain portions of the charter.https://t.co/gKVGHtSCTs

Is Premier Moe right to use it?

— CTVTheDebate (@CTVTheDebate) September 29, 2023
5. Threats that could be easily interpreted as deadly from sick men demanding to intrude on Women's spaces
When TRAs demand that trans-identifying men be given access to women's sports and spaces, they are telling us that we don't matter. They are saying that our right to fair competition and our need for privacy and safety are meaningless in the face of male desire.

Not only are we… pic.twitter.com/JR5DzvlbR3

— Diana Alastair??????????????? (@sappholives83) September 28, 2023
Thank you all for checking out this site.
At a certain point, when the damage is done and no one can do anything about it, the powers that be want you to know what was true. Why would that be? Crushing morale maybe. Setting up the next thesis, counter-thesis Solution with the created catastrophe primarily.
There is another mass march planned against the Trans-dialectic. It appears to be by the same group who planned the September 20th cross Canada march. Here is the poster: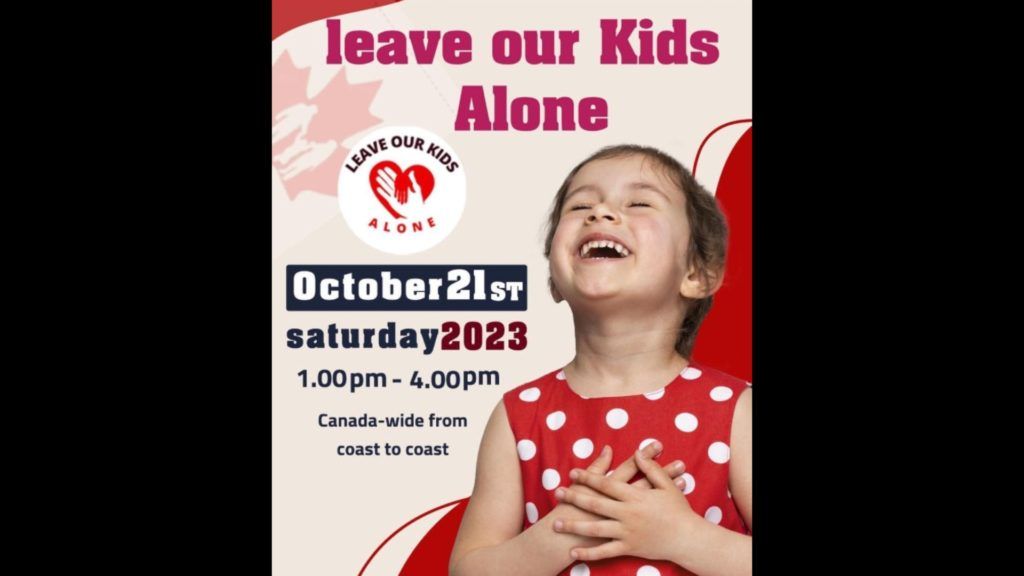 One last thought for this post.
One might suspect that one could learn a great deal about the real nature of things in the world by the answer to a single question:
Is there an mRNA Covid vaccine mandate for the Ukrainian army?
Source:
https://vladtepesblog.com/2023/09/30/132757/
Before It's News®
is a community of individuals who report on what's going on around them, from all around the world.
Anyone can
join
.
Anyone can contribute.
Anyone can become informed about their world.
"United We Stand" Click Here To Create Your Personal Citizen Journalist Account Today, Be Sure To Invite Your Friends.