Small Cap Value Report (Mon 8 June 2020) - RBG, UPGS, LOOK, TTG, SOLI, ACT, SDY
Monday, June 8, 2020 12:49
% of readers think this story is Fact. Add your two cents.

Good morning, it's Paul here.
Estimated timings - I need to rest my eyes for a bit, but will add a few more sections after lunch. 16:30 finish time.
Update at 17:40 – I added 4 more company sections this afternoon. Today's report is now finished.
I'll be writing Mon-Wed SCVRs this week. Graham has kindly offered to write Thu-Fri, in order to give me a 4-day weekend to celebrate my 52nd birthday! What a kind man! I shall enjoy that!

Probably much like yourselves, I needed to take a good break over this weekend, to recover from such an intense week, trying to work out what the hell is going on with the world, the economy, and the stock market.
Where do we start? Firstly, thank you for all the positive comments, I really appreciate it. I have no idea what is going on, and am just trying my best to interpret it from one day to another. Some will be right, some will be wrong. Anyone who uses words like this "will" happen, is wrong. People should use words like "could", or "might". Otherwise, they are charlatans overly optimistic about their forecasting ability! Nobody knows what will happen for sure.
It's fine to express opinions. But not to express false certainty. Let's measure commentators – let's make a note of what each commentator said on each date, and then challenge them afterwards when they were completely wrong! (I got that idea from "Superforecasting" by Tetlock amp; Gardner. The best forecasters express their uncertainty, and readily change their mind when the facts change.
I'm the first to admit that, I had no idea the Dow would go from 29,500 in early March, to 18,500 low, then rebound to 27,000 now, all within less than 3 months. This is unprecedented. Anyone who did know this, would be a billionaire could have become very rich by now. Personally I kept my thinking flexible, and survived this turmoil intact. I hope readers survived it all OK.
My latest feeling, for what it's worth, is to stop fighting market recovery, so I've been forced to close my Dow shorts (due to large short-term losses) . Let's enjoy the longs on recovery – much more profitable than the losses on my hedges I should add.. That is clearly the way things are going. Hence I'm about to double up on increase some of my recovery longs for the UK economy today.
What do readers think? I think we've done a pretty good job of steering through this nightmare.
Shops start re-opening this day next week, 15 June. I suspect there could be pent-up demand, and plenty of people just wanting to be able to shop again, even if they don't specifically want to buy anything. Evidence from the USA is that re-opening has gone better than expected, so the same is likely here, I reckon.
(apologies for the strike-throughs above. I wanted to tone down my Sunday evening comments, and make them less emphatic – following my own advice! But also leave an audit trail of what I'd amended, so that people who had already given a thumbs up can see what's been changed)
---
Revolution Bars
(LON:RBG)
Confirms it has executed final documentation re enlarged bank facilities, as expected. No surprise there, so it's not price sensitive. Together with the equity fundraising underway, I see this as a belt amp; braces situation – the company now has plenty of liquidity for the time being, well into 2021. Therefore the share is a lot less risky than it was previously. Medium term there is still risk of course, if covid returns badly amp; forces re-closure of sites.
Allocations in the placing went out on Friday afternoon. It was scaled back, as placings usually are, because people expect them to be scaled back amp; hence over-apply! It's a bit of a balancing act. Occasionally you get a full allocation, which is actually a bad sign, as you end up with more shares than you really wanted, and the price is likely to go down, because of lack of demand. Equally, if you get scaled back too much, then you end up with a scrap of stock too small to bother with. Therefore the ideal situation is where you get somewhere between c. 50-75% of what you applied for .
Sorry for the confusion about when RBG shares go ex-open offer entitlement. Some posters thought I'd got it wrong, but I've just checked with my broker, and I was correct originally. If we buy (or sell) RBG shares today, then they carry with them entitlement to 3 for 5 new shares priced at 20p. The last trade is close of play tonight. Therefore, tomorrow morning RBG shares are likely to gap down a few pence, taking into account that transactions from tomorrow will not carry any open offer entitlement, it will be fixed according to who owned the shares at close of play tonight. But please do double-check with your broker before acting on this.
The open offer is effectively underwritten – by the investors in the placing. i.e. if the share price of RBG were to fall below the 20p issue price in the coming weeks, then existing investors might decide not to take up their open offer entitlement. It wouldn't matter, because the £6m new open offer shares (or part of them) would revert to the placing investors. Therefore the £15m equity fundraising is now a done deal (subject to approval at a GM, which should be a formality).
---
Short covering
I've noticed some large rebounds in several shares lately, which have the look of a short squeeze. Examples include Hammerson (LON:HMSO) as mentioned last week (I'm long), and N Brown (LON:BWNG) (I'm also long).
I think this is a good investing theme to follow up – i.e. looking for cyclical companies which are heavily shorted, and going long for a rapid rebound, as the shorters scramble to buy back.
This is risky though – so it's essential to identify companies which are not going bust. I had recently taken a very high risk, and probably idiotic, long on Intu Properties (LON:INTU) – purely on the basis that there could be a big short squeeze if the shopping centre re-openings go well from 15 June, and the banks/bondholders waive covenants due to be tested near end June. However, weekend press saying that administrators have been lined up spooked me, so I sold for a loss in the opening auction this morning. In at 9p, out at 7p, so not a disaster, but also not one of my better trades!
I'll have a rummage when time permits. Does anyone have a link for the most shorted UK shares, to give me a starting point?
NB. I'm not thinking about long-term investments with this short covering theme, more shorter term trades. So my intention is to sell both HMSO and BWNG once the rebound has run out of steam. The risk is that shorters might regroup, and have another go at these shares. Hence why I think it's sensible to bank the gains. Or sell half, which is what I'm thinking of doing.
I don't think it's a good idea to short anything at the moment, it's too risky when the market is on fire, as bizarrely enough it seems to be at the moment. On reflection, I under-estimated the boost that the Fed/BoE have given to equity markets. After all, with interest rates at zero, where else are people going to put their money? Bonds provide a lousy return, and put your capital at risk from falling if interest rates rise. When you can't find yield anywhere else, then equities look attractive, even if they are expensive by historic standards. If interest rates are staying low forever (which looks increasingly likely), then a PER of 20 is not expensive at all. Maybe we need to recalibrate? That sounds dangerous, but why fight against reality?
.
---
Up Global Sourcing Holdings
(LON:UPGS)
Share price: 72p (up 14% today, at 08:32)
No. shares: 82.2m
Market cap: £59.2m
Ultimate Products, the owner, manager, designer and developer of an extensive range of value-focused consumer goods brands, announces the following unscheduled trading update.
UPGS has an unusual year end of 31 July 2020. I interviewed its MD, Andy Gossage, here on 20 Feb 2020 (audio). The worry then was how Covid-19 would impact its supply chain in China. Then of course the far more serious problem later emerged of demand drying up, as UPGS's retailing customers were forced to close, as the virus spread to Europe.
This is a surprisingly good update today;
Since the Group announced its interim results on 30 April 2020, the invoicing and delivery of the Group's order book has progressed at a steady pace. Total invoiced revenue for FY20 as at Friday 5 June 2020 was £97.2m (FY19: £102.5m) and there was an order book for the remainder of FY20 of £10.6m (FY19: £16.4m).

As a result we now anticipate that Underlying EBITDA* will be above the market's current expectations.

*Calculated before share based payments and income from the Coronavirus Job Retention Scheme
It's not clear why the company refers to underlying EBITDA. Underlying profit before tax is a more realistic measure. Anyway.
The footnote is intriguing. I hadn't given any thought previously as to how companies will account for the income from the furlough scheme. I assumed it would be offset against wages cost, but perhaps not? If I'm reading this correctly, then it sounds as if UPGS has beaten market expectations, with furlough income over and above that, possibly? I'm not sure how many staff it put on furlough, that would need checking.
Net debt – modest at only £2.6m at 5 June 2020.
Order book – note that the order book for Jun-Jul 2020 is soft, at £10.6m, down 35%. Still, that would be taken into account in the positive full year outlook.
My opinion – this business has proven far more resilient than I anticipated. Thinking this through, the reason must be that its products continued to sell in retailers which remained open (supermarkets).
Well done to shareholders, who kept your nerve during this traumatic period, which has paid off nicely.
.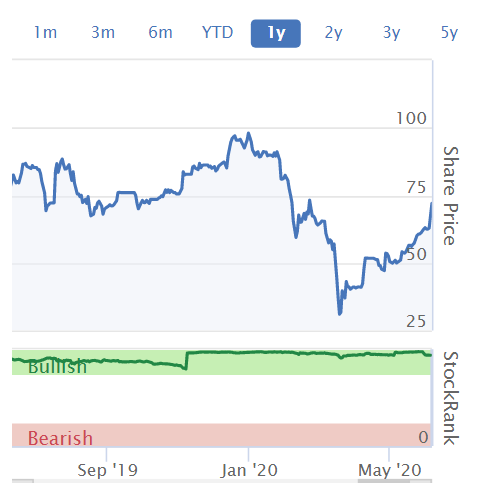 .
---
Lookers
(LON:LOOK)
Share price: 26.75p (down 14% today, at 09:47)
No. shares: 390.1m
Market cap: £104.4m
Late accounts, possible suspension of shares, auditor resignation
I've re-titled the announcement. from the original, which was "Update on Results".
This is a worrying announcement.
To recap, accountants Grant Thornton were brought in to investigate previously disclosed fraud within Lookers accounts. The draft report has been shared with auditors Deloitte, who have decided to resign once the 2019 audit is complete! That's damning, in my view.
2019 results won't be ready by the deadline of 30 June 2020, which would result in LOOK shares being suspended.
My opinion - I have a policy now of not touching any share where accounting irregularities are discovered. This is because quite often the initial discoveries can be the tip of the iceberg. The auditor handing in its notice is a huge red flag, in my opinion. If I held this share, today's announcement would have had me hitting the sell button at 8am. It might turn out alright, but why take the risk?
Other companies in the sector might be worth a closer look. I say that because it is reported that the Govt might be considering another scrappage scheme, to boost new car purchases. Call me old fashioned, but I would prefer to home in on a company where there has not been accounting irregularities! I'll probably re-visit the numbers for Vertu Motors (LON:VTU) . Companies in this sector have lots of freehold property usually, so they're interesting hybrids of property amp; car dealing companies.
Are cars big ticket items? Not really, as these days most are sold on personal leases, with affordable monthly payments. There could be pent-up demand, as we come out of lockdown.
.
---
Tt Electronics
(LON:TTG)
Share price: 194p (up 9% today, at 16:04)
No. shares: 164.1m
Market cap: £318.4m
TT Electronics plc ("TT", "the Group"), a global provider of engineered electronics for performance critical applications, publishes the following Trading Update on the Group's performance in the five months to May 2020.
This group seems to have traded relatively well during the crisis, and is recovering nicely now;
… Group revenues in the first quarter were 11% lower than the prior year on an organic3 basis and for the five months to May were 14% lower organically, reflecting both reduced economic and industrial output globally and the direct impact of COVID-19 related restrictions. The peak of the disruption was experienced in April (21% organic reduction) and some sequential recovery in revenue was already evident in May. The order book at the end of May remained broadly in line with the prior year on a like-for-like basis…
It has reduced costs amp; conserved cash.
Restructuring – a hefty bill here, of £18m, for restructuring amp; capex, half to be spent in 2020. Good benefits though;
Full year run rate benefits from these projects will be £11-12 million in 2023, with initial benefits in 2020 and 2021 helping to mitigate the demand slowdown in certain end markets and protect the Group's margin improvement plans.
Recent acquisitions are going well. Looking at further acquisitions.
Outlook comments - general, but upbeat.
My opinion - this looks good. Covid is bound to have had some impact, but it doesn't sound serious. The restructuring cost-cutting looks set to improve future profits. I like this – worth a closer look.
.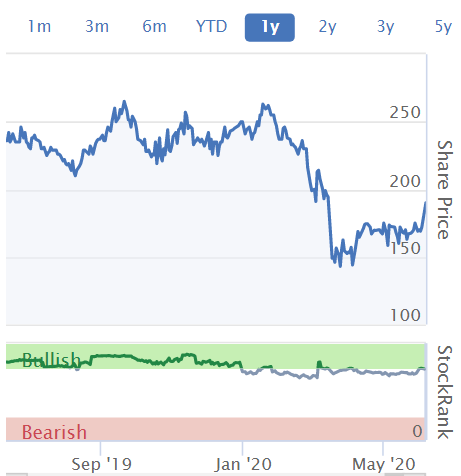 .
---
Solid State
(LON:SOLI)
Share price: 625p (up 14% today)
No. shares: 8.54m
Market cap: £53.4m
Solid State plc (AIM: SOLI), the AIM listed manufacturer of computing, power and communications products, and value added distributor of electronic components, announces a trading update and notice of results for the 12 months ended 31 March 2020.
This looks surprisingly positive;
The Board is pleased to announce that trading since the update given on 15 April 2020 in respect of the first two months of the new financial year has been ahead of management's expectations, despite the impact of the COVID-19 outbreak.
Although it sounds as if the company is benefiting from a strong order book which sounds like it is running down somewhat – hence the pain might only be deferred possibly?
We are seeing and expecting some slowdown in order intake but the diversification in our sector and product exposure, and strong open order book, is providing some resilience to the effects of the COVID-19 outbreak.
It says food retail amp; medical sectors are compensating for slowdown in other sectors (e.g. oil amp; gas, aviation).
Using technology to win new orders, e.g. online meetings for agreeing design amp; spec.
Order book is £37.9m, up 6% on last year. Not stated whether this is like-for-like, or if benefits from acquisitions.
Liquidity looks fine – net cash of £4.5m, and unutilised RCF of £7.5m.
Outlook – uncertain. Serves sectors which likely to benefit from Govt stimulus, so well placed.
Dividends – held level with last year. Final divi of 7.25p – sends a strong signal that the business is OK.
Results presentation – good to see that another company has signed up for the Investor Meet Company platform, which I like. A results presentation will be done through IMC on 30 June 2020.
My opinion – I'm impressed with how the company seems to have sailed serenely through this crisis. Although the slowdown in order intake could be seen as a mild profit warning.
This type of company is never going to attract a high rating. The share price has reflected the fact that the company has traded well through the crisis. The price looks up with events now, in my view, so I can't see any point in getting involved at this level.
.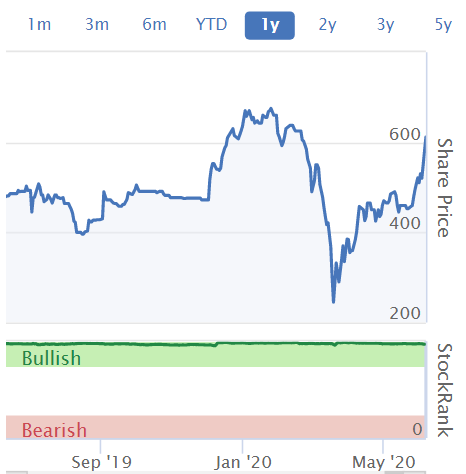 .
---
A few quick comments to round off, as I need to go for my constitutional;
Actual Experience (LON:ACT)
Embarrassingly poor interim results. Only £972k revenues. It would have to increase revenues by a multiple of 6 times, just to achieve operating breakeven.
This company is a jam tomorrow, heavily loss-making digital analytics business. It told a compelling story when it floated in 2014, but the financial results since then have been pathetic.
It talks about future contract wins in today's commentary, but given the poor track record, who would want to gamble on it achieving commercial success?
---
Amigo Holdings
(LON:AMGO)
Some fractious comments from the outgoing Chairman in today's update. Large liabilities appear to have arisen from customers lodging complaints. Deal to sell the company has fallen through because of the economic situation. Looks very high risk to me.
---
Speedy Hire
(LON:SDY)
April – revenues down 35% vs LY, but higher than expected.
May – activity levels steadily improved (no figure given) as customers resumed activity.
Last week (ending 5 June) – improved to -17% vs LY.
Furloughed 50% of workforce in April, reduced to 33% as at 5 June.
Liquidity looks fine – strong cash collections from customers in April amp; May, plus Govt support measures, resulted in net debt actually falling 14% to £68m between 31 March to 31 May 2020. Plenty of headroom, with £180m bank facility, committed to Oct 2022. Confirms scenario testing fine, even in prolonged period of reduced trading activity.
Problems at its Geason training business. Trading below expectations, and possible £2.6m claim from a funding body, relating to overpayments amp; poor financial controls. Probably not material to the group as a whole.
Guidance – remains suspended, due to economic uncertainty.
My opinion – the company really should be resuming guidance by now.
The share price has recovered to where it was last summer/autumn, which doesn't entirely make sense to me, given that the outlook seems far worse than it was then. I suppose it's possible there could be pent-up demand to be unleashed, but given that it's a hire company, lost business cannot be recouped.
It might recover a bit more, but there's probably better upside potential on other shares. The other thing to consider is that a lot of boring companies will probably be focusing more on balance sheet improvement, instead of paying divis. Therefore this type of share is less attractive for investors.
.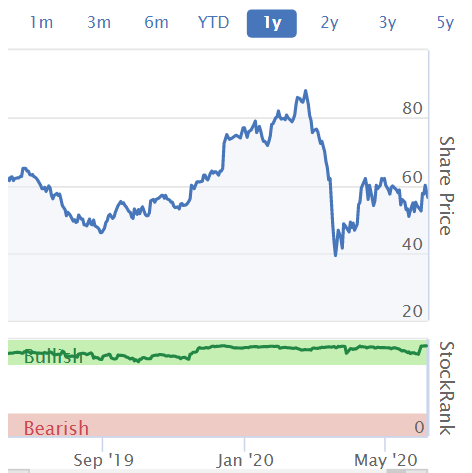 .
---
All done for today. See you tomorrow morning.
Best wishes, Paul.
Source:
https://www.stockopedia.com/content/small-cap-value-report-mon-8-june-2020-rbg-upgs-look-ttg-soli-act-sdy-618273/
Before It's News®
is a community of individuals who report on what's going on around them, from all around the world.
Anyone can
join
.
Anyone can contribute.
Anyone can become informed about their world.
"United We Stand" Click Here To Create Your Personal Citizen Journalist Account Today, Be Sure To Invite Your Friends.