Small Cap Value Report (Fri 11 Sept 2020) - DC., DTG, HFD, MIRI, MCB
Friday, September 11, 2020 8:09
% of readers think this story is Fact. Add your two cents.

Good morning, it's Paul here, with Friday's SCVR.
Here's the link for yesterday's full SCVR, which I finished off in the evening, and now covers Epwin, Speedy Hire, and Anpario, as well as earlier sections on Victoria, Saga, and Dunelm. Some interesting companies there. I've been very encouraged by quite a few interesting situations which are emerging at the moment.
Broker forecasts – opportunity
There's a really good opportunity at the moment, to work out which companies have badly wrong broker forecasts out on them. Some brokers are too optimistic (or forecasts are old amp; out-of-date), and some are ignoring strong current trading, hence issuing woefully pessimistic forecasts. If we spot the right ones, then there's good money to be made in some shares, I reckon. Hence it's more important than ever to closely scrutinise trading updates amp; outlook comments.
Lack of guidance – not acceptable
It's a really poor show that some companies are still refusing to give full year guidance, given that we're most of the way through 2020, and it's pretty clear that a gradual economic recovery is gaining traction.
Companies don't have to give precise profit or revenue forecasts, but they could give guidance on this basis:
Base case (i.e. management's reasonable forecast, which they will all already have internally), then an
Upside case, and a
Downside case (renewed lockdowns, etc).
Why can't they tell us (the owners of the companies!) this basic information? Failure to provide guidance at this stage is, I think, unacceptable, and investors need to start putting pressure on companies to give proper guidance – a range of possible scenarios to the market. I note that they do this when they want to raise money! And sometimes the auditors force them to reveal stress testing in audit reports (very useful). We need proper disclosure of future guidance, not the feeble excuse that it's too uncertain. They all have forecasts internally, so we need to see them too. It's wrong to keep the owners of the company in the dark.
Halfords is a great example (below) of best practice. This is an excerpt from the SCVR for 7 July 2020, where I highlighted the brilliant scenario examples given by Halfords. We should have this information provided by all companies. Absolute transparency. Why ever not?:
.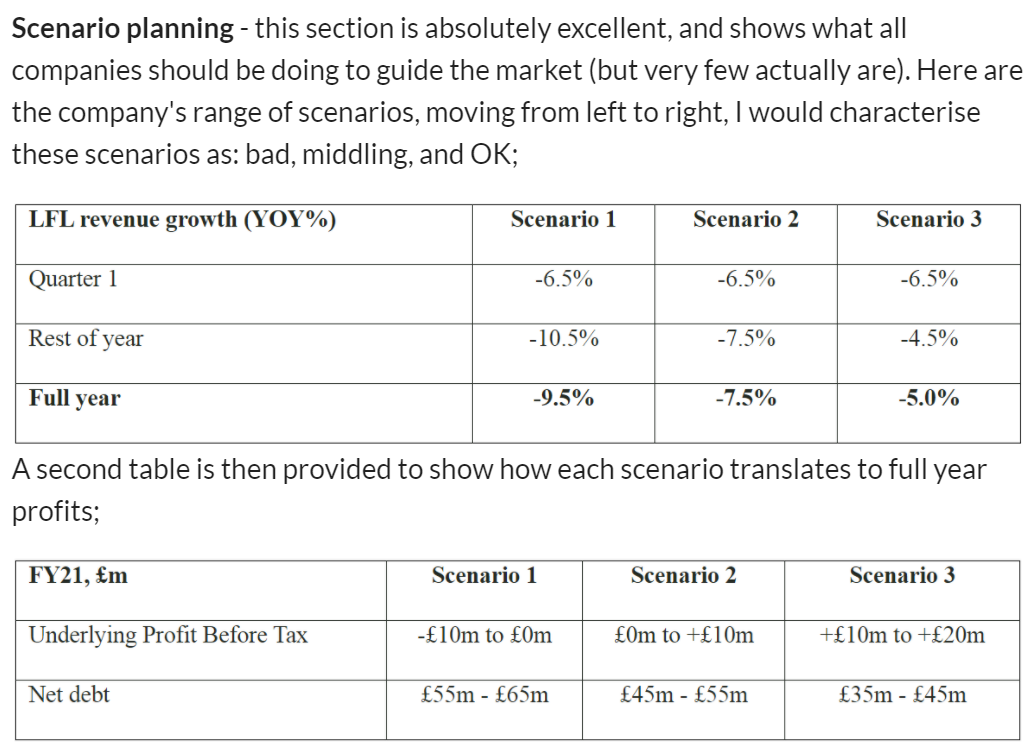 .
Today's agenda - there's nothing of interest in the small caps area, so I've gone through my notepad and picked up a few announcements that I intended to look at, but didn't have time earlier this week. Not all of these are small caps, but I'm looking into them for wider macro read-across, and because they're on my watchlist as possible purchases for my personal portfolio (I'm happy to buy mid or large caps, if they look appealing).
Dixons Carphone (LON:DC.) – a reader request, which sounds potentially interesting, trading update yesterday
Dart (LON:DTG) – I'm toying with the idea of buying back into this airline/travel group at some stage, but it might be too early – AGM statement a few days ago
Halfords (LON:HFD) – trading update earlier this week
Mirriad Advertising (LON:MIRI) – flagged up by PR firm Yellowstone Advisory, in the comments here earlier this week
Mcbride (LON:MCB) – final results from earlier this week
.
---
Dixons Carphone (LON:DC.)
Share price: 88p
No. shares: 1,166.5m
Market cap: £1,026.5m
This is a reader request. I've not looked at this share for years, because I assumed it was just another old-style retailer, doomed to eventual failure due to increasing internet competition and uneconomic shop leases. The Stockopedia graphs below reinforce that impression, with declining revenues and profits. The lighter blobs are forecasts, which don't look realistic to me (why would profit go up now?), on first impressions;
.

.
Results for 52 weeks to 2 May 2020 – I've reviewed these, as background before I look at the latest trading update. Key points;
Adj pre-tax profit fell 47% to £194m (LY: £363m)
Most concerning issue is the UK amp; Ireland Mobile division moved heavily into losses of £(104m) – this looks a serious problem
Nordics region is very profitable, so shouldn't be seen as just a UK business
£284m net debt doesn't sound to bad, but the rest of the balance sheet is a car crash: NTAV negative, at £(990m) – which includes a large pension deficit (annual cost £46m), plus large lease liabilities
Margin pressure (I suppose this is inevitable, with generic products, lots of competitors, people comparing prices online)
Online sales are 35% of total UK amp; Ireland electrical division sales – impressive
This is starting to look like something I'd be more likely to short, than to go long.
Latest trading update from yesterday, 10 Sept 2020. This covers the 17 weeks ended 29 August 2020, so that's the new financial year to date FY 04/2021, i.e. May, June, July and August 2020.
Strong sales in all markets with outstanding online performance
UK amp; I Electricals – LFL sales up 12%, impressive.
Online is strong. I'm impressed that the growth rate post-lockdown is still excellent;
Online sales more than tripled year-on-year while stores were closed, and have continued at more than double last year's sales since stores reopened. Online market share gains every month and overall share gains since stores reopened
Dixons Travel stores down 90%, which is a 5% hit to total electricals sales.
Gross margin down, but not quantified
Cash - this appears impressive, but we're not told whether or not creditors have been stretched, so I'd want to see the full numbers before drawing any conclusions from this;
The Group is in a net cash position – which is a substantial improvement on this time last year – and has continued access to over £1.3bn of available committed debt facilities
Outlook -
We've started the year well, but nobody knows what the future holds and, like many, we remain cautious in our outlook.
We're also in the early stages of exploring the option of listing a minority stake of our Nordics business next year. This would shine a light on the value of the Nordics business whilst retaining it as part of the Group."
That's an interesting possibility. The Nordics business is very profitable, and there might be some shareholder value to be extracted by listing it separately, a part-disposal to generate some cash, is the way I see that.
My opinion – viewed in isolation, this trading update reads well. However, it glosses over the reality that this is a low margin sector, with lots of competition, and whilst the business is doing well online, it is also saddled with all the historic baggage of expensive shop leases, and a pension deficit. Hence I reckon slowly disposing of its shops as leases expire, and servicing the pension deficit, could end up swallowing most, or even all future cashflows amp; profit. Therefore I would treat the dividends as not likely to last much longer. There could also come a point where suppliers may not be able to get credit insurance, hence the massive £2.0bn trade creditors which essentially funds the business, may not be sustainable in the long-term.
Short term, it sounds like things are going OK. Longer term, I wouldn't be surprised to see this share go down the pan, along with so many other traditional retailers. The online business is strong, but lower margin. I'd like to see the split of profits between physical amp; online, and then compare the valuation with competitor Ao World (LON:AO.) which of course doesn't have the historic problems of a retail store portfolio, nor pension deficit.
Overall, I definitely wouldn't go long of DC. and it's something that might make a good short at some point, possibly.
As we've seen with Gear4music Holdings (LON:G4M) – there's very little money to be made selling large quantities of generic, low margin products. The money is from chasing higher margin products, and developing own brands at higher margins. I can't see much chance of that happening here, as electricals are so easy to buy from anywhere. We tend to have our favourite brands (e.g. I always buy entry-level Bosch appliances, because they're such good quality, never go wrong, and last forever, without being particularly expensive). It doesn't matter to me who the retailer is, I just want a specific product at the lowest price, and with quick delivery. Hence it's always going to be a race to the bottom in terms of price amp; margins. Hence a deeply unattractive sector.
The 5 year chart below is a bucket of cold water over anyone feeling positive about this share! It just looks like a structurally declining business from that chart. What is going to change any time soon? Online sales possibly, but that then leaves billions of historic problems to deal with – i.e. lease liabilities, pension deficit, principally.
Note that the Altman Z-score is flashing red, confirming my view that this business is financially distressed on a balance sheet basis.
.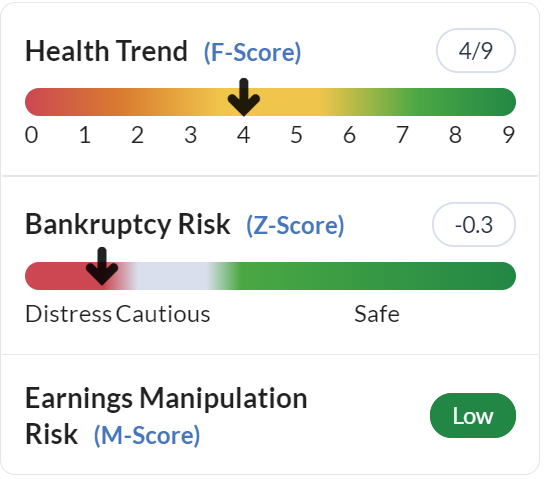 .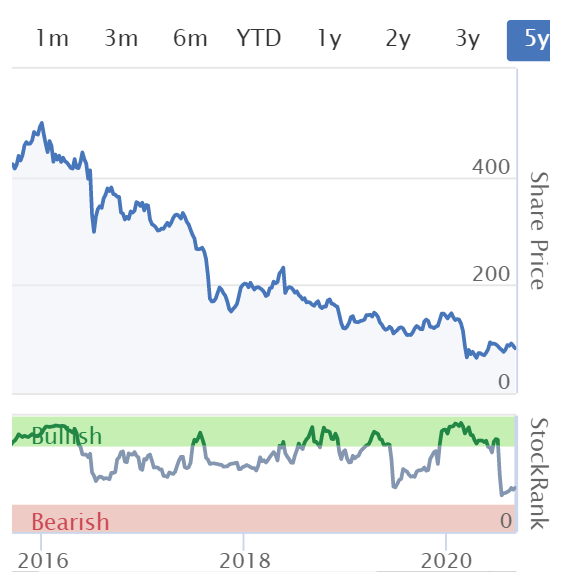 .
The reader who asked me to look at this, is probably regretting that request now!
---
Dart
(LON:DTG)
Share price: 711p
No. shares: 178.7m
Market cap: £1,270.6m
Annual General Meeting Statement and Proposed Name Change
Dart is an airline Jet2.com and package holidays group, focused on value for money, so not dependent on the previously lucrative business travel market. It has a financial year end of 31 March 2021. Therefore, FY 03/2021 figures are likely to look awful, including the whole covid period (hopefully). It's potential strong recovery in FY 03/2022 which makes this share potentially interesting, together with its superb track record over the pre-covid years.
This announcement came out on 3 Sept 2020.
"After grounding our aircraft fleet in mid-March, we were pleased to resume operations on 15 July, gradually ramping up Summer 2020 flying to approximately 40% of our planned destinations for August, ensuring we could provide as many of our customers as possible with their well-deserved and eagerly anticipated summer holidays….
I notice that says 40% of planned destinations, which strikes me as ambiguous. That could be completely different from 40% of flights, or 40% of passengers. Also, what about the costs of keeping the rest of the planes grounded? That must be costing a bob or two.
This next bit reassures somewhat, as crucially the load factors sound OK (but no figures given);
Whilst there have been setbacks, such as the imposition of quarantines and evolving guidance from the UK Government, we have been satisfied with the average load factors and financial contribution achieved to date and will continue to add further capacity, as appropriate, for the remainder of Summer 2020, supported by our quick to market, flexible operating model.
Winter 20/21 bookings – are behind available seats, and pricing needs to be competitive – not so encouraging.
Summer 2021 – much more encouraging news here. It strikes me that, having been denied a summer holiday in 2020, many people must be looking forward to 2021, and booking up in advance. Since airlines need the cash up-front, that's very helpful;
For Summer 2021, we plan to fly to all our popular leisure destinations with an appropriate, tailored level of service, which we anticipate will be close to Summer 2019 seat capacity levels.
Bookings to date are encouraging, with average load factors ahead of the same point last year and package holiday customer numbers as a proportion of total departing customers showing a material increase.
This augurs very well for the future, but it relies heavily on covid being at least under control, or eliminated, by summer 2021.
Liquidity – sounds good, but it's not clear if this is net cash, or gross cash?
As at 28 August, our Total Cash balance was £1,064m, with an 'Own Cash' balance (excluding customer deposits) of £629m (at 31 March 2020: £1,387m and £520m respectively).

Additionally, the Bank of England Covid Corporate Financing Facility of up to £300m of funding is currently unutilised.
Name change - to Jet2 plc, to reflect the focus now that Fowler Welch has been sold.
My opinion - we've only got partial information in this update. It says nothing about profitability, so we're flying blind in terms of how to value this share.
It's clearly not in any solvency risk, with plenty of liquidity. Also I'm encouraged that a fair bit of flying has resumed, and they're happy with load factor (i.e. bums on seats) and financial performance. Nothing is said about air freight, and I wonder if there could be upside from re-purposing some planes for that, on a temporary basis?
This share is a straightforward bet on covid being defeated in the spring of 2021, with enough treatments, testing amp; maybe vaccines, to allow air travel to get back to normal. If that happens, then I think you would see a substantial re-rating of airline shares, and Dart is the pick of the bunch for me.
In that scenario, I reckon Dart shares could double, or even more. In addition, as it's securely financed, then even if the scenario next year is less rosy, Dart should probably still be solvent, whilst weaker competitors might go under. Although flag carrier airlines are usually seen as too prestigious for Govts to allow them to go bust. Are they direct competitors to Dart though? Probably not, in most cases.
The downside risk here is that, since covid has not been eradicated this summer, the autumn/winter is looking increasingly likely to see a second wave. That's bound to cause negative investor sentiment, and it's difficult to see UK investors being prepared to take a sanguine view – collectively we seem far less prepared to look through covid than, e.g. US investors.
Overall, I'm tempted, but on balance have decided not to be brave, and instead I'll watch from the sidelines for a more attractive entry price. If I miss a big re-rating, then so be it.
.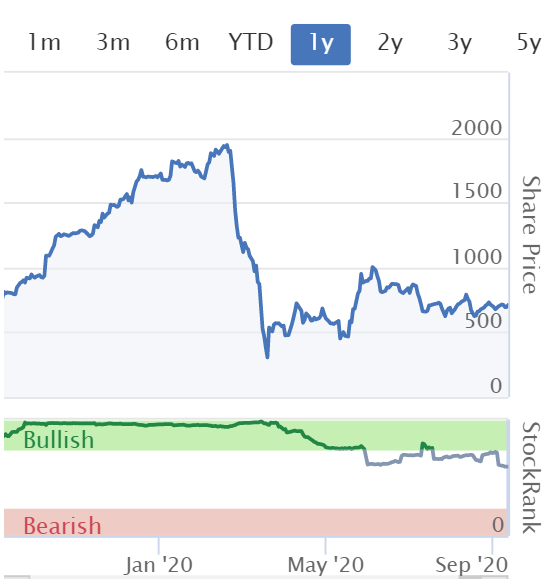 .
---
Halfords
(LON:HFD)
Share price: 192p
No. shares: 199.1m
Market cap: £382.3m

Halfords has an end March year end, so this update covers April-August 2020. That includes the lockdown period, although most Halfords sites continued trading, being classed as essential services – a key advantage, and reassuring if you fear a second wave of covid.
LFL sales up 5.0% over the 20 weeks, fuelled by trend for cycling amp; staycations (some of which is likely to be a one-off, I imagine)
Online sales, and gross margins, both strong
Clear guidance is given for H1, but not H2;
Assuming expected demand levels in September and stability in the relative value of the US dollar, underlying H1 FY21 PBT1 is expected to be in the range of £35-40m.

Significant uncertainty remains for H2 FY21 . Given the natural fall-off in the relative strength of cycling and staycation products during winter months, alongside a difficult economic outlook, H2 FY21
PBT could be significantly lower than H1 FY21.
Online - it's vital that businesses adapt to the internet, or die, with only a few exceptions (Primark springs to mind). Halfords seems to be doing well here;
In the last 12 months we have tripled our investment in the ongoing development of our web platform to enable a dramatic shift to online ordering, with sales up +160% year-on-year and representing 54% of total revenue in the period.
That will include booking MoTs, etc, at its service centres, as well as selling products. I've used Halfords for an MoT, and to buy a stereo, and was happy with both.
There's a lot more information in the RNS, including a superb table of revenues amp; LFLs in good granularity, by month, and by division. This shows how strongly the business bounced back from weak trading in April amp; May, and has since recouped lost sales.
My opinion - I started off with a fairly negative impression, but working through this update, became more positive. I particularly like the resilience throughout covid/lockdown, and the strong move towards online. The shop leases could be a problem in future, although large sheds are better than town centre sites, as we've seen from e.g. Dunelm and ScS (I hold), customers seem happier to visit retail parks than town centres.
Is it worth £382m though? I honestly don't know. It's difficult to value because the future is uncertain. Therefore I'm neutral.
.
---
.
.
(work-in-progress – finish time is c.1pm)
Source:
https://www.stockopedia.com/content/small-cap-value-report-fri-11-sept-2020-dc-dtg-hfd-miri-mcb-663433/
Before It's News®
is a community of individuals who report on what's going on around them, from all around the world.
Anyone can
join
.
Anyone can contribute.
Anyone can become informed about their world.
"United We Stand" Click Here To Create Your Personal Citizen Journalist Account Today, Be Sure To Invite Your Friends.