Small Cap Value Report (Wed 16 Sept 2020) -BOTB, LGRS, ACSO, BRCK, EYE
Wednesday, September 16, 2020 8:09
% of readers think this story is Fact. Add your two cents.

Good morning, it's Paul here with the SCVR for Wednesday.
Timing – I'm a bit tired today, so will have a rest, then come back and do some more after lunch.
.
New Look amp; Turnover Rents
Fashion retailer New Look seems to have survived to fight another day, with creditors agreeing to its second CVA in recent years, voted through yesterday. Apparently this involved a 3-year rent holiday on some shops, and the majority moving to turnover rents (where rent is a % of turnover, rather than a fixed amount). This will give New Look a big, and unfair, competitive advantage over its rivals that are still stuck paying excessive rents under old leases. Paradoxically, it's the weakest retailers that are able to force through improved rental terms. Thus the weakest survive, and the strongest are punished – surely the opposite of what is supposed to happen?
Quiz (LON:QUIZ) (I hold) recently announced that it has successfully moved most of its physical stores onto turnover rents, after it did a pre-pack administration. If landlords don't play ball, then they're given the keys back, and have an empty store. Quiz walked away from about a dozen stores where it couldn't agree revised terms with landlords.
I think this is now looking like an unstoppable, structural change. In order to survive and prosper, retailers need to restructure their leases onto new turnover rent arrangements, and to develop a strong online offering. There are two ways to restructure the leases – either through an insolvency process (pre-pack administration or CVA), or gradually over many years, as the leases individually come up for renewal. It's difficult to see why anyone would now sign a conventional 15-year lease on fixed rent, with 5-year upward-only rent reviews. Maybe only for prime sites, but everywhere else, rents are likely to come down a lot, and be based on turnover rents. This is likely to be extremely painful for the owners of shopping centres, but ultimately is the right way to revitalise physical retailing.
Personally, I've decided to limit my investments in physical retailers to companies which bite the bullet, and restructure. So Quiz is now one of my largest long positions. A decently profitable business should emerge over the next year, now that all the leases have been jettisoned, and replaced with shorter term, turnover rent arrangements. Also it has a well-established online operation, and cash in the bank. Its niche in special occasion wear is obviously not ideal at the moment, but it's already pivoting into more casual wear, and the special occasion side of things will eventually return, once people can gather in large groups again, post covid.
Boohoo (LON:BOO) (I hold – my largest long position at present) was alleged to have been waiting in the wings to pick up New Look's brand, and online operations only, from administration. I've heard a rumour that this might have been leaked to the press by someone on New Look's side, to help focus the minds of the landlords into supporting its CVA – on the basis that the BOO alternative would result in all the shops closing permanently. This time, BOO has been thwarted, but having done 2 CVAs now, I wonder how long New Look survives in its current form? CVAs are often (usually even) a deferral of business failure, rather than a solution.
That said, turnover rents are a godsend. I used to financially manage about 50 shops on turnover rents, and all but 1 were consistently profitable. The rent just moved up amp; down (subject to a floor- "base rent") each month, in line with revenues. It was a perfect arrangement, so it's great to see this now spreading into High Streets and shopping centres – I reckon it's the way retailing could get back on its feet, but at ruinous cost to landlords of course. We typically paid between 8-12% of turnover in monthly rent. Base rents were so low, that they rarely kicked in. Under that arrangement, site profitability was almost guaranteed, and the landlord shared in the success of each site too, together with inflation protection. So they actually do make sense for landlords in some cases too.
The big question is whether companies like Superdry (LON:SDRY) which are saddled with horrible legacy rental costs, are able to survive long enough to restructure their leases? Personally I wouldn't gamble on that, it's too risky.
.
Today's agenda;
Best Of The Best (LON:BOTB) – Trading update amp; bid talks
Loungers (LON:LGRS) – Full year results
Accesso Technology (LON:ACSO) – Half year report
Brickability (LON:BRCK) – Final results
Eagle Eye Solutions (LON:EYE) – Final results
.
---
Best Of The Best
(LON:BOTB)
Share price: 1725p (up 6% at 08:52)
No. shares: 9.38m
Market cap: £161.8m
(I hold)
Best of the Best PLC, (LSE: BOTB) the online organiser of weekly competitions to win cars and other lifestyle prizes, is pleased to provide the following update on trading ahead of its Annual General Meeting to be held at 12.00 noon today.
This relates to the current financial year, ending 30 April 2021.
Earnings guidance was raised massively earlier this year, check out the usual Stockopedia graph;
.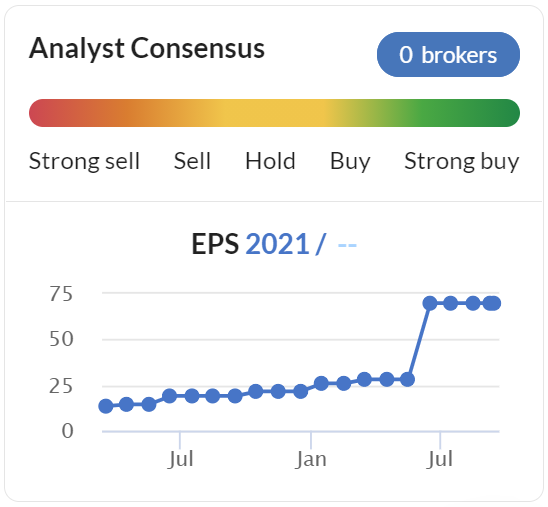 .
In the above context, it's all the more remarkable that we're getting another upgrade today!
Trading for the year to date has been stronger than expected at the time of the Company's final results (as announced on 15 June 2020). The momentum that built through the previous financial year has been maintained, resulting in a strong performance for the first four months of the new financial year and is expected to continue.

This leads the Board now to expect both revenue and profits for the full year ended 30 April 2021 to be ahead of previous management expectations.
It's an online-only business now (the airport stands have all gone), and in the last year or so, BOTB seems to have really cracked its marketing strategy, which is delivering remarkable results.
I wonder where earnings could go? Could we be looking at 100p for the current year, at a phenomenal growth rate, who knows where that could head in future?
Update on sale process – discussions ongoing with a number of parties, after a lull over the summer. Usual wording saying that a deal may or may not happen.
My opinion – this share has been a long-standing favourite here, so I hope some readers have made a few quid on it. It's been a big winner for me this year, which has mopped up losses from several other less successful investments, e.g. Revolution Bars (LON:RBG) which has been a bit of a disaster, due to covid.
If BOTB earnings are heading for maybe 100p+ (unthinkable not long ago), then the bid premium in the current share price has already been overtaken by events. Arguably the price should be much higher than 1725p, which would only be about 17 times earnings. If we rate it on a PER of say 40 or 50 (justified by the earnings growth), then the share price could possibly be 5000p, or 3 times the current level, in due course. That's an upside scenario anyway, which may or may not happen.
I've already top-sliced my personal position in the company, as I thought the likelihood of a takeover bid might be receding. That's looking like a mistake now. Today's update makes me much more inclined to sit tight on my remaining position, and maybe even start buying some more.
Identifying companies which are successfully transitioning to an online business model does seem to be a very good investment theme. It's worked a treat here, so I'll be keeping my eyes amp; ears open for other similar under-the-radar opportunities.
.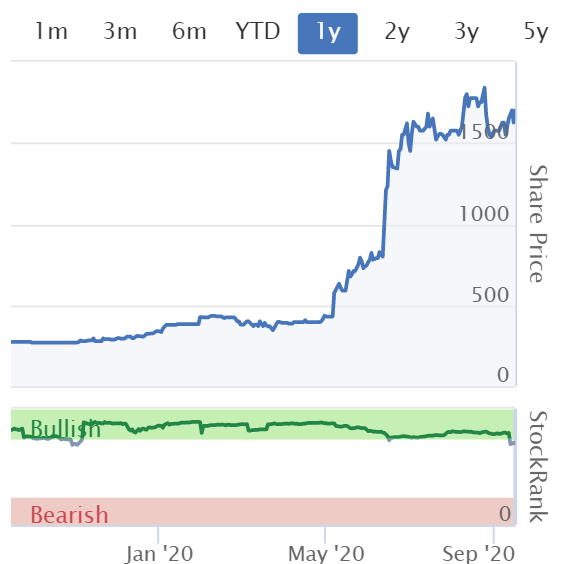 .
---
Loungers
(LON:LGRS)
Share price: 174p (up 14%, at 10:12)
No. shares: 102.4m
Market cap: £178.2m
(I hold)
Loungers ("the Group") is pleased to announce its audited results for the 52 weeks ended 19 April 2020 ("FY20″). Loungers is an operator of 167 café/bar/restaurants across England and Wales under two distinct but complementary brands, Lounge and Cosy Club. The Group's sites offer something for everyone regardless of age, demographic or gender and the Group operates successfully in a diverse range of different sites and locations across England and Wales.
The 52 weeks ended 19 April 2020 is not only a very strange year end, but it's also only a few weeks into lockdown, hence these results are not of any particular interest. More important, is how the business is currently trading, after re-opening, and what the outlook is like.
The highlights section usefully shows results under both IFRS 16, and IAS 17. This shows clearly how IFRS 16 has rendered EBITDA as a useless measure, for multi-site companies, because it now excludes a lot of property rental costs. IAS 17 (old) EBITDA is a useful number, at £18.8m (11.3% margin). That's down from 13.5% margin the year before, so not great, but probably caused by covid/lockdown at the end of the year.
IFRS 16 has also messed up the net debt figures. On the old basis, which banks amp; most investors still prefer to use, net debt was £35.0m. Under IFRS 16 (including lease liabilities) this balloons to £139.9m. Rents due for future years are not debt at all. They're future years operating costs, so should not be on the balance sheet at all. The old system was far more logical, reflecting reality, as lease liabilities were only provided for when a site was trading at a loss, with an onerous lease provision. If a site is trading profitably, then its lease is not a problem, and it shouldn't appear anywhere on the balance sheet. Putting in notional, huge assets, and notional huge liabilities, under IFRS 16 rules, is madness amp; messes up the accounts, requiring manual adjustments to be made to make sense of all the number on Pamp;L, balance sheet, and cashflow. What a colossal waste of time. IFRS 16 needs to be scrapped asap. Whoever dreamed it up should be relieved of their duties.
LFL sales were good, at +4.5%, reported for the pre-covid period, being 44 weeks to 23 Feb 2020.
As we already knew, it's a roll out, with 21 new sites opened in the year.
Let's move on to current trading. This looks strikingly good;
.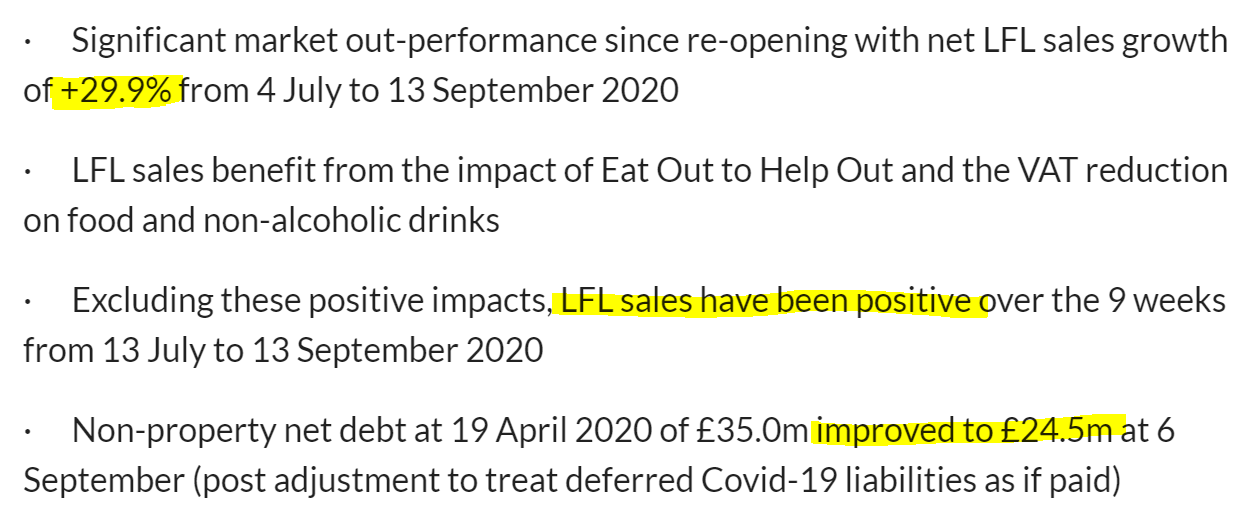 .
This is a little confusing. Clearly EOTHO has been a big benefit in August, as Loungers sites focus quite heavily on food. They do quite a nice cooked breakfast incidentally, when I mystery shopped them. The third bullet point seems to be saying that underlying performance (excluding EOTHO amp; temporary VAT reduction) was still positive, but presumably not by much (we're not given the adjusted figure).
Ah, I've just found clarification on this further into the text, , as follows;
The Group has traded significantly ahead of our expectations. Since re-opening our LFL net sales growth in the period from 4 July to 13 September has been +29.9%. Excluding the positive impacts of EOTHO and the VAT reduction, our underlying LFL sales have been -1.1%, and over the nine weeks ending 13 September 2020 have been positive. This represents a significant outperformance of the market, materially exceeding the sector outperformance we have experienced over the past five years.
I think they've presented this badly. Changing the period above, to show a positive number doesn't look great. Underlying LFL sales of -1.1% is still very good indeed, it didn't need to be tweaked beyond that. That's well ahead of other industry stats I've seen from the competition. Which reinforces the idea that LGRS is a very good operator – something my sector expert has told me from day 1.
The adjusted net debt figure also looks very good.
Balance sheet - is surprisingly weak, with NTAV of only about £1m. Although about £8m was raised in a small placing, shortly after the year end, which will have boosted NTAV to a (still small) c.£9m.
Given what happened with covid, I think Loungers should curtail its expansion programme, not pay divis, and instead build up the balance sheet, so it can take any possible future knocks.
My opinion – I've only skimmed over the main points, there's a lot more detail in the RNS today. Including some useful analysis of pre, during, and post lockdown results. Plus some pro forma figures for the pre-covid 44 weeks, compared with the same period last year, which shows a nice progression of profitability.
The strong trading post-lockdown is very encouraging. The obvious danger is of more lockdowns in future. Press reports of late do seem to link bars generally with local covid flare-ups, e.g. a karaoke night somewhere led to covid spread, apparently in today's papers. A serious second wave in the autumn could result in all pubs being closed again, which is the main risk here. That said, LGRS dealt with the last lockdown with aplomb, and came out of it trading well, so maybe it's not something to be too fearful about with this share?
I only have a small position in my SIPP, and am happy to continue holding after this report today, which reassures me.
It's recovering well, and isn't far off the pre-covid price. It was badly floated, like so many small caps, with large lumpy holdings, so market liquidity is very poor unfortunately. Nobody seems to give any thought to post-float market liquidity.
.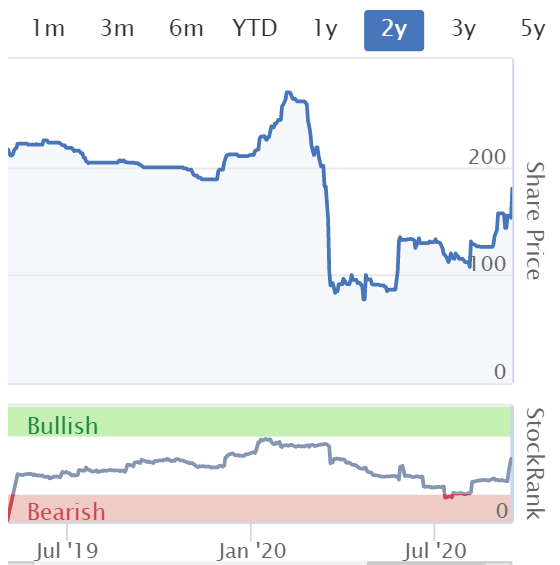 .
---
Source:
https://www.stockopedia.com/content/small-cap-value-report-wed-16-sept-2020-botb-lgrs-acso-brck-eye-665373/
Before It's News®
is a community of individuals who report on what's going on around them, from all around the world.
Anyone can
join
.
Anyone can contribute.
Anyone can become informed about their world.
"United We Stand" Click Here To Create Your Personal Citizen Journalist Account Today, Be Sure To Invite Your Friends.