Small Cap Value Report (Fri 5 Feb 2021) - VTU, ALU, FCCN, CTG
Friday, February 5, 2021 7:57
% of readers think this story is Fact. Add your two cents.

Good morning, it's Paul here with the SCVR for Friday.
Timing - update at 12:02 – sorry, I've been massively distracted by the big news on FCCN, it's now one of my largest holdings, so needed time to properly think everything through. I'm about to start writing the next section on Christie (LON:CTG) which should be up by about 13:30 .
Agenda -
Vertu Motors (LON:VTU) – Trading Update from yesterday
Alumasc (LON:ALU) –
French Connection (LON:FCCN) (I hold) – Two potential cash bid approaches
Christie (LON:CTG) (work in progress)
.
---
Vertu Motors
(LON:VTU)
33.8p (up 2% at 11:22) – mkt cap £124m
This is a chain of car dealerships. I've previously been quite positive on this share, as it has a nice mix of reasonable valuation, and strong balance sheet, with tons of freehold property. So you're really getting a hybrid of a property company, and a car dealer (3 profit streams from new car sales, secondhand, and service/repair/warranty work). That's true of most other listed car dealers, and there's not a lot in it between them, they're all quite similar in my view. Although Lookers (LON:LOOK) had all that previous trouble with accounting misstatements, so that one doesn't interest me.
The current financial year is FY 02/2021, so only a month left to run.
The latest update sounds encouraging -
Group's trading performance ahead of prior year and Analysts' forecasts
The Group announced in early December that trading performance in the nine months ended 30 November was ahead of prior year and original budget levels.
Despite the impact of regional lockdowns throughout December and the national lockdown from 4 January, strong marketing activity, maximisation of the Group's omni-channel retailing functionality and cost control have meant that trading performance in the two-month period to 31 January 2021 continued this positive trend. Overall profit performance also benefited from the previously announced cost reduction programme and the continued business rates holiday on showrooms.
Current trading - February amp; beyond are being amp; likely to be impacted by covid restrictions.
Overall -
… the Board now expect that the trading result for the year ending 28 February 2021, at an adjusted profit before tax level, will exceed the current Analysts' forecasts of around £18m.
Broker updates – many thanks to Zeus and Liberum, as both have made available update notes on Research Tree, that's very helpful.
Zeus has increased EPS forecast by 29%, a big move coming at the end of the year, to 4.9p. Remember that this year will have benefited a lot from business rates relief, and furlough support. Hence we can't assume profits will necessarily rise next year, even if revenues recover (which are down 12% this year). That's a PER of only 6.9
Liberum goes higher still, to 5.1p this year (upped from 3.9p), but is also cautious for next year, at 3.9p.
Balance sheet – from the recent interim results, as at 31 Aug 2020. Scary, huge numbers, as with all car dealers – they have a ton of working capital, financed mainly by trade creditors. But there's £165m of NTAV backing. With a big pile of freeholds, this is a sound balance sheet, nothing to worry about. I've been saying it for years, but I could see this sector being ripe for takeovers – consolidation, or private equity interested in gearing up the freeholds maybe?
My opinion - looks really good value to me. Asset backing from the freeholds.
I like the way Vertu is embracing online marketing amp; sales. Everyone is adapting to the new world, and a lot of these changes are likely to be permanent I reckon.
Downside risk is that people are talking about electric cars taking over in the coming years, and not needing as much servicing, maintenance or repairs. True, but there's still plenty to go wrong, and people still have bumps amp; scrapes.
Even if car dealers have to slowly close down, who cares? They can close freehold sites any time they like, and sell the freehold to Aldi or Lidl! So shareholder value should be protected whatever happens.
Vertu gets a thumbs up from me, as a decent value share.
Looking at the 5-year chart below, it's not been a good buy amp; hold share. Although it's paid about 7p in divis over this period, so the total return has been about zero! That doesn't necessarily mean it won't generate a return in future of course. I'm wondering whether it might be sensible to pencil in a 50p selling price target, if it does rise from the current 34p? That would be a tidy 50% gain, so not to be sniffed at.
.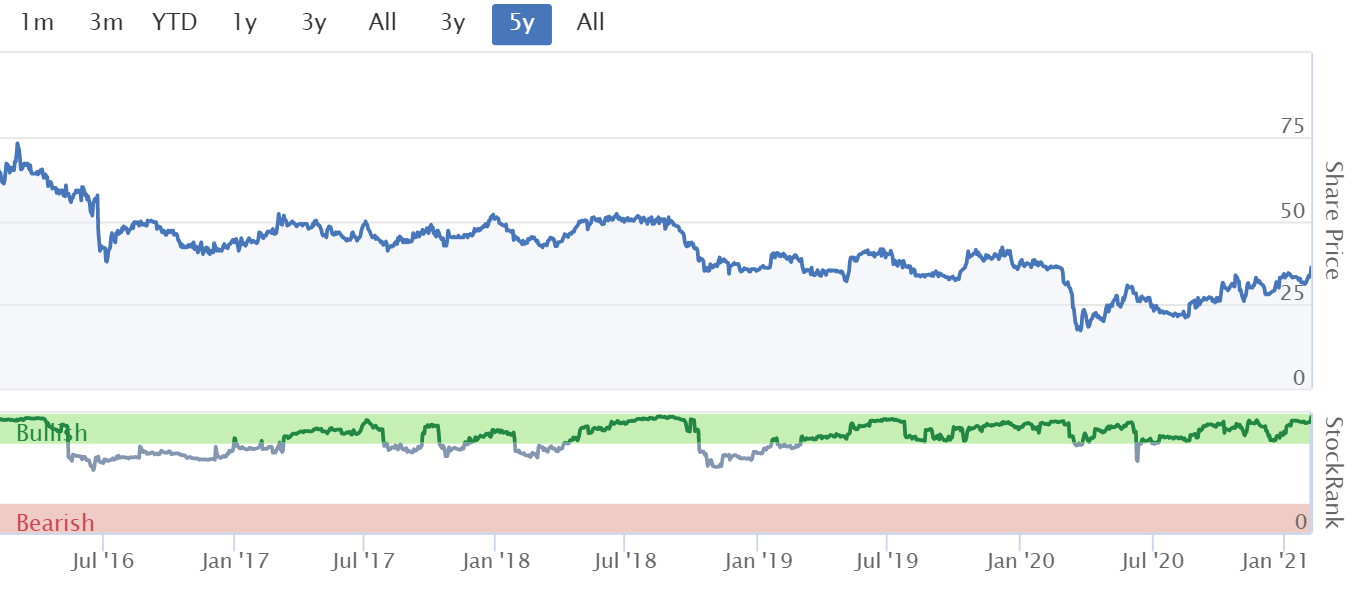 .
---
Alumasc
(LON:ALU)
143.5p (up 1% yesterday) – mkt cap £52m
Interim Results
I reviewed its H1 trading update recently, here. It was excellent, and triggered a 21% share price rise on 19 Jan 2021. Big cash outflows for the pension deficit are a key factor as to why the PER is so low, so make sure you factor that into your calculations. We've been guided to expect £6.0m underlying PBT for H1, a record result.
Alumasc (ALU.L) the sustainable building products, systems and solutions Group today announces results for the six months ended 31 December 2020.
Results in line – it reports £6.0m u/l PBT as expected – an impressive margin of 13% of revenues.
Underlying EPS 13.4p
… successful execution of our repositioning strategy launched in 2019.
Pension deficit (accounting, not actuarial) down to £12.8m (was £19.3m 6 months earlier, boosted by good investment returns)
Strong ESG (environmental, social amp; governance) credentials (see narrative)
Interim divi of 3.25p proposed
Balance sheet - adequate, not strong. NTAV is about £5.6m. If you ignore the pension deficit (which looks a manageable-sized problem), then the rest of the balance sheet looks fine to me.
Forecasts - thanks to Finncap for an update note. They've pencilled in 19.9p adj EPS this year FY 06/2021, which doesn't look demanding, given that two thirds of that has already been achieved in H1.
Next year they estimate 22.2p
That gives PERs of 7.2 and 6.5 – even allowing for the pension deficit, that strikes me as cheap. Also there could be further upside on the forecasts maybe?
My opinion - A|umasc gets a thumbs up from me. With the business performing this well, and the PER this low, I can live with the pension deficit. Looks a quite nice value share.
.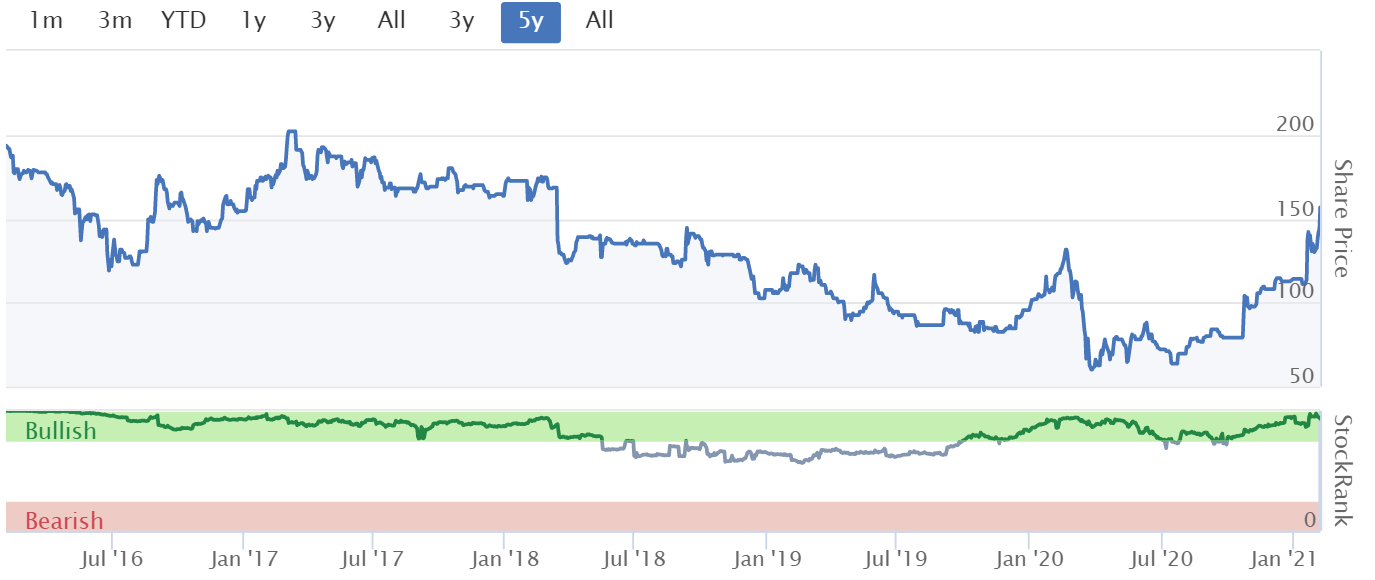 .
---
French Connection
(LON:FCCN)
Share price: 15.6p (last night's close, likely to rise today)
No. shares: 96.6m
Market cap: £15.1m
(I hold)
Statement re share price movement – two separate takeover approaches received
The share price has been going bananas in the last few days, and it wasn't clear to me whether this was something significant happening, or just muppets chasing up the price on momentum, which is happening a lot at the moment.
I was expecting a we know of no reason for the share price movement type of announcement this morning, when I saw the RNS headed "Statement re share price movement".
However, there was a pleasant surprise served up. There have been two separate, early stage approaches from potential cash bidders -
Spotlight Brands (with Gordon Brothers International LLC) - this article says Spotlight was set up by Strand Equity Partners (an American consumer growth equity firm) in July 2020, with $500m, to target fast-growing brands, in deals between $50-100m.
Gordon Brothers seems to be an investment amp; services company, which includes special situation lending. Projects noted on its website include some brands that I recognise including Antler, Laura Ashley, Albemarle amp; Bond.
Go Global Retail (with HMJ International Services Ltd)
Go Global calls itself a brand investment platform. It seems to be a California-based private equity firm. I cannot find anything on HMJ.
My opinion - Founder/CEO Stephen Marks is 75 years old in May, so clearly one imagines is probably not keen to carry on working forever. Therefore it's sensible to assume he'll want to maximise the value of the business, and sell up in the not-too-distant future.
I particularly like retirement sales, and remember we made a killing on a group called Avesco a few years ago on that basis – the founder sold or restructured the loss-making bits to maximise profits, then sold it for about 5 times my entry price. It paid divs along the way too. I wish I could find more situations like that!
FCCN is a valuable brand, and I think it could fetch £40-50m in a sale. The downside risk is that Marks might turn away bidders again, as he did last time, for not meeting his price expectations. It must be frustrating for him, having spent almost 50 years building up the company, but its value now is only a fraction of what it would have been in its heyday.
So we could soldier on for another x years. Although would that be such a bad thing? The problem retail sites are disappearing gradually, and we'll end up with a profitable wholesale amp; brand licensing business eventually.
Personally, I'm in for the duration here, so am intending sitting tight on my shares. The current price of c.20p is nowhere near the level where I would be prepared to sell at. Although I quite understand other investors have different time horizons to mine, so might be happy to top slice or bank their profits in full.
EDIT: Thanks to a subscriber who points out that the shareholdings are very concentrated here. So any sale of the business would require the support of founder Stephen Marks, as he has a blocking stake of 41.5%, and is legendary for his stubbornness, so nobody will be getting this on the cheap.
After that, Mike Ashley's Frasers (LON:FRAS) owns 25%, who is also a legend in his own right! What is it with retailers, why does it attract or create such flamboyant figures?! All part of the fun though. End of edit.
.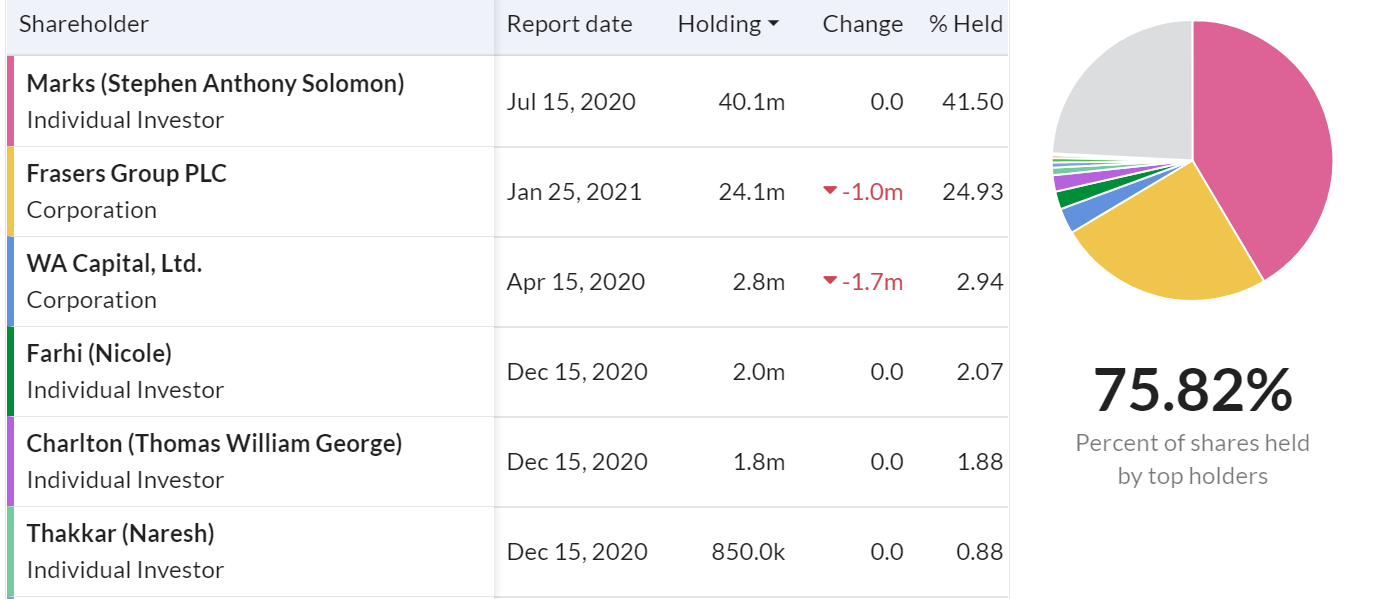 .
---
Christie
(LON:CTG)
95.5p (up 10%) – mkt cap £25m
(work-in-progress – sorry for the delay, I'm on the case now amp; will get this done before I stop for lunch!)
Source:
https://www.stockopedia.com/content/small-cap-value-report-fri-5-feb-2021-vtu-alu-fccn-ctg-756669/
Before It's News®
is a community of individuals who report on what's going on around them, from all around the world.
Anyone can
join
.
Anyone can contribute.
Anyone can become informed about their world.
"United We Stand" Click Here To Create Your Personal Citizen Journalist Account Today, Be Sure To Invite Your Friends.