Small Cap Value Report (Mon 8 Mar 2021) - SHOE, PCIP, Mello,
Friday, March 19, 2021 14:41
% of readers think this story is Fact. Add your two cents.

Good morning, it's Paul here with the SCVR for Monday.
Timing – TBC
Agenda -
Pci- Pal (LON:PCIP) (I hold) – Interim results
Shoe Zone (LON:SHOE) (I hold) – Final results 52 weeks ended 3 Oct 2020
.
---
Mello Monday – tonight
The fortnightly shares extravaganza on zoom, starts at 6pm tonight.
Here's the agenda below, lots of interesting stuff here. I've been roped into doing the BASH panel discussion near the end, so I'd better start doing some preparation for that later. I hope you can join us!
.
.
---
My thoughts on the Budget
I prepared this over the weekend.
Budget – having had time to absorb it all, my overall impression is positive. The measures strike me as mostly sensible measures to extend support where it's needed most.
Hospitality sector – helpful measures that should give a decent boost once they are able to re-open. The BBC is reporting that pubs which have recently opened up online bookings, have been inundated. Revolution Bars (LON:RBG) (I hold) talked about pent-up demand in an update last week. Therefore I think there's little doubt the UK is likely to be heading back to pubs, restaurants and nightclubs en masse this summer. Hence why I want continued exposure to this sector. Despite a strong recent rise, I've decided to sit tight on my RBG shares, and look forward to a we're trading our socks off type of announcement later this year. It's a much better business now, because all the problem sites have been disposed of, and rent reductions agreed on every site where it was needed. Remember the CVA only dealt with a handful of sites where they were not able to agree a consensual rent reduction with the landlords.
As regards restaurants, everything in that sector looks too expensive to me now, so unfortunately the only thing I could find was a highly speculative/risky position in Tasty (LON:TAST) when it was about 3p. It's doubled since, so I sold most of them at 6p, but have kept a few for the longer term.
Stamp Duty – reductions have been extended as expected, but I feel the Govt should be much more radical, and abolish this tax altogether. It doesn't raise much revenue in the overall scheme of things, and probably costs a great deal of lost revenue from other taxes. Imagine if buying/selling houses was quick, easy, and cheap, with no tax to pay. There would be a great surge in moving house, which would stimulate lots of areas in the economy, such as DIY, building, carpets, plus higher payroll taxes from estate agents, lawyers, etc.
The new Govt guarantee for 95% mortgages sounds a good way to help frustrated younger people into home ownership.
Quantitative Easing – also known as the magic money tree! Financial journalists just don't understand QE at all, do they? I've read so many articles bemoaning the dangerous level of Govt debt, at c. £2,200bn. This apparently will be a burden for generations to come. Except of course that is completely untrue! The Bank of England owns £895bn of the Govt debt, so it's not c.100% of GDP at all, it's nearer 60-65%, which is quite modest, and very cheap to service (and getting cheaper all the time, as old gilts are rolled over into new ones at lower interest rates).
Sunak didn't mention QE at all in the Budget, instead talking in conventional terms about the need for financial prudence. I tend to focus on what people do, not what they say. He's done almost as much QE as every other Chancellor in history put together (£400bn since March 2020). His use of the word "honest" reportedly 15 times, is a very good indicator that he's being dishonest! The truth is that QE has funded the covid crisis in full, and there is no need to raise taxes at all – because the deficit will naturally reduce greatly, once the covid support measures end, and backed up tax receipts roll in. But because few people understand that, the politicians instead just lie to us. It's frightening that a humble shares blogger here has to explain the facts, which are being misreported everywhere else. I'm definitely right though – check out the QE section on the Bank of England's website, to verify my facts amp; figures.
Corporation Tax – I think raising this from 19% to 25% delayed until 2023 was a terrible mistake. Ireland demonstrated how having a very low (10% 12.5%) rate of Corporation Tax attracts high quality businesses to their shores, e.g. financial services, and technology companies. Any foregone Corp tax is then offset somewhat through increased payroll taxes on highly paid staff. The whole economy is greatly stimulated, with the spending from those highly paid people.
Surely having just done Brexit, the Govt should have realised that keeping the UK competitive on Corp Tax was a vital ingredient to prevent companies leaving the UK, and even attract overseas companies into the UK? I've also heard from international companies that they have plenty of leeway within the rules to shift profits from one area to another, and obviously they're going to make sure the UK division would make more profit, due to our lower rate of Corp Tax.
Changing tax rates changes behaviour, and I fear that Rishi has made a costly mistake here, raising Corp Tax when Brexit is the key issue determining many companies longer term planning. I can see the logic for why he's done it – that companies have had great support from the taxpayer, and it's payback time. That's an emotional argument which doesn't interest me. All I care about is maximising the UK's competitiveness, and 19% to 25% will hurt that considerably.
Impact on company earnings – of higher Corporation Tax. With 19% Corp Tax, that means companies retain 81% of profits, available for any combination of: reinvestment/capex, paying divis, reducing debt, buybacks, or just hoarding cash. With the higher 25% rate of Corp Tax from 2023, this means only 75% of profits will be available (ignoring other changes). That's a 7.4% reduction in earnings, from 2023, which theoretically should mean share prices should be 7.4% lower. That's going to feed through into lower earnings estimates fro 2023 onwards, which inevitably must put a dampener on share prices. Although with small caps, many don't yet have 2023 broker estimates, so the impact could be delayed. Brokers tend to be too pessimistic at this recovery stage of the economic cycle, so higher Corp Tax could be offset by earnings beats, possibly. Overall though, raising Corp Tax is unhelpful for share prices.
Super deduction for corporation tax, for investment spending. This does sound interesting, and the OBR has forecast it could drive a 10% rise in investment spending, clearly very good for the economy. This could boost shares in companies which provide capital equipment, or which are planning lots of capex.
Online sales/profit taxes – nothing mentioned in the Budget, but the Telegraph is reporting that March 23 will be a key day for a report on this subject. It says that Sunak is talking to other major countries, as these things have to be done through the OECD rules apparently. Janet Yelland is said to be receptive to change. A tax on online deliveries is mooted – tax raising dressed up as a green measure, the way I view it. Will a few pence on a delivery really alter behaviour? I doubt it.
Business rates - after discussing this subject with readers here, I have come round to the view that the Govt does need to level up the tax-raising playing field between physical and online retailers. Although we also need to consider that many online retailers don't make much, if any, profit. Those that are profitable pay corporation tax on profits already.
Business rates is actually a tax on landlords, which is levied on the tenant. So in normal times, if business rates go down, then landlords just raise the rent. That's being masked at the moment by the need to put rents down a lot, to reflect the high level of vacancies. Maybe the answer is to completely reform the system, and get all properties onto turnover rents, and a quarter of the turnover rent has to be paid by the landlord to the Govt? That would be much simpler to operate too. Lots of chartered surveyors would lose their jobs though, as appealing rateable values employs many people in unnecessary amp; unproductive jobs, under the existing outdated system.
Higher inflation amp; interest rates - this is a hot topic at the moment. Some are arguing that rising bond yields should trigger a fall in equity prices. That could be one factor that is causing the US markets to wobble, possibly? I note that NASDAQ has fallen about 10% from its recent peak.
I've got no idea what markets overall are likely to do. Although I do think it's a good time to consider banking profits on very highly rated shares, as many are currently on ridiculously high valuations.
I'm happy with everything in my portfolio, because I don't overpay for anything in the first place. Share prices need to take a breather from time to time, and personally I accept market volatility amp; don't get uptight about it.
.
---
Shoe Zone
(LON:SHOE)
(I hold)
68.5p (down 8%, at 08:48) – mkt cap £34m
New FD – is called Terry Boot, who replaces Peter Foot. Possibly there might be subliminal bias in the recruitment process at Shoezone, favouring people with footwear-related surnames? I've got a friend who's looking for an admin job in their area actually, so I've advised her to change her name by deed poll to Deidre Brogues, she'll be a shoo-in! I'm here all week.
Final Results – 52 weeks ended 3 Oct 2020.
Not a pretty sight, these numbers.
Here are my notes (key points only, this doesn't cover everything) -
Revenues down 24.3% to £122.6m – in line with the trading update on 28 Oct 2020 – obviously the covid lockdown closure of retailers has had a negative impact, no surprise there
Profitability – the company originally said on 28 Oct 2020 that the loss would be £10-12m. Then an update came out on 11 Feb 2021 which I reported on here, saying that the statutory loss would be worse, at £(14.6)m due to IFRS 16 lease adjustments. I note that the previous FD, Peter Foot, left the business 11 days later, with immediate effect, with no explanation provided, and he was not thanked. That sounds like a sacking, I wonder if that was linked to not being on top of IFRS 16?
The reported loss today is indeed £(14.6)m, so that's exactly in line with revised guidance.
Closed 50 stores in the year, a lot. Says that average lease remaining term is only 2 years, but I'm struggling to reconcile that with the large lease liabilities shown on the balance sheet.
Gross margin still very good, at 61.4% – which means profitability should recover decently once the stores are allowed to open again.
Rents down 30.9% on renewal is positive – as with other retailers that have survived so far, rents are gradually resetting to lower levels, but only when leases come up for renewal or have break clauses.
Digital revenues – a bright spot, up 82% to £19.3m. Contribution to profit (i.e. before central costs) of £4.6m is impressive, although online revenues are only 16% of the total – not enough.
Online customer returns rate is only 8.4%, expected to rise to a more normal 10%. That surprises me in a good way, as it's a fraction of the typical 40-50% returns rate for online fashion.
Re-opening of stores 12 April
Unable to forecast accurately, so no guidance provided
Stock overhang of winter products looks large, at £7m (at cost) – tying up a lot of capital until next autumn/winter
Freight rates – good to see this widespread problem being quantified. Cost is £6.5k per container, previously £1.9k), 100 containers per month, that's £460k additional cost per month, or £5.5m per annum – that's a huge problem, so I wonder if we'll start to see a spate of profit warnings from other companies in any sector that imports a lot of product from the Far East? It's looking that way.
Outlook - return to profitability unlikely this year.
Pension deficit – unusual for a smaller retailers, the deficit recovery payments are quite large at £1.4m for the year.
Dividends – we're told not to expect anything until 2025 at the earliest! How can they forecast that, but not give us any guidance on earnings? Seems contradictory to me, as the two are obviously linked.
My opinion - even though the numbers are in line with the last trading update, it does all read as rather grim. Like a lot of other shares, the re-opening trade seems to have taken the share price up too far, so seeing the numbers is giving the market a reality check. I think that's worth bearing in mind for many other re-opening type shares, which have also arguably run up too high (e.g. Card Factory (LON:CARD) as I mentioned last week).
A positive thing about SHOE, is that it's got through the crisis without having to dilute shareholders, hence in time the share price potentially could recover to pre-covid levels.
I like the fact that owner/manager founders still have very large shareholdings.
On balance, I reckon the share price got ahead of itself here, it recently peaked at about 82p, more than double the November low of around 34p. So a pullback to c.70p today looks justified. Maybe it could drop a bit more, who knows? Although as we get closer to re-opening on 12 April – just over a month away – investors might start to look at the glass as being half full again?
As regards my own position here, I did top slice some into recent strength, so am happy to hang on to the rest for the foreseeable future. My feeling is that the vaccinations are clearly a game-changer, so this next re-opening should hopefully be permanent. If you disagree with that, then of course this share (as with all retailers) would very much be an avoid.
.
---
Pci- Pal
(LON:PCIP)
(I hold)
84.5p (up 7%, at 10:10) – mkt cap £50m
Interim Results amp; Investor Presentation
PCI-PAL PLC (AIM: PCIP), the global cloud provider of secure payment solutions for business communications, is pleased to announce its unaudited interim results for the six months to 31 December 2020.
This is a niche software business, which sells to contact centres, allowing them to take secure credit card payments. It's an add-on, which is bundled together with contact centre software, apparently.
The bull case is that it's growing fast, with high margins, high recurring revenues, low customer churn, hence should explode into profitability in the not-too-distant future.
The bear case is that it's historically loss-making, and could end up as another Cloudcall (LON:CALL) (I hold) where costs go up as fast as revenues, with breakeven permanently on the horizon but never reached.
Key points I noted down when reading today's interim results -
Revenues – still small at £3.19m for the 6 months, but rising rapidly +56% organic growth is very impressive in a tough year with covid lockdowns
Recurring revenues are 86% of the total, giving excellent visibility
TACV is the company's preferred measure, which I think is basically the annualised run rate of revenues currently £8.28m (up 59% vs a year ago)
Gross margin is high, at 73% and rising, because new contracts are cloud-based, hence higher margin that previous non-cloud contracts
Low customer churn of lt;5% – a vital metric for recurring revenue businesses, and this is very good
Loss-making still, at £(2.25)m – little changed from £(2.32)m H1 LY. I'm a bit disappointed that all the top line growth ended up swallowed by increased costs – I need to ask management to explain this.
Net cash looks OK at £2.11m, which has risen in the last 2 months, to £2.69m at 28 Feb 2021 – pleasing, as it means another placing could hopefully be avoided. Although with the market cap now up to £50m, a small top-up fundraise wouldn't concern me, as the dilution would be under 10%
On track to achieve FY 06/2021 forecasts
Diary date - InvestorMeetCompany presentation is 10am on Thu 11 March.
Balance sheet – is OK, but not strong. The company has a favourable working capital setup, receiving cash up-front from customers, which means it can operate fine with a lean balance sheet.
£560k of receivables within fixed assets is unusual, I'd like to know what this is.
NAV: only £349k. Deduct the £2,296k intangible assets, and NTAV is negative at £(1,947)k – I can live with that, but it's not ideal.
Development spend of £394k was capitalised in the half year, which is fine, but it needs to be taken into account if you use EBITDA for valuation purposes.
Query - either I've not had enough coffee yet, or there's a typo below. Shouldn't this read "weakening", not "strengthening"?
Included in the administrative expenses is a charge for exchange movements of £0.37 million which has been caused by the strengthening of the US dollar from $1.2540 as at 30 June 2020 to $1.3497 as at 31 December 2020 (2019: £0.16 million) and a depreciation/amortisation charge of £0.35 million (2019: £0.25 million)
My opinion - so far so good, I'm very pleased with the share price here, as more investors are clearly buying into the growth, and the operational gearing which should drive it through to profitability.
As mentioned above, I would query why costs are rising such that all the increased gross profit has been absorbed? I recall in a previous presentation, management said their costs are mainly staff, and they now have the full team they need to continue growing, although I can't remember what timescale that referred to?
To be achieving such strong growth, in a difficult time when many companies have been cancelling or deferring capex, is very impressive indeed.
I don't know how to value this share, and it's one where I don't have any specific price target. I'm just going to run with it, and see what happens over the next few years. A market cap of £50m doesn't strike me as excessive for a fast-growing business with a cloud-based product that is clearly very much in demand.
Note the consistently poor StockRank, a reminder that the Stockopedia computers do not like small, loss-making companies! It's a useful reminder that we have to be very careful with this type of share.
.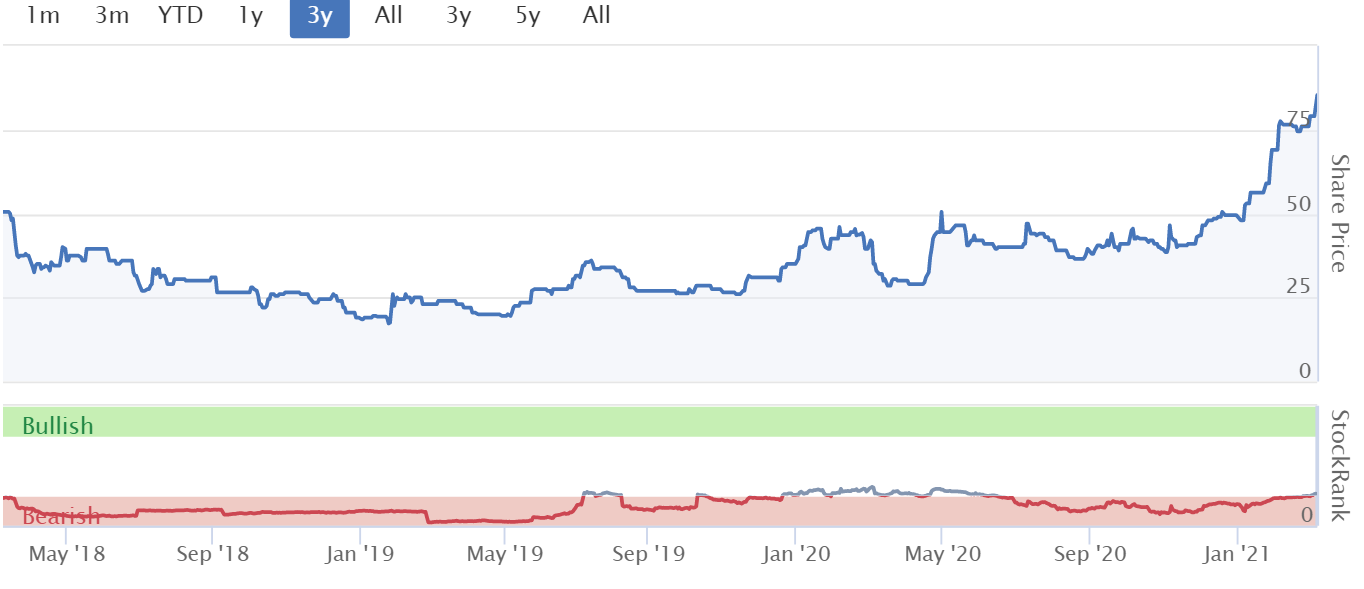 .
---
Source:
https://www.stockopedia.com/content/small-cap-value-report-mon-8-mar-2021-shoe-pcip-mello-775734/
Before It's News®
is a community of individuals who report on what's going on around them, from all around the world.
Anyone can
join
.
Anyone can contribute.
Anyone can become informed about their world.
"United We Stand" Click Here To Create Your Personal Citizen Journalist Account Today, Be Sure To Invite Your Friends.