Small Cap Value Report (Tue 16 Feb 2021) - BWNG, NEXS, CLX, BLTG, SYME, Virgin Wines
Saturday, March 6, 2021 14:25
% of readers think this story is Fact. Add your two cents.

Good morning, it's Paul amp; Jack here with the SCVR for Tuesday.
Agenda -
Paul's section:
N Brown (LON:BWNG) – Substantial Director buying.
Nexus Infrastructure (LON:NEXS) – very vague trading update, looks like a veiled profit warning to me.
Blancco Technology (LON:BLTG) – interim results, not up to scratch in my view. Lots of costs capitalised into intangibles, as usual.
[email protected] Capital (LON:SYME) – vague statement about delayed relisting. I cast my eye over the admission document (it's not pretty!)
Virgin Wines – intention to float.
Jack's section:
Calnex Solutions (LON:CLX) – recent IPO continues to exceed expectations. Shares are expensive but there's good growth here.
.
---
N Brown
(LON:BWNG)
71.3p – mkt cap £328m
Jack flagged some Director buying here last week, so I've had a quick recap.
Here are my notes on 15 Jan 2021, from the Q3 trading update. This showed an improving, albeit still negative revenue trend. My conclusion was "potentially interesting". It's been on my watchlist, so the Director buying RNSs got automatically emailed to me recently, with Jack also jogging my memory to look at them.
Lord David Alliance is the major shareholder here, with 40% (he's a billionaire, according to Wikipedia), and cornerstoned the recent fundraising (and move to AIM).
15-Feb-2021 – Joshua Alliance (a NED) increases from 3.88% to 4.61% on 12 Feb 2021 (21,213,800 shares now held). That's a purchase of 3.365m shares at 64.65p, costing £2.175m
This change was announced twice, in a Director shareholding, and a Holding in Company announcements.
12-Feb-2021 – Joshua Alliance (a NED) increases from n/a to 3.88%, and now has 17,848,800 shares. This is an increase of 7,848,800 shares, bought at 65.0p, for £5.1m. The original 10.0m shares were bought in the placing in Dec 2020, at 57p, costing £5.7m.
The internet says that Joshua is the 31-year old son of 88-year old Lord Alliance.
Doing a bit more googling suggests that they got a whitewash as part of the last fundraising, which ensured going over 30% did not trigger a requirement for the family to launch a takeover bid, under Takeover Panel rules.
My opinion - with the Alliance family now owning 52%, and Joshua having just spent £7.3m buying shares in the open market, it's probably safe to assume that the company could continue to report further improved trading.
For that reason, I'm getting more interested in this share.
EPS forecasts fell a lot, and now include dilution from the Dec 2020 fundraising (which increased the share count by 59% to 460.5m). If it achieves forecast of about 9p EPS for FY 02/2021, then the market might wonder why the rating is only a PER of 7.9 - which looks very low for an eCommerce/extended credit business.
In the past, N Brown was a bit of a mess, with lots of things needing a proper sort out. Heavy Director buying suggests to me that some progress has probably been made. Combine that with the low valuation, and I think this share is now looking interesting as a possible purchase.
.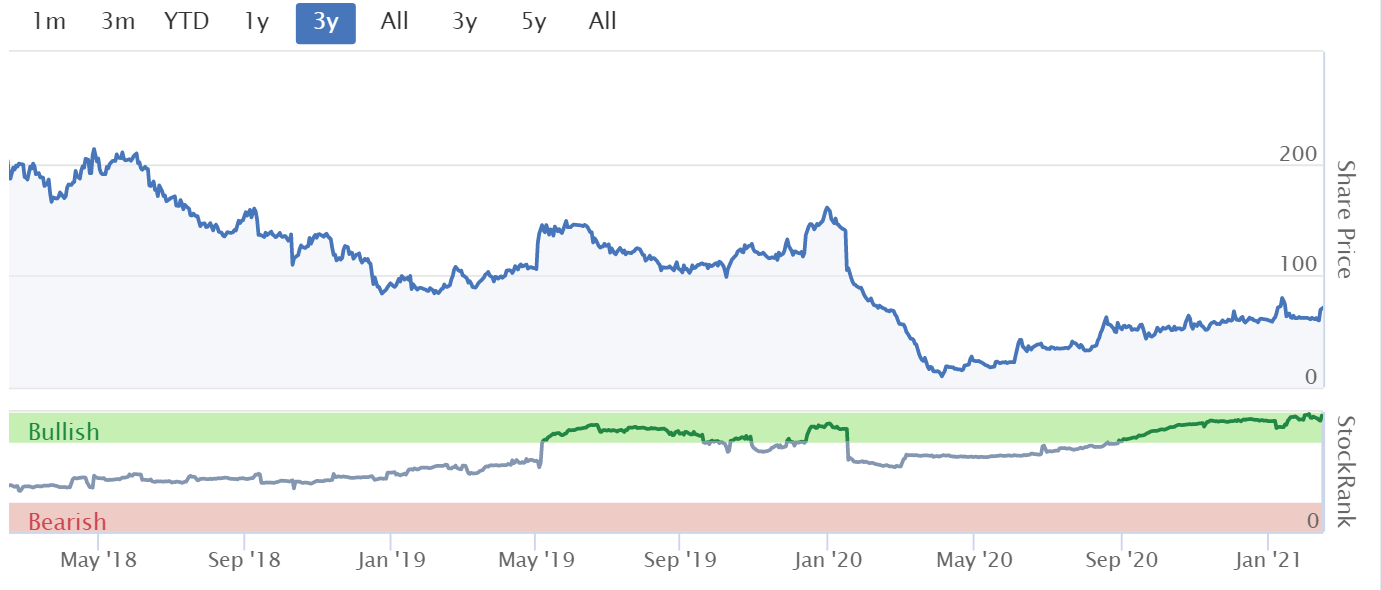 .
---
Nexus Infrastructure
(LON:NEXS)
163p (pre market open) – mkt cap £74m
This infrastructure company floated in July 2017, but I lost interest in it gradually as results seemed a bit erratic. It has a 30 Sept 2021 year end, and reports today on trading, at its AGM.
Today's update is not terribly informative. Summarising it -
Market fundamentals good, due to Govt stimulus for housing, renewable energy, and electric vehicle charging.
Trading conditions good at TriConnex and eSmart, both performing ahead of base case in June 2020 placing
Tamdown – continued challenges due to covid. Trading towards downside scenario. Expected to improve as industry activity normalises.
Strong balance sheet (no figures given)
Order book of £279m (no comparison figures given)
Outlook -
… Nexus remains on-track to implement its recovery and growth strategy with a return to pre-Covid levels of activity in FY22."
That implies FY 09/2021 won't be much good then, so is this a profit warning?
Last full year results - FY 09/2020, I've had a quick review of these numbers, to fill in some of the gaps left by today's trading update.
The group made a small adjusted loss of £(2.5)m, which I can understand due to the pandemic. The order book was £282m, so the figure of £279m given today is slightly down.
Tamdown is by far the largest division, producing 68% of total group revenue. It says that Tamdown had its "best quarter for work winning since 2019" in Q1 to date (Oct-mid Dec 2020) – this sounds a lot more bullish than the update today for Tamdown.
eSmart Networks looks insignificant at this stage, only producing £2.2m revenues in FY 09/2021.
The last reported balance sheet, at 30 Sept 2020, looks OK, with £26.4m NTAV.
My opinion – today's update seems very vague. There are no figures given re performance, and no mention of overall performance versus expectations. It mentions how the various divisions are performing, but we're not told how significant each one is.
There's nothing available on Research Tree, so it's anyone's guess how the company has been briefing analysts. I can only conclude, from the lack of information in the update, that this seems to be a rather clumsy attempt to obscure a profit warning. The share price has opened down 13p, 8% this morning, which suggests other people agree that this sounds a negative update, but with no specific figures. The company certainly needs to review its communications strategy.
With nothing concrete in the update, and no broker notes available, I'll just avoid this share until the interim numbers come out. Then we might be able to make sense of how it's actually trading.
Stockopedia seems to like it, with a high StockRank.
.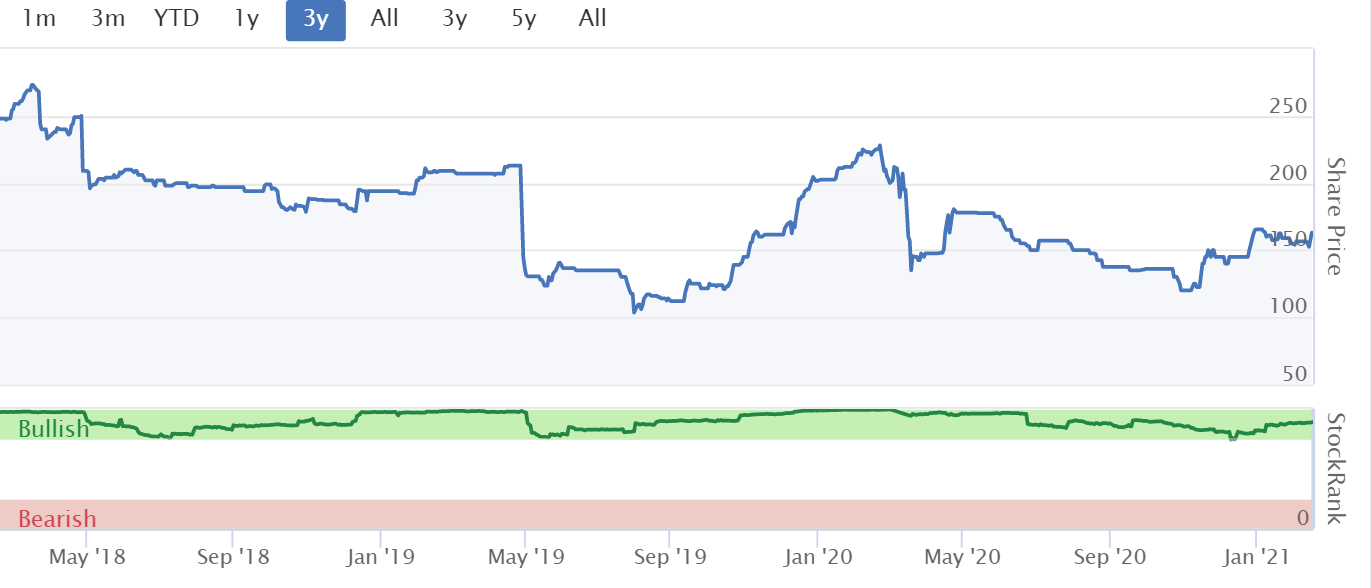 .
---
Blancco Technology
(LON:BLTG)
268p (down 1% at 08:57) – mkt cap £198m
Continued momentum driven by underlying structural growth with strong progress anticipated in second half
Blancco Technology Group plc (AIM: BLTG, "Blancco", the "Company" or the "Group"), the industry standard in data erasure and mobile device diagnostics, is pleased to announce its unaudited interim results for the six months ended 31 December 2020.
It hasn't taken me long to unpick these numbers, and work out that Blancco doesn't really make much money! That's why it hasn't paid any divis since 2017.
EBITDA is meaningless, because the company capitalises a lot of costs onto the balance sheet. EBITDA ignores this capitalisation, and also ignores the amortisation of it too. It's like waving a magic wand to make millions of pounds of cash outflows vanish – i.e. fantasy. Capitalisation of costs is reasonable, but you have to base valuation on numbers which include either the capex, or the amortisation charge. EBITDA ignores both, so is meaningless.
H1 revenue was flat vs H1 LY, at £17.4m
Profit before tax was only £0.5m (down 21%)
The cashflow numbers shown in the financial highlights are not real to my mind, because they're ignoring so many costs. If we look at the cashflow statement itself, the £5.2m of operating cashflow is halved by £2.6m in capitalised development spend. If you look at the last full year, then £5.7m of operating cashflow was largely consumed by £4.7m in capitalised development spend. In other words, the business doesn't generate much cashflow at all, after all costs are taken into account.
Outlook – Blancco faced some headwinds in H1, namely covid disruption (fair enough) and a contract ending which generated £1.4m in H1 LY.
The commentary sounds upbeat, e.g.
The Board is confident that Blancco is positioned to deliver sustained levels of growth going forwards in line with our expectations."
It certainly needs to deliver strong growth, as the £200m mkt cap doesn't stack up at all on the basis of the H1 numbers.
Note that share based payments are adjusted out, but are quite considerable, and recurring. I would treat this as payroll costs, so adjust them back in. That's £767k in H1.
Balance sheet – is modest, once you deduct the £71.5m intangible assets, we get to only £4.9m NTAV.
My opinion – these figures don't show a cash generative business. The profits amp; supposedly positive cashflows come from adjustments and capitalising costs. Once you unpick that, there's really not much here. That's why it can't pay dividends, because it's not generating any reliable cashflows.
It might be that business may improve in future, and the commentary seems confident about an improved H2. It needs to deliver that, to get anywhere near justifying the £200m market cap. I wouldn't pay a quarter of that, based on these figures.
I see this share as quite risky – because the valuation seems to have run so far ahead of reality (where reality is genuine cash generation). It's the sort of thing that gets really whacked when the bull run ends, and the market starts to properly scrutinise the real world numbers. Hence, if it fails to deliver the strong growth it promises, then I see this share price as an accident waiting to happen.
The company has disappointed before remember (see the long-term chart below). It was set up by financial engineers, and hyped up well beyond reality, then the price began collapsing shortly after a £17m Director sale of shares in 2014. Therefore, I would keep a very close eye on Director transactions in the future.
.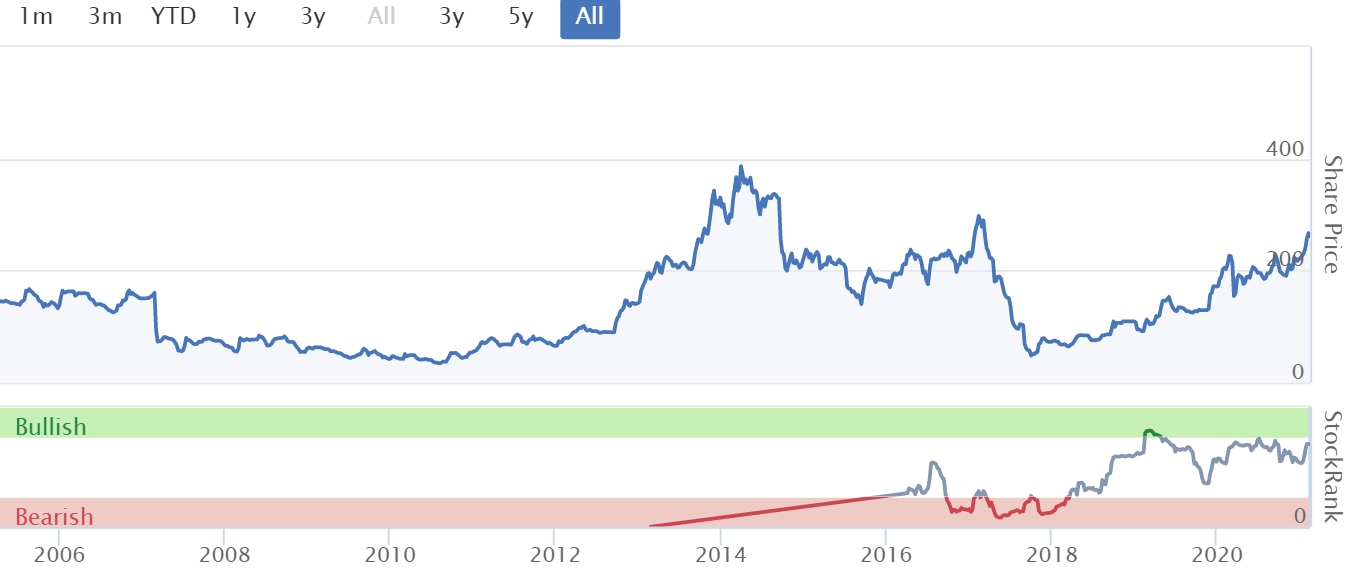 .
---
[email protected]

Capital
(LON:SYME)
Suspended at 0.51p – mkt cap £167m
A reader talked me into having a look at this share quite recently, but unfortunately I didn't tag it in the report, so it's not coming up on a search result. Amazingly there are 32.75bn shares in issue! Which gives me an inkling that it's probably not at the top end of the market's quality offerings.
From what I can remember, I followed through the various news announcements concerning this share, and concluded that it's currently impossible to value. That's because we don't really know what the business that was reversed into the cash shell, is actually like. It's some Italian asset funding company, providing loans against customers' inventories – not a good business model historically, that's why hardly anyone does it any more.
Regarding the suspension of its shares, this seems to be what has happened:
21 Jan 2021 – Temporary suspension, pending publication of accounts for FY 12/2019 and H1 2020 accounts.
28 Jan 2021 – Statutory, audited accounts for FY 12/2019 published.
29 Jan 2021 – Interim Results for the 6 months to 30 June 2020 published.
4 Feb 2021 – Update on Relisting – SYME says that it has remedied the technical DTR breach, by publishing its financial statement. Delays are now with the FCA. No FCA investigation is underway.
The process has taken longer and is more complex than normal due to the change in accounting reference date, RTO transaction occurring during the period, and multiple financial statements that have been issued.
16 Feb 2021 (today) – Update on Restoration of Listing – the company is in regular contact with the FCA. Temporary suspension of shares is not having any operational impact. Timetable for relisting is outside its control.
My opinion – it seems a rather unusual situation. Relistings normally happen quite quickly. Last time I looked at this share, I concluded it wasn't possible to form a view because the published accounts relate to the cash shell, not the business that was reversed into it.
It occurred to me this morning that the Admission Document would have more information. So I've had a browse through it. This confirms my suspicions that there' nothing of any substance here. The historic, and pro forma accounts for the Italian operating company are laughable, as you can see. It's just a startup:
.
.
Clearly what they've done, is come up with a bonkers high valuation in the RTO, probably with a view to selling as many shares as possible to gullible punters, before the valuation collapses at a later date, when people realise there's nothing of any substance here.
The balance sheet is also a complete joke! (see below). The only significant asset is intangibles, created out of thin air!
.
.
An alternative view might be that, given it's got something to do with blockchain, maybe we should just value it at a trillion euros, and all go on a frenzied buying spree when the shares return from suspension? You can probably guess what my conclusion is on this share – one for mug punters only, but in this market, you could end up fluking a multibagger, as all sorts of rubbish is multibagging right now. Remember though that it's not a profit until you've sold.
We're very clearly in the final, euphoric mania of a bull market, where stuff like this can go stratospheric for a little while. It's reminding me more by the day, of what 1998-99 was like. We all know how it's going to end, the only question is the timing of the bubble bursting.
I'm also a fan of the Grant Williams podcasts mentioned here several times by readers. He has such interesting guests on (usually bearish, and dismayed!), and the interviewing style is very good – just let the experts talk, and don't interrupt them. You have to pay now, and I think the content is so good, that paying $120 for a year's subscription, is well worth it. A recent guest was saying that shorting is now too dangerous, as Gamestop demonstrated, because so many market participants are now completely ignoring fundamentals.
I remember when it got like that in 1999 too, and it ran on for far longer than most people thought it could. Most people realised that what was happening (speculative tech shares going parabolic) couldn't last, but the party carried on for an amazingly long time. Plus there were very strong rallies on the way down
Eventually, the mania in speculative stocks sucked money out of value shares, which were clobbered in a dash for mostly trash. The interesting point though, is that when the tech bubble finally burst in early 2000, Grant Williams points out that value shares did a lot less badly than speculative shares in the ensuing market rout that went on until early 2003.
I can remember giving up on tech shares in mid 2001, and focusing on deep value, and did extremely well for the next 2 years, that was how I got started as a professional investor. On the basis that I'd made 16-times my money in the bear market of 2001-2, with no leverage, going long of oversold value shares, so should do more of it, with my day job of being a CFO taking up too much of my time!
Thinking about the USA in particular, there must be millions of people who think it's easy to make money from shares, and Bitcoin. They buy every dip, thinking it's a fail-safe way to make big bucks. Little do they know that, sooner or later, the market will chew them up amp; spit them out. All the warning signs are there, that we're not far from a market top, in my opinion. When buy the dip stops working, I think everything is in place for a really big correction.
.
---
Virgin Wines UK plc
This calls itself one of the UK's largest direct-to-consumer online wine retailer.
Today's announcement is a whet our appetite thing, with bullet points telling us about the business. It sounds quite interesting actually.
A few numbers also appear:
Last twelve months ("LTM") to 31 Dec 2020: revenues £71.0m, EBITDA £7.7m.
The plc is newly created, so I've looked for the operating company on Companies House website, which seems to be Virgin Wines Holding Company Ltd (company number 7970057). The most recent filed accounts for FY 06/2019 show a small business (revenues of £42.5m), delivering modest growth of 6.4% revenues on the prior year, and operating around breakeven, £164k PBT, versus a £(617)k loss the prior year. There is £1.2m p.a. interest costs from investors though, included within that breakeven result, based on £12m in shareholder loans. The financial backers are Mobeus Equity Partners LLP, and Connection Capital LLP.
So my immediate question is, have they had a one-off bonanza from lockdown, with pubs shut, and maybe fluffed up the figures for an opportunistic float? It's probably likely to be a private equity full or partial exit, by the looks of the shareholders. There are various classes of share capital, which would need to be cleaned up into a single class of ordinary shares as part of the float, if it goes ahead.
The telegraph reports here that the valuation is to be set at c. £100m, which looks steep to me, given that there's not a long track record of profitability.
My opinion – good luck to them, and I very much welcome the current spate of new listings. We need fresh blood, as the London market has become stale, with many of the best companies disappearing from takeover bids, and too much speculative junk left behind from previous investing fads.
Virgin Wines looks an OK company, nothing special though. It's been around for a while, and the big question is whether profits during lockdown will be sustainable once people can go to the pub again? I shall await the admission document with bated breath. Also, I wonder what the financial arrangements are for it to use the Virgin name?
.
---
Jack's section
Calnex (LON:CLX)
Share price: 118p (pre-market open)
Shares in issue: 87,500,000
Market cap: £103.25m
There have been a couple of intriguing IPOs recently, with one of the top candidates being £CLX. Today we have an update (we looked at CLX in a little more detail here if interested), from this designer, producer and marketer of test and measurement solutions to telecoms networks operators.
Founded in 2006 by CEO and 21% shareholder Thomas Cook, CLX is headquartered in Linlithgow, Scotland, with additional locations in Belfast, Northern Ireland and California in the US, and with sales teams in China and India.
Its trusted products play an important and entrenched role in validating the performance of critical infrastructure in this global growth area. The global network it has established of partners also provides a worldwide distribution capability, allowing it to rapidly introduce developed and acquired solutions to a large potential customer base.
I have a positive impression of its prospects, and this update goes some way to validating that impression. The only question now is valuation, given the shares are not quite the bargain they were. Congratulations to holders so far – an exceptional return in such a short timeframe:
The COVID-19 pandemic has not disrupted Calnex's operations – in fact the board believes it may have brought some revenues forward into FY21.
As a result, CLX anticipates revenues for FY21 will be ahead of market expectations. In addition, as a result of lower travel and event costs due to COVID-19 restrictions, higher margins are expected to be achieved in FY21 than would have been anticipated, which will result in the Company's profitability also being ahead of market expectations in FY21.
Momentum is expected to continue into FY22, and the group expects a healthy order book.
Tommy Cook, Chief Executive Officer and founder of Calnex, comments:
We continue to make good progress executing on our growth strategy, investing in our product offering and people to capitalise on the growth of the telecoms testing market as the industry transitions to 5G and the cloud computing sector continues to grow. We are delighted to have delivered this strong performance in our first period as a PLC and continue to look to the future with confidence.
Conclusion
With the long-term underlying growth drivers continuing as the market transitions to 5G and cloud computing, the board is confident that Calnex can deliver its historical growth rates over the long-term.
There are good structural growth trends here: one is the migration of the mobile networks to 5G, a second is the emerging Internet of Things, and a third is the shift to cloud computing mentioned above. Calnex can drive sustainable revenue growth from each of these trends.
The global market for mobile network testing alone has been estimated by Frost amp; Sullivan to be around $1.3bn in 2020, and is forecast to grow at a CAGR of 11.5% and exceed $2bn by 2024. The same consulting firm estimates the global high speed ethernet test equipment market to be around $1.3bn in 2020 and also expects this market to grow to $2bn by 2024.
The only real debate here is on valuation – at 7.5x TTM sales and 30.2x forecast earnings, Calnex does look 'expensive' from a relative valuation standpoint. That and will the brought forward revenue have any impact on the coming financial year? It seems as though the board is confident this will not happen.
But Calnex looks to be a quality operator with an entrenched and important position in a growing global market. There are some good shareholders here, too – the CEO and founder is the largest, and Slater Investments has also taken a chunk. That type of institutional shareholder is expecting material growth, I would wager.
I'm interested to see how the share price reacts to this news as Calnex looks potentially like a good long term hold. Perhaps it will prove to be one of those companies that always looks 'expensive' but ultimately backs the valuation up with growth. On the other hand, maybe there will be a pullback at some point. Plenty to consider here.
More detail will be released in Calnex's preliminary results for FY21 in late May.
Source:
https://www.stockopedia.com/content/small-cap-value-report-tue-16-feb-2021-bwng-nexs-clx-bltg-syme-virgin-wines-763299/
Before It's News®
is a community of individuals who report on what's going on around them, from all around the world.
Anyone can
join
.
Anyone can contribute.
Anyone can become informed about their world.
"United We Stand" Click Here To Create Your Personal Citizen Journalist Account Today, Be Sure To Invite Your Friends.