Small Cap Value Report (Tue 6 April 2021) - RCN, MTC, WIN
Tuesday, April 6, 2021 8:09
% of readers think this story is Fact. Add your two cents.

Good morning, it's Paul here with the SCVR for Tuesday. Hopefully you had an enjoyable long weekend.
Timing – should be done by 1pm today.
Agenda -
It's very quiet for news today, so I'll cover a few stragglers left over from last week, in addition to today's relevant news.
Redcentric (LON:RCN) – in line with expectations trading update for FY 03/2021. Upbeat tone to commentary. PER of about 19 – difficult to see much upside from here.
Mothercare (LON:MTC) (I hold) – several readers have asked me to review this share. Looks potentially interesting, but beware the huge agreed amounts to be paid into the pension scheme. Not enough info for me to form a sensible opinion here.
Wincanton (LON:WIN) – Positive trading update from last week. Lovely company, but big pension scheme cash outflows.
.
---
Redcentric
(LON:RCN)
132p (pre market open) – mkt cap £206m
Redcentric plc (AIM: RCN), a leading UK IT managed services provider, today announces a trading update for the year ended 31 March 2021 and the sale of a non-core business unit.
This update is worded in very upbeat-sounding language, but it's only in line with expectations, so logically shouldn't have much, if any, effect on the share price. Mind you, logic went out of the window a while back, this is a roaring bull market now, so anything could happen.
Revenue and adjusted EBITDA for the financial year ended 31 March 2021 are expected to be in line with the board's expectations…
As an aside, I do want to stress that we're not trying to predict short-term share prices in these reports. That's down to unpredictable market sentiment. In markets this bullish, there are often a lot of new entrants (e.g. spread betting companies are reporting large numbers of new account openings). Inexperienced punters tend to chase stories, fad stocks (e.g. anything bitcoin-related, or cannabis, etc), and often have no idea how to value companies, just following prices up, buying on tips, unaware that they're often participating in a bubble. A lot of money can be made from that type of speculation in a bull market, so good luck to them. The trouble is, people learn a lot of bad habits, which result in them losing the money afterwards, usually, when market conditions suddenly turn bearish.
Going back to Redcentric,
Net debt – better than expected. Usually companies report net debt excluding IFRS 16 lease liabilities (which makes sense to me). But in this case, Redentric includes (unspecified) IFRS 16 lease liabilities in its reported net debt. I'm not sure why they report like this. I'd rather see a table, with both figures given, for clarity.
Net debt was reduced by an impressive £19.0m, and the RCF bank borrowings paid off in full.
… net debt of approximately £15.6m (including £16.5m of IFRS-16 liabilities amp; supplier loans) being better than the board's expectations.
Redcentric seems to have been resilient throughout covid, and customers needing remote working support seems to have helped. Large scale projects were deferred though.
Cost savings (annualised) of £4m achieved (more than £2.8m originally announced)
Replaced ERP software with a unified system (to replace 5 separate systems) – sounds positive. Benefits include faster, and more accurate invoicing of customers. Further efficiency gains expected. Whilst good, this does worry me a little, in that it sounds as if financial controls were not very good to start with.
Diary date – 24 June 2021 for FY 03/2021 results.
Disposal – a small, non-core contract team has transferred to customer, Thales, re nuclear power station maintenance. Receiving £5.75m proceeds, and losing £0.72m EBITDA from profits in future, on the expiry of this contract.
My opinion - looking at an old broker note from late last year, and comparing that with the broker consensus shown on the StockReport, it seems to be about 6.95p EPS forecast for FY 03/2021. At 132p per share, that gives a PER of 19.
Given the company's rather patchy historical track record, it's difficult to understand why I would want to chase the price up above the current level.
I can't see anything particularly exciting here, so let's move on.
.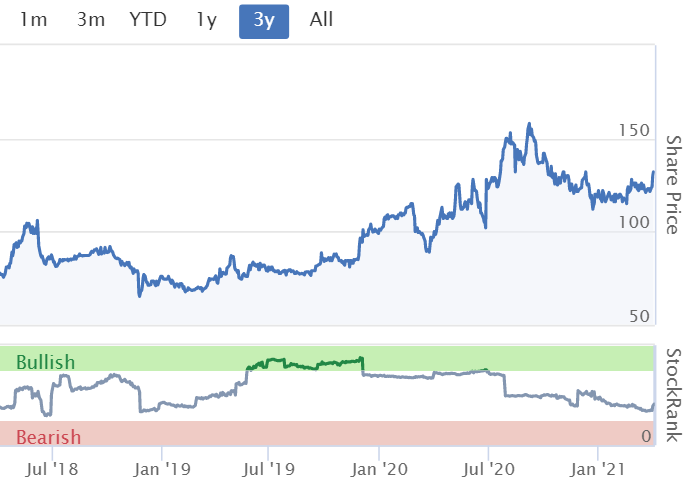 .
---
Mothercare (LON:MTC)
(I hold)
Share price: 16.4p
No. shares: 563.8m + potential dilution from warrants
Market cap: £92.5m
Several readers have been asking me to look at Mothercare. I should point out that I bought a small opening position a few weeks ago, on the recommendation of a smart investor friend, who told me it looks good. I trust his judgement, because of a very good track record. Probably like many readers, I often swap investing ideas with a wide network of investor friends. It's interesting, and enjoyable, to jointly research things, and debate the pros amp; cons. A bit like we do in the comments section of these reports.
I've spent some time this morning reading through the RNSs over the last 6 months or so, and here are my notes -
Half Year Results – 28 weeks to 10 Oct 2020.
Key point 1: new business model, capital-light, international franchise brand. UK business was put into administration. Now all stores (over 1,000, in 40 territories) are operated by franchisees. So a greatly improved, lower risk business model.
Key point 2 – large pension scheme liabilities amp; substantial over-payments scheduled as follows:
FY 03/2021: £3.2m
FY 03/2022: £4.1m
FY 03/2023: £9.0m
FY 03/2024: £10.5m
FY 03/2025: £12.0m
FY 03/2026: £15.0m
FY 03/2027: £15.0m
FY 03/2028: £15.0m
FY 03/2029: £15.0m
FY 03/2030: £5.7m
Total: £104.5m
This is a huge issue, because the £104.5m agreed pension recovery payments above exceeds the £92.5m market cap. Therefore I would be inclined to add the two numbers together, to give an adjusted market cap (enterprise value) of £197m, in calculating my valuation.
The pension scheme outflows are therefore highly material, and cannot be ignored. These are huge future cash outflows, with money that could otherwise have been used to pay divis.
Pension scheme accounting is just ludicrous – under current rules, only £28.8m was shown on the balance sheet as a pension scheme liability. How can that possibly be signed off by the auditors as showing a true amp; fair view, when it clearly doesn't! There's an additional £75.7m of agreed liabilities that are not on the balance sheet, when they clearly should be. This area of pension scheme accounting badly needs reform, as real world liabilities are being under-reported often, as in this case.
Bank borrowings paid off with a £19.5m loan from Gordon Brothers Brands LLC. Terms need to be checked.
Franchise agreements – key ones are:
10 year agreement with Boots, for exclusive retail of Mothercare products in UK amp; Ireland
20 year agreement with Alshaya Group, its most significant franchise partner.
Profitability – despite covid major disruption, it achieved EBITDA near breakeven at £(0.1)m – very good in the circumstances I think, and it shows the beauty of a franchising model – i.e. the franchisees have to worry about the fixed costs, Mothercare is not liable. MTC's revenues are mainly royalties from a % of franchisee revenues.
Franchisees buy stock direct from factories, not from MTC – I really like this business model, it's very clever, as it removes working capital amp; all the hassle of handling stock, invoicing, etc. A very attractive business model.
Steady state post covid, company says it should be profitable (but doesn't say how much)
Growth – with restructuring done, management can focus on expanding into untapped international growth markets.
Moved to AIM in March 2021, from main market.
Shareholder loans – extinguished, by conversion into new shares, on 16 March 2021. Two key shareholders are :
Richard Griffiths (well known shrewd investor): 33.2% of equity +8.6m warrants (check the terms, and total potential dilution)
Lombard Odier: 16.4% + 4.17 warrants.
Total shares now outstanding: 563.8m + warrants
Waiver of rule 9 of Takeover Code, so shareholders going over 30% does not trigger a mandatory full takeover bid.
Trading update – the most recent update is from 25 Jan 2021.
Net worldwide retail sales were £258m for Q1-3, down 38% on LY, obviously hit hard due to covid. This is the franchisees' sales, so MTC earns a cut on this.
Guidance on revenues is £320m for FY 03/2021 + c.£80m of invoiced shipments – possible delays due to container freight problems.
Excluding Boots, c.90% of franchisee stores now trading.
Improved picture expected for Q4 of FY 03/2021.
Overall revenues down by a third for FY 03/2021, and should then recover back to more normal levels post covid.
Profit guidance - small EBITDA loss for FY 03/2021, which means H2 should be similar to H1. Not a bad outcome in the circumstances, although I wonder if any franchisees are under financial pressure amp; could go under?
Brighter amp; stable future expected, cash generative amp; profitable.
My opinion - looks interesting as a special situation, but I cannot value it because I'm missing key information, primarily how much profit amp; cashflow it's likely to generate in future? Also, what excess (if any) would there be after making the huge payments into the pension scheme over the next 10 years?
Could the pension scheme liability reduce as bonds yields rise (if they continue to do), therefore I wonder if the pension scheme over-payments might be revised down in future?
I like that MTC has 2 cornerstone investors who have supported its restructuring. I also like the low risk franchising model.
We need to find out the likely level of profits amp; cashflow, and whether that's enough to pay shareholders decent divis. I can't find any current broker research unfortunately.
.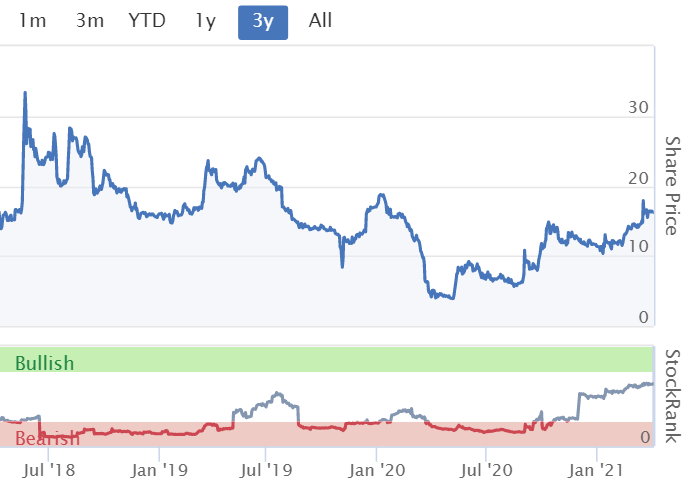 .
---
Wincanton
(LON:WIN)
407p – mkt cap £507m
Wincanton, a leading supply chain partner for UK business, today provides an update on Q4 trading performance in advance of the release of its full year results on 20 May.
WIN's year end is 31 March 2021, so Q4 is Jan-Mar 2021.
Wincanton delivers strong trading performance amp; expands eCommerce capacity
I'm impressed with the highlights in this update -
There's lots more detail provided in the announcement, which I won't regurgitate here, see the RNS.
My opinion - trading seems to keep getting better, every time Wincanton reports. It put out a bullish update in Jan 2021 too, and is now saying it's trading ahead of that. The reason it looks cheap (still) on a PER basis, is because of the pension scheme liabilities, which is a large cash drain out of the company. See my report here on 2 Oct 2020 when I covered that issue.
This does seem a very well-run company, performing strongly. If there's another pandemic, then we must remember to buy bombed out shares in logistics companies.
It's now well above the pre-pandemic valuation. Note the high StockRank.
When I see a chart like the one below, I do wonder if it might need to have a pullback amp; a period of consolidation maybe? Who knows, anything can happen.
.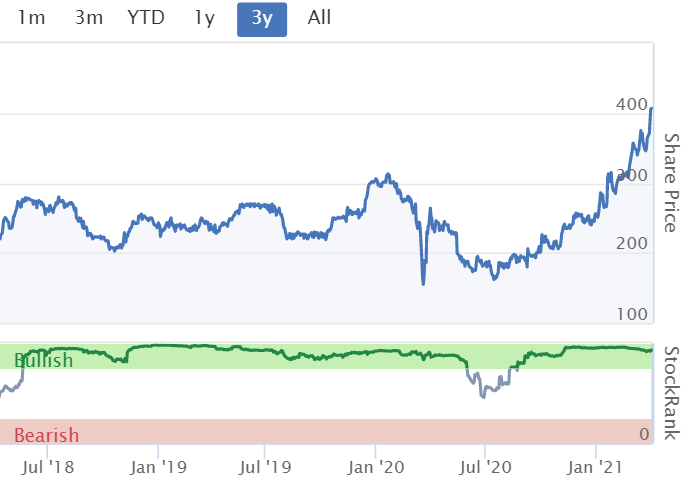 .

---
Source:
https://www.stockopedia.com/content/small-cap-value-report-tue-6-april-2021-rcn-mtc-win-791449/
Before It's News®
is a community of individuals who report on what's going on around them, from all around the world.
Anyone can
join
.
Anyone can contribute.
Anyone can become informed about their world.
"United We Stand" Click Here To Create Your Personal Citizen Journalist Account Today, Be Sure To Invite Your Friends.