Small Cap Value Report (Weds 12 May 2021) - REDD, VTU, RBG, JOUL, MACF, MER
Wednesday, May 12, 2021 10:25
% of readers think this story is Fact. Add your two cents.

Good morning! It's Paul amp; Jack here with the SCVR for Wednesday.
Timing – we're hoping to be finished by 1pm official finish time today, and I'll be catching up on a couple of overdue items from yesterday (e.g. Revolution Bars (LON:RBG) (I hold)).
Update at 11:48 – let's extend that to 14:30, as I've got 3 more companies to cover.
Update at 15:23 – punctual as ever (!!) – today's report is now finished.
ZANE Zoom
The team at ZANE (my favourite charity) have been absolutely thrilled with the £22,766 we've raised, with more in the pipeline from Mello Monday's charity pledge fundraising too. ZANE has doubled up our donations, with a release from its reserves, so that's over £45k in total – remarkable! Thankyou to everyone who contributed, large and small, all are greatly appreciated.
Anyway, the team at ZANE thought that, with so much interest being shown in the charity, that they would set up a Zoom for us, to meet some of the team, including case workers from Zimbabwe, who want to tell us about the current situation there, and the type of work they do. This should be a fascinating insight into ZANE's work, and I urge you to try to find the time to join the Zoom, even if only for a little while. Every time I hear about how dreadful life is in Zimbabwe, it makes me seriously thankful for my life here in the UK, and I stop moaning about my own trivial problems (for a day or two anyway!)
It is this Friday, 14 May, at 2pm
There are security issues operating in a difficult country, so I can't put up a public link.
ZANE has asked me to collate the email addresses of people who would like to attend, which I will vet amp; then pass on to ZANE, who will invite people individually. The audience will I suppose be in listen-only mode, so there's nothing required from us. Although I do think it's polite to put your camera on when Zooming, as it helps the speakers visualise who they're talking to, and get some body language feedback, or just a reassuring smile, but that's a personal choice.
To book your place on the Zoom (all readers here are very welcome!) just email me at: [email protected]
---
Agenda
Paul:
Redde Northgate (LON:REDD) (I hold) – ahead of expectations update. Still looks good value, despite having doubled in price in the last 6 months. I can't see any reason to bank profits, when the PER is only 12, and divi yield close to 5%.
Vertu Motors (LON:VTU) (I hold) – strong results amp; very good outlook. This share looks remarkable cheap to me, and is more than 100% asset backed with NTAV. Very appealing for value investors, in my view.
Revolution Bars (LON:RBG) (I hold) - trading update from yesterday. Trading very strongly in first stage of re-opening, so expect a bonanza once its 66 bars can fully open. Liquidity sounds OK. I've decided to bank some of my profits, as it hit the lower range of my 40-50p target price. This has been a painful journey, but it's actually worked out alright in the end, for those of us who averaged down heavily at the lows.
Joules (LON:JOUL) (I hold) – positive trading update, ahead of expectations. More importantly, broker forecasts have been substantially raised for this future years, which makes the valuation a lot more palatable. This is one of my coffee can holdings (hold forever).
Macfarlane (LON:MACF) (I hold) – a slightly vague update, but it sounds OK. Mentions raw materials price increases. Worth a look for value investors.
Jack:
Mears (LON:MER) – disposals are making for a more focused company and the shares could prove in time to be cheap, but there are execution and financial risks to consider.
.
---
Paul's Section
Redde Northgate
(LON:REDD)
(I hold)
365p – mkt cap £898m
Looking back through our archive, readers nagged me to look at REDD in Oct 2020, and after crunching the numbers, I found an exceptionally good value share, rated at 6.5 times earnings, and with a prospective yield of over 7%. At just 178p this share was stupidly cheap at the time, a completely irrational market price, given that it had just put out an in line with expectations update. Thankfully I took a medium-sized portfolio position, and it's done very well, doubling in price by now. Although lots of shares have doubled in that timeframe too, so there's also an element of right place, right time. We're not necessarily great stock-pickers, since lots of speculative junk has also doubled (or more) in price, so you could have picked anything at random and done well in the last 6 months.
Although the market cap has now risen well above my usual top end, I'll be scrutinising today's update anyway (as I still hold), and it's a shame to stop covering our winners here.
Redde Northgate plc (LSE:REDD), the leading integrated mobility solutions platform providing services across the vehicle lifecycle, today announces a pre-close trading update for the year ended 30 April 2021, ahead of its results for the year scheduled for 7 July 2021.
This looks good -
Stronger than expected performance with PBT ahead of consensus; entering new financial year in a position of strength
The announcement is peppered with TLAs (three letter abbreviations) with no key as to what they mean. It's so annoying when companies do this. Companies amp; advisers need to remember that investors look at hundreds of companies, in various sectors, and don't necessarily know what your abbreviations mean, so it wastes time having to work them out.
In this case, I think -
LCV probably means light commercial vehicles, and
VOH probably means vehicles on hire. But does that mean just for Northgate (which leases white vans), or including Redde (hire cars for accident victims)?
Anyway, I can forgive them for a poorly worded RNS, because the outcome is positive -
As a consequence of the stronger than expected performance in H2, the Board now expects underlying PBT for FY2021 to be moderately above the top end of the current range of analyst estimates 1 and not less than £92m.
Footnote: 1 Current range of analyst estimates for FY2021 underlying PBT £83.3m to £88.0m
Very useful to include this footnote, thanks for that.
It's a nice beat, current consensus is 27.4p, so we might be looking at c.30p for FY 04/2021. At 365p per share, that's a PER of about 12 – seems good value in a market that is generally attributing higher PERs than 12 for many companies.
Bear in mind that the Redde part of the business has seen volumes suppressed by lockdowns, so earnings should rise in future as road traffic volumes increase. Forecast is for 33.78p in the new financial year, FY 04/2022.
The forecast yield is c.4.7% – very attractive.
My opinion – although the share has doubled in price, I don't see any reason to sell – it's still cheap, and rewards holders by paying generous divis. There's more detail in today's update, which all sounds fine – e.g. integration going well, cost savings being achieved as planned from integrating the 2 businesses, liquidity is fine, etc.
Overall then, this gets a thumbs up from me, it's still an attractive value share in my view.
Note the high StockRank, giving me additional reassurance.
.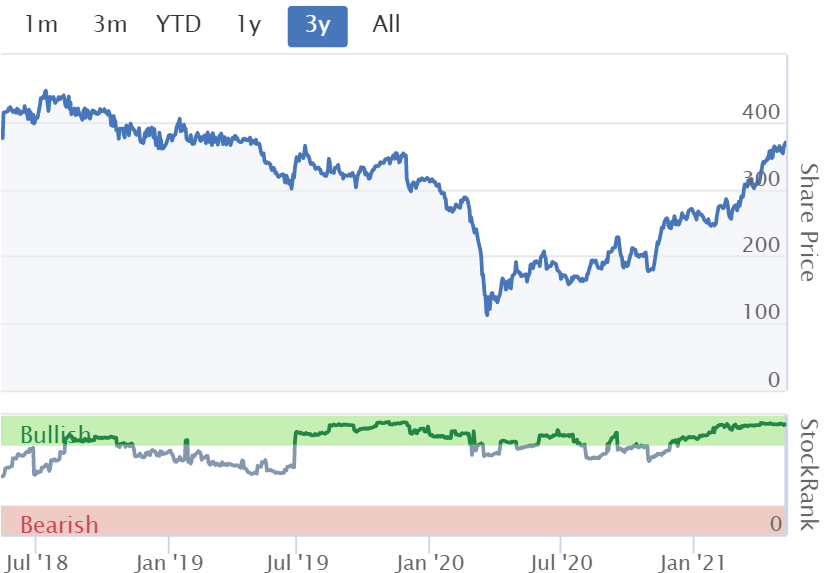 .
---
Vertu Motors
(LON:VTU)
(I hold)
45.2p (flat, at 08:53) – mkt cap £166m
Vertu Motors plc, the automotive retailer with a network of 149 sales and aftersales outlets across the UK, announces its final results for the year ended 28 February 2021 ("Year").
"Leadership in online retailing contributes to above expectation results for FY21 and a strong start to FY22"
The CEO commentary sounds very upbeat -
"These results, which are ahead of expectations, are outstanding in the Covid interrupted circumstances. I am proud of the entire Vertu team for their adaptability and effort to deliver these remarkable results.
The Group has significantly evolved during the year, with accelerated delivery of its strategy in achieving enhanced online sales capability via its inhouse developed Click2Drive technology platform, reduced cost base due to productivity gains and significantly grown the number of sales outlets.
We have started the new financial year very strongly, have generated record levels of cash and have a very strong balance sheet. We have now re-instated guidance. Brexit uncertainty is now behind us, and we are exceedingly well placed to benefit from the changes and opportunities which are ahead of us."
There's a short video presentation on the company's website which I've just watched, so save time ploughing through all the numbers. Key points -
Strong asset backing of 50.2p NTAV (below share price of 45p), so financially strong. This is something I've repeatedly mentioned here when reviewing previous figures from VTU. You're effectively getting a hybrid car dealer/ property company, with loads of freeholds. Therefore it's copper-bottomed, and under-performing sites can be sold off, and turned into supermarkets, etc.
Adj EPS of 4.44p (PER of just over 10) – it's important to note that taxpayer support of £27.8m from the JRS (furlough) and £8.7m in business rates relief, accounted for more than the entire year's profits. The company says it will not be repaying it, because it covered substantial losses, during enforced shutdown, particularly in the first lockdown. That's a questionable decision.
Emphasis on online strategy, including having its own IT developers, with bespoke IT platform for doing business online, including when showrooms are shut.
Pent-up demand – lots of people skipped a service last year, expected to be a backlog of demand to benefit this year.
Supply problems – particularly due to semiconductor shortages (lots of companies mentioning this at the moment). However, supply problems benefit Vertu, as margins increase when supply is tight, and fewer new cars means better prices for secondhand cars.
Outlook – seems very strong, actually I'm surprised the share price hasn't risen today yet -
OUTLOOK HIGHLIGHTS
· Strong start to new financial year with trading profits at a record level in the two months to April 2021. Adjusted profit before tax in the two months of £19.2m compared to £14.8m in the same months in 2019
· The Board expect the Group will deliver an adjusted profit before tax for the year ending 28 February 2022 in the range of £24.0m to £28.0m
· The Board is confident that, dependent on the financial performance of the Group, dividends can recommence in January 2022
Broker updates - many thanks to Liberum and Zeus, who both update today with big increases in the forecast profits for FY 02/2022 – e.g. Liberum upgrades to 5.7p EPS, so at 45.2p that's a current year PER of only 7.9 - seems extremely cheap to me, given that the share is also fully asset backed.
My opinion – I've seen enough to believe that this share looks too cheap. Car dealers don't seem to attract high valuations, but even so, the combination of very low valuation, strong asset backing, and improving fundamentals, looks very attractive to me. Especially as Vertu is also embracing online transactions.
I don't believe that online startups like Cazoo have any competitive advantage at all, yet apparently are going for sky-high valuations. Vertu seems a much better setup, as it's established, doesn't need to spend a fortune on advertising, and can justify physical sites with lucrative after-sales revenue.
Lovely high StockRank too.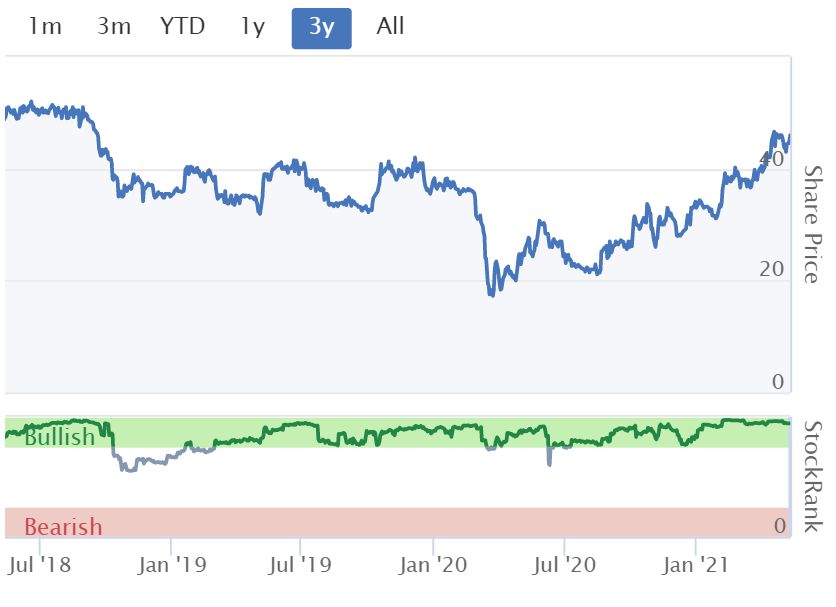 .
---
Revolution Bars
(LON:RBG)
(I hold)
40.5p – mkt cap £50.6m
This update is from yesterday, when I had an unplanned outage, so apologies for this being a little late. In a nutshell though, it's working out as I hoped – the company did indeed have enough liquidity to survive until re-opening, and the signs are now very positive about a bonanza in trading beginning, from pent-up demand. None of us know how long this bonanza is likely to last, but personally my hunch is that it has some legs.
Imagine how young people must feel. If you're in RBG's target customer base, aged say 21, then lockdowns have destroyed your social life for a third of your adult life! Therefore it's a seriously big deal. Whereas shopping has not been interrupted as such, because there was a perfectly good alternative – buying online.
Also, I reckon that for the target male customers (about 40% of total) at RBG, going clubbing is a lot more enjoyable than going shopping!
Anyway, this is the latest from RBG, summarised by me into bullet points -
25 bars have re-opened (out of 66 total), with outside space – trading "extremely strongly"
Only 15% capacity available (outside areas only), shorter hours, and cold weather – despite this, these sites delivered 48% of pre-covid 2019 equivalent sales – very good indeed
Liquidity looks fine -
Net bank debt at 10 May 2021 stood at £28.5m, with total available facilities of £40.2m.
Outlook - strong
Following the customer reaction we have seen over the last four weeks, the Board is confident that significant further pent up demand exists and therefore further strong trading is anticipated in the months to come as restrictions fall away and we fully open up the estate.
Ahead of expectations -
Taking the above into account, together with continued tight cost control and better than anticipated support from third parties, we now expect that our full year performance for the year ending 30 June 2021 will be ahead of previous management expectations…
… huge pent up demand and a rapid recovery across the nation in the bars with outside space that we have been able to open to date.
Re-opening – bars will still be restricted to 50% of usual capacity, from 17 May 2021.
Mid-June – expected that all restrictions will be lifted.
My opinion – management has done a really good job in restructuring the business during the pandemic. All problem sites were either disposed of in the CVA, or had consensual lease restructurings to make them financially viable.
I think the newsflow from RBG is likely to be outstandingly good for the rest of 2021, assuming no further resurgence in covid.
Some time ago, I indicated here that this was not a share I want to hold forever, and that my target exit price was 40-50p, at which point I'm happy to pass the baton to someone else, playing for the continuing momentum.
Accordingly, I've halved my position size now, and am probably looking to exit completely if it does reach 50p-ish later this year.
Remember that there are now 125m shares in issue, due to the emergency fundraise last year. Prior to that, there were 50m shares in issue. That limits the upside on this share, so people looking at the chart and imagining it could get back to 150p+ have perhaps not taken the increased share count into account?
By instinct I'm a value/GARP (growth at reasonable price) investor, so it's entirely possibly I might end up kicking myself for selling out too soon, but that's a risk I'm happy to take.
It's worked out far better than many people thought likely, and people who had the balls to buy more in the 20p placing amp; the plunge to c.10p at the lows, have been nicely rewarded. As I mentioned at the time, insolvency didn't seem likely, because it was fairly easy to calculate the weekly cash burn, which meant there was enough headroom under the extended bank facilities.
Now that survival seems assured, a big bounce in share price looks logical, which we've already had.
Will it need to do another placing? Possibly, but I think the cash generation for the rest of 2021 could be astoundingly good, and of course there won't be any corporation tax to pay for a while, so I reckon it could organically reduce net debt strongly, which hopefully might prevent any further dilution. The other point to consider, is that cashflow improves once sites open – because cash comes in instantly from customers, but bills are paid monthly in arrears.
.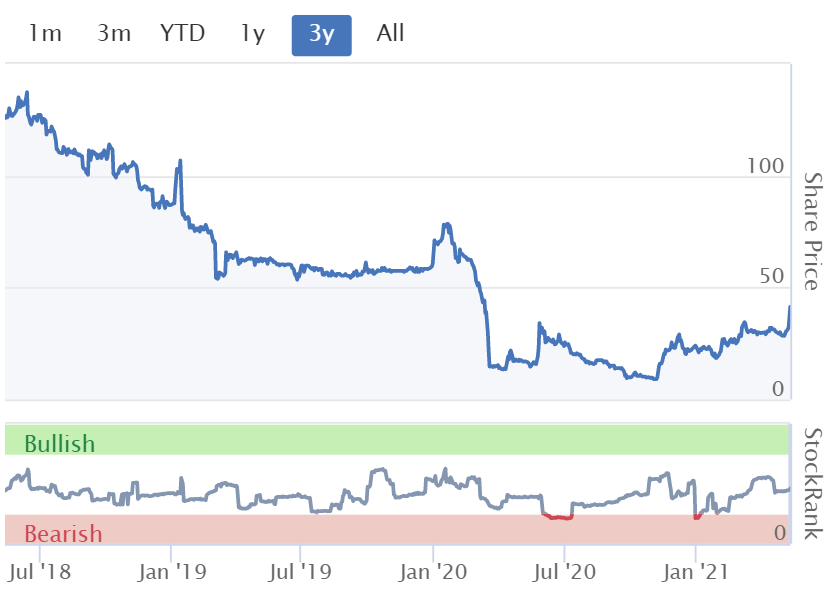 .
---
Joules
(LON:JOUL)
(I hold)
269p – mkt cap £300m
Again, this was left over from yesterday, so apologies for my tardiness.
Joules, the premium British lifestyle brand, today provides a business and trading update for the 11 months to 2 May 2021 (the "Period"). This follows the UK Government's announcement yesterday confirming the timetable for the easing of restrictions across the hospitality and leisure sectors over the coming weeks.
This looks like an unscheduled trading update, issued because the company is trading ahead of expectations – the best type of trading updates!
Summary -
Positive performance across retail channels resulting in anticipated FY21 revenue and PBT ahead of expectations
* As at 10 May 2021, FY21 company compiled analyst consensus was for: Revenue £187 million and PBT pre- exceptional items £4.1 million
Reasons given -
continued strong sales on the Group's digital platform
encouraging initial contribution from the acquisition of Garden Trading
performance of the Group's stores since their reopening from mid-April.
Broker upgrades – thanks to a friend for flagging up an update from Liberum, which you can see on Research Tree. What's notable is that analyst Wayne Brown has put through some hefty increases for future years. We know how cautious analysts are generally being at the moment, due to macro uncertainty, so it's worth taking note when a credible analyst upgrades numbers substantially.
We're now looking at 4.3p for the current year FY 05/2021 – a PER of a rather scary 63 times! This is a red herring in my opinion, as it's the future (post pandemic, we hope) that matters more. In any case, JOUL has proven itself highly resilient, because it's now an eCommerce-led business, with a digital marketplace for complementary brands. Digital marketplaces are the way of the future, in my view, hence why I like Joules so much.
The current year FY 05/2022 goes up to 12.5p forecast, then 18.0p for FY 05/2023 (an increase of 67% on previous forecast). If achieved (or beaten?!) the 18.0p EPS forecast brings the PER down to only 14.9 – now the valuation makes sense.
My opinion – I really like this share, it's a coffee can holding for me – i.e. I'm largely ignoring short term valuation amp; price movements, to focus on the bigger picture long term.
JOUL is difficult to value, because nobody knows if forecasts 2 years out are likely to be missed, hit, or beaten. So there's clearly risk in adopting that valuation approach.
The business model strikes me as really excellent – selling mainly online (showing rapid growth), selling complementary brands alongside "Friends of Joules", buying the best performing brands after seeing exactly how they perform on the FoJ marketplace, plus a relatively modest store portfolio. The branding of Joules is incredibly strong, and very distinctive, with customers prepared to pay high prices. There's a lot to like there. The product's great too, I'm very happy with my research-driven purchases – including an exterior mirror which I managed to smash within 5 minutes of unpacking it (my 4th floor terrace is rather windy). Hopefully not the harbinger of 7 years bad luck!
I'm more comfortable now that forecasts have been greatly increased, which reinforces that my research is probably correct, and that the valuation is actually looking quite sensible, and not as stretched as it looked on the old, super-cautious forecasts.
As my investing education continues, I'm gradually learning that sometimes you have to look through the figures, and see the bigger picture.
The StockRank could rise, once the greatly increased forecasts flow through, which should improve the momentum and value scores.
.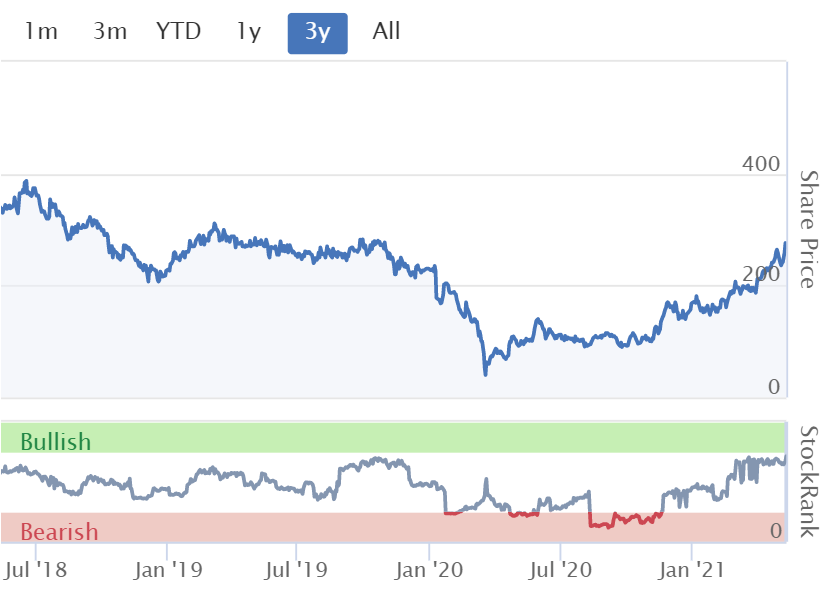 .
---
Macfarlane
(LON:MACF)
(I hold)
121p (up 6% today, at 15:02) – mkt cap £191m
This is a packaging products company, with a calender year end.
Yesterday, it said-
"Macfarlane Group has made a positive start to 2021, with sales in the first quarter 15% ahead of the same period in 2020. Group profit for the year to date is also well ahead of that achieved in 2020.
Two recent acquisitions are going well
Net debt has increased due to acquisitions, but is still modest at £6.0m, hence bags of room on £30m bank facility
Outlook -
Covid-19, supply shortages and raw material price increases will continue to have an impact on the markets we serve for the remainder of 2021. However, we have consistently demonstrated our ability to address such challenges and effectively support our customers. We are therefore confident that the resilience of our business model, together with the skill and commitment of our people, will ensure 2021 will be another year of good progress for Macfarlane Group."
I wonder if that means price increases can be passed on to customers?
Lots of companies are reporting raw materials price increases at the moment, so the risk of inflation does seem to be a genuine risk.
My opinion – this is a decent business, and it's actually cheaper than it looks. Why? Because very conservative accounting means it doesn't adjust out amortisation of acquired goodwill.
Supplying packaging materials to eCommerce businesses looks a good space to operate in. Other markets should recover over time.
Overall I think it's quite good, and worth considering for value investors. Bolt on acquisitions seem to be well executed, at reasonable prices.
---
Jack's section
Mears Group (LON:MER)
Share price: 193p (+3.76%)
Shares in issue: 110,836,888
Market cap: £213.9m
Mears (LON:MER) is a housing and care provider to both the public and private sector. With its focus on local communities and care to people, it hopes to 'tackle the deep rooted challenges to the NHS and Social Care'.
Sometimes the companies you want to do well aren't necessarily the strongest investment cases. And on that note, Mears Group has poor trailing twelve month (TTM) return on capital and operating profit scores.
These have been stronger in the past but the trend over the past two years has been poor and the group has struggled to grow profitably over time despite decent revenue expansion.
But the company is changing shape.
Its revamped strategy revolves around transitioning to a 'focussed, low capital intensity, housing services provider, specialising in the affordable sector' and this transition is now largely complete following the disposals of Terraquest and Domiciliary Care businesses for up to £70.0m and £7.5m respectively.
Highlights:
Revenue -9% to £805.5m on a continuing basis; Maintenance revenues -19% to £536.9m (Covid disrupted), Management-led revenues +40% (due in part to full year impact of the Asylum Accommodation and Support Contract ('AASC'), mobilised in September 2019),
H1 adjusted loss before tax of £8.2m; H2 profit before tax of £4.8m,
FY adjusted LBT on continuing items of £3.4m (FY19: £32.4m profit); statutory LBT of £15.2m (FY19: profit £20.3m),
'Significant transformation in indebtedness driven by disposals' – net cash of £56.9m at year end; average daily net debt for FY20 of £97.3m (FY19: £114.4m) and now more like average daily net debt of c£65m.
The group has a pension fund and £229m of capital lease obligations too. It has also struggled to remain consistently cash generative. So even though progress is being made, this looks like a high risk stock.
I like the reporting of average daily net debt (more companies should do this in my opinion, in order to prevent window dressing).
It expects an H2 weighting of results in the upcoming year due to lockdowns easing.
FY21 guidance reinstated:
Revenue of £770m-£820m
Normalised PBT of £21.3m-£25.5m
100% cash conversion targeted
Capex at 1.25% of revenue
Targeting average net debt reduction and resumption of dividends 'as soon as prudent'
Conclusion
Following the disposal of the Domiciliary Care and Planning Solution activities, Mears looks like a smaller and simpler business with a clearer strategic focus on becoming a leading provider of housing solutions.
FY21 guidance suggests the group is targeting around 15-20p of earnings per share depending on tax rate. With today's share price, that makes for a forecast PE ratio of around 9.7-13x.
And the group does generate a lot of revenue – £831m of annualised revenue from a £206m market cap company. When you get that sort of profile, small percentage changes in revenue growth and cost base reduction can quickly translate into a jump in earnings per share.
Share dilution has been minimal, so shareholders would hopefully capture quite a lot of that upside. The disposals could be an important step on the path to recovery but it's early days yet.
There's a path forward for Mears here and you can argue that the shares are cheap. But it is not executing this turnaround from a position of financial strength, and it's a complicated situation with a number of important variables at play.
You'll need a high risk tolerance to consider it and further due diligence is required. All things considered there are probably better, simpler opportunities out there.
Source:
https://www.stockopedia.com/content/small-cap-value-report-weds-12-may-2021-redd-vtu-rbg-joul-macf-mer-808889/
Before It's News®
is a community of individuals who report on what's going on around them, from all around the world.
Anyone can
join
.
Anyone can contribute.
Anyone can become informed about their world.
"United We Stand" Click Here To Create Your Personal Citizen Journalist Account Today, Be Sure To Invite Your Friends.