Small Cap Value Report (Thu 10 June 2021) - DFS, BEG, IGP, CARD, ERGO, HRN
Sunday, July 4, 2021 2:01
% of readers think this story is Fact. Add your two cents.

Good morning, it's Paul amp; Jack here, with the SCVR for Thursday.
Timing – we've covered 6 companies, and don't want to overload you, so that's it for today. We were going to look at SPE and NXR but they don't seem to have moved much in price, so there's less of a rush to report on them.
Agenda -
Paul's Section:
Dfs Furniture (LON:DFS) – very impressive Q4 order intake, and crystal clear guidance for what's turned out to be a year of bumper profits for FY 06/2021 – who would have thought that outcome would happen, this time last year?!
Notes from my briefings yesterday with Begbies Traynor (LON:BEG) (I hold) and Intercede (LON:IGP) (I hold). I'm pleased with progress at both companies, and see them as good long-term holds, probably priced about right for now.
Card Factory (LON:CARD) – I have a proper rummage through the FY 01/2021 results – which to be fair are not as bad as I feared – thanks to massive taxpayer support. Stretched balance sheet badly needs the £70m equity fundraise that the company has agreed with its banks to do on a best efforts basis. Overall, I think risk:reward looks unfavourable. I'll look at it again once trading (not very impressive since re-opening) has stabilised, and the £70m placing has been done. Until then, for me it's an avoid. Why take the risk? £225m mkt cap looks full, for a highly indebted retailer with limited online progress.
Jack's Section:
Ergomed (LON:ERGO) – strong trading momentum continues, with FY adjusted EBITDA to be 'materially ahead', although existing forecasts appear to be conservative based on historic growth rates.
Hornby (LON:HRN) – revenue growth of 28.3% in a Covid-disrupted year is creditable and the company is investing for growth, but a fair amount of further recovery is already priced in.
---
Paul's Section
Dfs Furniture
(LON:DFS)
272p (pre market open) – mkt cap £703m
Ahead of its financial year end on 27 June 2021, DFS Furniture plc ("DFS" or "the Group"), the UK's leading retailer of living room furniture, provides the following update on recent trading through to 6 June 2021.
Strong trading performance and outlook, with fourth quarter order intake to date up 92.1% on FY19, demonstrating the strength of our 'Integrated Retail' operating model
That's a staggeringly good Q4 order intake, sensibly compared with FY19, ie. 2 years ago, not the meaningless comparison against FY20 when lockdown 1 was at its height. I'm pleased to see this comparison with 2019 becoming the norm for most companies reporting, as it helps us understand the underlying picture. Providing of course that the business hasn't materially changed (e.g. acquisitions/disposals), which would need to be stripped out to give a like-for-like comparison. A footnote to this statement indicates that Sofa Workshop has been excluded from the 2019 comparison period. Sofa Workshop was disposed of by DFS, hence removing it from performance figures is correct, to give us the true underlying trading figures. All good so far.
Q4 +92.1% order intake – driven by pent-up demand from lockdown in Q3, and increased consumer spending on home improvements.
Online sales in Q3 (when showrooms closed) was up 222.5%. Since re-opening of the showrooms more recently, online sales have settled at c.19% of the total, which I find impressive, considering many people want to see, touch, and sit on (where appropriate) furniture before buying.
H2 to date (23 weeks) – total order intake up 14% on FY 06/2019 – this is really impressive – DFS has achieved this strong result despite its showrooms being closed for a lot of that period! Although there is a time lag between orders being taken, and product being built amp; shipped, as things are made to order. So there could be an element of revenues being shifted from FY 06/2021 into FY 06/2022, which doesn't really matter in the long run of course, but might skew the figures a bit.
Profitability – all important, and it looks good -
(Almost) full year (49 weeks) revenues are up 10.4% on 2019, which I find remarkable, given this period includes 2 extensive lockdowns.
Bumper profits are indicated – well ahead of pre-pandemic levels -
On course to achieve FY21 underlying profit before tax**** of at least £105m

****Underlying profit before tax and brand amortisation
Unfortunately it doesn't tell us what broker forecasts are, and I can't find any broker notes. However, the StockReport gives analyst consensus of £45.8m profit after tax for FY 06/2021. Add back tax at c.20%, and I get to £57m pre-tax profit. So at least £105m looks a large beat, assuming those figures are in the right ballpark.
Actually, that seems to conflict with what the company says today, namely -
We are on track to report at least £105m of FY21 underlying profit before tax****, slightly above the 'medium' scenario discussed in our interim results
Therefore it looks like the forecasts used on the StockReport could be out-of-date unfortunately – I've raised a green blob to request this is looked into.
Guidance for next year - as I suspected, the company says some of the recent bumper order intake will be delivered, hence recognised as revenue in FY 06/2022.
So I'm a little confused as to why the latest guidance is for profits to reduce in FY 06/2022? This could be because business rates are set to resume. It also mentions margin pressure -
Retail margins are expected to be lower in FY22, given manufacturing cost inflation under constrained output capacities and rising raw material prices
FY22: Underlying profit before tax**** range of £66m-£96m, with a medium-case scenario of £85m PBT**** (+70% relative to FY19)
Even better, DFS gives us 3 scenario outcomes for profit in FY 06/2022. This is absolutely brilliant, and I wish all companies would do this. It's nonsense to just give a single figure for forecast profit. A range of scenarios like this below, makes much more sense. Companies have these forecasts internally, so why not share them with investors? Well done to DFS for publishing this, it's fantastic, and makes me more likely to want to buy some shares, as there's less guesswork involved when proper guidance is given by the company -
.
.
New sites – the above guidance includes 16 new showrooms expected to be added by end FY 06/2022, compared with FY 06/2019, hence why total order intake is higher than the LFL order intake above.
Supply constraints – seems to only be causing delays, rather than anything more serious -
Our revenue growth in FY21 has however been constrained by sector-wide pressures on supply chains from raw materials availability, container shipping delays (including the effects of disruption in the Suez Canal), and Covid-19 disruption of factory production. Therefore the majority of the revenues and profits from our strong final quarter of trading will be recognised in our FY22 financial year.
Dividends – a 7.5p final divi is expected to be declared in Sept 2021.
Dilution – due to its awful, painfully weak balance sheet, DFS was forced to raise more equity during the pandemic. Therefore, note that the share count is now 258.4m, well up from the pre-pandemic level of c.215m. That curtails the upside per share.
Whereas smaller rival Scs (LON:SCS) (I hold) which has a bulletproof balance sheet, didn't need to raise fresh capital, and should therefore have better upside per share. Plus SCS shareholders could sleep soundly at night during the pandemic, whereas DFS at times looked to be in a dicey position. I like to make money on shares without having any worries about insolvency.
My opinion - DFS is a really good business, no doubt about that. It's performed remarkably well in such a heavily disrupted year, showing that lockdowns have not impacted demand for furniture, just caused delays which are quickly recouped when showrooms re-open. Plus people spending more time at home, seems to drive up consumers desire to revamp our homes.
My balance sheet concerns remain, and the weak finances resulted in material dilution during the crisis, showing the folly of running any business on a negative NTAV balance sheet (substantially so in this case). Management clearly have not learned any lessons from this, as they're re-starting dividends.
I think Scs (LON:SCS) is a much better, lower risk proposition as an investment, since it's sitting on pots of cash, and trading well, at a bargain rating. There should be read-across from upbeat figures today issued by DFS. Hence DFS being up 12% at the time of writing, looks justified from this strong update today. Read across to SCS (I hold) hasn't happened, and it's down 1%. There's an obvious mismatch there, so I'll be topping up SCS when funds permit.
A remarkable share price recovery at DFS, which I think is justified by strong performance.
.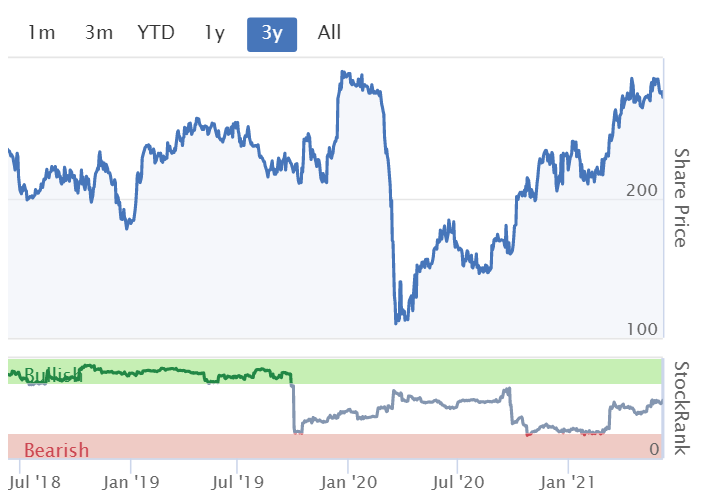 .
---
Card Factory
(LON:CARD)
65.2p (down 2.5% at 10:49) – mkt cap £222m
Card Factory, the UK's leading specialist retailer of greeting cards, dressings and gifts, announces its preliminary results for the year ended 31 January 2021 ('FY21′).
As regulars here might remember, my main concern with CARD is its weak balance sheet, with too much bank debt. It has limped along from month to month, getting bank covenant waivers on the last day of each month – a very precarious situation, that in normal markets would have smashed the share price down. However, we're not in normal markets, and the market has seemed happy to ignore the insolvency/dilution risk, and excessive bank debt.
More recently, a refinancing was announced. I thought it would be good to get a different perspective, as I might have become biased, so Roland covered the May 2021 bank refinancing here on 21 May 2021.
The banks agreed to provide £225m facilities, until Sept 2023. Net debt was £110m on 16 May, although Roland reckoned that is likely to rise as business resumes, and when creditors are normalised (he's right).
An equity fundraise of £70m is on the cards, but not compulsory. There seem to be penalties if it's not done – understandable, as the bank debt would be more risky without an equity placing.
Trading was reported as above expectations, but personally I wasn't impressed. I like to see pent-up demand causing a big rise in revenues after re-opening (as we've seen above with DFS). That was not the case at CARD, with revenues reported on 21 May as having been marginally down on 2019.
That's the background, so let's move on to today's results/outlook.
Key figures FY 01/2021 -
Revenue down 37% to £285m
Underlying profit before tax £(15.2)m loss (LY: £67.2m profit)
Underlying EBITDA £47.0m (LY: £125.9m)
Ended the year with a £35m reduction in net debt to £107.7m, 2.3x leverage (EBITDA), achieved by stretching other creditors
Poor numbers obviously, but no surprises given the major disruption caused by the pandemic.
I wonder how aggressive they've been with the "underlying" adjustments? Actually, there are hardly any adjustments between underlying, and statutory PBT, so this is fine. Always worth checking though, especially at financially distressed companies.
Remember that the company has benefited considerably from Govt support schemes like business rates relief of £18.1m, and JRS of £31.4m – huge amounts. Future years will see that removed, so revenues need to recover a lot, just to get back to breakeven. Offsetting that a little, I imagine lease renewals would be coming in at reduced rents, but that takes years to play out. Plus we have wage inflation to think about.
The hospitality sector is having widely publicised trouble getting staff back from furlough, and I imagine retailers may well face similar problems. After all, what would you rather do? Stand around all day behind a till, having to deal with the revolting British public, trying to stop them nicking things? Or whizzing around in a van or moped, delivering parcels for Amazon, or the local takeaways? Some people might prefer the latter, especially in the summer, I would, if unemployment loomed!
Current trading/outlook – seems somewhat underwhelming to me – when last reported in May, they said trading was ahead of expectations – not any more -
The strong initial pent up demand has steadied and our performance since reopening has been in line with expectations…
… The business is likely to continue to face increasing National Living Wage costs amongst other cost pressures. In addition, the full impact of Covid-19 on the short to medium term performance of the business is unclear. However, the business is operating close controls over its cost base and liquidity in order that it emerges from this crisis on a strong footing.
Equity raise - doesn't sound particularly pressing, but also perhaps indicates that shareholders may not be in a rush to commit fresh money on generous terms?
The big risk with this share is that an equity raise might have to be discounted heavily to get it away. As we've recently seen with Revolution Bars (LON:RBG) (I hold), the institutions don't like being asked to get the bank off the hook, and can demand a big discount, thus diluting the small shareholders –
As previously announced, Card Factory intends to use its best efforts to raise net equity proceeds of £70m in due course, subject to independent advice and prevailing market conditions, to facilitate an early reduction of overall debt prepayments….
Following the impact of Covid-19, the Board intends to prioritise de-levering the business, which will impact the distribution of cash to shareholders in the short-term, as reflected above. Given the inherent uncertainty around the recovery of the business following the extended lockdowns experienced to date, and the risk of any subsequent lockdowns that may be imposed in the future, the Board will consider various options to ensure the key stakeholders of the business are protected as much as possible in these uncertain times and will look to provide a further update on capital policy as trading conditions become clearer.
Importantly then, although no dilution has happened as yet in the pandemic, it's very likely to happen, and needs to be factored into valuation measures. We have no idea what the terms might be. It could be heavily dilutive if the Instis demand a deep discount, or it could sail through at or near the current share price. It's that uncertainty which puts me off this share completely. I don't want to have to guess, making assumptions that could turn out to be completely wrong. The heavy dilution at Revolution Bars (LON:RBG) (I hold) has made me super-cautious now, and am really keen not to take on any other shares where there's dilution risk.
See further down, where I sketch out some example numbers amp; the dilution resulting at various prices.
Net debt – £144.9m of this relates to lease liabilities, which as usual I'm happy to ignore, because it's not debt, it's future years' operating costs. The balance of £107.7m doesn't seem too bad, but how much have other creditors been stretched, and what sort of level would it rise to once business has normalised? This note is helpful too, on seasonality -
It should be noted that net debt at the half and full year period ends is lower than intra-year peaks, reflecting usual trading patterns and working capital movements.
Balance sheet – NAV is £206.5m.
However, intangible assets are huge, at £320.3m, which I always write off.
That arrives at NTAV of negative £(113.8)m – pretty awful.
Even the £70m placing would not fully sort that out – deduct say £3m fees, and £67m net raised, would reduce the NTAV to a still negative £(46.8)m – still fairly bad.
That said, CARD does have a capital-light business model, and its inventories are low cost (greetings cards are notoriously very high margin), plus there's little in receivables because it sells for cash to customers, before having to pay creditors usually.
Therefore it doesn't actually need a strong balance sheet, but even so the excessive dividend payments of the past, whilst overly-relying on bank debt, was clearly a folly. In this case, management does seem to have learned from that, and are now prioritising debt reduction, probably having their wits scared out of them by dangling on the edge of the solvency precipice for a while now.
Normalised working capital – note that inventories are £18.0m down on a year earlier (pre-pandemic), so we can safely assume this would return to a similar level in future.
Creditor stretch is evident in "Trade and other payables" line, which should have gone down (to reflect lower inventories), but is actually up, Y-on-Y by £12.4m.
Put those 2 together, and it looks like working capital has been stretched by c.£30m, so I would add that on to reported net debt, taking us up to normalised net debt of £107.7m+£30.4m = £138.1m. The company indicated above that seasonal peaks would take this figure higher, I don't know by how much.
My conclusion is that the £70m placing is very necessary, and needs to happen, but that's probably enough to get the ship back on an even keel.
Although that depends on future trading. Will it return to previous levels of profitability? Personally I think that's unlikely – costs are rising, and a certain amount of High Street footfall has probably gone forever, we just don't know how much.
Future dilution from a £70m fundraise – here are my workings:
Current position: 341.6m shares in issue, at 66p share price = £225m mkt cap.
Fundraise of £70m is needed. We don't know the price, that's decided by Instis. Here are a range of possible outcomes, and resultant dilution:
66p per share: 106.1m new shares issued, 31% dilution
60p per share: 116.7m (34% dilution)
50p per share: 140.0m (41% dilution)
40p per share: 175.0m (51% dilution)
33p (50% discount): 212.0m (62% dilution)
EDIT: I've expressed dilution as the % increase in the share count. End of edit.
So current small shareholders are facing likely dilution anywhere from 31% to 62%, and you've got no idea what the price will be, assuming it's within that example range of the current price, down to a 50% discount. Will a sensible sized open offer be included, if the placing is deeply discounted? Again, we don't know.
Remember dilution is important, because that's taking away some of your future upside on the share price, in return for securing the business's finances – lower risk, but lower returns for shareholders.
My opinion - I've tried to look at this with fresh eyes, and be impartial.
To be fair, the figures are not as bad as I'd feared.
It's historically been a good, cash generative business. With lower footfall likely, and higher costs, I don't see it returning to previous levels of profits/cash generation.
There's not much in today's update about online, and CARD has been largely left behind by newer competitors such as Moonpig (LON:MOON) – they've eaten CARD's lunch, under their noses.
I'm happy to look at CARD again, once it has properly refinanced with the £70m placing. Until then, I can't see enough upside to justify taking the risk of heavy dilution.
Note that CARD was struggling before the pandemic struck – it had already halved from c.200p to under 100p before covid. More recently, the re-opening frenzy amongst investors clearly chased the price too high, and personally I cannot see any reason why this share is over 50p, I think that would be generous. The future returns depend heavily on how the refinancing happens.
.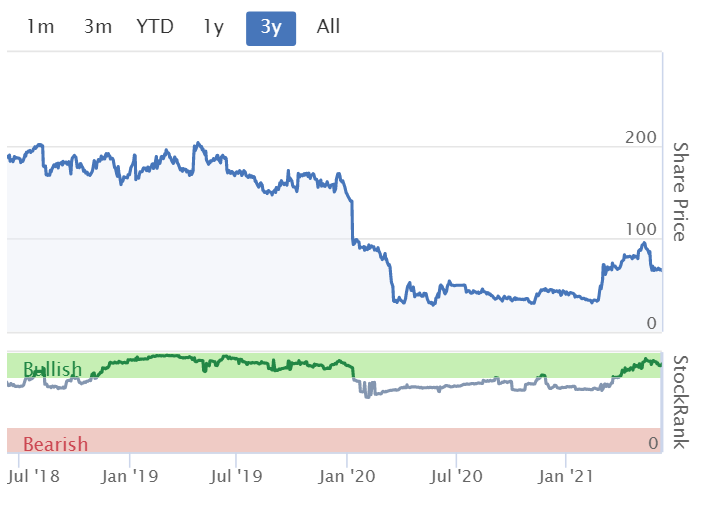 .
---
Begbies Traynor
(LON:BEG)
(I hold)
143p – mkt cap £214m
Results presentation – Equity Development organised a results webinar yesterday, which I attended.
Here is the recording, it's interesting, so worth a watch -
I mainly listened amp; soaked it in, but did jot down a few key points as follows -
Cumulative earnings growth of +20% p.a. – acquisitions, plus some organic growth despite insolvency market being suppressed due to Govt support schemes – necessary at the time, but likely to be withdrawn amp; tip a lot of companies over the edge – so insolvency market (counter-cyclical) is expected to improve
70% of BEG's business is counter-cyclical, 20% cyclical, and 10% uncorrelated to the economy
Aiming for 50:50 counter-cyclical:not in future
Wide range of services in insolvency, accounting, and property
Growing dividends, and improving divi cover
Property auctions have all moved online
Recent acquisition has a big profit-based earn-out – self-funding earn-outs
Routine cases are £10-100k fees, so a nice spread of smaller jobs, reduces risk, a few larger insolvency jobs. Cases typically 2-3 years in duration, or 5 years for larger cases.
EPS (actual, then forecast) table shown progressing: 5.7p, 6.8p, 9.2p – strong forecast growth from big acquisitions made recently (hence PER is about 15, which seems about right to me, not expensive).
Lots of IT projects done, to become paperless, instead of old paper files. Hence working remotely has been possible. More IT projects in the pipeline
My opinion – Begbies is making encouraging progress. I think the recent rise in share price is fully justified by the strong earnings growth amp; positive outlook. Very strong owner/manager in Ric Traynor, who has demonstrated ability to make multiple acquisitions at good prices, and enhancing earnings per share.
I think the current share price looks about right, but for me it's a longer term coffee can type share, that I reckon should deliver respectable shareholder returns in the years to come.
---
Intercede
(LON:IGP)
(I hold)
110p (up 5%, at 09:55) – mkt cap £63m
This cyber-security credentials management software company is doing results presentations, with an InvestorMeetCompany presentation today at 16:30 - well worth attending.
I got a slot yesterday to go through the results presentation that will be the same slides as in today's IMC. There wasn't a lot new, and remember that results presentations are just re-hashing the results RNS, but in a more readily digestible fashion. I like hearing management talk about the company in their own words, and having the chance to ask questions to clarify things I don't fully understand.
A few key points -
Good revenue growth in core USA market, was +14%, +15% at constant currency
I queried the nature of licence revenues – are they subscription, or perpetual? They're mainly perpetual, i.e. one-offs. So company has to keep winning new business to generate licence revenues, but at £2.3m this was only 21% of revenues
Recurring/repeating revenues make up the other 79%, being support amp; maintenance, plus bespoke professional services which is regular income
Recurring/repeating revenues now cover pretty much the whole cost base – a good position to be in, and greatly improved from the past – these are "incredibly sticky" revenues
"Client list to die for" – and big clients use IGP extensively internally, not just in niche areas – some clients have gt;100k user licences
Covid has delayed pipeline, not reduced it – could be some catching up
IGGP traditionally at top end of market, now growing into much larger middle market, but not interested in low margin SME bottom end
Convertible loan notes – 12 of 13 holders have converted into shares, and are long-term supportive holders, not flippers
Code – very few bugs, outages of MyID platform almost unheard of – very stable
Growth of 6% in FY 03/2021 would have been gt;10% without covid
Q – I queried how much growth the team can cope with? A. Very little of the work is related to volume of clients. Can switch on a new client in an hour after they sign up, as MyID is now an off the shelf product. So growth potential is not limited by staffing
Weaker dollar will have more of an impact this year FY 03/2022, hence why Finncap forecasting modest growth this year
Strong end to the year, as stated in results RNS
Partners – trained in how to use, setup, integrate, and sell IGP products. Encouraging, e.g. hoping large Guidehouse deal is first of many larger deals
Mamp;A – probably the biggest change in emphasis – it seems IGP is now actively looking for acquisitions, because the sector is consolidating, "no reason we can't be a consolidator". That does introduce risk of course, if they mess it up, but I rate mgt highly so am pretty confident they won't.
My opinion – I'm happy with progress here. I really rate management at IGP, because they set out a clear turnaround strategy 3 years ago, and have delivered what they set out to do. That's the crux of small cap investing – backing the best management, at companies with good potential.
I think the share price looks about right, neither expensive, nor cheap. So for me it remains a long-term hold (I've been in since mid-2018, and see no reason to sell, because things are working out well).
.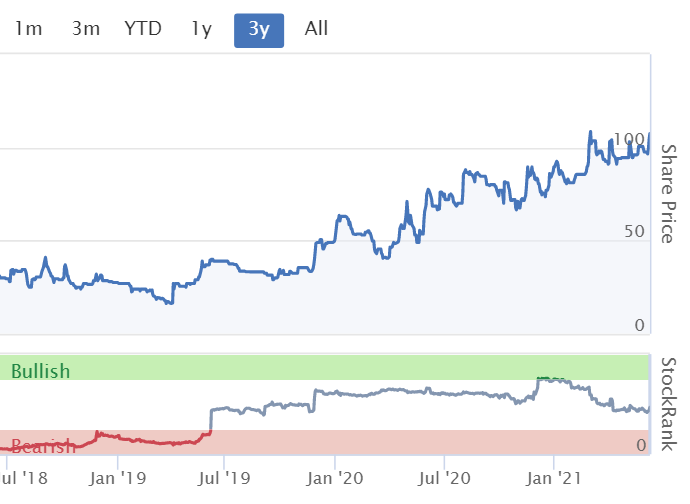 .
---
Jack's section
Ergomed (LON:ERGO)
Share price: 1,200p (pre-open)
Shares in issue: 48,790,681
Market cap: £585.5m
(I have an interest in this share)
Ergomed (LON:ERGO) is a services provider to the pharmaceutical industry that has, over the past couple of years, refocused its efforts away from the co-development of new drugs and towards running drug trials and monitoring newly developed treatments for adverse effects.
It has been a highly successful change so far, as the company is now growing into a large market with lots of organic demand. The services side also benefits from lower Ramp;D costs and less predictability.
The share price reaction has been impressive.
It has paused for breath recently. Earnings grew by 45% in FY21, but earnings growth for the year after is expected to be a more modest 13.3%. This would be quite some slowdown, so it's possible that these forecasts are conservative.
Indeed those forecasts have been steadily increasing, so there's always a chance that Ergomed's growth prospects are not being adequately reflected.
The group says it has made a 'strong start' to 2021, building on its momentum from the preceding year.
Its strategic transition to a services-based business model is now complete but the company remains busy. The Ashfield Pharmacovigilance business is now fully integrated and Ergomed's pharmacovigilance division continues to experience strong growth in revenues 'in line with prior trends'.
In the CRO business, integration of MedSource, which was acquired in December 2020, is progressing well. The rest of this business is seeing 'further acceleration in the growth that resumed in the second half of 2020'.
The two acquisitions noted above are helping Ergomed to expand its operational presence in the important US market. There's expansion in other markets as well, including Japan, where ERGO has recently announced a new operation. This is the fourth largest pharmaceutical market in the world.
Impressively, at this early stage, the group comments:
With continuing strong sales and order book growth, solid trading in the first months of the year, effective cost management and acquisition synergies, the Board currently expects adjusted EBITDA for the full year to be materially ahead of market expectations. Reported revenues for the full year are expected to be in line with market expectations, notwithstanding a higher proportion of US dollar denominated revenues leading to some FX headwinds.
Conclusion
It's impossible to fault Ergomed for its strategic pivot, ongoing execution, or the size of the opportunity it has identified. It seems as though pharmaceutical companies the world over have an appetite for the company's high-quality, outsourced expertise.
The only real quibble is valuation.
When high growth companies become ex-growth companies, there can be a nasty de-rating. That certainly doesn't seem to be the case here though, with Ergomed having continued to grow through the pandemic and already beating expectations for the current financial year.
I wouldn't bet against this trading momentum. The US acquisitions and its expansion into Japan should yield further strong growth opportunities.
Perhaps you might argue that the easy rerate has happened now, with the company's strategic transition complete. Some might find it's better to journey than to arrive. But if you just read through the recent updates, there's no real reason to sell beyond that.
2020 saw Ergomed grow its order book substantially while other companies fought for their lives. This order book stood at an all-time high of £193m by the end of 2020, up 55.5% year-on-year, providing solid revenue visibility for FY21.
There is also scope for ongoing Mamp;A as Ergomed continues to grow into the pharmacovigilance and CRO markets. Reputational risk is key here, and there is a chance competition could intensify, but these pharmaceutical companies must trust their outsourced partners. Ergomed is building an enviable track record in this regard.
Some stocks deserve to be bought and held for the long run and today's update shows that, if you can handle the high rating, the Ergomed story could have some distance to run yet.
---
Hornby (LON:HRN)
Share price: 61.32p (+3.93%)
Shares in issue: 166,927,838
Market cap: £102.4m
Hornby (LON:HRN) develops, produces, and supplies toy and hobby products through a network of hobby specialists, retailers, and its own websites. Some of its brands are verging on iconic status, such as Scalextric, Airfix, and Hornby's own train sets.
The group has been battling declining revenues for some time now and is firmly in 'turnaround' mode.
But it has a very experienced turnaround/value specialist as its major shareholder in the form of Phoenix Asset Management. The shares are tightly held, with the top ten shareholders accounting for c93% of shares in issue. Phoenix holds just under 75%.
The central sticking point for me here is the current valuation. With 167m shares in issue, today's market cap is about £102.4m on £48.5m FY21 revenue and FY21 net profit of £1.36m (helped by an income tax credit of £1.02m).
Back in March 2011, it looks like the market cap was around £53.5m with revenue of £63.4m and net income of £2.86m. Half the price for 31% more sales and more than double the profits.
Today's valuation is already pricing in quite a lot of profit recovery and a degree of revenue growth. But then again, with the advent of internet retail, perhaps Hornby faces a fundamentally more attractive opportunity?
Highlights:
Revenue +28.3% to £48.5m,
Operating profit up from £2.8m loss to £0.6m profit,
Underlying profit before tax up from £3.4m loss to £1.5m profit, reported PBT up from -£3.4m to £0.3m
Underlying basic earnings per share up from 2.57p loss to 1.36p of earnings,
Net cash of £4.7m, down from £5.9m.
Hornby maintained market prices in the year and managed to improve the gross margin. Trading terms have been 'aligned to the collaborative support provided'. It's a creditable result given the disruption to the retail industry.
Revenue growth of 28.3% is also encouraging. The company says:
Despite the many challenges to the Company caused by Covid-19 the old adage that people turn to hobbies in times of recession proved correct and sales increased across almost all channels and brands except concessions that were closed due to lockdowns for the majority of the year.
It also adds that it gained a lot of new customers over lockdowns. Just how many of these stick remains to be seen but so far Hornby says that the demand continues despite lockdowns easing.
The new product development cycle is established and Hornby is working on its 2023 product ranges. New product investment is increasing and 'significantly more new releases and ranges' are planned.
Regarding Covid, the group comments:
Fortunately, a proportion of our product sales were already via e-commerce and we have been able to strengthen the channel as our logistic facility has remained operational under strict distancing protocols and we continue to dispatch goods. Similarly, our retail customers have implemented e-commerce systems and were better prepared to trade in later lockdowns.
Brexit has had an impact, leading to 'countless importation difficulties' and fourth quarter sales were affected. As the UK figures out how to trade profitably with neighbouring markets, this could transform from a headwind into a tailwind. For now though, it appears to remain the former.
And we have the (by now obligatory) comment on shipping prices:
There are still shipping delays from our supply chain with container shortages. Shipping costs from our factories are three times what they were previously. It would appear that the shipping companies favour these higher prices; they are in no rush for a return to past pricing levels. We anticipate that some normality will return in 2022.
Segments
Third party sales by the UK business of £37.4m grew by 31% in the year due to improved choice of products on offer and a significant increase in direct sales via the website.
The European businesses generated sales of £5.9m, down a percent as a result of Brexit complications. The European operations continue to be loss-making.
Sales in the US business of £5.2m increased by 60%. The trading loss of £0.3m compares to a £1.0m loss in last year. Hornby says this is a key market for future growth.
Capex
Property, plant and equipment (PPE) increased year-on-year by £2.5m to £6.7m as a result of increased expenditure in tooling for new products and technologies. Overall investment in new tooling, new intangible computer software and other capital expenditure was £5.0m (2020: £2.7m).
Finances
The facility with PNC is a floating facility capped at £12m with a margin of 2.5‐3% over LIBOR.
The Phoenix Facility is a £9m facility with a rolling three-year term and attracts interest at a margin of 5% over LIBOR on funds drawn. Undrawn funds attract a non‐utilisation fee of the higher of 1% or LIBOR.
The balance sheet looks fine, with net assets of £38.3m and net tangible assets of around £31m.
Net cash from operations has swung from a £3.9m outflow to a £4.2m inflow and capex has increased from £2.5m to £4.2m.
Conclusion
Hornby looks to be doing a lot of things right. It is investing in new product development and will release more product ranges. It is investing in technology and tooling. Revenue and capex are growing. Management anticipates increasing demand and more online direct sales.
Sales since the end of March 2021 are 'in line with expectations'.
As for the FY21 results, 1.36p of earnings translates into a PE ratio of 45x. The underlying earnings per share does not appear to strip out the £1.02m tax credit, which is responsible for around 40% of the underlying profit figure used in the calculation.
There is a decent amount of further recovery priced in at these levels. A lot depends on what a fully recovered Hornby looks like, and how much upside there is from here in terms of revenue and margin expansion.
The global toy market is vast so perhaps there is scope to significantly improve upon its historic levels of trading. That is what the company will have to do in order to continue creating value for shareholders at these levels, in my opinion.
So what is the size of the market for these kinds of hobby products?
On the one hand, Hornby looks to be priced quite aggressively considering where it is in its turnaround and the trading figures it is generating.
On the other hand are some valuable brands with a market opportunity that could be larger than it was a decade ago due to the widespread adoption of online purchasing.
But to what degree are these brands a UK-centric phenomenon? Overseas sales currently represent 23% of group revenue, down from 24% in the prior year owing to stronger UK growth. Perhaps this proportion can be increased, or perhaps other markets have their own nostalgic hobby products.
There is plenty of detail in the accounts and talk of a long term culture. This is a company that is passionate about its products and customers, and boasts brands with a long heritage. So there is value, and perhaps the mindset and financial backing to unlock that value.
Ultimately though, I would hope for a more modest market cap before buying into the turnaround story as risks remain and I wonder if the upside might be limited from here.
Source:
https://www.stockopedia.com/content/small-cap-value-report-thu-10-june-2021-dfs-beg-igp-card-ergo-hrn-821204/
Before It's News®
is a community of individuals who report on what's going on around them, from all around the world.
Anyone can
join
.
Anyone can contribute.
Anyone can become informed about their world.
"United We Stand" Click Here To Create Your Personal Citizen Journalist Account Today, Be Sure To Invite Your Friends.