Small Cap Value Report (Fri 7 Oct 2022) - WIN, STEM, MSLH, CGS, SDRY, BWNG
Friday, October 7, 2022 7:49
% of readers think this story is Fact. Add your two cents.

Good morning from Paul, and thank goodness it's Friday! Today's report is now finished.
Agenda -
SThree (LON:STEM) – this staffing company is a firm favourite here at the SCVR (no position personally, but it's on my watch list). So I asked management if they would do an interview with me, which we recorded yesterday here it is (audio). Management seem bullish about the outlook, and made lots of interesting points, which definitely deepened my understanding of the business. Also, I nagged them about doing webinars for private investors! I'll try to do more CEO interviews, but I'm highly selective and only do interviews where I think there's a good buying opportunity in the share.
This is what I'm planning on reviewing today:
Wincanton (LON:WIN) - a solid trading update, in line with expectations. Net debt has largely been paid off, and the pension scheme looks close to being fully funded, although current deficit recovery payments are still substantial at c.£20m p.a. Open book contracts are allowing increased costs to be passed on to customers. With a low PER, and a decent dividend yield, I think the recent unjustified share price fall is presenting a longer-term buying opportunity. Thumbs up from me, more detail below.
Marshalls (LON:MSLH) – this cropped up on the top fallers list today, and I think it looks quite interesting. It's a mild profit warning, due to a sharp slowdown in the largest division in Q3. I look through the last balance sheet, and find a rather ill-timed and large acquisition, but the funding position still looks OK. It's going on my watch list, more detail below.
Castings (LON:CGS) - an in line with expectations trading update. The most impressive feature, is that higher costs are being immediately passed on via surcharges. Castings has a fantastic balance sheet, and a remarkable long-term dividend paying track record. So it looks ideal for income-seeking investors. More detail below.
Superdry – better than I expected actually. Although EPS is heavily boosted by a negative tax charge, so ignore that. Guidance is for £10-20m profit in the new year, FY 4/2023. There's a risk with the bank facility expiring in Jan 2023, creating a "material uncertainty" going concern note. If bank facilities are renewed (probably quite likely), then I could see this share becoming lower risk. Potentially interesting as a recovery share, at some point. But risky in the meantime.
£BWNG - profit warning from yesterday. [no section below] - I did review the numbers, but it's so complicated to analyse. This is a hybrid of an eCommerce business, and a high cost-high default credit provider. I really dislike that business model, and competitors Studio Retail unexpectedly went bust not long ago. BWNG has a much stronger balance sheet than Studio did. There's a big legal case ongoing with Allianz. Provisioning policy for its huge customer receivables book can cause big swings in profitability, and we don't really have much visibility as to how much of the book will get collected, especially with a big consumer squeeze hurting low income people who use this type of credit. Now the pandemic boom has passed, BWNG is barely generating any profit. Will the controlling family take it private? That seems increasingly likely as the market cap continues falling. I don't see this as an attractive company, but it's looking very cheap now. Maybe cheap for a good reason? It's not for me, but good luck to holders, you might get lucky.
Sorry but I've run out of time today, so won't be able to cover Wetherspoons – Prelims – not looked at it yet, but I am interested, so will come back to this next week.
---
Explanatory notes -
A quick reminder that we don't recommend any stocks. We aim to review trading updates amp; results of the day and offer our opinions on them as possible candidates for further research if they interest you. Our opinions will sometimes turn out to be right, and sometimes wrong, because it's anybody's guess what direction market sentiment will take amp; nobody can predict the future with certainty. We are analysing the company fundamentals, not trying to predict market sentiment.
We stick to companies that have issued news on the day, with market caps up to about £700m. We avoid the smallest, and most speculative companies, and also avoid a few specialist sectors (e.g. natural resources, pharma/biotech).
A key assumption is that readers DYOR (do your own research), and make your own investment decisions. Reader comments are welcomed – please be civil, rational, and include the company name/ticker, otherwise people won't necessarily know what company you are referring to.
---
Paul's Section only
Wincanton
(LON:WIN)
304p (pre market open)
Market cap £379m
Wincanton plc, a leading supply chain partner for UK business, today issues the following trading update ahead of its half year results for the six months ended 30 September 2022.
H1 revenue up 8%
Helped by new business amp; a small acquisition.
70% of contracts are "open book", which allow for cost increases to be passed on to customers – a key advantage.
"Net debt closing at c.£2m, c.£14.4m improvement on H1 FY22"
Pension deficit - this reassures, but it's still a big issue.
As a result of the substantial derisking of our pension portfolio, recent LDI volatility has not impacted the funding position of the scheme.
Outlook -
With sustained growth in its strategic markets, the Group expects to deliver financial performance in line with market expectations for FY23. The Board remains confident in the Group's strategy, underpinned by a strong pipeline of new business across all sectors for FY23 and beyond.
Diary date – 15 Nov 2022, for H1 results to 30 Sept 2022.
Valuation – this looks attractively priced right now, on a low PER, and a decent dividend yield -
.
Balance sheet amp; pension scheme – I went through this thoroughly here in May 2022, and it's essential reading for anyone thinking about buying or holding this share. The pension scheme is requiring very large cash payments from the company, and remember these do not go through the Pamp;L – hence are not taken into account in the PER. This is why PERs tend to be low at companies which are funding big pension deficits. £19.2m cash had to be paid into the pension scheme last year, and slightly more this year.
However, the pension scheme is tantalisingly close to being fully funded (on the all-important actuarial basis, which drives cash payments into it). With large movements in bond yields and asset values recently, we need more detailed information from WIN on the pension scheme, although it does say today that the funding position has not changed.
The balance sheet is still weak, especially when we eliminate the spurious pension scheme accounting surplus (which isn't a surplus in real life), but the weak balance sheet doesn't seem to have held the company back.
My opinion – I've been really impressed with the performance of WIN in recent years, and it coped with the pandemic with aplomb. Open book contracts have turned out to be a key advantage, protecting the business against higher inflation.
If you're prepared to be patient, I think this looks an excellent entry point into a very good company, at an attractive price. Especially if the pension fund ends up fully funded in a couple of years't time, which was looking likely back in May. That would probably allow for a useful upward re-rating in the shares.
Overall then, WIN gets a thumbs up from me, as a good, long-term investment.
Nice high StockRank too -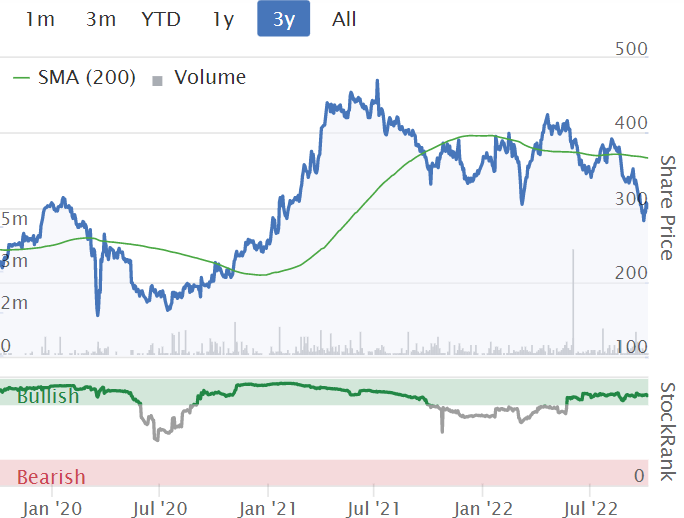 .
---
Marshalls
(LON:MSLH)
238p (down 22% at 08:36)
Market cap £596m
Trading Update (mild profit warning)
This is a hard landscaping manufacturer – so things like stone amp; concrete products.
Its shares have had a rapid, and large, fall from grace, and after today's drop it's now back down to a late-2014 share price. Is it paying us a fleeting visit here at the SCVR, or is it here to stay?
.
I say above that it's a mild profit warning, because this key bit doesn't seem too bad -
However, taking into account the combined impact of the accelerated rate of revenue contraction in Marshalls Landscape Products in the third quarter and the reduction in efficiency resulting from lower manufacturing output in this reporting segment, the Board now anticipates that the outturn for the Group as a whole will be slightly below the bottom end of the current range of market expectations*.

*Company compiled market consensus is £98.5 million with a range of £95.1 million to £101.0 million.
It would have been helpful to tell us what profit measure they're referring to above! Looking at the interims, it looks as if the £98.5m consensus mentioned above is probably adj operating profit, or adj profit before tax.
Although a profit warning towards the end of a financial year (FY 12/2022 in this case) can mean that there's more of an impact from slower trading in the following, full year. That could be offset by a full year of the substantial Marley business in 2023 figures, against a part-year in 2022 when it was acquired in late April 2022.
Revenues are strongly up, but mainly due to a significant acquisition, of Marley. YTD Q3, revenues are £544m (up 20% total, up 4% organic).
Building Products amp; Marley divisions seem to be trading OK.
Landscape Products is the largest division, and this is where problems have arisen – a sharp slowdown in revenue growth from -1% in H1, to -16% in Q3.
Reasons given are a "marked softening of demand" from housing repair maintenance amp; improvement (RMI), and de-stocking by distributors.
Action taken to lower production has reduced factory efficiency, but cost-cutting of £10m p.a. will kick in from start of 2023.
Net debt is expected to be 1.5x on a net debt:EBITDA basis, with "good headroom" on bank facility amp; covenants.
To be fair to MSLH, it did indicate in Aug 2022 with its H1 results, that demand was expected to soften -
Notwithstanding these factors, the outlook for commercial construction demand in the second half of 2022 remains positive and these end markets represent around 75 per cent to 80 per cent of the Group's revenues. In contrast, the softening demand for private housing RMI, which represents 20 per cent to 25 per cent of revenues, is expected to continue in the second half of the year. [from RNS dated 18 August 2022]
Balance sheet - I've had a look back at the interim results (6m to June 2022), and see there is a pension scheme, but it's in an actuarial surplus, and no cash payments are required. Very nice.
NAV was £706m, but a huge acquisition (of Marley – a roofing company) has resulted in intangibles (goodwill) of £551m. Take that off, and NTAV was £155m – a little bit on the thin side, for the size of business amp; its substantial fixed assets, with a bit too much debt, in my opinion, given where we are in the economic cycle. I haven't looked into the cost of debt, or whether the interest rates was hedged or not. So costs could potentially rise a fair bit, if the interest rate is not fixed, that needs to be investigated.
The Marley acquisition was on an enterprise value of £535m, which was part funded by an equity raise of £187m, and consideration shares of £164m (24.1m at 680p), so the vendors have taken a lot of pain since, with the share price plunging to 238p now. The rest of the acquisition was funded by a big increase in debt, but this doesn't look particularly dangerous to me – but we're not given an actual figure for recent net debt. It was £252m at H1.
My opinion – it looks as if the big acquisition of Marley might have turned out to be rather ill-timed, and maybe too expensive at 10.7x 2021 EBITDA. However, the funding was mainly a placing and consideration shares, which is a fairly safe way of doing it – i.e. the extra debt taken on does not look ruinous, and should reduce from cashflows over time.
The obvious macro worry now, is that much higher mortgage rates are likely to feed through to reduced demand for new build housing, and RMI work too. So the slowdown in the largest division could worsen, and spread to the other divisions. However, that's probably only temporary, things always recover, it's just the timing that is uncertain.
Overall, I think this share is starting to look interesting. It's a tricky one though, because newsflow is probably likely to get worse, before it gets better. Hence at this stage I'm inclined to add Marshalls to my watch list, but hold back from buying any right now. At some stage though, this could be a really nice recovery share, given how much it's fallen.
.
---
Castings
(LON:CGS)
307p (up 10% at 09:53)
Market cap £134m
Castings PLC ("Castings" or "the Company") announces a trading update in respect of the six months ended 30 September 2022.
Trading is in line with expectations (not quantified) -
The balance sheet remains strong with pre-dividend cash generation during the six-month period and management remain confident that the Company will continue to trade in line with market expectations.
Pricing power/ inflation – this is fantastic, if only all companies could report such strong control over selling prices, when costs increase -
Input price changes continue to be passed onto our customers through both established escalators and additional price increases. The most significant increase came into effect on 1 October 2022 following the end of our fixed price electricity contract. The higher unit cost for power is being surcharged to our customers immediately and will therefore increase revenue in the second half of the year. This should not adversely affect group profit as it is a pass-through of a direct cost increase.
Efficiency gains – not quantified, but good to know -
The commissioning of an automated pouring process, on one of our largest production lines, was completed during the summer. Following the initial bedding-in period, we are now seeing increased output and production efficiencies on this plant with further productivity expected to be realised in the coming months.
Demand remains strong -
The underlying demand for heavy trucks (70% of group revenue) remains strong and we have seen a more consistent conversion of forward schedules in the period. This strength continues to be reflected in the schedules that our OEM customers are providing.
There is a longer term worry of course – that electrification of transport, if it reaches the truck segment, could result in Castings turbocharger housings becoming redundant. So we need to see the company branching out into new areas of growth.
Diary date – 16 November, for H1 results.
Valuation – looks attractive to me. In particular note that the share price is now actually below the NTAV – a reminder that CGS has an astonishingly strong balance sheet, groaning with surplus capital. This protects downside risk, and also means at some point, you'll probably get a pleasant surprise (e.g. acquisition, special divi, etc). It's paid special divis in the past, about every 3 years, adding to already generous dividend yield.
.
.
Dividends – an outstanding track record over the long-term – look at this (below)! And I don't think the graphic includes the special divis, which I've highlighted ("Extra") in the table of data. The super-strong balance sheet means it continues paying divis in almost any economic conditions, a handy feature for investors who need income to rely on -
My opinion – this is one of our favourite value shares here at the SCVR.
It looks an excellent choice for long-term income-seeking investors.
Moreover, the chart (below) shows that this seems an opportune time to buy, so you could see future capital gains, on top of the generous divis.
Longer term, it would be good to hear what the company's plans are, to generate new areas of growth to potentially replace a possible future decline in revenues from turbocharger housings.
.
---
Superdry
(LON:SDRY)
118p (up 15% at 11:08)
Market cap £97m
Superdry announces its Preliminary results covering the 53-week period from 25 April 2021 to 30 April 2022 ("FY22") and a trading update covering the 22-week period from 1 May 2022 to 1 October 2022. Unless otherwise stated, the below comparisons are on a 53-week vs 52-week period.
These numbers are quite complicated, and it's not going to be possible for me to go through everything with a fine tooth comb today. So I've picked out some key points only -
Revenue £610m (up 8% on a 52-week comparable basis)
Improved gross margin up 350bps to 56.2%
Adj PBT is a lot better than I was expecting, at £21.9m (vs a £(12.6)m loss last year)
Adj EPS looks great at 36.3p, but ignore this, because it's boosted by favourable tax adjustments, so it's not realistic. Hence the claims that it's on a PER of less than 4, incredibly cheap, don't hold water I'm afraid.
Guidance for FY 4/2023 is admirably clear – expecting to make an adj PBT of £10-20m.
Going concern - a material uncertainty over the need to refinance a £70m bank facility in Jan 2023, so that's getting too close for comfort.
Energy costs are mostly fixed until mid-2024.
Net debt is £38.9m as of last week (1 Oct 2022), compared with only £1.0m net debt at end April 2022 – Superdry has a seasonal need for working capital in autumn, hence why the bank facility is needed. Banks are usually quite relaxed about seasonal borrowing, that gets repaid after a few months. Also, Superdry has a large receivables book, for its wholesale customers, hence the banks can secure their lending against this, if they want. For these reasons, I imagine it's likely that bank borrowings should be refinanced OK, but we cannot rely on that being certain, so it is a risk. In the worst case scenario, the bank might withdraw facilities when they've been seasonally paid off, leaving the company in a pickle, and possibly forced into an emergency placing, on who knows what terms. I'm just flagging up the risk, but on balance it looks to me as if the company should be able to refinance the bank borrowings.
Balance sheet – is large, and complicated. A stand-out feature is the gigantic shortfall on the IFRS 16 lease entries, which indicates to us that SDRY still has a big overhang of loss-making shops with excessive rents. The Right of Use Asset is £80m, yet the lease liabilities total £217m! It is achieving big rent reductions when leases expire, of 45%, but there are still big problems on shop leases. Looking at it more positively though, as those leases expire over the coming years, this problem should shrink. That gives future upside potential to profits.
Valuation – I would take the £10-20m profit guidance, assume it's likely to be at the bottom figure, given the horrible macro/consumer spending outlook, take off 19% corporation tax, to get about £8m earnings. Divide that by 82.2m shares in issue, giving 9.7p EPS. Therefore at 118p per share, I make the PER for this year FY 4/2023 to be 12.1 – which looks about right.
However, valuing a share on a PER basis when profits are so close to breakeven, and the profit is the difference between large numbers higher up the Pamp;L, tends not to give reliable results.
My opinion – overall, I think this share has to be seen as quite risky, until the bank facilities are renewed. I'd say on balance that is more likely than not, but it's still a risk. Therefore the shares should remain cheap, until that risk has been resolved.
I was worried that, as a mid-market brand, SDRY could be at serious risk in current conditions, but it seems to be weathering the storm. Although outlook comments are quite cautious-sounding.
Personally, I had a small position here, but capitulated a little while ago. I'm not yet convinced it's time to buy back in, but these results have certainly reassured me that trading is holding up reasonably well in the tough conditions we're in.
I do like the strategy of refocusing the brand, reducing markdowns and inventory levels, led by the founder.
This could be a good recovery share at some stage, but it's also a bit risky at the moment.
.
Source:
https://www.stockopedia.com/content/small-cap-value-report-fri-7-oct-2022-win-stem-mslh-cgs-sdry-bwng-955167/
Before It's News®
is a community of individuals who report on what's going on around them, from all around the world.
Anyone can
join
.
Anyone can contribute.
Anyone can become informed about their world.
"United We Stand" Click Here To Create Your Personal Citizen Journalist Account Today, Be Sure To Invite Your Friends.
Please Help Support BeforeitsNews by trying our Natural Health Products below!
Order by Phone at 888-809-8385 or online at https://mitocopper.com M - F 9am to 5pm EST
Order by Phone at 866-388-7003 or online at https://www.herbanomic.com M - F 9am to 5pm EST
Order by Phone at 866-388-7003 or online at https://www.herbanomics.com M - F 9am to 5pm EST
Humic & Fulvic Trace Minerals Complex - Nature's most important supplement! Vivid Dreams again!
HNEX HydroNano EXtracellular Water - Improve immune system health and reduce inflammation.
Ultimate Clinical Potency Curcumin - Natural pain relief, reduce inflammation and so much more.
MitoCopper - Bioavailable Copper destroys pathogens and gives you more energy. (See Blood Video)
Oxy Powder - Natural Colon Cleanser! Cleans out toxic buildup with oxygen!
Nascent Iodine - Promotes detoxification, mental focus and thyroid health.
Smart Meter Cover - Reduces Smart Meter radiation by 96%! (See Video).