Small Cap Value Report (Weds 12 Oct 2022) - SDG, HSW, KCT, ANG
Wednesday, October 12, 2022 7:33
% of readers think this story is Fact. Add your two cents.

Good morning from Paul amp; Graham!
Thank you for all the interesting comments that you're posting, we're really enjoying reading and discussing things with subscribers here. Even though market conditions are just dire, so depressing, but there we go, it's just like that sometimes.
---
Agenda -
Paul's Section:
Sanderson Design (LON:SDG) – solid interim results from this upmarket wallpaper amp; fabrics group. I've been really impressed with the turnaround under Lisa Montague, and am setting up an audio interview with her for early next week. Performance is expected to be in line with full year expectations, although there's some understandable caution because peak selling period has only just started. The balance sheet is superb, so there's no solvency or dilution risk in my view. The modest PER already factors in a downturn arguably, but of course it doesn't work like that. So as with everything right now, there's short term share price risk, but long-term I think buyers/holders now should do fine.
Angling Direct (LON:ANG) – I've spent most of the morning going through interim results amp; broker notes for this online amp; shop retailer of angling kit. The main attraction is its net cash pile, which is now 80% of the market cap, a very unusual and attractive feature. So there's asset value here. The trouble is, the business itself warns on profit again, and is now only really trading marginally ahead of breakeven. I doubt there's been much impact from consumer confidence reducing, as it's the sort of hobby that I think anglers would continue with, come hell or high water (quite literally maybe!). I'm undecided, and need more time to think about this one.
Graham's Section:
Hostelworld (LON:HSW) (£93m) – an encouraging update for Hostelworld as September revenues exceed the revenues of September 2019 (the last comparable year). Even better, this has been achieved with a lower marketing cost as customers engage with Hostelworld's new social app. This app allows travellers to see each other's profiles, chat and make plans in advance of their stay. I'm greatly encouraged by this update and can see the company recovering to its pre-Covid performance levels in the next few years. However, what holds me back from taking a more positive view on the stock is the expensive debt facility which I think is going to take away most of the upside in principal and interest payments for the next few years. In the absence of the loan, I would say that these shares have a great deal of speculative merit. But with the debt overhang, the prospect of any cash returns for shareholders looks quite far away.
Kin and Carta (LON:KCT) (£355m) – I get bogged down trying to understand the adjustments to this company's results, rather than reading about the business. The issue is that the adjustments are huge, that large adjustments are happening every year, and that the company wants to write them off as just being the product of "typical" charges. The accounting rules might be annoying at times but there is usually a logic to them, and I can't accept it when a company thinks that a statutory loss is acceptable – especially when it has a terrible track record when it comes to its statutory results.
---
Paul's Section:

Sanderson Design
(LON:SDG)
108.5p (up 12% yesterday)
Market cap £77m
Sanderson Design Group PLC (AIM: SDG), the luxury interior design and furnishings group, announces its unaudited financial results for the six months ended 31 July 2022.
Profit growth driven by licensing income, US sales and the Morris amp; Co. brand
Full year trading remains in line with Board expectations
I'm impressed with these interim numbers, because SDG is now up against strong comps from last year. I was just re-reading my notes here from last year's interims, and some of it is quite prophetic actually – my crystal ball must have been having a rare good day this time last year! (before conking out)
The share price is now almost half what it was a year ago, despite SDG having just beaten last year's numbers –
*excluding share-based incentives, defined benefit pension charge and non-underlying items as summarised in note 5
*** Net cash is defined as cash and cash equivalents less borrowings. For the purpose of this definition, borrowings do not include lease liabilities
Noteworthy points -
There's a video recording here of the interim results presentation (46 mins), published today.
Licensing did particularly well, with revenue (high margin – almost all profit) up 90% to £3.8m. Without that, overall profit would have fallen. Is this increase sustainable?
Divis – note the interim is always small, with a larger final divi. So 0.75p interim divi (flat vs LY) should be joined by a c.3.2p forecast final divi – giving a yield of about 4% – not bad.
Outlook – sounds generally quite confident (below), but cautious as well, hardly surprising given the negative macro outlook. I covered its in line trading update for H1 here in early Aug 2022, when the company said it was planning for a wide range of possible scenarios, which was unsettling at the time I thought.
"Our current year performance to date is testament to the diversity of our model, and we continue to anticipate meeting Board expectations for the full year. Given the uncertainties in the current macro-economic and consumer environment, we look forward with caution and continue to actively manage the headwinds.
We have a high-quality brand portfolio, growing US presence and strong cash balances to support ongoing investment. Alongside continued management action to reduce costs and increase efficiency, we remain confident in the strategy for the business."
We have focused on building a diversified model backed by our world class brand portfolio and strong balance sheet to enable self-funded growth. To that end, our performance in the first half of the financial year was resilient, with a profit performance driven by licensing income and margin improvement, as a result of operational efficiencies, growing US sales and the Morris amp; Co. brand. August 2022 was a softer summer month than last year but September and the first week of October 2022 have shown growth. Our key Autumn selling weeks in October 2022 and November 2022 have just started and, whilst we are vigilant in respect of ongoing external factors, we continue to anticipate meeting Board expectations for the full year.
Broker forecasts – there's an update note (commissioned research) from Progressive, which now predicts 14.3p EPS for FY 1/2023. That's down slightly from its previous (Aug 2022) forecast of 14.7p, only a 3% reduction, which is neither here nor there, and probably sensible, given uncertain macro conditions.
At the current share price of 108.5p, the PER is 7.6 - which seems remarkably good value, considering there is also a strong balance sheet, which helps valuation.
Obviously there's a risk that the economy could fall off a cliff, and smash profits. But economies recover of course, so profits would then probably go up again.
Balance sheet – this is really strong for a £77m market cap company.
NAV is £83.2m, less £26.3m intangible assets = NTAV £56.9m
There's a £15.0m cash pile, which has reduced £4.0m in a year, due to working capital movements.
Pension deficit is shown as a surplus of £2.6m, which is absurd pension scheme accounting standards, given that it's actually costing cash outflows of about £1.2m p.a.. So you might want to manually adjust the balance sheet for that.
Cashflow statement – shows clearly how working capital has absorbed £9m of cash. Not a concern in my opinion, and it's explained in the commentary -
Inventory levels have increased as we have made strategic investments in products with long lead times to ensure we are never out of stock on our best-selling collections and can fully support new product launches. Inventory levels peaked at 31 July 2022 and the subsequent focus has been the turn of stock to more normalised levels.
EDIT: CEO interview - I'm pleased to report that I've fixed up an audio interview with the CEO of SDG, for early next week. So if you come up with any brilliant inspiration for questions to ask, do please put them in the comments below! I can't guarantee to ask everything, but often subscribers do come up with some great ideas, so I'll read all the suggestions. end of edit.
My opinion - this is one of my favourite value shares, and I'm impressed with the turnaround implemented successfully by Lisa Montague. I've reached out to see if she'll do an interview with me next week, so fingers crossed.
In more normal times, this share would be ridiculously cheap at the current price. However, the market is obviously in a deep depression right now, and is pricing in the uncertainty of economies crashing, and hence profits following suit. However, that shouldn't really worry long-term shareholders, because SDG has such strong finances, there's no insolvency or dilution risk, so they can just wait for profits to recover in due course. The trouble is of course, we all want to buy right at the bottom, and as with everything right now, we simply don't know what price, or when, the bottom will be.
In terms of company fundamentals though, and valuation, this gets a thumbs up from me. What happens in future, I have no idea, but it's a fundamentally sound company, priced attractively I reckon.
As you can see below, it went a lot lower in the pandemic, bottoming around 30p, amazingly.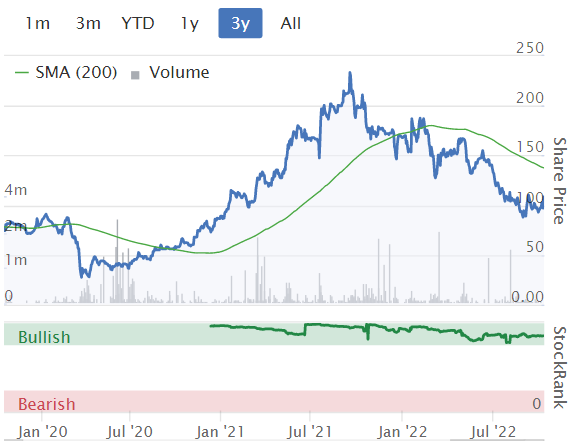 .
---
Angling Direct
(LON:ANG)
28p (down 12% at 09:05)
Market cap £22m
Angling Direct PLC (AIM: ANG), the leading omni-channel specialist fishing tackle and equipment retailer, is pleased to announce its unaudited financial results for the six months ended 31 July 2022 (H1 FY23).
Continued strategic progress and revenue growth despite headwinds
I think that headline is trying to polish the proverbial, rather than giving an accurate reflection of the truth. If I was writing the headline, I would say – "Profitability has plunged, but we've got pots of cash". So any career in PR for me, would probably be short-lived. Although maybe I could disrupt the sector by setting up the equivalent of Reggie Perrin's fictional "Grot" business? (achieving remarkable commercial success from selling awful products, and telling people how awful they are, as the sales pitch). My mind is wandering, let's get back on track.
The trouble is, if the headline (as above) is misleading (whilst being technically correct), then it immediately makes me worry that other things might be glossed over, or manipulated. So it's not a good idea to over-PR the commentary. Straightforward, and honest, is much better, even if it's bad news.
.
Was a poor performance already in the forecasts though? Checking back, the profit warning on 18 August 2022 which I covered here, already disclosed the revenue numbers broken down by channel, so actually the -7.9% figure I highlighted above is not new information.
In August, it dropped company guidance (in the trading update) from EBITDA (yuk!) of £4.3m, to £3.0-3.4m, for FY 1/2023.
Today it is guiding expectations down again, so it's a fresh profit warning. We're now told that EBITDA (on a sensible basis, pre-IFRS 16), "will be not less than £2.2m"
Broker update - many thanks to Singer's analyst for crunching the numbers through his spreadsheet, which results in large falls in EPS of about 60% for both the current year FY 1/2023, and next year. EBITDA numbers tend to obscure the size of downgrades, as it has done here.
The latest forecast is only £0.6m adj PBT this year, and £1.0m next year. That's a large fall from £4.0m last year. To be fair, some of this was previously flagged, in that the company said it's targeting growth above immediate profitability. The only problem with that, is that revenue isn't growing, it's standing still.
Effectively then this business is trading at just above breakeven, and struggling to grow revenues. That does call into question the whole business model, and whether this company's existence is a worthwhile use of the £31m capital base (NTAV) that it has?
Given that the market cap is lower, at only £22m, the market is effectively valuing the business negatively compared with its net tangible assets.
On the upside though, if the business model does start to demonstrate future profit growth, then it could re-rate significantly from effectively a negative valuation at the moment.
Also, it is still profitable (just), so the valuation does seem to be extreme in its negativity right now, reflecting horribly bearish market sentiment. But remember, today's despair amp; depression can be tomorrow's profits, when the next bull market starts (no idea when, and of course I didn't mean tomorrow literally!).
Going back to the H1 numbers, we have -
Revenue £38.9m
EBITDA (pre IFRS 16) £1.9m
Full year EBITDA guidance of £2.2m implies only £0.3m in H2.
Seasonality – checking back here to the pre-pandemic half year results table, there doesn't seem to be any significant H1/H2 seasonality, they're similar. So we can infer from that that the business overall is really only just operating around, or slightly above breakeven. Not good. Although note that it is absorbing European start-up losses of £0.5m in H1, which should hopefully disappear once Europe scales up.
Gross margin is down, and costs are up, exactly the opposite of what we want to see.
Balance sheet – this is the main attraction to this share. As mentioned above, NTAV is excellent, and above the market cap, at £31m, which includes £17.1m cash (and no interest bearing debt).
If I were a shareholder, I'd be challenging management about spending any of that cash. It now constitutes close to 80% of the market cap. So spending the cash pile to expand a business that is effectively valued at nothing, because it's not making any significant profits, would surely destroy shareholder value, as things currently stand? Would further expansion bring other benefits, like more buying power (thus raising margins), squeezing out competition, spreading central costs more efficiently? These would be good questions to ask management. You can't assume that continued growth necessarily brings advantages. Some eCommerce businesses are most efficient when they're small. Whereas vast warehouses can be inefficient, unless they're automated, which is very expensive of course.
As I've mentioned before, maybe there's a better use for ANG's cash pile, diversifying into a more compelling sector?
Although management does reassure today that they're not planning on blowing the cash -
The Board remains optimistic about the long-term growth prospects of the Group and believes that continued strategic investment now will leave the Group best placed competitively when consumer confidence returns. The Group will continue to strategically invest in a controlled manner and only to the extent that it retains both strong liquidity and its robust balance sheet.
My opinion – I'm genuinely torn on this. The business itself just doesn't look much good – lots of revenues, but no real profits, now the pandemic boost has worn off. We could say the same of lots of eCommerce businesses.
It's difficult to remember another example of where an entire sector has collapsed in value (e.g. Boohoo (LON:BOO) [I hold] and ASOS (LON:ASC) both down c.90% in the last year) so quickly, after so many years of being highly rated. Which strikes me as an opportunity, because sentiment looks way overdone on the downside now, and sentiment can turn surprisingly quickly and unexpectedly on both the downside and upside.
Hence I'm looking carefully for bargains in this sector, with my emphasis being on the strongest balance sheets, because they're lower risk.
Victorian Plumbing (LON:VIC) fits the bill well, with loads of cash, and a recent trading update which was actually quite reassuring, so it became one of my podcast "mystery shares", following my report on it here last week. It looks like the market agrees, as it has bounced about 24% from when I looked at it here, at 37.8p. Whether that bounce sticks, or fizzles out, who knows?
Going back to ANG, I continue to very much like the cash-backing, now about 80% of the share price, which underpins the valuation very nicely. However, I'm not sure the actual business is much good, so why would we value it at anything really? Only if we expect profitability to recover, which it might, or might not. I don't think there's much scope to raise margins, because the product isn't really differentiated in any way that I'm aware of, so online competitors just squeeze out the margin, chasing volume, whilst all the while ANG's costs will be rising (e.g. wages amp; utilities).
ANG feels a bit of a stale story now too, so it's difficult to imagine that it could reach a significantly higher rating.
Overall then, I'm probably less keen on this as a value situation, but am leaving it on my watchlist. the valuation is so low now, it must surely be approaching a level where anybody likely to sell, has sold? Although remember there could be backed up institutional sellers, who can't sell, due to lack of liquidity. In previous bear markets (especially 2001-2), that resulted in forced selling, which created some amazing buying opportunities for PIs, when institutions just liquidated their small positions, at any price. So it's worth checking the Holding in Company RNSs, to see if any big holders look like they're capitulating, then just waiting for the price to continue falling, and nip in at some point where you feel risk:reward has become insanely good. I remember doing that very successfully myself in 2001-3.
What do readers think? It's always interesting to bounce our views back amp; forth in the comments section below.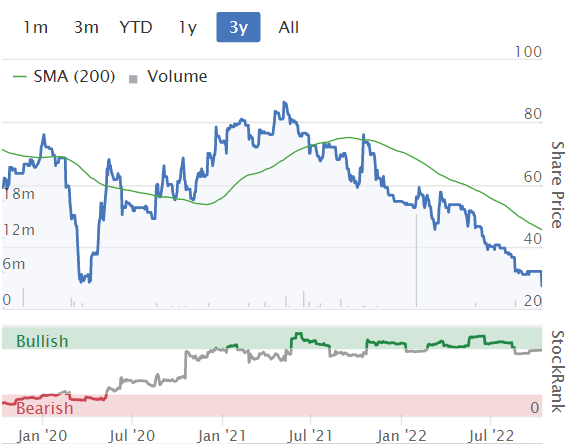 ---
Graham's Section:
Hostelworld
(LON:HSW)
Share price: 79.4p (+4.6%)
Market cap: £93m
Paul normally covers this one, but I thought I'd take a look at it this morning. Paul covered Hostelworld's interim results in detail in August.
Today brings a trading update for the past couple of months.
Key points:
Total transaction value (total value of all bookings) on the platform was up 16% on 2019 levels for the month of September.
Confusingly, net bookings in September were down 17% on 2019 levels. So compared to 2019, there are fewer bookings but their average value is higher.
The result is that September's net revenue is up 4% on 2019 levels.
Note that transaction value is the value of bookings on their website, paid to HSW and to hostels. HSW get a commission, which is a small percentage. If the commission is partially fixed, then HSW benefit from more volume of bookings.
With revenue growing at just 4%, despite a 16% increase in total transaction value, it appears that Hostelworld's revenues don't perform too well when the value of an average booking is going up. This is difficult to explain, but the basic idea is that Hostelworld does better with a very high number of low-value bookings, rather than a lower number of high-value bookings.
Marketing as a percentage of revenue: Paul highlighted that marketing spend was at an unsustainable level in his review of the interim results. The company announces today that it expects this metric to improve from 70% in H1 to 55% in H2. It's crucial that this continues to improve.
"App-based social platform" – the company claims to have an "innovative and differentiated social network strategy", and that this is driving increased bookings through its app.
I downloaded its app this morning, to see what it's talking about.
The key feature is that you can see other people staying at your hostel, and talk to them after you've booked, in advance of your trip. For example:
Do any other travel booking apps offer this type of feature? It looks fairly unique to me.
And it makes sense that a hostel-oriented app would do this, rather than a mainstream hotel app. People going to hotels probably have a more fixed idea about who they intend to spend time with during their stay!
They report that since launching this new platform in April, almost 50% of customers have signed up for it:
This, along with strong net booking and average booking value (ABV) growth, has translated into increased revenues, lower marketing costs and improved margins.
So let's see how it's shaping up financially. Remember that the interim results were awful (a loss of nearly €15m on revenues of €28m). Big financial improvements are needed:
We are also pleased to report that through our continued strong cost discipline and with marketing costs now lower than anticipated, we expect our closing cash balance to be higher than originally expected…
Based on the current business performance and trajectory we now expect to be modestly EBITDA positive for the Financial Year 2022. Given our continued momentum, the outlook for 2023 is encouraging and we expect our growth strategy to continue to deliver further significant benefits in FY 2023 and beyond.
My view
Adjusted EBITDA was negative €5m in H1. So I am very surprised and impressed if the final EBITDA result for the year turns out to be positive. That's an over €10m swing in H2.
According to Stockopedia, the full-year revenue forecast is €61.9. That implies H2 revenue is about €6m higher than H1 revenue.
If H2 EBITDA is higher than H1 EBITDA by €10m, then we have a lovely combination of higher revenues and lower costs, in line with what the company is saying about cost discipline and lower marketing costs.
There are still a few months to go until the end of the year, however, so it's important to remember that none of this is set in stone.
It's also worth noting that there's a big difference between adjusted EBITDA and the bottom line. In H1 alone, that difference was €9m.
So we are likely to still see a big loss for the year when it comes to the final reported numbers.
The encouragement I take from today is that the company may be recovering to 2018 and 2019 performance levels faster than previously expected.
Back then, it was a profitable company with a decent operating margin.
At the end of H1, it had cash of €23.3m, which gives it some space to recover. The problem is that this is borrowed money: it has borrowed €30m in a five-year facility that charges 9% + Euribor.
I think that in the absence of this facility, i.e. if Hostelworld owned its cash balance free and clear of any liability, I'd be a lot more positive on the stock. It would still be quite speculative, but there would be nice chances of a recovery working out well for shareholders.
Unfortunately, with this loan facility in place, the company will be incurring millions of euros in interest every year (remember that the interest is the "I" in EBITDA).
When the loan is eventually repaid, it is likely to eat up several years' worth of profits. And that is the best case scenario.
So for me, the risk levels here are excessively high, as repaying the loan is going to eat into the upside for the next few years. While it could work out well for shareholders, I believe that the most sensible move is to avoid this one for now.
.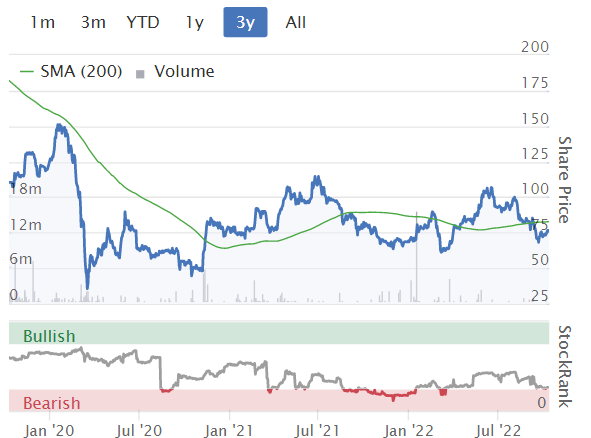 ---
Kin and Carta
(LON:KCT)
Share price: 200p (+5%)
Market cap: £355m
This was formerly known as St Ives, a name that was too old-fashioned for a "digital transformation company":
Headquartered in London and Chicago, over 2,000 engineers, strategists and designers combine to form a maker-culture that serves the healthcare, financial services, B2B, consumer, agriculture and transportation sectors.
Full-year results highlights for FY July 2022:
Net revenue +48% to £190m.
Americas (69% of revenue) growing faster than Europe (31% of revenue).
Record year-end backlog and pipeline.
Adjusted PBT +65% to £17.1m.
Unfortunately, there is at the end of the day a loss:
Total loss before tax from continuing operations of £15.9 million (FY21: loss of £5.8 million) due to typical acquisition and pension-related charges as well as lease related impairments and provisions
It's rare for a company to be openly so blasé about making a statutory loss. Or do we now live in a world where it is considered perfectly normal and acceptable to make a loss due to "typical" charges?
Here are the £33m of adjusting items applied by Kin + Carta:
The first one – £13m of "contingent consideration required to be treated as remuneration" – is something that I now do consider to be an exceptional item that can be adjusted out of the results.
However, when we do this, we should be aware of what it is. It is part of the purchase price of an acquisition, but it depends on the sellers continuing to work in the acquired business for a period of time.
These are often "people businesses", and there will come a time when the sellers move on, maybe after a year or two. Things might get more difficult at that point, because the presence of the sellers in the business is likely to have been crucial to its historic performance (otherwise it would not have been considered necessary to retain them).
Therefore, when we allow contingent consideration to be adjusted out, we are implicitly assuming the acquired businesses will perform fine, with or without the presence of the sellers inside the business. This could be a risky assumption.
There are also £6m of office impairments and related items that we could argue are one-off events and unlikely to repeat.
So if we are willing to accept the contingent consideration and the office impairments, that leaves about £14m of other adjustments.
If I apply the exact same method to last year's results, I get a corresponding figure of £11m, i.e. about the same level of adjustments.
Whatever way you look at it, this is a company not short of reasons to adjust its numbers, and the adjustments are material. The company's consolidated income statement is a nightmare of complications.
It does not have a good track record of making large unadjusted profits:
In the final analysis, it made a pre-tax loss from continuing operations of £16m this year.
If you believe that all of its adjustments are reasonable, you get a pre-tax profit of £17m instead.
However, when I go back two years, to FY 2020, I find a huge amount of adjusting items there, too.
So without studying the business in any depth, and going purely off its financial reports, this looks to me like a company that is in the habit of reporting huge adjustments. This type of stock is one that personally I tend to avoid investing in.
Outlook
We expect FY23 organic growth in constant currency (like-for-like) of 15%-20%, with an additional 6-7%* growth from the annualisation of the prior year acquisitions. If rates remain near current levels then we expect further growth in total net revenue and adjusted operating profit.
Sounds fine – can't argue with organic growth of up to 20%.
And then the company announces that it needs to adjust its results even more from now on:
To align with our global DX peer set and provide a market-based comparative, we will be excluding charges for share-based compensation from our adjusted results from FY23 onwards. We expect adjusted operating profit margins from continuing operations to improve from a re-based (excluding share based compensation) FY22 of 11.7%, to 13%-13.5% in FY23.
So the adjusted "profits" will be even less meaningful than they already are.
My view
I can't take this company's results seriously, due to the level of adjustments involved, and their declaration that adjustments will be even bigger in future years does not inspire confidence.
Based on its historic results and the adjustments applied over the last few years, I have to take the view that this business has poor underlying profitability and is a fairly low-grade investment.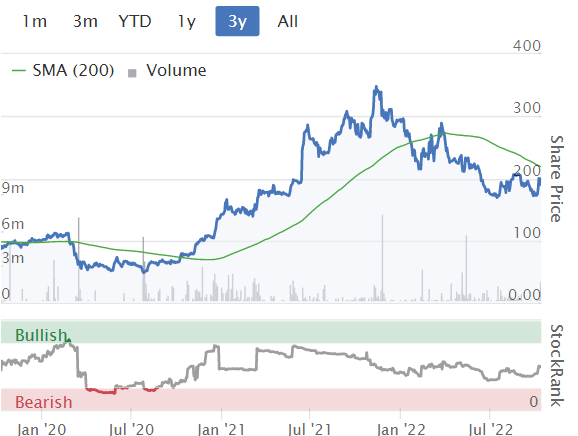 Source:
https://www.stockopedia.com/content/small-cap-value-report-weds-12-oct-2022-sdg-hsw-kct-ang-955417/
Before It's News®
is a community of individuals who report on what's going on around them, from all around the world.
Anyone can
join
.
Anyone can contribute.
Anyone can become informed about their world.
"United We Stand" Click Here To Create Your Personal Citizen Journalist Account Today, Be Sure To Invite Your Friends.
Please Help Support BeforeitsNews by trying our Natural Health Products below!
Order by Phone at 888-809-8385 or online at https://mitocopper.com M - F 9am to 5pm EST
Order by Phone at 866-388-7003 or online at https://www.herbanomic.com M - F 9am to 5pm EST
Order by Phone at 866-388-7003 or online at https://www.herbanomics.com M - F 9am to 5pm EST
Humic & Fulvic Trace Minerals Complex - Nature's most important supplement! Vivid Dreams again!
HNEX HydroNano EXtracellular Water - Improve immune system health and reduce inflammation.
Ultimate Clinical Potency Curcumin - Natural pain relief, reduce inflammation and so much more.
MitoCopper - Bioavailable Copper destroys pathogens and gives you more energy. (See Blood Video)
Oxy Powder - Natural Colon Cleanser! Cleans out toxic buildup with oxygen!
Nascent Iodine - Promotes detoxification, mental focus and thyroid health.
Smart Meter Cover - Reduces Smart Meter radiation by 96%! (See Video).