XP Factory (XPF) - Paul mystery shops the new Bournemouth site! (with pictures)
Thursday, October 20, 2022 21:17
% of readers think this story is Fact. Add your two cents.

Hi,
This seemed a bit off topic for the SCVRs, so I've created a separate post.
I've covered XPF (stands for experience factory) 6 times this year so far, in the SCVRs. It's caught my imagination, as an interesting small caps idea, and I picked up a bit of stock personally after deepening my research earlier this year. It is speculative, as there isn't yet a track record of profitability.
Here is my recent audio interview with the CEO, Richard Harpham, which I think is very interesting, it strikes me that he knows what he's doing, and has relevant experience previously in strategy amp; business development at both Pret, and Constellation Brands.
XPF now owns two rapidly expanding "competitive socialising" themed leisure brands -
Escape Hunt - escape rooms. This was the original company that reversed into an AIM shell called Dorcaster in April 2017. To be honest, I never thought much of it, and the shares were a disaster. Then of course the pandemic struck, so being locked in a confined space with a group of people, was possibly the worst business model imaginable! However, it survived the pandemic, and in 2021 things started to transform, with a 30p fundraising to acquire -
Boom Battle Bars – this is the bit that interests me the most. These are "competitive socialising" bars, with bespoke games to play, whilst having drinks, and a limited menu of "street food" – so pizzas, nachos, fries, chicken wings mainly. Hence only a small, lightly staffed, low overheads kitchen. Fees charged for playing the games, in addition to high margin drinks amp; food, make this an unusual, high margin business model. It's also securing stunningly good deals on large new sites in the current depressed market, with landlords funding most of the fit-out costs.
Have a listen to my audio interview with the CEO (NB. my interviews are independent – I do not charge any fees, although in this case I do hold a personal shareholding, intended as a long-term investment. These are not advice or recommendations, I just do them for general interest).
Anyway, enough of the background. The point of this post, is that new sites opened today in sunny Bournemouth (where I spend a lot of my time) – this was my treetops terrace at home in Bmth today – look at the sunshine, so I ended up working outside at home this afternoon, and watching the live coverage of Liz Truss resigning. If the weather stays this mild for the rest of the autumn/winter, then we won't need to use any heating at all!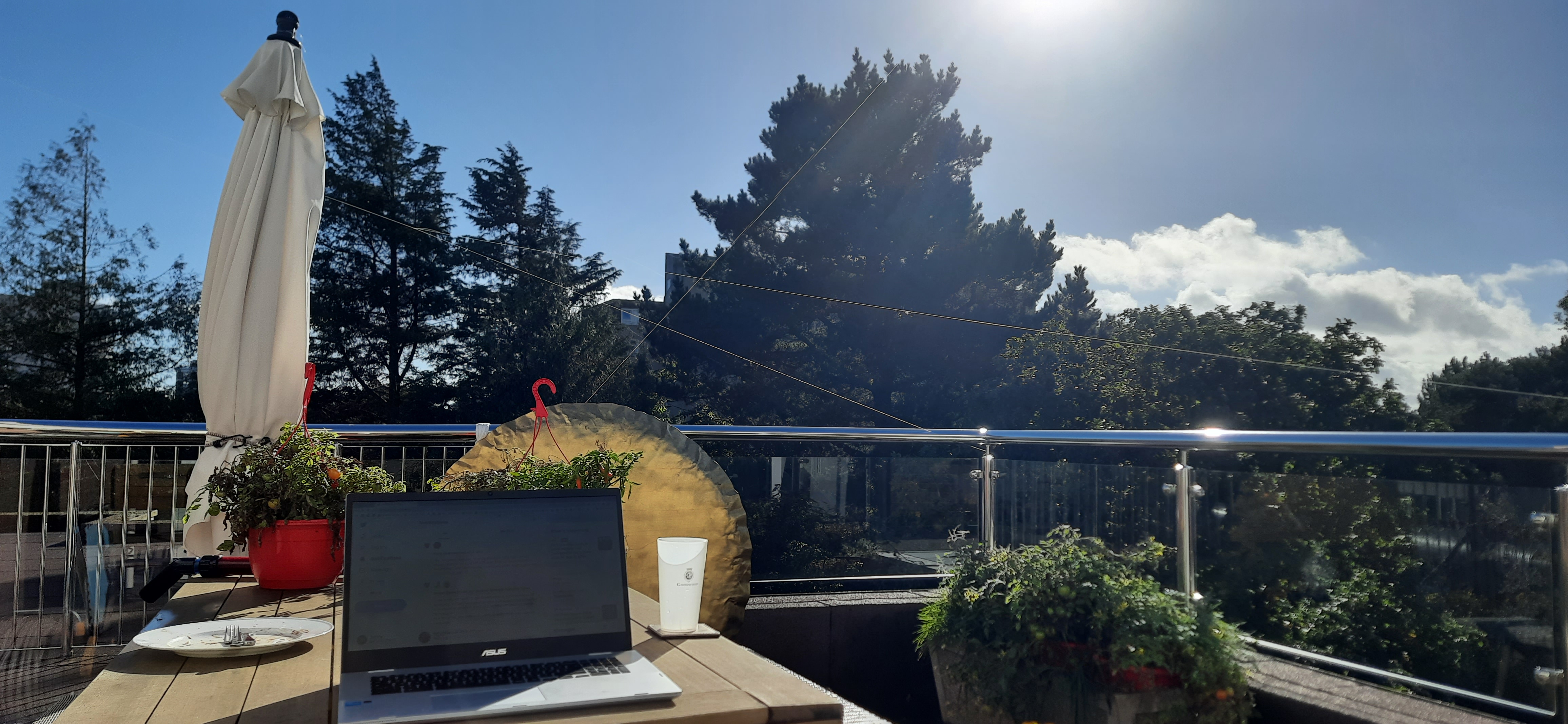 .
Anyway, I remembered that the new XPF sites were opening in Bou'mth today, and thought I'd mystery shop them, so here goes -
Boom Battle Bar Bournemouth is a large site at the BH2 centre. As you can see, it takes up a long, prime frontage. Next door to the right is a Brewdog. To the left (out of shot) is the main entrance to the ground floor of the BH2 centre, which has a TGI Fridays, Pizza Express, a few others. Then escalators go up to an Odeon cinema on the first floor, and various other restaurants. To be honest, there are too many restaurants in the BH2 centre, and several have closed down, so I reckon XPF would have got an amazing deal on this site. the main town square of Bournemouth is off to the end, and the right, past where you can see the "Real Greek" (part of Fulham Shore (LON:FUL) ) signage.
To the right, behind the trees, is the gardens which is a short walk down to the beach, so this is all a high footfall area, XPF have got a cracking site. In fact they've got two sites, because inside, it has a new Escape Hunt site, co-located with Boom Battle Bar, so it can share staff amp; management – very clever.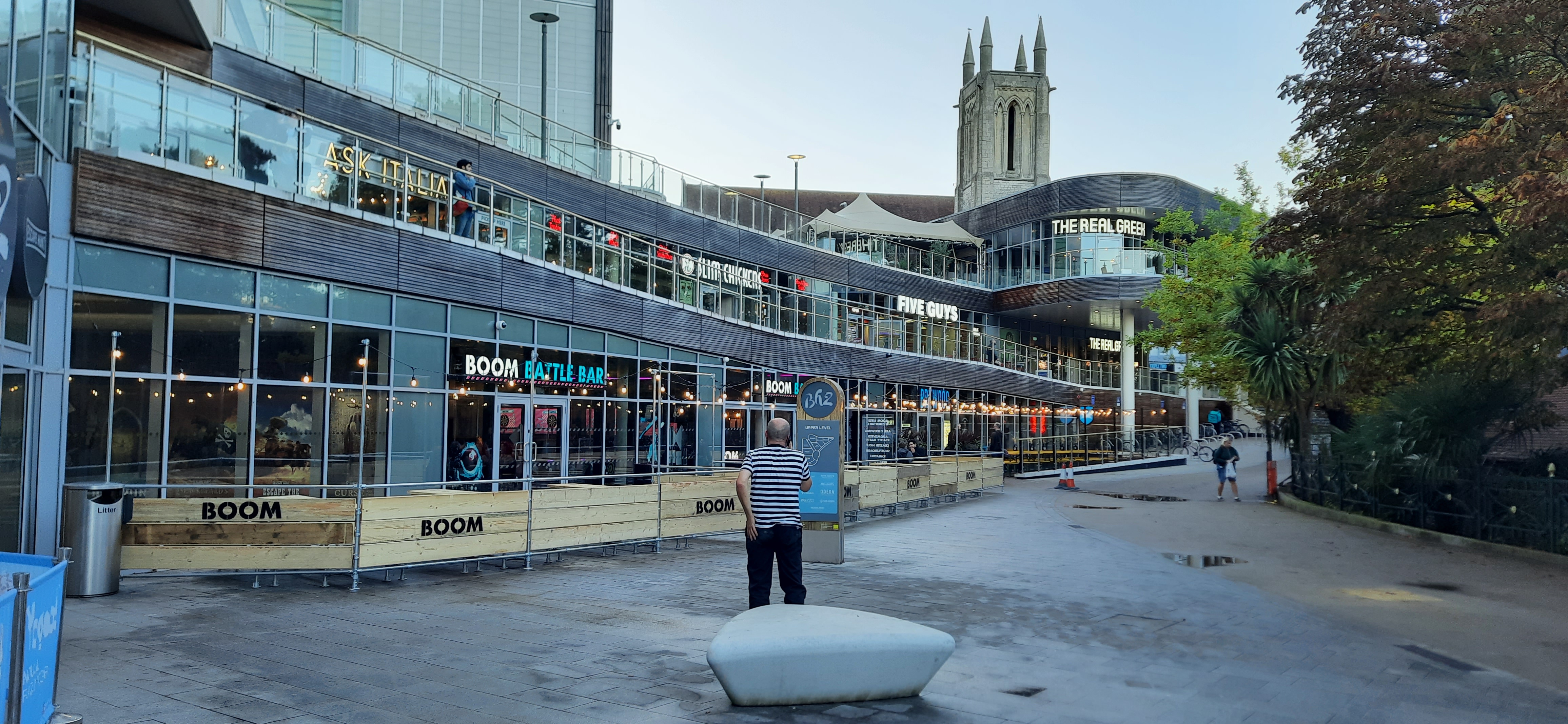 .
Staff - fantastic! Once I got inside, I introduced myself, explained I was a shares blogger, explained what that was (!) and the delightful staff then showed me round – first Laura. She explained that the staff are all chosen for their sociability, and outgoing nature, and that their jobs are to create fun! I certainly found everyone so pleasant, that I immediately felt at ease in BBBB, even though I was on my own.
I saw someone who looked senior, so went up and said hello. This was Russell, the manager. Again, really affable amp; enthusiastic, he offered to let me try some of the games, and took me to see Ryan, a young lad (a lot of the staff are students) who was happy to show me pretty much all the games!
Games - there are lots of options, and they're all hands-on, quite retro things, so not computer games as such. Here's a selection of stuff I tried out -
Augmented reality darts – overhead projectors beam a digital dartboard onto a board (it looks like a large TV, but isn't – it's actually similar to dartboard material). You throw what look amp; feel like conventional darts at the board, but they are magnetic, which tells the computer where it's landed, and the score is then automatically amp; instantly calculated by the computer on a screen. It worked great! There are 4 different darts games. I watched staff playing, then Ryan set me up to have a 20 minute go on my own. This was great, and I suspect this will be really popular with groups of people.
Please note this camera angle is very bad, and in real life I do not look anything like this pot-bellied, it's a bad shirt too -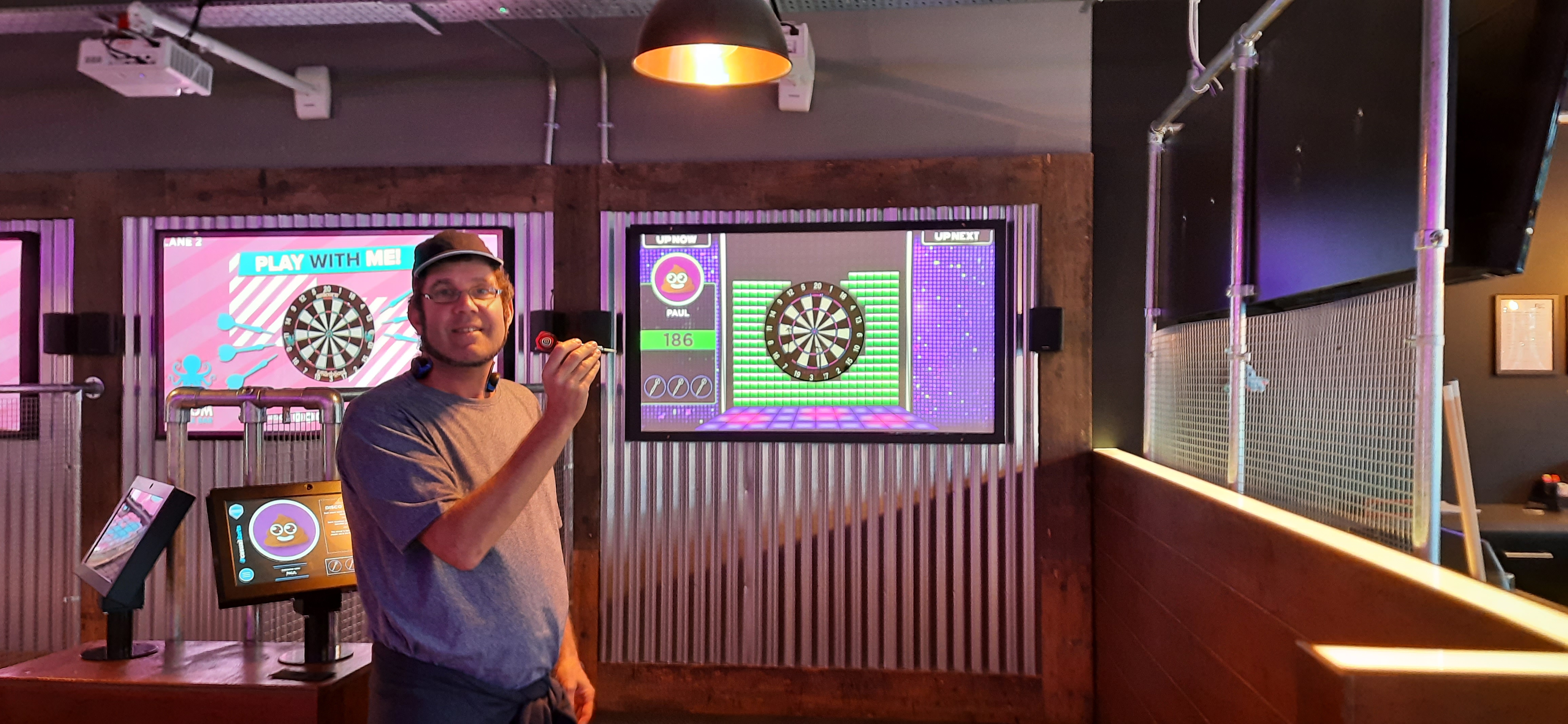 Here are the staff playing a game, they all said they loved it too, and yes I did ask their permission before taking the photo! (it's only polite)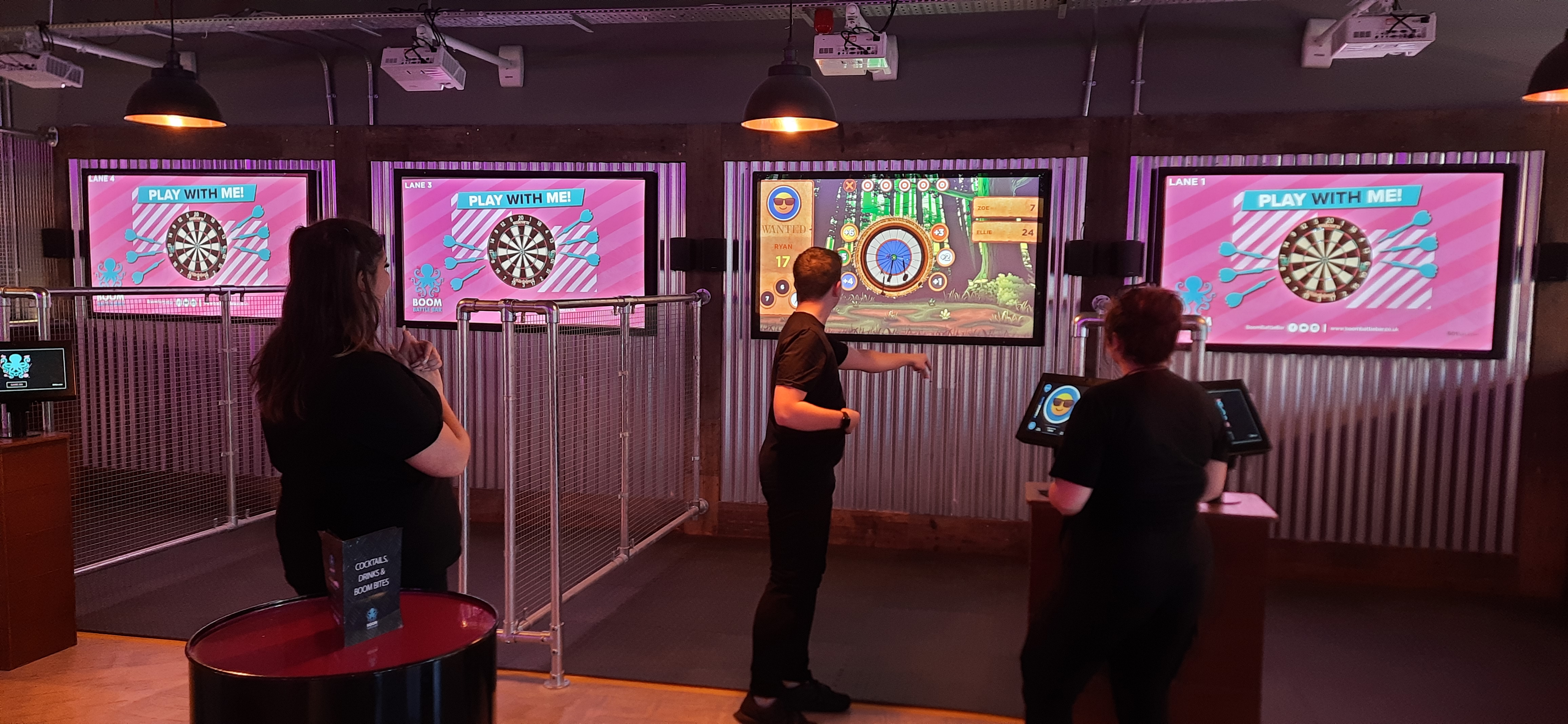 .
Nolf - this stands for "not golf". It's actually 9 free-standing games, all involving a golf ball, are you go round like crazy golf, but hand-held (this probably won't make sense written down!). Each game is up to 4 players, and you compete to get the highest score. Most sections are also scored electronically by sensors.
This is game 1 – where you have to get the golf ball into your competition's goal, using the red pusher things.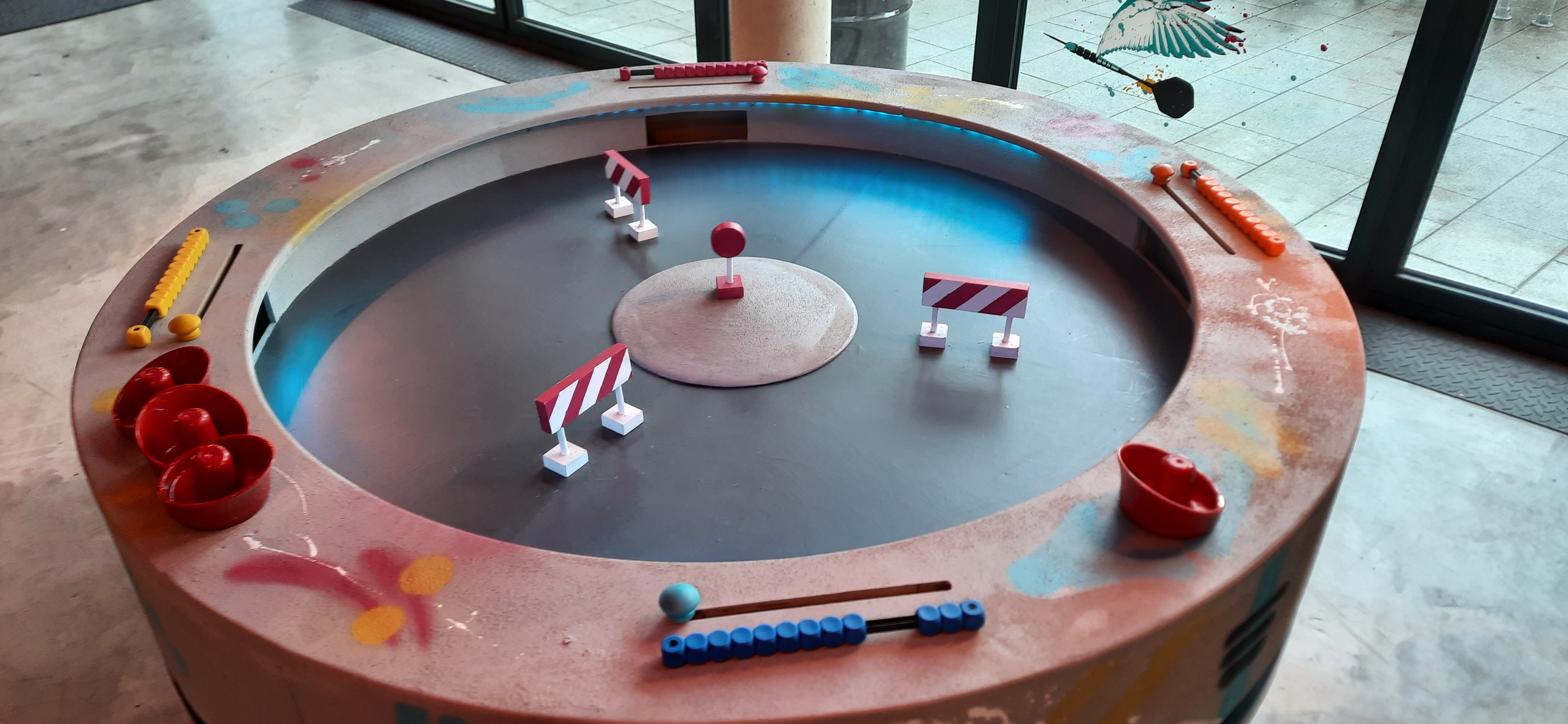 .
Game 2 in the "Nolf" (not golf) involved using snooker cues to get your golf ball along a little raised runway, and into a hole.
Game 3 (you move around, like playing golf, and each group follows the group in front around, so I can see that people would all mix, and this could be such a good way to meet new people, and talk freely, in a way that doesn't really happen in other bars). This one was fun, you have to throw the golf ball up (with quite a lot of speed) to hit the sensors, and score either 1, 5 or 3 points (or nothing, most of the time!)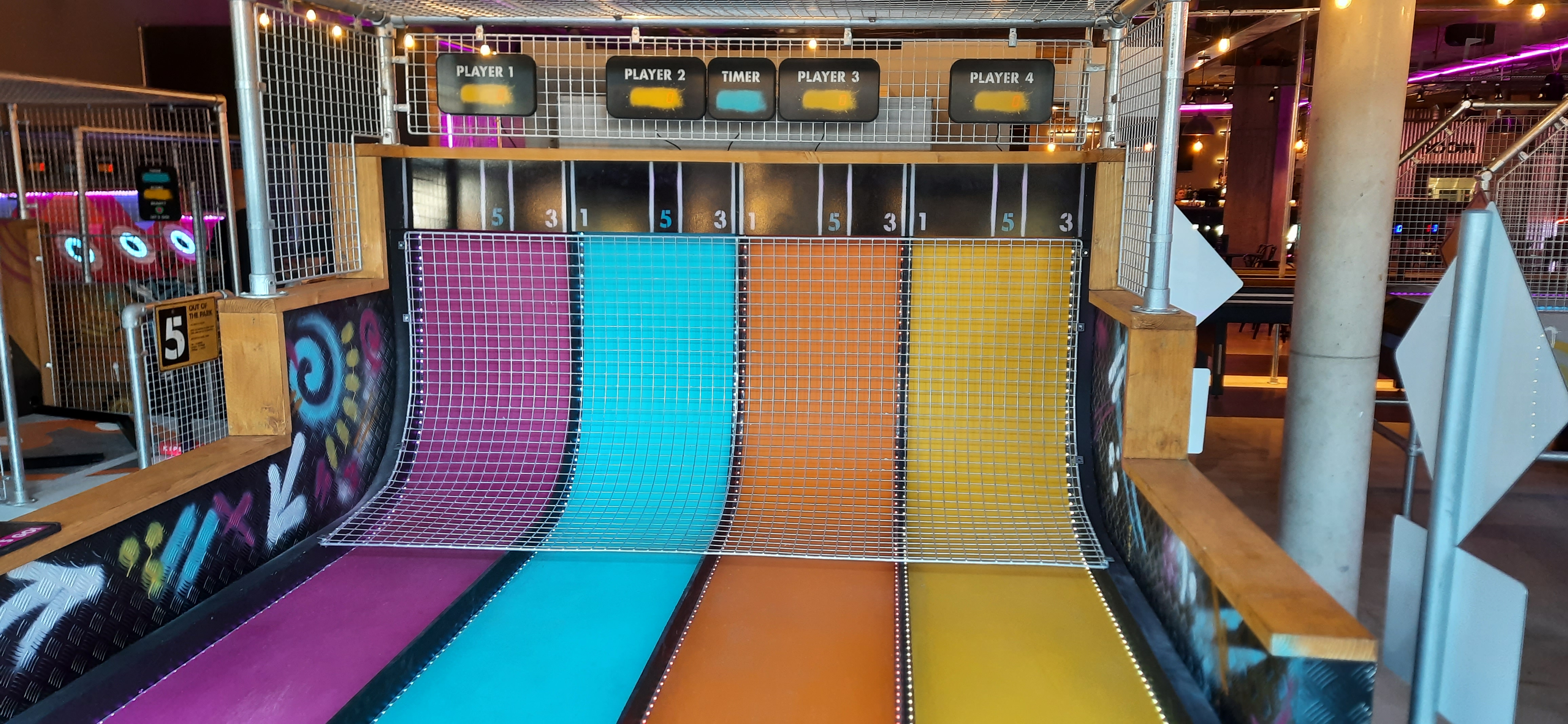 .
Nol,f game no.4 – this was my favourite. You tilt the table using the steering wheel to get your golf ball into the end, avoiding the holes along the way (which take you back to the start). So it's snakes amp; ladders basically, with a golf ball! I absolutely NAILED it! This was the only game I could actually do, and Ryan was seriously impressed when I succeeded on the first attempt!
The top bit is mirrors, so shorter people can see what's happening below to your ball, which is in a maze, it doesn't really show up that well in this picture, as the wire mesh on the top obscures it.
Next "nolf" item was quite bizarre – it's like a children's building blocks set, but a video screen gives you shapes to build, and the fastest person wins. This game had a flaw, in that the blocks were brightly coloured, but the screen showed the shapes to build in black and white. So confusion occurred with this, needs a slight tweak I think – this is game 8, and by the time people get there, they probably won't notice the colours! (there's a mini bar next to the nolf section, so people can refresh themselves as they go).
My hunch is that the nolf would be very popular, great fun, and a lovely way to mix with not just your own group of friends, but complete strangers too.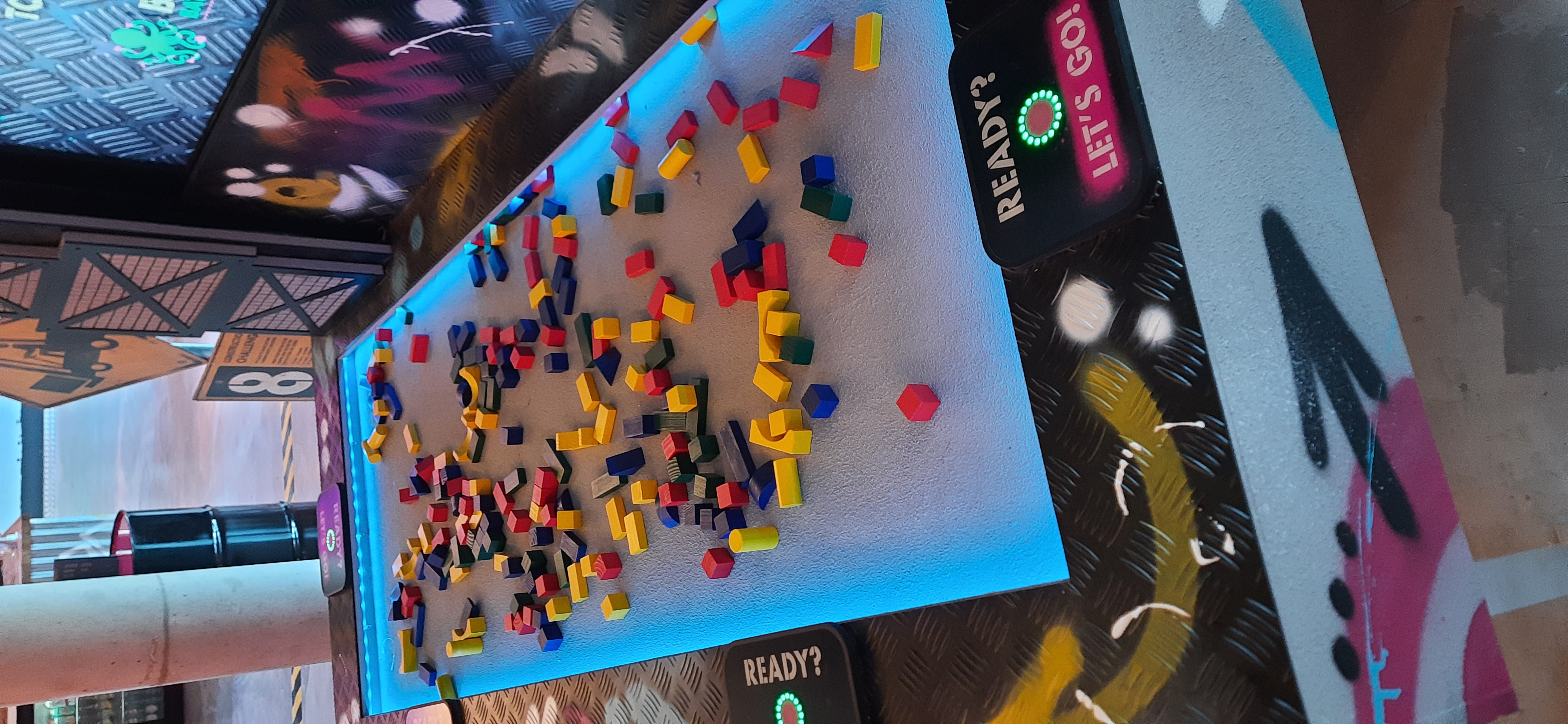 .
Other games - sorry, but I forgot to take pictures of lots of other games. A group was playing axe-throwing, and just as I approached them to ask how it was, and if I could take pictures, they ran out of time.
Also, there were several traditional pool tables (really expensive, I used to play for 50p per game as a student, this is about £15 an hour!) But they were being used, at a quiet time of day.
There's another game called beer pong, which is like a drinking game on a table top, throwing basketballs into hoops.
Games overall - I think this is all set up for groups of people to enjoy, say in 4-10 people. There's not much that would work economically for say couples. Maybe that needs tweaking? Although Russell the Manager said to me, when I raised this point, that he could be flexible with a smaller group, or a couple. So if you visit, and have any queries, just ask, I get the feeling they will go out of their way to help. The TripAdvisor reviews are fabulous for most existing sites, so this format really does work.
Drinks - I started off with a cocktail, a mojito. Good things – a compact menu (although tiny, white font on black background, made most of it illegible for me – blind as a bat!) without too many options, which actually I prefer. Less is more, when it comes to choice.
Not so good things – price. It was £8.50 for my mojito, which is just too much, when most places locally (e.g. Revs) do 2 for a tenner, or 2 for £12. I think BBBBshould introduce deals like that at off-peak times, then charge full price at peak weekend times. I also wanted to try the draught lager, a Heineken (the new premium one, or super-cold, Silver something I think it was called), very good actually, and served in a lovely textured glass, with plenty of fizz. Very good indeed actually.
Bar staff (I didn't catch their names, a young lad with a tattoo over his eye, and a bright bubbly young lady) were so friendly, indeed all the staff were, I felt completely at ease. Whereas so many other places you go, the staff are bored, and don't even try to disguise their disdain for, and lack of interest in talking to customers. It drives me mad! So I could see BBBB becoming my local actually, as I love chatting to anyone who's happy to be sociable. The staff here are just brilliant. When the CEO told me that they "obsess" about customer experience, I was sceptical. But mystery shopping this new site, I can see it's true, and it really makes a big difference).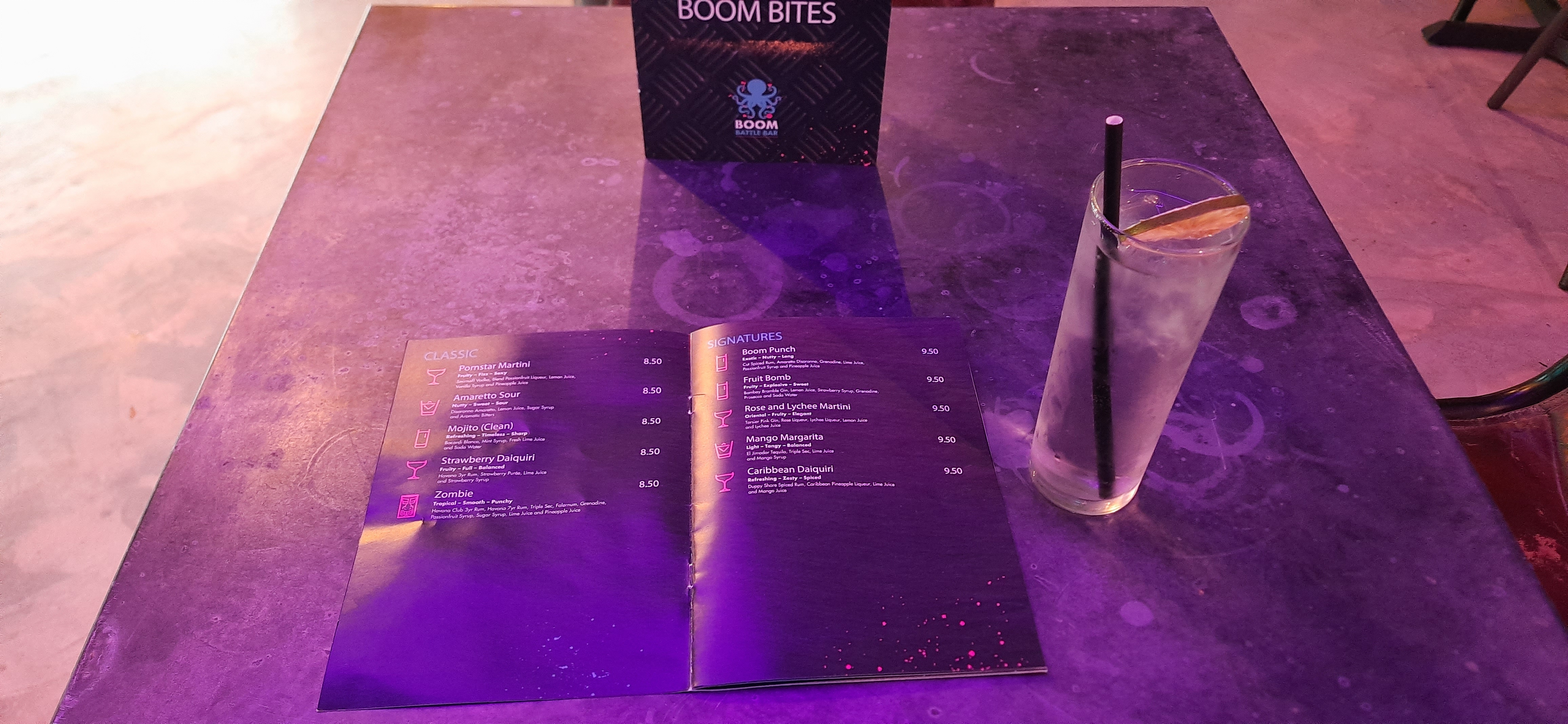 It was OK, but it didn't feel premium enough for £8.50, sorry to be negative.
Food - only a small part of total revenues. So it's designed to be sharing things, or snacks really, which is fine. There are loads of restaurants nearby, so I reckon BBBB will attract people who've already eaten, and want to play some games after eating, and have drinks.
This is the small menu – dunno why it's gone sideways, just lean to the right!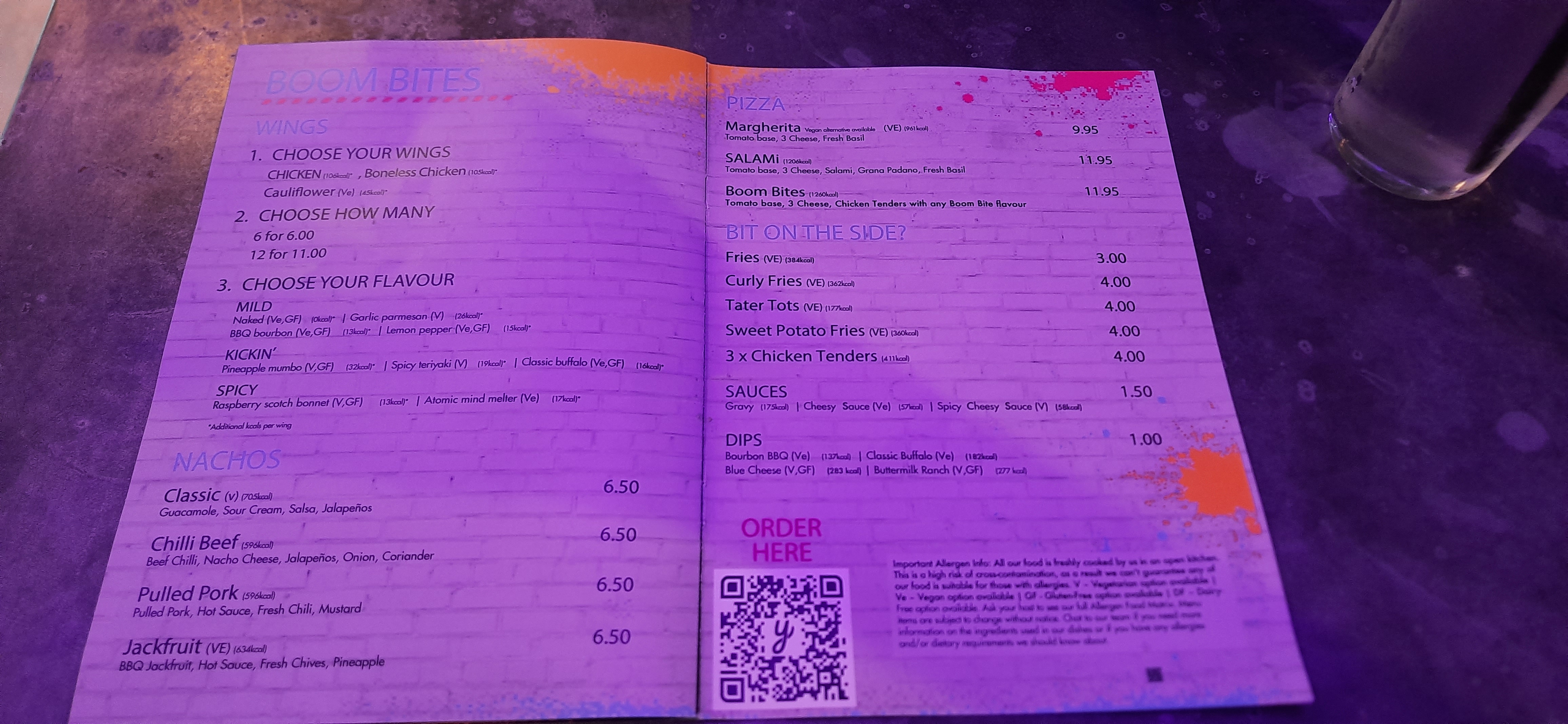 .
I tried 6 boneless chicken wings – hate to say it, but I was a bit disappointed with small portion size, and the chicken was a bit wet. I was hoping for something a bit bigger, and crispier. Never mind, it's early days, and I hope this can be improved upon. The chilli sauce was stunning though – quite hot, but flavoursome, and just a whisker short of painfully hot! (which is my preference)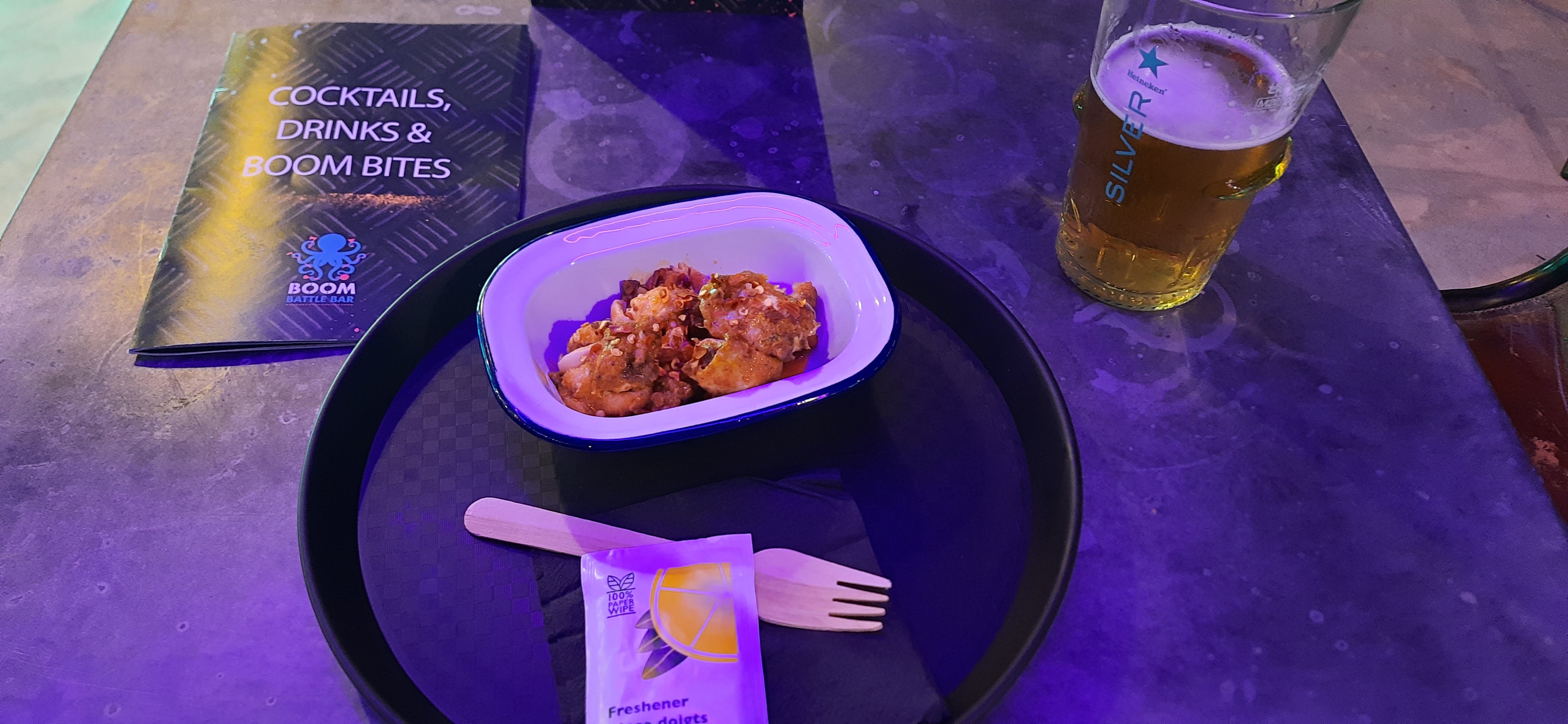 .
TGI Fridays
As I was still hungry, I popped round to TGI Fridays, where they have a great deal for £10 – a starter (which are big portions), chips, and a FLAT diet coke. They're hopeless. I complained to the CEO a year ago about the coke always being flat. He said he'd fix it immediately. A YEAR later, it's got a few bubbles in it, which disappear after a few seconds. Awful. They are serving rubbish, flat soft drinks to every customer. That to me, is such a basic lack of operational competence, that I've given up on Hostmore (LON:MORE) shares for good. No wonder TGIs is having to discount so heavily. There are 2 deals, £10 as above, and £18 for a starter amp; a main (limited menu). The rest of the TGIs menu is just over-priced.
The £10 deal at TGIs is brilliant though – why pay more, when you can get this (below) for a tenner – and it was delicious (chicken sesame things with a sweet sauce, chips, and flat diet coke) -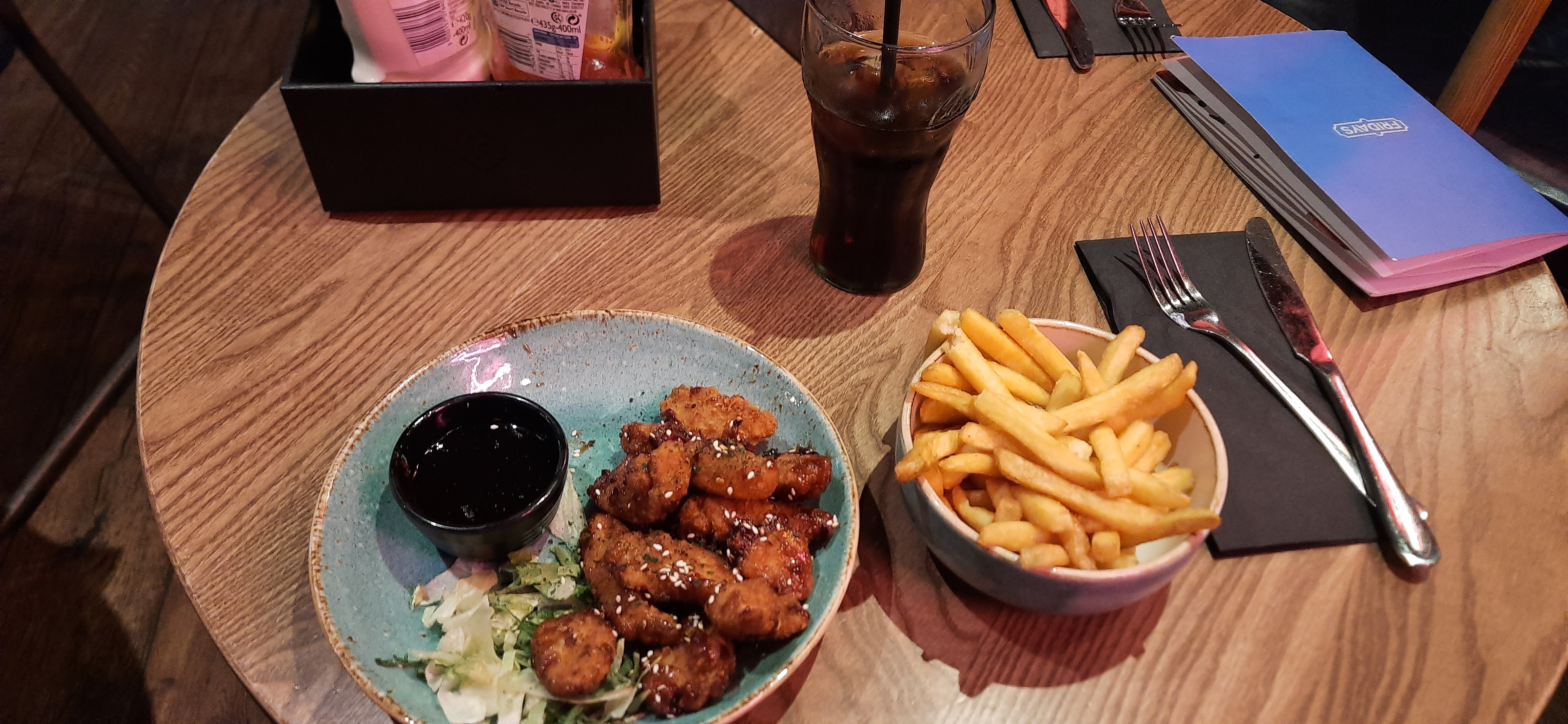 With this next door, for a tenner, at TGIs, I think BBBB will need to up its game on food.
Toilets - back to BBBB, this is the gents, which continues the theme of looking industrial, and low maintenance. Very sensible -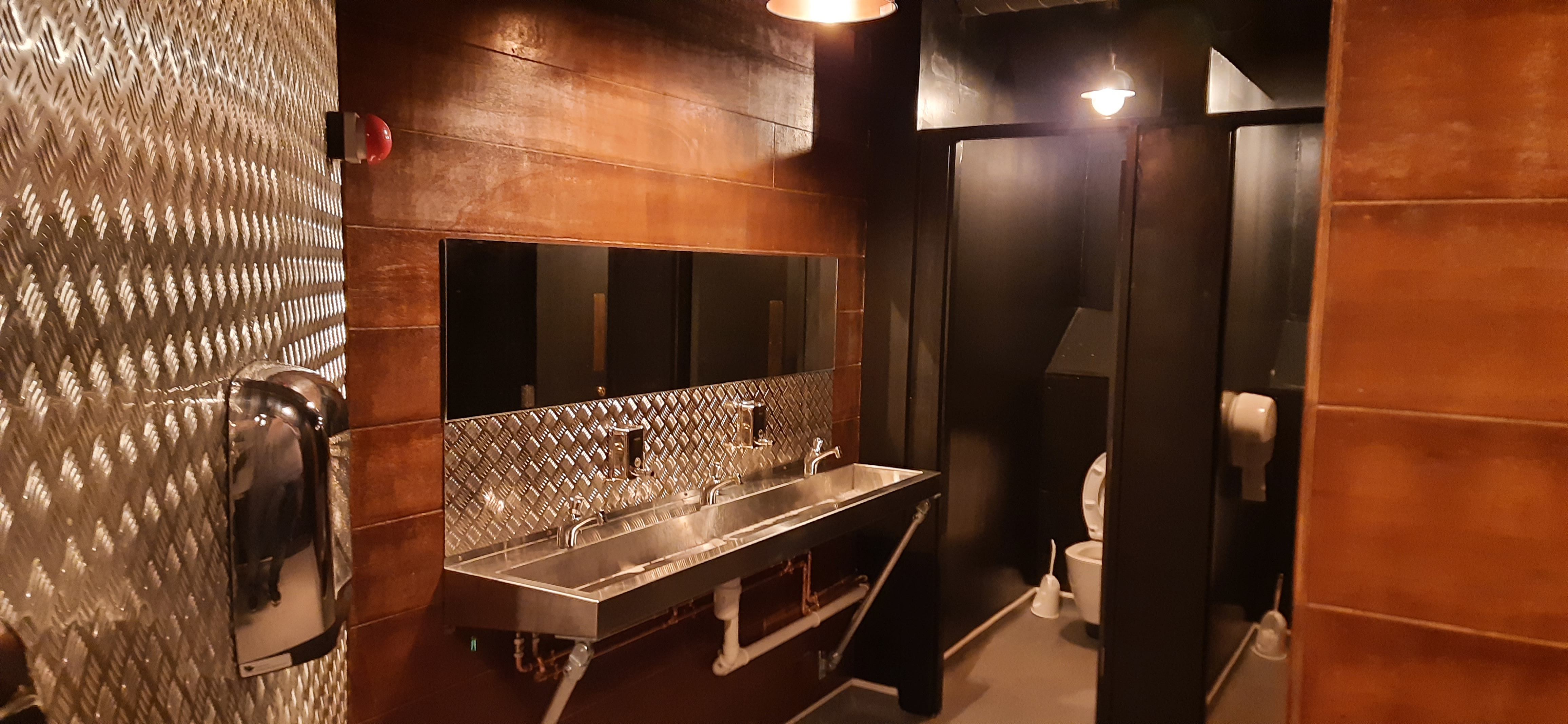 .
.
Escape Hunt
I also mystery shopped the sister brand within XP Factory (LON:XPF) (I hold) next door in Bournemouth. It's also just opened.
There are I think 5 different escape rooms, you can see the themes on the placards in the middle, right hand side of this photo below. One is Aladdin, can't remember the others. There's also a VR room, which I did see, and that looks good fun, where up to 4 people stand near in curtained off individual cubicles, in semi-darkness, and play games using VR headsets, a bit like Oculus, but more sophisticated looking.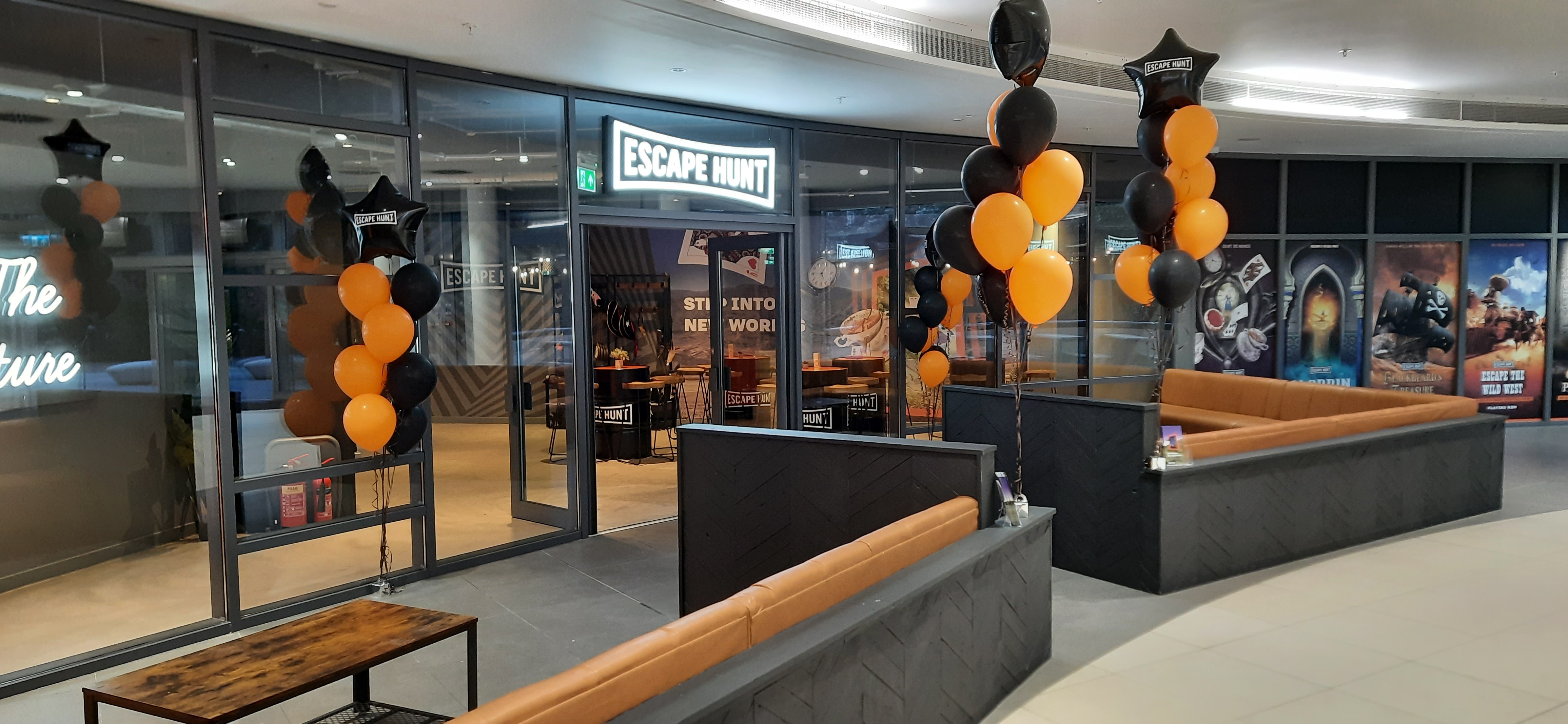 .
Here I am with lovely front desk staff, Dami amp; Ellie. We had a nice chat, and we made each other put on some of the props LOL!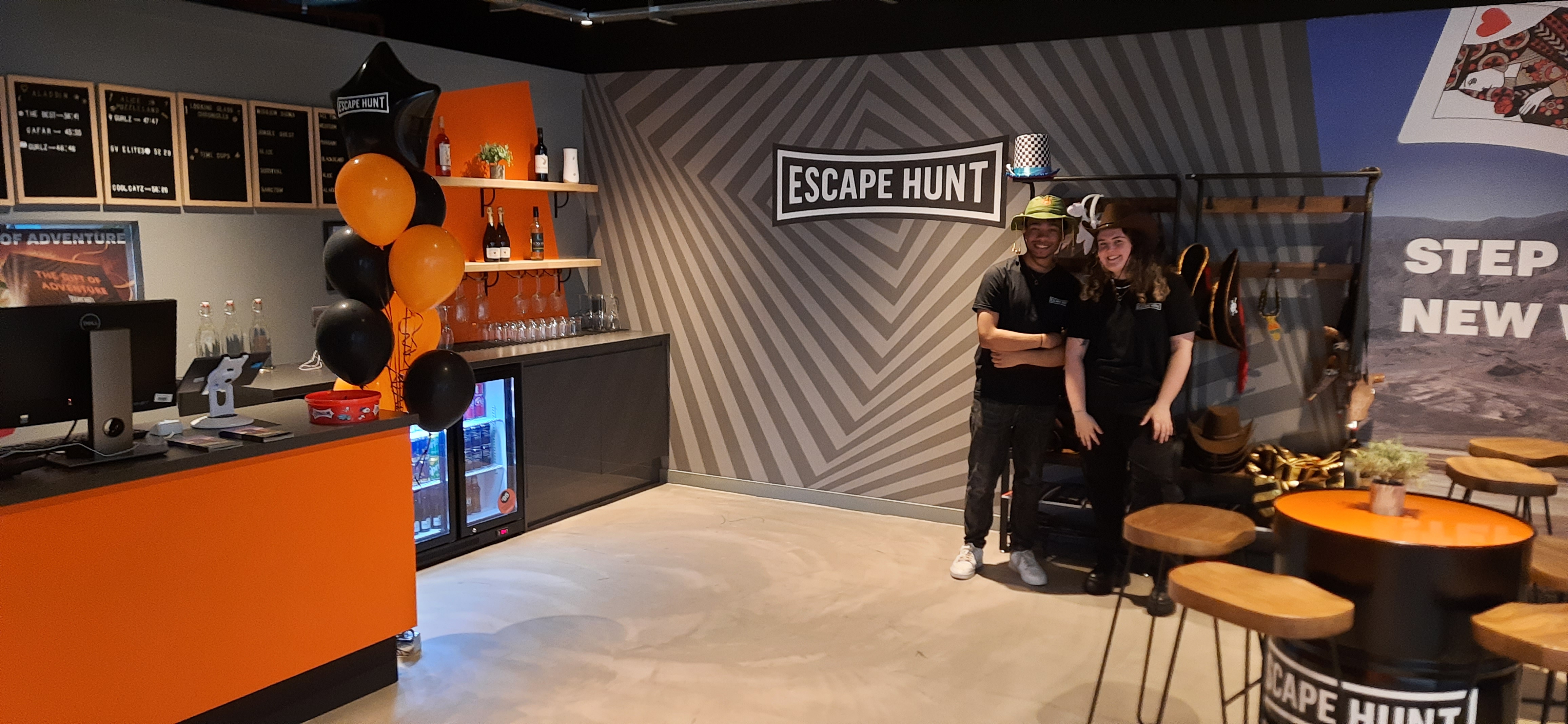 .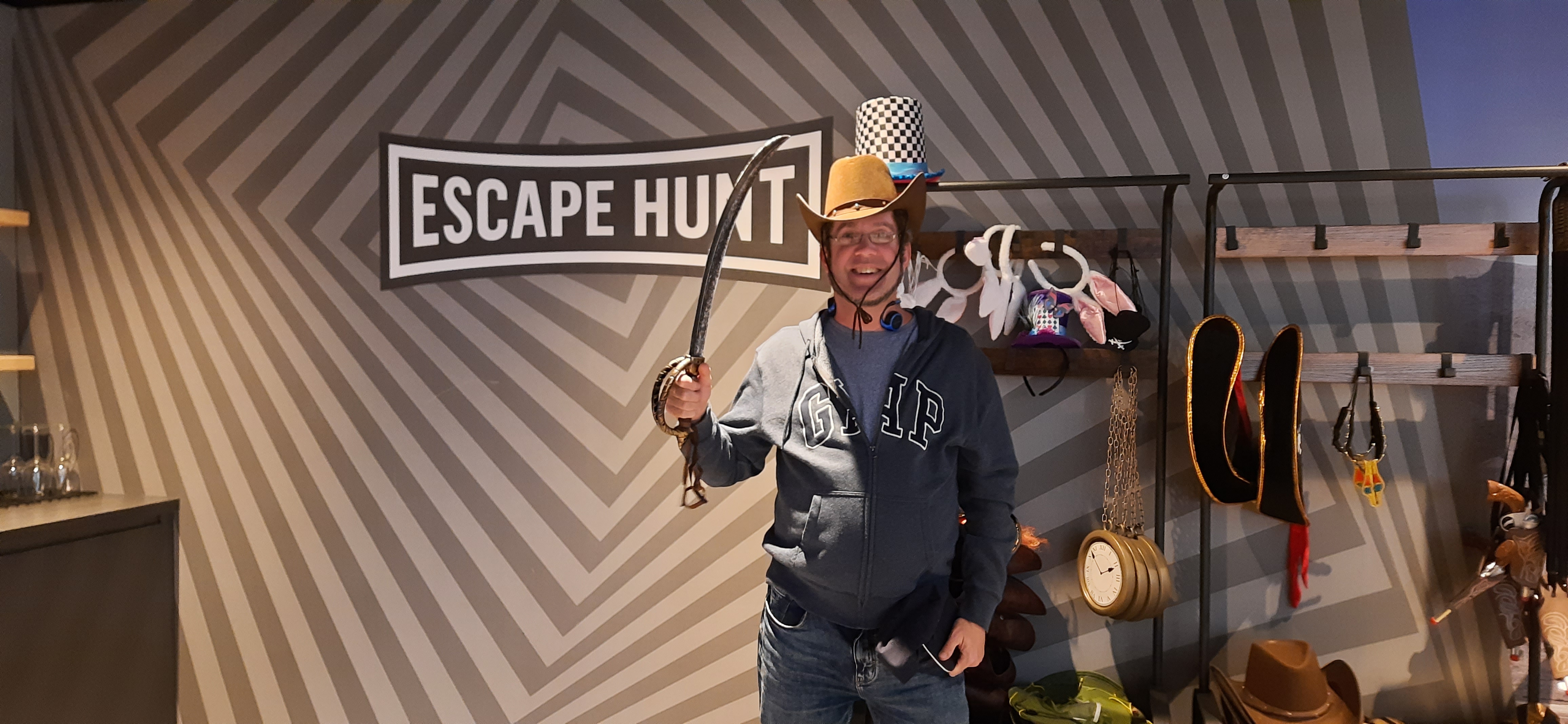 .
I have this effect on people LOL! And again, that top has a large fold of saggy material protruding at the front, it's not actually my belly, it's an optical illusion.
I did ask Ellie if I could have a sneak peak into one of the Escape Rooms, but she said that was strictly forbidden, and even paying clients have to leave their mobile phones in a locker outside the escape rooms, so they can't destroy the mystery by plastering photos on Intagram or TikTok.
Conclusion
That concludes my opening day mystery shop of Boom Battle Bar in Bournemouth, and Escape Hunt next door. I need to see them again, once they're busy, and full of people, so will pop back at peak time this weekend. It looks like they've done a soft launch, to not over-stress the staff, which is what the CEO told me they do in my interview.
I think the staff are terrific, and even though I was just a middle-aged blogger, on my own, they were all so welcoming amp; pleasant to me. I can imagine this would be a terrific place to have a night out with friends. Also, I can see that group outings, say for companies that want Xmas parties, etc, BBBB (and escape hunt actually) would be absolutely ideal. Instead of a boring, awkward meal, and drinks, these concepts where people are up and moving, focusing on games, sharing an experience, it's just tons better.
I'm very excited about this whole concept actually, of competitive socialising. I think it's got tremendous mileage. There are other companies doing similar things of course, but £XPF seems to be the only pure play experiental, competitive socialising company on the stock market, and it's expanding incredibly fast – should be up to 50 sites by the end of 2022, plus 25 overseas franchised sites. Not bad for a 20p share with a market cap of £29m. Although bear in mind that an additional 25m shares (fixed) are likely to be issued as agreed deferred consideration, which will probably take the share count from 150m to 175m. That needs to be factored in. But also that means a near-£10m liability will disappear from the balance sheet.
The share price has gone up a lot recently, but at 20p it's still a third below the 30p placing price in late 2021 which funded the acquisition of BBB. Yet back then, expansion was just an idea. A year later, it's actually happened, and all these new sites are opening. Including a prime site in Oxford Street, London, imminently, I believe.
It's all pretty exciting I think. Mustn't get carried away though.
DYOR as usual, but I think it's a good concept, and worth investigating more.
Regards, Paul.
Source:
https://www.stockopedia.com/content/xp-factory-xpf-paul-mystery-shops-the-new-bournemouth-site-with-pictures-955988/
Before It's News®
is a community of individuals who report on what's going on around them, from all around the world.
Anyone can
join
.
Anyone can contribute.
Anyone can become informed about their world.
"United We Stand" Click Here To Create Your Personal Citizen Journalist Account Today, Be Sure To Invite Your Friends.
Please Help Support BeforeitsNews by trying our Natural Health Products below!
Order by Phone at 888-809-8385 or online at https://mitocopper.com M - F 9am to 5pm EST
Order by Phone at 866-388-7003 or online at https://www.herbanomic.com M - F 9am to 5pm EST
Order by Phone at 866-388-7003 or online at https://www.herbanomics.com M - F 9am to 5pm EST
Humic & Fulvic Trace Minerals Complex - Nature's most important supplement! Vivid Dreams again!
HNEX HydroNano EXtracellular Water - Improve immune system health and reduce inflammation.
Ultimate Clinical Potency Curcumin - Natural pain relief, reduce inflammation and so much more.
MitoCopper - Bioavailable Copper destroys pathogens and gives you more energy. (See Blood Video)
Oxy Powder - Natural Colon Cleanser! Cleans out toxic buildup with oxygen!
Nascent Iodine - Promotes detoxification, mental focus and thyroid health.
Smart Meter Cover - Reduces Smart Meter radiation by 96%! (See Video).