Small Cap Value Report (Fri 25 Nov 2022) - MOTR, SCE, VID, De-listings, SCS, DVO, FCAP, LSL
Friday, November 25, 2022 8:09
% of readers think this story is Fact. Add your two cents.

Good morning! It's just Paul here today, as it's Friday. I prepared some stuff last night, so we're off to a flying start! Today's report is now finished. Have a smashing weekend! I'll be podcasting as usual tomorrow, with my weekly summary.
Agenda
Paul's Section:
Motorpoint (LON:MOTR) [quick comment] – H1 results (to 9/2022) came out yesterday. Revenues rose a lot, but volumes (vehicles sold) were actually down. Profit has dropped, so it's trading barely above breakeven now. Conventional car dealership chains have been making a fortune during this period of restricted supply (hence much higher prices), whereas MOTR has barely scraped into a tiny profit for H1. That does call into question its business model. Maybe people prefer buying from a conventional dealer? I'm less convinced by MOTR shares than I was in the past, due to this collapse in profitability. It dangles the prospect of future profits in front of us, on higher revenues amp; market share, but there's not much to go on in terms of valuation now. So it's become a bit more speculative than in the past.
Surface Transforms (LON:SCE) [quick comment] – rose 10% yesterday, on a big contract win (£100m over 6 years). I particularly like that it says this order replaces the incumbent, its main competitor. There are also delays in ramping up production. It now has a remarkable £290m of orders, average 5 year contract length. So this share is now all about execution, getting new production facilities up to scale, which will obviously come with challenges. Overall, it looks very interesting in my view. A very rare jam tomorrow share that actually seems to have received a lot of genuine orders for its jam! (ceramic brake discs actually)
Videndum (LON:VID) [quick comment] – this is the new name for Vitec. The shares have held up well in this bear market so far. It issued an in line with expectations update yesterday, for FY 12/2022. It claims to have a "robust" balance sheet, so I had to check, and I disagree. It's been acquiring other companies, so the balance sheet shows rapidly increasing intangible assets, and debt. I'm not keen on companies racking up debt at this stage in the economic cycle. So the valuation, taking into account increased debt, looks up with events. [no section below]

SCS (LON:SCS) – an in line trading update today. There's been a sharp improvement in order intake in recent weeks, as the last of the tough comparatives drops out. Cash pile is enormous, and way above SCS's own market cap. Forecasts have been lowered, and now look realistic. Divi yield over 8%, and looks sustainable. I think this might be a sensible time to be dipping our toes in here again. High StockRank of 94. Thumbs up from me. More detail below.
De-listings – we're seeing more companies leaving the UK stock market, usually very small, and poorly performing companies. News of a de-listing is usually accompanied with a c.50% plunge in share price, as many investors become forced sellers. I review below several recent cases, and pluck out common themes, which could help us predict, and avoid companies likely to de-list in future.
Devro (LON:DVO) – shareholders should be celebrating, with a cash takeover bid at a 65% premium from a privately owned European food group. I look at the valuation metrics, to see if this could have been predicted. The value and quality figures certainly looked attractive last night, so well done to everyone who spotted the value here. Graham did too, with a nice review of its interim numbers in Aug 2022. It's not a share I'm familiar with, so missed this one. More detail below.
finnCap (LON:FCAP) – shares plunge 22% today, on news last night that the takeover talks with Panmure Gordon are off. I discuss below the attractions of the sector (bombed out valuations, and recovery potential), plus my view that Finncap remaining independent is great news for us, because it has a culture of being open amp; helpful towards private investors – e.g. publishing loads of research for us to access easily. Patient shareholders should do well long term, in the next bull market. More detail below.
LSL Property Services (LON:LSL) – a very detailed update, so I've only drawn out the key points below. It states the obvious – that the housing market is slowing, and hence expectations are reduced. The outlook for 2023 concerns me, and I don't think existing forecasts look anywhere near credible – i.e. far too high. For that reason, I'm steering clear of this share, as it feels way too early to be calling a bottom in earnings. More detail below.
---
Explanatory notes -
A quick reminder that we don't recommend any stocks. We aim to review trading updates amp; results of the day and offer our opinions on them as possible candidates for further research if they interest you. Our opinions will sometimes turn out to be right, and sometimes wrong, because it's anybody's guess what direction market sentiment will take amp; nobody can predict the future with certainty. We are analysing the company fundamentals, not trying to predict market sentiment.
We stick to companies that have issued news on the day, with market caps up to about £700m. We avoid the smallest, and most speculative companies, and also avoid a few specialist sectors (e.g. natural resources, pharma/biotech).
A key assumption is that readers DYOR (do your own research), and make your own investment decisions. Reader comments are welcomed – please be civil, rational, and include the company name/ticker, otherwise people won't necessarily know what company you are referring to.
---
De-listing risk
This is a topic we've mentioned here before in the SCVRs. When (usually the smallest amp; worst) companies announce they intend to de-list, it often instantly knocks c.50% off the share price, and many smaller investors become effectively forced sellers – because we can't, or don't want to, hold shares in private companies (e.g. rules of a SIPP or ISA may not allow this).
Recently there has been a flurry of further de-listings announced. For example the lamentable Parsley Box (MEAL), which is running out of cash again, pursuing a doomed business model (in my view) that bleeds cash at an alarming rate.
MEAL announced on 25 Oct 2022 that it was reviewing ways to raise more cash, and that it might be easier to raise more funding as a private company. So in other words, it sounds like institutional shareholders might have indicated they did not have an appetite for any further fundraisings, and thus might have effectively written off their existing shares. Or, they prefer to refinance it behind closed doors, and without the scrutiny of a public listing?
On 18 Nov 2022, MEAL announced that it has indeed decided to de-list, and become a private company, which requires a 75% shareholder vote in favour. Lack of liquidity in the shares, and "valuation volatility" are mentioned.
A weak share price has created negative perceptions -
…the adverse share price performance is detrimental to the perception of the Group amongst customers, suppliers and other partners, which, in turn, has the potential to negatively impact its product development, staff morale and industry reputation.
In other words, as a private company, its poor performance can be better hidden!
Cost savings amp; regulatory hassle – MEAL says it can save £400k p.a. by de-listing.
Under-valuation – MEAL management think the derisory market cap is too low, which also means acquisitions are not viable using shares.
The meeting to vote on the de-listing is on 14 Dec 2022, and assuming it achieves the necessary 75%, then the last day of dealing would be 21 Dec 2022.
The share price seems very volatile of late, going as low as 1.5p, then bizarrely spiking to 4-5p in recent days. There is a concert party here connected to the CEO, who might be buying, as indicated in a previous RNS that they intended going up to 29.9% (just under the mandatory takeover threshold).
Thank goodness we won't need to waste any more time reporting on this disaster of a company. Could de-listing have been foreseen? Yes, it was obvious the business model was failing, and would need more funding, so we've had it down as uninvestable for some time at the SCVR.
DeepMatter (DMTR) – down 54% today, so the market cap is now down to little more than £2m, at which point it's clearly not worth being a listed company. It announces today that discussions with institutions amp; other potential funders have resulted in it concluding that it would be better to de-list.
It intends doing a £1m fundraise shortly, then a bigger fundraise in 2023 once it's a private company.
Could it have been foreseen? – again, yes very much so. It's a jam tomorrow company, with a good idea, but no commercial success to date, just years of losses and minimal revenues. This type of company rarely succeeds, and even if they do, it usually takes much longer, and requires multiple fundraisings usually at increasingly low prices, hence bigger dilution as time goes on. After several fundraisings amp; no progress, investors understandably lose the will to support any more fundraisings, so de-listing looks the only option.
SourceBio (SBI) – I'm not familiar with this company, but it has also announced it intends to de-list. This one is a bit more surprising, as it's a decent market cap of £83m, and it made profits in 2020, and 2021, which looks like a pandemic-related boost.
It seems that the major shareholders are not interested in keeping the listing, as they reckon it undervalues the company.
A tender offer at 115p looks like it should be enough to take out most of the small shareholders who want to exit (because holders of 79.2% have said they won't enter the tender offer).
Reasons given for delisting, are that the AIM market undervalues the company (in their opinion!) and hence it's not attractive for raising growth capital. Costs of listing are c.£500k p.a., plus considerable management team dealing with investor relations, and regulations. So it's not worth it. Also low liquidity is mentioned.
Note that there are 3 dominant shareholders, together holding 73%, including Christopher Mills of Harwood Capital (22.5%), who likes taking companies private on the cheap.
My view – this type of share is impossible to value, and the route to get rid of private shareholders via a tender offer, actually looks quite fair to me.
EDIT: I forgot to name-check Mary and Ian, who I spoke to at Mello. Mary flagged delistings, and that she was disappointed I hadn't commented on SourceBio delisting, so hopefully she sees this! We need to encourage more women to get involved in investing! Without wanting to generalise too much, I think women are often better investors than men, being less prone to making impulsive decisions. End of edit.
Assessing de-listing risks
If any investments we hold are vulnerable to a de-listing, it's usually pretty obvious. This generally applies to shares with very small market caps (below say £20m I'd say). So for anything of that small size in our portfolios, it's worth running through these risk factors below to see if a de-listing could be coming –
Cost - maintaining a stock market listing is expensive, costing hundreds of thousands of pounds per year (I've heard figures ranging from £200-600k for even the smallest companies). Is this reasonable in the context of a company's accounts? If it's loss-making, and running out of cash, then slashing costs through a de-listing could be necessary just to survive.
Liquidity - dries up in bear markets, as we're seeing. If there's no interest in the shares, then there's little point in remaining listed. So if a share only trades small amounts, and not very often, then it could be likely to de-list.
Cash burn - blue sky or jam tomorrow companies that constantly burn cash, obviously creates a need to keep coming back for more fundraisings. It's easy to work out when they'll need more cash – just look at how much cash is remaining on the balance sheet, then look at the rate of cash burn in the last 6 month reporting period. Once a failing business has tapped the market several times for cash, then it becomes increasingly difficult, even impossible, to raise any more.
Fundraisings - in the good times, equity markets are awash with cash for new floats, and follow-on funding for speculative companies. Whereas in a bear market, appetite for riskier funding dries up, as we're seeing, and if it is possible at all, usually comes with a hefty price discount. So it might be easier, and less costly, to raise fresh funding privately. Also, I suspect that institutions might prefer to refinance failed companies privately, without the associated glare of publicity from a listing. Better to have your mistakes off the published list, and lumped into "other", maybe?!
Negative impact of a listing - if a company's business model is failing, then doing so in the glare of publicity from being a listed company, can harm the business, as MEAL points out. A collapsing share price can have a negative impact on suppliers, bank, and employee confidence. Whereas private companies don't have a share price as such, they're worth whatever people think they're worth.
Regulatory burdens amp; management time - being a listed company involves a lot of work for Directors, plus hefty advisor fees. If there's no benefit to the company from this, then it's better to de-list.
Concentration of shareholdings - if there is one, or several major shareholders who have a high percentage of the shares in issue, then they effectively control the company, and as small shareholders we're along for the ride. So if they decide that a listing is a dead loss, and they want to take it private, then there's not much we can do about it.
Overall - there's a big problem here. The UK market is just not interested in a lot of smaller, speculative companies, and to be fair, many probably should never have listed in the first place. We've seen over the years that many new listings are speculative junk, or over-priced, opportunistic floats after a year or two of good trading (e.g. during the pandemic). There are not enough decent companies on reasonable valuations being floated.
So I suspect we're in for a fallow patch when lots of companies leave the market on a low. That's going to be bad for us, if we hold them. I have one share personally, Seraphine (LON:BUMP) where Christopher Mills has been buying shares, and there's a big 43% holder in the shape of the previous private equity owner. So my worry is they could strong-arm the CEO into de-listing at a low. So I've booked a call with the CEO to make the point that he needs to look after the small shareholders, and not let the big holders nick the company on the cheap! But if people keep selling, then you're handing the company on a plate to anyone who wants to buy it on the cheap.
Please do add any thoughts, or examples you have in the comments below. This was all I could think of, off the top of my head, so there could be other good points I've missed.
---
SCS
(LON:SCS)
140p (pre market open)
Market cap £50m
Trading Update (AGM)
Company's headline -
Encouraging recent performance despite the challenging trading conditions
ScS, one of the UK's largest retailers of upholstered furniture and floorings, provides the following update ahead of the Company's Annual General Meeting ("AGM") to be held at 14:00 GMT today at its registered office, ScS, 45-49 Villiers Street, Sunderland, SR1 1HA. At the meeting, the Group's Chair, Alan Smith will provide the following update on performance and outlook…
The current financial year is FY 7/2023.
Key points -
Trading resiliently
In line with (lowered) full year expectations
"Challenging period"
Sharp improvement in LFL order intake in recent weeks (see table below)
Gaining market share
Cash £89.7m (up from £70.8m at end July 2022) – way above its own market cap
Key trading period now, over winter
That's a sharp improvement in recent weeks, although prior year comps are normalising, which have been skewing the figures ever since the pandemic began.
My opinion – this is encouraging. The cash pile being so high, indicates that there must still be significant supply chain delays, so that would be a key question to ask management – how long is the order backlog? Freight costs from the Far East have collapsed in price, which is great for importers of bulky items like furniture.
Forecasts have been lowered, and now look realistic, and the in line update today reinforces that.
Dividend yield is highly attractive at over 8%, and looks sustainable, at 1.5x cover in a difficult year, and with mountains of cash in the bank (some belongs to customers, but it continuously rotates, as we know this sector has highly attractive working capital structure).
StockRank of 94.
I wouldn't get greedy about entry price, this looks low enough at 140p, if you're prepared to be patient, and you'll get paid nice divis whilst you wait for it to double in price once the economy settles down at some stage. Thumbs up from me.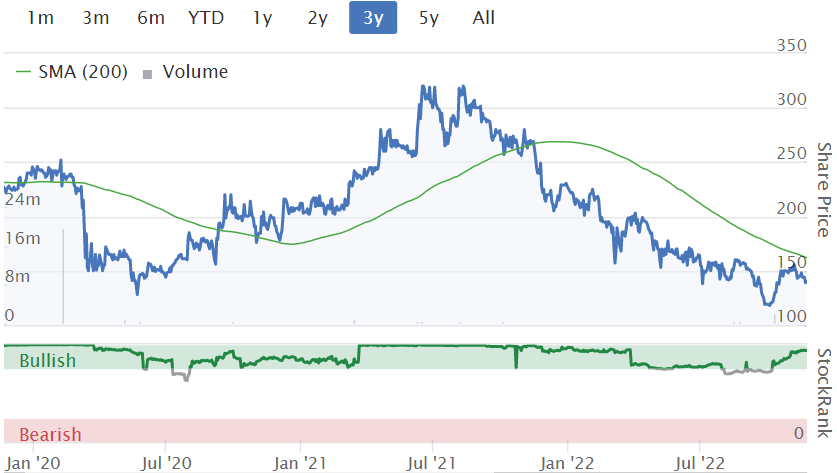 ---
Devro
(LON:DVO)
308p (up 60%)
Market cap £514m
A statement issued by SARIA Nederland B.V. says it has reached agreement with the Board of Devro (a maker of sausage skins) to buy it for 316.1p in cash. That's a marvellous premium of 65%, which should delight Devro shareholders. Although it's customary to pretend that you're disappointed, claiming it undervalues the company!
I'm not familiar with this company, it just flew under the radar. Although Graham reviewed its recent interim results here in Aug 2022, concluding positively that the company looks good, and shares seemed "unloved and underappreciated".
The Stockopedia metrics as of last night also look attractive – a low PER, decent divi yield, decent asset backing, and high quality scores -
.
So this share does indeed look attractive on a conventional value basis.
Still, the acquirer paying a 65% premium suggests they might have seen some other attractions too.
This is a superb outcome for Devro shareholders, well done!
An added advantage of takeover bids right now, is you can recycle the cash into something else that's very cheap, and you've got 65% more cash to deploy, so a double benefit.
There's no point in me reviewing its trading update, also out today, as this deal looks very likely to go ahead.
---
finnCap
(LON:FCAP)
14.5p (down 22%)
Market cap £26m
Finncap had been in talks with Panmure Gordon about a possible takeover deal. Last night, within 5 minutes, both stockbrokers issued statements saying the deal is off. Out of curiosity, I'll have a look to see if there any differences in their accounts of events!
Finncap – says it was not possible to find mutually agreeable terms or structure for a combination.
Panmure Gordon – oh how disappointing, it uses the same wording as Finncap. I was hoping for some drama and mud-slinging, to liven up my day, but sadly that's not the case! It all sounds rather civilised.
My opinion – Finncap is exemplary in providing private investors with research notes on many small caps, and providing easy access to company management. As such, I was hoping a combination with Panmure Gordon would fail, because Panmures are considerably less helpful to PIs. They did publish some notes on Research Tree a while back, but that seems to have gone now. Brokers that refuse to publish research on the small caps they cover, are completely useless to the people who are actually buying/selling the shares amp; setting the price – i.e. us! Hence whenever I talk to company management, I always urge them to ditch brokers which restrict access to research notes to PIs, and try to limit the information in RNSs.
So bravo to Finncap remaining independent, this is excellent news actually. Less so for shareholders. Although as Graham has pointed out here, brokers and fund managers' shares are highly cyclical, as they tend to produce feast or famine results. We're currently in a famine, with bombed out share prices, so this is probably a good time to be buying the ones that have sound balance sheets – tuck them away for a couple of years, and you'll probably make a decent profit, and maybe pick up some divis too.
Finncap's balance sheet is sound, with about £20m NTAV. The cost base tends to be fairly flexible, with staff and bonuses being the main cost, so they get paid very well in the good times, and unfortunately are at risk of redundancy in the bad times. The other thing to check is the liabilities relating to glitzy offices.
Serving a lot of lower end clients, Finncap might also suffer from de-listings, and also of course not so many deals for a while. As long as it can bump along at or around breakeven, then it should be fine longer term.
.
---
LSL Property Services
(LON:LSL)
233p (down 11%)
Market cap £241m
The market cap has dropped by £31m today, and this is another one where the recent "everything bounce" as I'm now calling it, has turned out to be spurious. This makes me wonder if we should be selling big bounces, where they're purely down to sentiment, and not backed up by any newsflow on fundamentals improving. But that's for each investor to decide for yourselves.
This covers the 10 months to end Oct 2022, of FY 12/2022.
There's a lot of detail, so I'll just draw out the key points -
Conditions have become more challenging since the last update – which shouldn't come as a surprise to anyone -
… this has given rise to a reduction in mortgage activity and new house sales, and an increase in fall-throughs of previously agreed sales.
This challenging background means that there is a wider range of potential outcomes for the full year than previously expected.
Balance sheet – it claims to have "a very strong balance sheet". It doesn't. Once you eliminate intangible assets, NTAV is only about £23m. That looks adequate for a sector that doesn't need a lot of capital, but it's certainly not "very strong".
Net cash looks fine, at £29.1m.
I see it's doing share buybacks, which is not a good idea going into a market downturn of unknown length amp; severity. They should be protecting the cash pile in my view, at this stage in the cycle.
Conveyancing delays are continuing, but "slightly easing"
Re-mortgaging business has been restricted by recent turmoil in mortgage markets.
Surveying amp; valuation also taken a hit, but expected to be temporary.
Outlook -
The lead-time required to complete transactions means that for Financial Services and Estate Agency, the financial impact of the recent turbulent market conditions will largely be reflected in the first quarter of 2023.
Overall outcome for FY 12/2022 below expectations -
The overall Group performance is expected to be below our prior expectations with full year profit now anticipated to be in a range just above or just below that reported in 2019, which included a contribution of £1.4m from LMS and TM Group, which were both disposed of during 2021…
The housing market is heavily impacted by sentiment and has the potential to surprise on the upside. However, with the recent reduction in activity levels and continuing uncertainty over UK economic conditions, until we have greater clarity on the economic backdrop, we are cautious on the market outlook for 2023. A significant reduction in housing transactions would clearly have a material effect on our Estate Agency residential sales business and our direct-to consumer financial services business.
We continue to focus on proactive management of our cost base, to limit the impact of these pressures.
My opinion – this update is mostly stating the obvious – we should all know by now that the housing market is slowing, for a variety of reasons.
Therefore I think it's sensible to regard 2022 results as almost irrelevant, and probably peak earnings for the time being. That makes it very difficult to value shares in the whole sector.
I would expect 2023 forecasts to now be well below 2022 forecasts, but the Stockopedia graph below shows the opposite – i.e. earnings growth in 2023, which looks completely unrealistic.
Therefore, I think the broker forecasts look well behind the curve, making another profit warning highly likely. For that reason, I'll steer clear of this share as we go into a downturn for housing, and re-assess it once forecasts have tumbled to something more realistic. I could see the 2023 forecasts maybe even halving from where they are now. That's not likely to be good for the share price. Best avoided, I reckon, for now.
Source:
https://www.stockopedia.com/content/small-cap-value-report-fri-25-nov-2022-motr-sce-vid-de-listings-scs-dvo-fcap-lsl-957738/
Before It's News®
is a community of individuals who report on what's going on around them, from all around the world.
Anyone can
join
.
Anyone can contribute.
Anyone can become informed about their world.
"United We Stand" Click Here To Create Your Personal Citizen Journalist Account Today, Be Sure To Invite Your Friends.
Please Help Support BeforeitsNews by trying our Natural Health Products below!
Order by Phone at 888-809-8385 or online at https://mitocopper.com M - F 9am to 5pm EST
Order by Phone at 866-388-7003 or online at https://www.herbanomic.com M - F 9am to 5pm EST
Order by Phone at 866-388-7003 or online at https://www.herbanomics.com M - F 9am to 5pm EST
Humic & Fulvic Trace Minerals Complex - Nature's most important supplement! Vivid Dreams again!
HNEX HydroNano EXtracellular Water - Improve immune system health and reduce inflammation.
Ultimate Clinical Potency Curcumin - Natural pain relief, reduce inflammation and so much more.
MitoCopper - Bioavailable Copper destroys pathogens and gives you more energy. (See Blood Video)
Oxy Powder - Natural Colon Cleanser! Cleans out toxic buildup with oxygen!
Nascent Iodine - Promotes detoxification, mental focus and thyroid health.
Smart Meter Cover - Reduces Smart Meter radiation by 96%! (See Video).