Small Cap Value Report (Mon 14 Nov 2022) - Last week's summary, JOUL, MEGP, CBOX, WYN, SRT
Monday, November 14, 2022 8:22
% of readers think this story is Fact. Add your two cents.

Good morning from Paul amp; Graham.
Agenda
Paul's Section:
Weekly summary – I've typed up episode 20 here, of my weekly podcast, for Stockopedia subscribers only, I hope you find it interesting – it's a quick way to see what we covered in the SCVRs last week, if you don't have time to read them all. This also gives you something to get stuck into first thing today, whilst Graham and I sift through the RNS, and decide what news to cover.
Joules (LON:JOUL) – a sorry end to this share, with refinancing talks having failed, and administrators being appointed. Shares are now worth nothing, and are suspended. We've been flagging here the recent high risk nature of this share, due to financing problems. However, I still want to apologise again for having got this share wrong previously. It always looked a good brand to me (and it is), but has been so badly run in recent years, that they managed to blow it up. What a pity. Still, let's have a discussion about all the warning signs, so we can avoid things like this in future.
Cake Box Holdings (LON:CBOX) – H1 profits have reduced sharply, due to a big increase in admin costs. Confirms full year expectations though, which is a 29% fall in profit compared with last year. Balance sheet is solid, and there's a good divi yield. Plus new store openings are proceeding quite rapidly. I do have some misgivings though – previous accounting problems, where exactly does the profit come from, and why did costs surge so much in H1? On balance, I could see this going either way, so am neutral.
SRT Marine Systems (LON:SRT) – a fantastic-looking Pamp;L, with interim revenues up 300%, and a swing into decent profits. Although cashflow is negative, since customers haven't actually paid yet. The balance sheet looks weak, with heavy reliance on private bond funding. Commentary includes spectacular pipeline numbers, which if they come, could be transformational. I'm neutral, because it's impossible to judge whether the talk will convert into sustainable profits amp; cash, where it hasn't done for the last 17 years.
Graham's Section:
ME International (LON:MEGP) (£374m) – an ahead of expectations full-year trading update from this operator of photo-booths, laundry machines, food vending machines, etc. Strong consumer demand is seen across all of its services, with particular strength in Continental Europe. Trading in Asia has been more difficult due to extended Covid restrictions. I quickly review some of the key attractions to this share but also point out that we've had plenty of disappointments here over the years. On balance, given the current cheap rating of the shares, I would tentatively say that the prospects here are favourable and that the risks are priced in.
Wynnstay (LON:WYN) (£142m) – FY October 2022 is again even better than expected at this agricultural supplier. However, the company cautiously chooses not to upgrade its forecasts for the new financial year (FY October 2023). Inflation and supply chain problems created some huge but temporary profits at this company, and it expects profitability to normalise in the current year. I still believe that this stock is likely to provide a good inflation hedge and I'm a huge admirer of its long-term track record of sending cash back to shareholders (the dividend yield is currently 2.7%). So I maintain my positive view here.
---
Explanatory notes -
A quick reminder that we don't recommend any stocks. We aim to review trading updates amp; results of the day and offer our opinions on them as possible candidates for further research if they interest you. Our opinions will sometimes turn out to be right, and sometimes wrong, because it's anybody's guess what direction market sentiment will take amp; nobody can predict the future with certainty. We are analysing the company fundamentals, not trying to predict market sentiment.
We stick to companies that have issued news on the day, with market caps up to about £700m. We avoid the smallest, and most speculative companies, and also avoid a few specialist sectors (e.g. natural resources, pharma/biotech).
A key assumption is that readers DYOR (do your own research), and make your own investment decisions. Reader comments are welcomed – please be civil, rational, and include the company name/ticker, otherwise people won't necessarily know what company you are referring to.
---
Paul's Section:
Joules
(LON:JOUL)
Administration amp; Suspension
A sorry end to this share, which has been hanging by a thread in recent months. It had already informed the market that it needed bridging finance to survive beyond the end of this month, due to running out of headroom on the bank facilities.
So there was a significant possibility that it might have to file for administration, if a solvent refinancing could not be agreed, as we've been discussing here for a while.
Today's news in summary -
Discussions to raise fresh equity, and bridging finance, have failed.
Administrators will be appointed "as soon as reasonably practicable".
Shares suspended.
My opinion – it's scary how fast Joules unravelled, from being a successful, profitable company over many years, to effectively going bust today.
The shares are now a zero I'm afraid, because in situations like this, the assets get sold off cheaply amp; quickly by administrators, and the cash raised is all consumed by fees and payments to creditors (who rank ahead of shareholders). So there almost certainly won't be anything paid to shareholders.
The brand will continue, maybe in slimmed down form, under new ownership (whoever makes the best offer to the administrator). Let's just remember that, if they try to sell it back to the stock market in a few years' time, to give it a wide berth.
I apologise again for being (wrongly as it turned out) bullish on this share when it was profitable amp; trading well. Once things changed, and the potential for recovery seemed to be slipping away, then obviously I sold out amp; warned people here about potential insolvency - which is the only logical thing to do, painful as it is to bank a hefty loss.
They could amp; should have been able to turn this situation around, but unfortunately it was a good brand, run by incompetent people. It's no good crying over spilt milk, so my previous losses on this share will serve as a good reminder to avoid companies where they can't manage the basics (e.g. repeated logistical problems, profit warnings due to inability to secure stock, trashing the brand name by discounting constantly, over-priced product with little point of difference, etc).
There's also the question of a large founder/Director sale by Tom Joule in April 2021, raising £12.2m for him at 232p/share. I think there's a good case for being brutal with large Director selling, and following suit with my positions in future, if a key Director dumps a lot of their shares. Lots of lessons to be learned, and to mull over.
---
Cake Box Holdings
(LON:CBOX)
109p (pre market open)
Market cap £44m
Cake Box Holdings plc, the specialist retailer of fresh cream cakes, today announces its half year results for the six months ended 30 September 2022.
Revenue growth against strong comparative period, continued investment in infrastructure whilst maintaining a strong cash position
Note that the stores are run by franchisees, so CBOX revenue is only small (as the store revenues amp; costs legitimately by-pass CBOX accounts.
The store count was 196 (all franchised I think) at 9/2022 (up 22 on a year earlier), so it's quite a significant chain now.
H1 key numbers -
Revenue £16.8m (up 2.1%, against strong LY comps)
PBT down 45% to £2.0m (LY H1: £3.7m) – that's not good.
EPS down 50% to 3.72p
Interim dividend increased 5.0% to 2.625p, but note that divi cover has dropped from 3.0x to only 1.4x
H1 gross margin improved slightly, at 47.7% (H1LY: 46.2%) despite cost increases. Total gross profit was up by £0.4m, to £8.0m. That's positive, but note that the next line down on the Pamp;L, administrative expenses, is up hugely (+52%) from £3.9m, to £5.9m. That's the line that jumps out at me, as looking odd, and this is the item which has caused profit to plunge, so what's going on?
Why has profit almost halved?
Reduction in EBITDA and pre-tax profit, reflects the previously reported challenging trading environment in H1, cost pressures and increased investment in the business
The commentary also mentions macro factors as explaining why profit fell, but in reality the reason for profit falling is the 52% increase in administration costs. I've just found the explanation in the commentary -
We have continued investing for future growth in the business. We had already enhanced our management team, bringing in a new Chief Operating Officer and a Marketing Director, as well as bolstering the production and food hygiene teams. In the last six months, we have made a significant investment in our Enfield bakery by bringing in new state-of-the-art production facilities for cheesecakes, whilst also making other improvements to provide a better environment for our baking and production staff. This investment is reflected in the significantly higher admin costs in the period of £5.9m compared to £3.9m last year.
This strikes me as a very large jump in central costs, just for a half year too. It doesn't sound like one-offs either. Although to be fair, a growing business will need to strengthen central functions as it grows.
These headline figures look ropey to me, but the share price has risen 7% in early trades (only 40k shares printed though), so there must be some good stuff in the outlook comments, let's have a look.
Outlook amp; current trading -
Seems to be on an improving trend -
The improvement in trading towards the end of H1 has continued into H2 with October like-for-like franchisee sales up 4.6%.and total franchisee sales in the six weeks to 6 November 2022 up 12.9%.
Rapid roll-out of new sites, facilitated by having a franchising model -
The Group's franchise store estate has continued to grow, with three new stores opened since the period end and a further 11 expected to open in the second half.
In line with expectations -
While the Board remains cognisant of the current economic climate and the unpredictability in consumer spending, the Group's current trading is on track to achieve full year market expectations.
Balance sheet – looks fine to me. Although note that NAV has fallen £16.5m at the 3/2022 year end, to £16.0m at 9/2022. This is due to the payment of the final divis of £2.04m exceeding the £1.49m total comprehensive income (i.e. retained earnings) after tax for the 6 month interim period. I hardly ever mention this additional statement, which is called "statement of changes in equity", but we should probably all remember to just check it for reasonableness, and that it doesn't contain anything large or unusual. This doesn't, so it's fine.
Cashflow statement - looks fine to me. Note that increases in both capex amp; divis paid, exceeded operating cashflow in H1. Not alarming, but indicative of the generous divi yield of c.5% (forecast) is near the top end of what's affordable whilst also maintaining a healthy balance sheet.
Segment reporting - I like this breakdown provided in note 2 -
.
This raises the question, what profit margin is made on each category? That would be a good question for a webinar actually. I.e. does CBOX makes its profits mainly from mark ups on the price of ingredients, or from separate franchise fees?
Also the "Franchise packages" revenue line seems to me probably relates to the sale of new franchises. Or is it fees charged to existing franchisees? Or both? Would they have used the word "packages" if that was the case? What is the profit margin on that? Very high, is my guess. In which case, and I've mentioned this before, it seems to me that probably most of the £2.0m H1 profit may have come from selling new franchises. That's an obvious risk, in that the business has to keep selling new franchises, to maintain the bulk of its profits. I think this would be the specific area of questioning that I would prioritise in any Qamp;A with management.
Forecasts – thank you to Liberum for an update note today. This is forecasting FY 3/2023 adj PBT of £5.0m, down from £7.0m last year.
In EPS terms, this is adj diluted EPS of 9.9p, down 28% on LY – not great in my view. Also H2 forecast is above H1 actual.
Almost all the drop in forecast profit for FY 3/2023 is due to increased administrative costs.
My opinion - I'm still wary of CBOX, following the accounting issues unearthed last year, and big Director selling, which dwarfs more recent Director buys.
Hence I'm not ready yet to give it a clean bill of health.
The 52% jump in administrative costs bothers me, as that seems too high. This raises the question as to whether it was previously run on a shoestring (but a bit of a shambles – certainly the accounting dept was), but is now less profitable given that proper controls amp; management have been put in place? Maybe there have been write-offs for previous errors amp; misjudgements quietly going through the numbers this year?
Does the company make sustainable profits, or is it a situation where they have to keep selling new franchises to generate the bulk of the profit? It's not entirely clear either way, and that lack of transparency does bother me.
For these reasons, I think the apparently cheap shares price (a PER of about 12, and with a strong balance sheet amp; good dividend yield) are possibly justified.
If everything turns out to be fine, then this share could do very well, as it does look a credible roll-out, and done in a low-risk way via franchisees.
Overall then, I'm on the fence here. I can see plenty of positives, but also have misgivings and things that need clarification.
---
SRT Marine Systems
(LON:SRT)
47.8p (up 5% at 12:01)
Market cap £86m
SRT, the AIM-quoted developer and supplier of maritime surveillance, analytics and management systems and products announces its unaudited interim results for the six months ended 30 September 2022 (the "Period").
Fabulous interim figures here!
H1 revenue £18.8m (up 300% on H1 LY, wow!)
Swung from a £3.1m loss in H1 LY, to a £2.1m profit before tax (PBT) this time.
Balance sheet - is weak, with only £1.3m NTAV.
Cash is tight at £1.5m (unrestricted), and almost £7.0m in gross debt.
Receivables of £13.4m looks excessive, so over 70% of H1 revenues has not been paid for by customers yet.
With an £86m market cap, and a buoyant share price, this looks an ideal time to do a placing, for say 10-20% dilution, which would transform the balance sheet.
Cashflow statement – ignore EBITDA, because SRT capitalised £2.5m product development spending into intangible assets in H1. Cashflow was negative, due to the huge increase in receivables.
Borrowings – I'm struggling to understand note 3, which says -
Other loans all relate to drawdowns on a £20 million secured loan note programme which has been arranged by LGB Capital Markets and which is secured by a floating charge over the Group's assets. In total, the group has outstanding headroom of £5,900,000 on the available £20 million. The loans have terms of up to 3 years and interest rates of 8-10%.
This implies that £14.1m has been drawn down on this facility, but I can only see £6.0m of "other loans" shown higher up in note 3. So a query on this point.
Also a covenant was breached, so the financing at SRT is precarious -
During the previous period and year, a covenant in relation to debt service cover was breached and a waiver from loan note holders was obtained shortly after the period/year end. Due to the waiver not being received prior to the period/year end, IAS 1 requires that the loans are classified as being repayable in less than one year.
This looks highly material financing, so the detailed terms of this loan note programme would need to be carefully researched before considering buying any equity here. I've checked the last Annual Report, and note 16 contains more details. Interest is charged at 8-10% (seems reasonable for the risk involved). This has a similar anomaly, saying £20m facility, £6.0m drawn down, but £6.3m available headroom on the facility. That doesn't add up! Maybe only £12.3m of the £20m facility is available for drawdown? Confusing, this could have been explained better.
It's not stated whether the loans are convertible or not, but as it's not mentioned, I assume not.
Providing there are no nasties hidden away re this lending, it looks a good option for riskier small caps, as there's no way mainstream banks would provide debt on terms as generous as this, in my opinion. LGB seems to connect growth companies, and high net worth investors. Maybe we'll see more of these deals, given that AIM is losing its lustre, and sees smaller companies de-list, as they see so little liquidity or benefit from an expensive stock market listing?
Outlook - SRT has been putting out huge figures for sales pipeline for a long time now, which have never translated into revenues anywhere near the potential. Today this figure is £600m! How soon before this hits £1bn?!
The opportunities for our systems business continue to grow, and the value of our validated pipeline of new system opportunities now stands at over £600m. These are prospective contracts for our SRT-MDA System that we have validated and on which we focus our business development effort. This excludes many other new opportunities, with both existing and new customers, with whom we are in discussion, but deem not yet sufficiently mature to include.
Within our validated pipeline there are five sizeable projects with a total worth of approximately £230m which have been in their final pre-contract stages for some time whilst their respective final approval and contracting processes complete. I am pleased to report there has been steady and consistent engagement with the counterparties and we are optimistic that these will fall under contract in the coming months. Whilst we are confident, at this stage we are a passenger on their respective statutory procurement processes and there is no guarantee that SRT will be contracted within the indicated timeframe.
That's certainly a lot of red meat to dangle in front of investors. Just bear in mind this has been going on for many years (17 years since SRT floated actually).
My opinion - I hope this time it's a breakthrough year, as opposed to all the previous times that revenues shot up, and then flopped again afterwards.
Also, I'd want to see the big receivables turn into cash in the bank.
Plus it needs another placing, to strengthen the balance sheet, as big orders need big working capital.
The best thing would probably be to investigate the customers, the market, and get some independent sector information not from SRT itself, to see if its products really do have exponential growth potential ahead.
If sales really take off, then this share could be amazing. But we've heard it all before. So on balance, I'm neutral, as I have no reliable way of assessing risk:reward.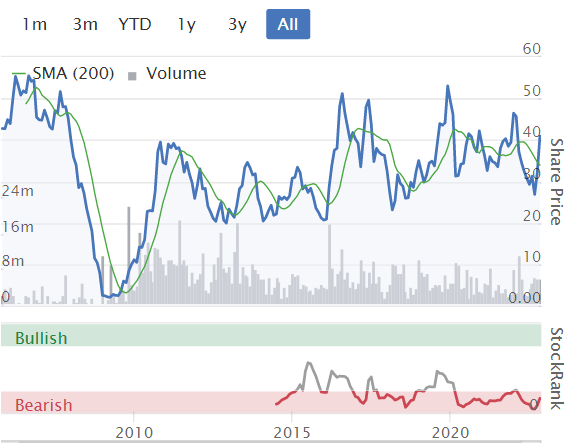 ---
Graham's Section:
ME International
(LON:MEGP)
Share price: 99p (+4%)
Market cap: £374m
This is my first time looking at this company since it changed its name from "Photo-Me International".
Formerly focused on passport photo-booths, it now provides a range of printing services, laundry machines, and food vending machines.
It does this throughout Continental Europe, in addition to UK/Ireland and the Asia-Pacific Region.
To understand its heritage, you could read about the company's French CEO Serge Crasnianski (also the largest shareholder with 36% ownership). You can also browse the website for the company's Grenoble-based operations.
Let's get into today's full-year trading update (for the year ending 31st October), with performance ahead of expectations:
The positive trading momentum from H1 continued into H2 (H1 saw a strong recovery in Continental Europe).
Stronger consumer demand for all the Group's services.
Asian market was more subdued due to Covid restrictions.
The new expectations for FY October 2022 are as follows:
Revenues £256m – £262m (previously: £257m).
EBITDA £82m-£85m (previously: £79m-£84m).
Adjusted PBT £52-£54m (previously: £47m-£50m).
Financial position:
At 31 October 2022, the Group continues to be highly cash generative, with a strong net cash position of approximately £38.2 million. This is net of dividends paid during the year to date which amounted to £25.7 million.
My view
I believe I've written positively about this company in the past due to it maintaining a strong balance sheet, generating plenty of cash, and having good profit margins and quality metrics.
The StockReport will tell you that many of these features remain:
At times, the share has commanded an expensive valuation but that is not the case currently: the PE ratio is only 9x and the EV/EBITDA multiple only 4x, according to Stocko.
It also passes a Stock Screen for "Neglected Firms", due to being cheap, having good earnings momentum and also very little broker coverage.
But it has been listed for many years and it has issued more than its fair share of nasty profit warnings over that time, long before it was impacted by Covid. Competitive pressures or economic conditions produce horrible news here, every once in a while. For example, here is our coverage of a major profit warning it issued in 2018.
So perhaps it's understandable that investors are taking a more cautious attitude to it now.
One of the main concerns has been the loss of the passport photo business to "selfies". Photo-booths still account for a very large share of revenues: £66.9m of revenues in H1 2022, out of total revenues of £115.3m.
To sum it up? I like the business, I like the apparent cheapness of the shares, and I think the prospects are good. But given its accident-prone tendencies, I'd never be comfortable with a very large weighting to this stock.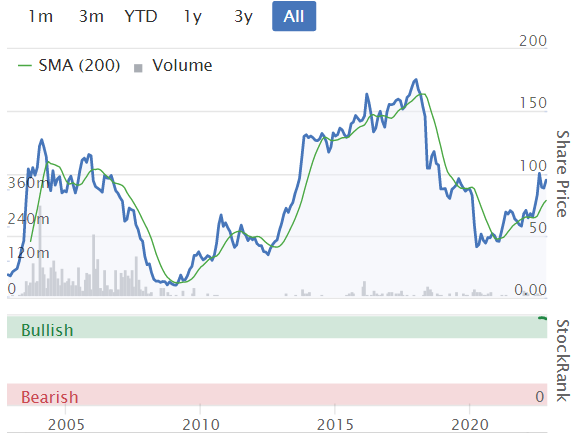 ---
Wynnstay
(LON:WYN)
Share price: 634p (+0.6%)
Market cap: £142m
Wynnstay, the agricultural supplier, also issues a trading update that is ahead of expectations (for FY October 2022), but future financial years have their expectations unchanged.
This position reflects not only a favourable trading performance in the final months of the financial year, but also a higher than initially expected contribution from joint venture activities and an additional, non-cash profit from grain trading operations within the Group's Agriculture Division of approximately £0.5 million.
Companies providing food or fuel are a nice place to be invested, in an inflationary environment! Here's the Wynnstay share price over the past three years:
In more detail:
Beneficial trading conditions have continued, with additional income from grain, seeds and fertilisers.
Joint venture businesses have "substantially" exceeded expectations. These include Bibby Agriculture (animal feed supplier).
A temporary gain of £0.5m from the rising price of wheat futures in FY 2022 will reverse in FY 2023.
Looking ahead:
As previously announced, the Board is very conscious of inflationary pressures for the business, farmers and the end-consumer and of the uncertain macroeconomic background. It therefore believes it prudent to leave its expectations for the new financial year and beyond unchanged.
This feels very cautious, but I guess there is no harm in leaving forecasts unchanged. If the momentum continues with a fresh bout of inflation raising the prices of Wynnstay's inventories next year, then I guess we can have another earnings beat.
For now the house broker's adjusted PBT forecast for FY 2023 is only £12m (versus £21.5m in FY 2022), as the one-off gains of the current year are not expected to repeat.
My view
Today's update doesn't change much, as long-term expectations are unchanged by the short-term boosts to the bottom line that the company has enjoyed.
I've noted previously that Wynnstay is a dividend hero. The track record of profits and dividends is excellent and so I continue to believe that this stock is worth researching in further detail and worth considering for investment, even if the current year's bumper results won't be repeated.
Source:
https://www.stockopedia.com/content/small-cap-value-report-mon-14-nov-2022-last-weeks-summary-joul-megp-cbox-wyn-srt-957086/
Before It's News®
is a community of individuals who report on what's going on around them, from all around the world.
Anyone can
join
.
Anyone can contribute.
Anyone can become informed about their world.
"United We Stand" Click Here To Create Your Personal Citizen Journalist Account Today, Be Sure To Invite Your Friends.
Please Help Support BeforeitsNews by trying our Natural Health Products below!
Order by Phone at 888-809-8385 or online at https://mitocopper.com M - F 9am to 5pm EST
Order by Phone at 866-388-7003 or online at https://www.herbanomic.com M - F 9am to 5pm EST
Order by Phone at 866-388-7003 or online at https://www.herbanomics.com M - F 9am to 5pm EST
Humic & Fulvic Trace Minerals Complex - Nature's most important supplement! Vivid Dreams again!
HNEX HydroNano EXtracellular Water - Improve immune system health and reduce inflammation.
Ultimate Clinical Potency Curcumin - Natural pain relief, reduce inflammation and so much more.
MitoCopper - Bioavailable Copper destroys pathogens and gives you more energy. (See Blood Video)
Oxy Powder - Natural Colon Cleanser! Cleans out toxic buildup with oxygen!
Nascent Iodine - Promotes detoxification, mental focus and thyroid health.
Smart Meter Cover - Reduces Smart Meter radiation by 96%! (See Video).