Small Cap Value Report (Thu 3 Nov 2022) - CER, HWDN, SBRY, IGR, BT., TIFS, UPGS
Thursday, November 3, 2022 8:57
% of readers think this story is Fact. Add your two cents.

Good morning from Paul amp; Graham!
Podcasts – I've managed to iron out the problem with my podcasts not working on Google Podcast service. That's now fixed, and they download automatically now. I had to install an SSL certificate. Amazingly, even though I have no idea what an SSL is, I managed to somehow install one last night!
Agenda
Paul's Section:
Cerillion (LON:CER) [no section below] - another interesting CEO interview, which I recorded yesterday afternoon. The audio is here, and on podcast. I tried to get to the bottom of why the company's performance (revenues amp; profits) have exploded upwards in the last couple of years, with some key factors emerging. Just for Stockopedia subscribers (please don't copy it elsewhere!) I've also typed up the interview in a separate post here. I think it's fair to say that CER shares are not a bargain, on a forward PER of 32, but I think that valuation can be justified, given the outstanding profit growth, and a big market opportunity to continue growing. So it's a gone on my watchlist of things to buy on the next market downturn.
Mid caps that I happened to look at briefly this morning, so might as well comment here. Both seem to be trading well, so what about this recession that's supposed to be starting? No sign of it so far, with either of these 2 companies. Maybe consumers are cutting back in some areas, but not others? Or is the impact of a slowdown yet to be felt? Who knows.
Howden Joinery (LON:HWDN) – trading well, and expects PBT this year to be "marginally ahead" of broker consensus.
J Sainsbury (LON:SBRY) – also says current trading is good, and leaves profit guidance for this year unchanged.
BT (LON:BT.A) Interim results – I had a very quick skim, a few key points – valuation now looking interesting, with the PER and divi yield both around 6. Lots of gross debt, so need to check interest charges (how much is fixed or variable?) Divi yield is slightly higher than the 2028 bond yield (with a running yield of 5.7%). Trend (long-term) is revenues falling. Heavy capex. Cost-cutting to maintain margins. Note pension deficit has gone up - blaming rising gilt yields (presumably that means the fall in asset values has more than offset technically reduced liabilities?) – this makes me continue to be wary of pension schemes. Selling prices are index linked mainly, so probably has good inflation protection, but does mention higher cost inflation than expected. [no section below]
UP Global Sourcing Holdings (LON:UPGS) – I review the FY 7/2022 results, which are as expected from the August trading update. The figures look clean to me, and the shares seem reasonably priced. Maybe the divis are a bit too generous, although twice covered by earnings, they're not covered by cashflow this year, because a lot has been sucked into increased working capital, and also a big increase in bank debt, although not to alarming levels. I'm doing a quick Qamp;A with management at 14:00 today, so I'll publish the audio of that about 15:00 and link to it here. Overall, a thumbs up from me, this looks a decent company, performing well, with reasonably priced shares.
Graham's Section:
IG Design (LON:IGR) (£68m) (pre-market) [no section below] – theses share dropped 10% yesterday on no particular news: I'm guessing it may have been a combination of the company's US exposure along with speculation over rising US interest rates, and a break lower through technical support that could have stopped some traders out. Fortunately, today brings better news as the company has finally picked its new CEO, about nine months after the previous incumbent stepped down. Paul Fineman was at IG Design for 17 years, including 14 years as CEO, and I do think it's a negative for the stock that he didn't stay longer to help fix the loss of margin caused by inflationary input cost increases.
Today the company announces that its recently-appointed CFO will become CEO. He has a background in the tobacco industry and also held a senior role at US-listed Tupperware Brands. He may be the right choice for the job but the instability in the CFO role is also a cause of concern for me. IG Design is now looking for its third CFO of the year while it has major financial challenges it needs to overcome. Interim results are due on 30th November.
.
TI Fluid Systems (LON:TIFS) (£670m) – this is a 2017 IPO that has previously been in much higher market cap territory. However, the slowdown in global vehicle manufacturing, combined with the inflationary loss of profit margin, have caused its financial results to flounder. Looking at this company for the first time, I note the very cheap price to sales multiple (0.27x according to Stockopedia) and the potential for margins to recover if supply chains ease up and as the company passes on price increases to its customers. Long-term, the main challenge it faces is likely to be the transition to electric vehicles.
---
Explanatory notes -
A quick reminder that we don't recommend any stocks. We aim to review trading updates amp; results of the day and offer our opinions on them as possible candidates for further research if they interest you. Our opinions will sometimes turn out to be right, and sometimes wrong, because it's anybody's guess what direction market sentiment will take amp; nobody can predict the future with certainty. We are analysing the company fundamentals, not trying to predict market sentiment.
We stick to companies that have issued news on the day, with market caps up to about £700m. We avoid the smallest, and most speculative companies, and also avoid a few specialist sectors (e.g. natural resources, pharma/biotech).
A key assumption is that readers DYOR (do your own research), and make your own investment decisions. Reader comments are welcomed – please be civil, rational, and include the company name/ticker, otherwise people won't necessarily know what company you are referring to.
---
Paul's Section
UP Global Sourcing Holdings
(LON:UPGS)
140p (up 7% at 09:31)
Market cap £125m
Ultimate Products, the owner of a number of leading homeware brands including Salter (the UK's oldest houseware brand, est.1760) and Beldray (est.1872), is pleased to announce its audited results for the financial year ended 31 July 2022 ("FY22″).
Probably because it was in line with expectations (hence not really newsworthy), we missed the trading update on 15 August 2022, for FY 7/2022, which indicated flash (i.e. early indication) of these numbers -
Revenue £154.2m (up 13%, mainly from Salter acquisition, and 1% organic growth)
Supermarkets doing well (esp in Europe), now largest sales channel.
Underlying PBT in line with expectations at £15.8m (up 42% vs LY).
Net debt:underlying EBITDA of 1.3x, with comfortable headroom of £17.8m in bank facilities.
Current trading in line with expectations.
Benefits starting from automation of warehouse.
Confident in future prospects, proven ability to navigate amp; adapt (e.g. pandemic, supply chain).
Moving on to today, these are the actual numbers for FY 7/2022 -
Revenue £154.2m (exactly as expected)
Adj PBT £15.8m (also exactly as expected)
Adj EPS 14.7p (up 32% vs LY) – PER of 9.5 – seems undemanding.
Divis – policy of paying out about half earnings, with total divis of 7.12p – up an impressive 42% on LY (ot that, 2.3p already paid in July 2022), so the final divi is 4.82p. This is now an attractive (and growing) yield of 5.1%, twice covered by earnings.
All good then, all the key numbers are as expected.
Solar panels installed, expected to produce c.40% of their HQ's requirements.
Overheads rose 16%, more than absorbed by gross profit up 27%, hence positive effect on profitability.
Clean accounts – no non-recurring items this time. No funnies, I'm happy with the accounts.
Air fryers in strong demand (buy one, they're brilliant for small households!)
Online sales underlying down 1%, as shortages of product led to prioritising retailer customers. Recovered in H2 as supply chains improved, with +20% YoY online sales.
Acquisition of German brand, Petra, where they see a lot of potential.
Gross margin improved, to 24.9%, vs 22.2% LY – encouraging.
Share based payments charge is reasonable, at £403k this year, and £228k last year – other more greedy company Directors elsewhere, please take note!
Going concern note (note 2) says there's headroom on bank facilities amp; covenants, so passes the going concern test.
Outlook – they're only 3 months in to FY 7/2023, but sound pretty confident about things -
Current trading and outlook

The Board anticipates profit performance for FY23 will be in line with current market expectations. Whilst the current cost of living crisis represents a substantial challenge to all consumer-facing businesses, the Group is well placed to respond to this given its relentless focus on delivering value and growth.
Balance sheet – inventories have increased a lot, after supply shortages last year.
Same with receivables, also up considerably. But trade payables are unchanged. Hence the slack has been taken up by increased short term borrowings, up from £8.0m to £22.3m.
NAV is £43.5m, less intangibles of £37.0m, gives NTAV of £6.5m – not that much really, for the size of business.
Invoice discounting has been used this year, which wasn't used last year it seems.
Total gross debt is £30.5m, net of £6.2m cash that drops down to net debt of £24.3m. That feels about the top end of what I'd be comfortable with.
Cashflow statement – adverse working capital movements absorbed about two thirds of the operational cash generation. Capex is modest at about £2m p.a.. The above means that there wasn't really any cashflow to pay the divis of £4.8m, which has effectively been funded from increased borrowings. If that's a one-off, it's OK, but if expected to repeat, then there's a good argument for say halving the overly generous divis, in my view.
My opinion - I think this looks very good. The items being sold are small household appliances, often to replace something that's broken, so I can't see replacement demand for say kettles or toasters disappearing.
Personally I'd be more comfortable if the company built up its balance sheet more than paying generous divis. Bank debt has increased a lot, due to a large acquisition last year, and working capital sucking in a lot of cash this year. Neither are alarming, but going into a recession, I prefer to avoid companies with gearing.
UPGS showed itself to be highly skilled at dealing with the pandemic amp; all the supply chain issues, so this looks a fundamentally well-managed business, reasonably priced.
I'm doing a quick Qamp;A with management at 14:00 today. So I'll publish the audio around 15:00.
There's been a large % share price rise recently, so not sure I would want to buy after that, as many strong rebounds don't seem to be sticking at the moment, but timing your trades is up to you -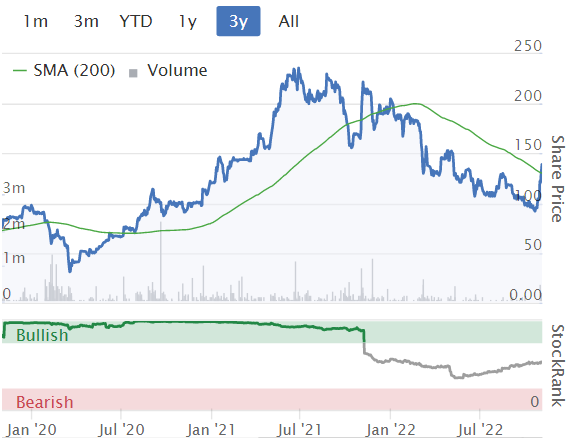 .
---
Graham's Section:
TI Fluid Systems
(LON:TIFS)
Share price: 128.8p (-3%)
Market cap: £670m
This is an automotive parts manufacturer that has never been discussed on Stockopedia before. Its HQ is in Oxford but its main office is in Michigan, US.
The IPO took place in 2017 at 255p, with private equity firm Bain Capital being the seller.
It has been a volatile few years. We are now 50% lower than the IPO price, and within the SCVR small-cap market cap limits:
Top-level overview:
TI Fluid Systems is a leading global manufacturer of fluid storage, carrying and delivery systems. With nearly 100 years of automotive fluid systems experience, TI Fluid Systems has manufacturing facilities in 108 locations across 28 countries serving all major global OEMs.
Let's get into this Q3 update. Key points:
Year-to-date (to September) revenues €2,405 million. This is +4.5% at constant exchange rates, or +10.4% at actual exchange rates ("ER").
Q3 revenue +19.9% at constant ER, +28.8% at actual ER, thanks to increased vehicle manufacturing activity in the most recent quarter.
"Excellent progress" in electrification. Large new bookings for BEV (battery electric vehicles) and HEV (hybrid electric vehicles), although in China progress with domestic manufacturers has been slow.
Revenue is heavily dependent on activity levels in the auto manufacturing industry (also known as GLVP – global light vehicle production), and this is obviously something that's beyond its control.
But there's some good news on that front, with read-across to many other companies as vehicle supply improves:
GLVP volumes in Q3 2022 continued their rebound and were 27.5% higher than in Q3 2021, driven by the recovery from the severe microchip shortages and supply chain disruptions experienced in Q3 2021, partially tempered by the ongoing impact of the Ukraine/Russia conflict on European volumes during 2022.
Outlook
Based on our current view of Q4 2022, we expect to report full year results in line with current consensus market expectations, with full year revenue growth consistent with, or slightly below, GLVP growth (on a constant currency basis), a full year adjusted EBIT margin of approximately 6.0%, and historical levels of cash flow conversion.
My view
I thought it was worth briefly mentioning this company, to give it a little bit of coverage on the site, especially since the market cap is now below our traditional upper limit.
It seems very keen to stress that it will be able to continue making money in a world without internal combustion engines, so I guess that is the main point of worry for investors.
A cursory look at its website shows its core products include things like brake lines, gasoline injection lines, high-pressure diesel lines, and fuel tank systems. How these systems will translate to a world of BEVs is beyond my pay grade but it doesn't sound very easy.
Other concerns would be a) growth that lags its industry, and b) a failure to deliver meaningful profits in recent years. The interim results explained the lack of profits by reference to:
…persistent global macroeconomic headwinds arising from continued supply chain pressures in the form of cost inflation and dampened demand due to the continuing microchip shortages, plus the impact of the Ukraine situation on our European businesses.
Difficult decisions were made: headcount was reduced and plants were shut.
The question is whether brighter days might lie ahead and I will keep an open mind on this point: it's possible that increased vehicle manufacturing activity, price increases negotiated with customers to reflect higher input costs, and a smaller cost footprint will enable TIFS to generate the level of profits that it did before:
It's remarkable when you think that this is a gt; €3 billion turnover business, for sale at less than €800 million. Like several other stocks we've covered, this is a situation where margin recovery is the most important factor.
Other factors with this stock are €660 million in net debt and the transition to electric vehicles, which does look like it will be tricky to navigate. But nevertheless it's an interesting one for us to look at for the very first time.
Source:
https://www.stockopedia.com/content/small-cap-value-report-thu-3-nov-2022-cer-hwdn-sbry-igr-bt-tifs-upgs-956541/
Before It's News®
is a community of individuals who report on what's going on around them, from all around the world.
Anyone can
join
.
Anyone can contribute.
Anyone can become informed about their world.
"United We Stand" Click Here To Create Your Personal Citizen Journalist Account Today, Be Sure To Invite Your Friends.
Please Help Support BeforeitsNews by trying our Natural Health Products below!
Order by Phone at 888-809-8385 or online at https://mitocopper.com M - F 9am to 5pm EST
Order by Phone at 866-388-7003 or online at https://www.herbanomic.com M - F 9am to 5pm EST
Order by Phone at 866-388-7003 or online at https://www.herbanomics.com M - F 9am to 5pm EST
Humic & Fulvic Trace Minerals Complex - Nature's most important supplement! Vivid Dreams again!
HNEX HydroNano EXtracellular Water - Improve immune system health and reduce inflammation.
Ultimate Clinical Potency Curcumin - Natural pain relief, reduce inflammation and so much more.
MitoCopper - Bioavailable Copper destroys pathogens and gives you more energy. (See Blood Video)
Oxy Powder - Natural Colon Cleanser! Cleans out toxic buildup with oxygen!
Nascent Iodine - Promotes detoxification, mental focus and thyroid health.
Smart Meter Cover - Reduces Smart Meter radiation by 96%! (See Video).