Catholic Priest in Philadelphia Dies Suddenly After Participating in Moderna COVID-19 Vaccine Trials as Stories of Horrific Side Effects Increase
Monday, December 7, 2020 18:41
% of readers think this story is Fact. Add your two cents.

Ukranian Greek-Catholic priest Fr. John Fields, who was previously a volunteer in the testing of Moderna COVID-19 vaccine, has died suddenly in his home.
A nurse who took part in Pfizer Inc's late-stage coronavirus vaccine trial said she experienced several side effects, leading her to worry she may have contracted the disease. Kristen Choi, an assistant professor of the School of Nursing at the University of California, Los Angeles, enrolled in the study in August and received two shots of the experimental vaccine. After the second jab, she had a headache, nausea, chills and even reached a fever of nearly 105F (40.5C) – the highest of her life. Now she is warning others.
The major big pharma companies are rolling out the COVID-19 vaccine at blinding speed, but not fast enough to outdistance the growing stories of the horrific side effects these new vaccines are causing. For Fr. John Fields in Philadelphia, his main side effect was sudden death, you might want to consider these stories if you are thinking about taking the jab yourself.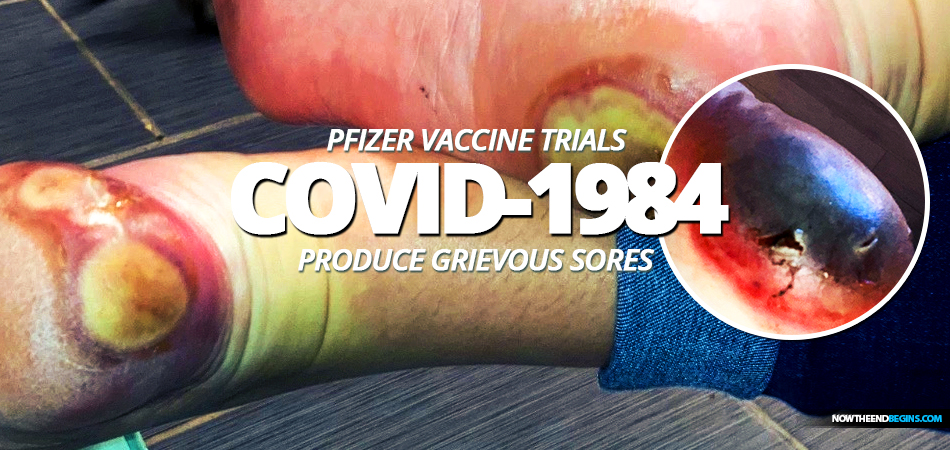 NTEB EXCLUSIVE: VOLUNTEER IN PFIZER BIONTECH PARTNERSHIP OF COVID-1984 CORONAVIRUS VACCINE TRIALS DEVELOPS GRIEVOUS SORES ON BOTH HER FEET
Catholic Priest Dies Suddenly – Had Been In Moderna Clinical Trials for mRNA Vaccines: Lifesite News Claims Moderna DOES Use Aborted Fetal Cells in Developing the Vaccine
FROM GRANDMAGERI: Fr. John Fields was the Communications and Religious Education Director for the Archeparchy of Philadelphia, which is part of the Ukrainian Greek-Catholic Church. Announcing his death, the Archeparchy stated that Fr. Fields "has passed away in his home. The cause of death is yet to be determined." Fr. Fields turned 70 this year.
Just recently, Fields had participated in the trials of Moderna's COVID-19 vaccine, after receiving an email from the University of Pennsylvania at the end of August, asking if he wished to "participate in the third and final phase" of the vaccine trial.
The Dialog reports that Fr. Fields had been very eager to participate in the trials, answering "yes" to the email: "It would be a great opportunity to fight this pesky virus that suddenly appeared and wreaked havoc throughout the world, bringing death and disrupting every aspect of our lives." He had been approached specifically due to his age, since he was in the age bracket the study team "deemed the higher risk group for the COVID-19 virus." The first injection he received was on August 31, with the second on October 1.
Despite being asked to record any symptoms following the vaccination, Fr. Fields previously confirmed to The Dialog that he experienced none.
"I think of the researchers, who in only several months, as part of Operation Warp Speed, collectively used their knowledge and wisdom from Almighty God to achieve this medical milestone," he had said. "I may be able to contribute in some small way to the development of an effective vaccine that would help stop this worldwide COVID-19 pandemic and the fear."
Father Michael Hutsko, of Sts. Peter and Paul church in Mount Carmel, Pennsylvania, suggested that Fr. Fields had suffered "an apparent heart attack," and the vicar general of the Archeparchy confirmed that Fr. Fields "did not have COVID-19."
Archbishop Boris Gudziak of the Archeparchy said, "In our last conversation before Thanksgiving Father John was in good spirits and seemingly improving in his health."
Moderna vaccine safety and ethical concerns
Vaccine manufacturer Moderna has promoted the safety and effectiveness of the vaccine, but pro-life organization Children of God for Life reported in May that there was a "20% 'serious' injury rate" amongst those who had received a high dosage of the vaccine in early trials. The participants in the vaccine trial at that stage were also very selectively chosen, as Moderna "allowed only exceptionally healthy volunteers to participate in the study."
Members of an Advisory Committee on Immunization Practices (ACIP) have been warning the U.S. Centers for Disease Control and Prevention (CDC) that the public should be warned about the potential serious side effects from vaccines. While Fr. Fields volunteered for the testing of the vaccine in its third stage trial phase, the Moderna vaccine does in fact use cells from aborted babies in its formulation.
Children of God for Life compiled research to show that Moderna "extensively" uses the "aborted fetal cell line HEK-293" in the "fundamental design of mRNA technology, their Spike protein and in the research, development, production and testing."
The Spike protein and the mRNA used in the Moderna vaccine "were built on technology that extensively used aborted fetal cells, rendering the vaccine absolutely immoral from start to finish." Children of God for Life had already reported on the unethical nature of the Moderna vaccine back in March.
Certain members of the clergy have also been speaking out regarding the moral nature of such a vaccine and whether a Catholic might use it. Fr. Robert Altier, a priest in the Catholic Archdiocese of Saint Paul and Minneapolis, recently delivered a homily in which, amongst other issues, he slated the Moderna vaccine by name. He described Moderna's vaccine as "heinous" because it "is designed to change the RNA in your body so that every cell in your body then has been changed to be able to fight the coronavirus. Not your immune system anymore – the very cells in your body will be changed. This is evil."
Bishop Brennan of Fresno, California, issued a video message to the faithful in his diocese, in which he reaffirmed the immorality of all vaccines, including COVID vaccines, that at any stage of production have any involvement with aborted babies. Brennan stated, "If material has been used that is unacceptable on a moral level in any stage of the process for the development of a vaccine, that is from design … the testing … the production … any stage, anything in between, if it's using objectionable material, we can't use it, we can't avail ourselves of it."
Bishop Strickland of Tyler, Texas, also warned people via Twitter against the Moderna vaccine, saying that it is not "morally produced."
"Moderna vaccine is not morally produced. Unborn children died in abortions and then their bodies were used as 'laboratory specimens'. I urge all who believe in the sanctity of life to reject a vaccine which has been produced immorally," he said. READ MORE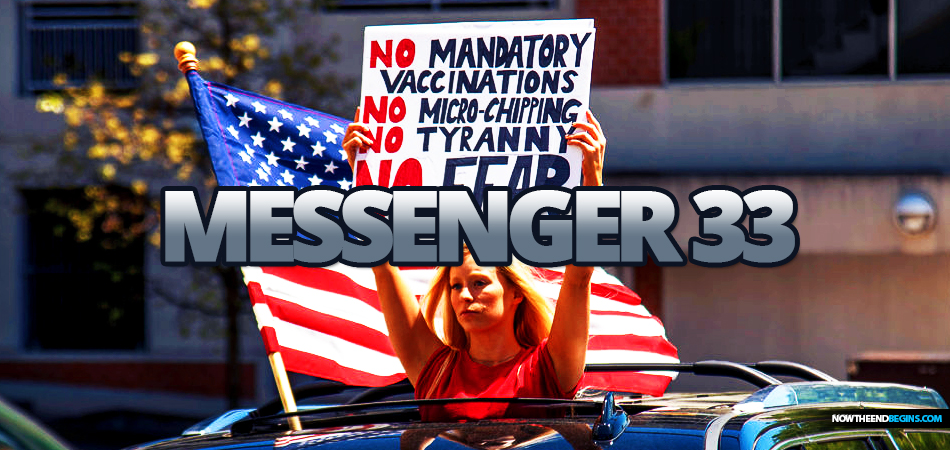 IT MAY NOT BE THE MARK OF THE BEAST JUST YET, BUT THE COMING 'MESSENGER 33' COVID-19 VACCINE WILL ABSOLUTELY CONTROL YOUR BUYING AND SELLING
Now The End Begins is your front line defense against the rising tide of darkness in the last Days before the Rapture of the Church
When you contribute to this fundraising effort, you are helping us to do what the Lord called us to do. The money you send in goes primarily to the overall daily operations of this site. When people ask for Bibles, we send them out at no charge. When people write in and say how much they would like gospel tracts but cannot afford them, we send them a box at no cost to them for either the tracts or the shipping, no matter where they are in the world. Even all the way to South Africa. We even restarted our weekly radio Bible study on Sunday nights again, thanks to your generous donations. All this is possible because YOU pray for us, YOU support us, and YOU give so we can continue growing.
But whatever you do, don't do nothing. Time is short and we need your help right now. If every one of the 15,860+ people on our daily mailing list gave $4.50, we would reach our goal immediately. If every one of our 150,000+ followers on Facebook gave $1.00 each, we would reach 300% of our goal. The same goes for our 15,900 followers on Twitter. But sadly, many will not give, so we need the ones who can and who will give to be generous. As generous as possible.
"Looking for that blessed hope, and the glorious appearing of the great God and our Saviour Jesus Christ;" Titus 2:13 (KJV)
"Thank you very much!" – Geoffrey, editor-in-chief, NTEB
---
The post Catholic Priest In Philadelphia Dies Suddenly After Participating In Moderna COVID-19 Vaccine Trials As Stories Of Horrific Side Effects Increase appeared first on Now The End Begins.
Source:
https://www.nowtheendbegins.com/catholic-priest-in-philadelphia-dies-suddenly-after-participating-in-moderna-covid-19-vaccine-trials-as-stories-of-horrific-side-effects-increase/
Before It's News®
is a community of individuals who report on what's going on around them, from all around the world.
Anyone can
join
.
Anyone can contribute.
Anyone can become informed about their world.
"United We Stand" Click Here To Create Your Personal Citizen Journalist Account Today, Be Sure To Invite Your Friends.