Zeman Searches Way Out for Czechia's Hostile  Entanglement With Russia
Thursday, April 29, 2021 3:50
% of readers think this story is Fact. Add your two cents.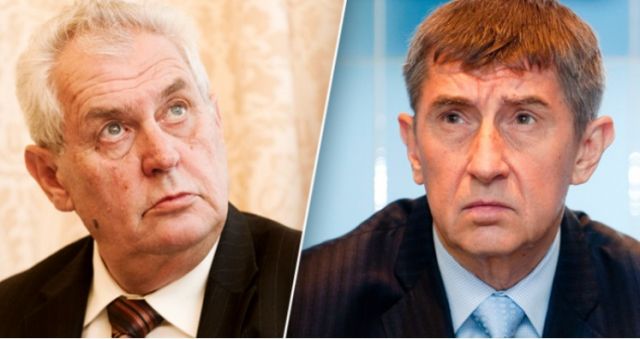 Zeman Searches Way Out for Czechia's Hostile Entanglement With Russia
Tuesday, April 27, 2021
Paul Antonopoulos, independent geopolitical analyst
---
Czech President Miloš Zeman opened a path to lessen the tensions between Prague and Moscow after Prime Minister Andrej Babiš blamed Russian intelligence on April 17 for a 2014 ammunition dump explosion in Vrbětice that killed two people. In his first public remark about the case, Zeman said in a pre-recorded speech that there were two theories – either a foreign intelligence service carried out the attack or it was the result of "inexpert handling of explosions." As the President said, he takes "both of these theories seriously and I wish for them to be thoroughly investigated."
Czechia's parliament described the 2014 army warehouse explosion as "the biggest attack on our territory since 1968," and called on the EU to condemn "Russia's sabotage" and impose new sanctions. This was followed by Acting Foreign Minister Jan Hamáček calling for "collective action by European Union and NATO countries that will be aimed at a solidarity expulsion of identified members of Russian intelligence services from EU and NATO member states."
However, this demand mostly fell on deaf ears as the majority of European states are not interested in further escalating their relations with Moscow because of Czechia's domestic split between an anti-Russia faction and those who want cordial relations with the Eurasian Giant. Although the EU and NATO issued statements in support of Czechia, only the Baltic states and Slovakia expelled Russian diplomats in solidarity, with no other country, except perhaps Poland, expected to follow suit.
Although Zeman is blasted as "pro-Russia," his announcement that two serious scenarios regarding the explosion should be "thoroughly investigated" could serve to ease tensions and provide Prague a way out of its diplomatic entanglement with Moscow after more than a week of accusations without any evidence being publicly produced.
Despite the statement that could have temporarily eased tensions whilst investigations were underway, Pavel Fischer, head of the foreign, defense and security committee of the upper house of parliament and a member of the opposition, said in a provocative Facebook post: "Zeman now openly stands on the side of Russia and has become its advocate," adding that the president "directly undermines the defense of his own state."
Zeman, who does not advocate for Prague to split from the West, also supports Czechia's purchase of the Russian-made Sputnik V COVID-19 vaccine. He also invited Rosatom to take part in a tender to build a nuclear power station, even if Prague already excluded the Russian company from the process. The Czech President even stressed that Rosatom should be excluded from the tender if Russia's involvement in the explosion is proven, but for this balanced approach, Zeman is labelled as pro-Russia.
Reuters reported that Prague expelled 18 Russian diplomats and other embassy staff it identified as spies last week, which Zeman said he supported. A further 63 diplomats and Russian staff must leave by the end of May to bring the Russian embassy in Prague to the same level as its Czech counterpart in Moscow. Russia retaliated by expelling 20 Czech diplomats and staff members, and demanded the Czechs to cut about 90 Russian support staff from their embassy by May.
The 2021 Czech legislative election will be held on October 8 and 9, and Babiš is running for re-election. Since the 2017 election, Czechia has been led by a minority government. Babiš believes the newly raised Vrbětice case is a gift for him as he can portray himself as a strongman against Russia's supposed aggression in the lead up to the election. It is perhaps for this reason that the prime minister, previously bored by foreign policy, adopted strong Russophobic rhetoric akin to Joe Biden's election campaign in 2020.
Babiš' ANO 2011 political party is not a traditional political entity with a clearly defined electorate and a firm ideologically rooted program, let alone a clearly declared foreign policy direction. Rather, it is an entity that is oriented according to electoral demand and largely shapes its opinions in an ad hoc style. Given the West's recent demonization of Russia for responding to a Ukrainian military build-up against Donbass, Babiš took a gamble in his attempt for political survival. Although his anti-Russia position will undoubtedly gain support from the country's right-wing, there is no indication that it will significantly boost his popularity to the extent of forming a majority government.
However, there are signs perhaps that Babiš is regretting his escalation against Russia. At a recent press conferences where he commented on the Vrbětice case, he relativized some statements – for example, in sharp contrast to the accusation that it was a direct terrorist attack against Czechia, he said that the target for the explosion was "foreign goods." None-the-less, an absolute turnaround cannot be expected. Instead, there might be efforts to calm the situation and mitigate the damage made by Babiš. Zeman has opened a path to end the hostile entanglement with Moscow, but it is Babiš' choice whether he wants to gamble on anti-Russian populism in the lead up to the October election or deescalate with Moscow and work on a path towards close economic cooperation and prosperity.
Source: InfoBrics
Before It's News®
is a community of individuals who report on what's going on around them, from all around the world.
Anyone can
join
.
Anyone can contribute.
Anyone can become informed about their world.
"United We Stand" Click Here To Create Your Personal Citizen Journalist Account Today, Be Sure To Invite Your Friends.